City entered this game with some trepidation having been on a poor run of form culminating in the abjectly pathetic effort against Ciren on Saturday, not the form you want to take into a visit to a side on the verge of promotion. However City fans comforted themselves that the players would surely raise their game for this match, and spirits were further buoyed by the return of Baylo up front and Chris Burns taking up his more effective position at the back.

As the match gradually got going following the obligatory minute's silence it was not easy to spot who the promotion chasers were. Chippenham had stuttered at Mangotsfield on Saturday and looked nervous, going forward without any huge conviction. City snapped into tackles quickly with Hampson and Jenkins making sure that their presence was keenly felt.
City caused some early pressure only for Wilkinson to scuff his shot wide. Luke Prince was causing momentary problems for the Chipp defence who could cope with the high balls but never got to grips with people running at them. However City lost all momentum when Karl Bayliss challenged for a ball with Grantley Dicks on the right flank and ended in a distressed heap. Leaving on a stretcher it wasn't clear if the damage was to his knee or his groin, but either way it didn't look promising. Lee Smith's arrival as Baylo's replacement did nothing to dispel the feeling we had lost our main goal threat.

In fairness City did not buckle, although Chippenham began to dominate midfield with greater effectiveness. Despite forcing us further up the pitch the home side never looked comfortable on the ball and were not able to create much in the way of clear opportunities. This was a in large part due to persistent defending and hard work by every one of our players, but greatly assisted by some wayward Chipp passing. The Bluebirds only once carved between McCluskey and Hampson, but the cross shot from Rawlins evaded the post and his team mates.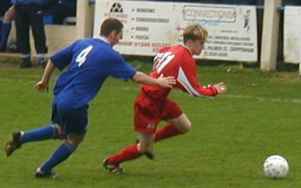 City's hopes took a further blow when Craig Hampson failed to run of a knock sustained in a hefty challenge and was replaced by Kenny Howard. City showed some resilience though as they were not overly thrown by the loss of either of the players, continuing to push forward well when given the chance. Lee Smith was bullied off the ball too easily when sent free by a Burns long ball, and then got booked for a late tackle perhaps motivated by a desire to make amends. More effective attacks came down the left through Prince, one of his crosses bundled out by Grantley Dicks and leading to penalty appeals, although it's difficult to tell where his arms begin and his ample bosoms stop.
By the end of the first half City hadn't been put under the sort of heavy pressure they may have expected and just before the whistle had two opportunities to open the scoring. Good work by the impressive Chris Thompson opened up space down the right; his cross was cleared and Jenkins sent in a shot that lacked power or conviction. However the Chippenham goal survived a more hostile assault a minute later when Dave Wilkinson got hold of a 20 yard shot that forced the Chippenham keeper to push the ball past the post.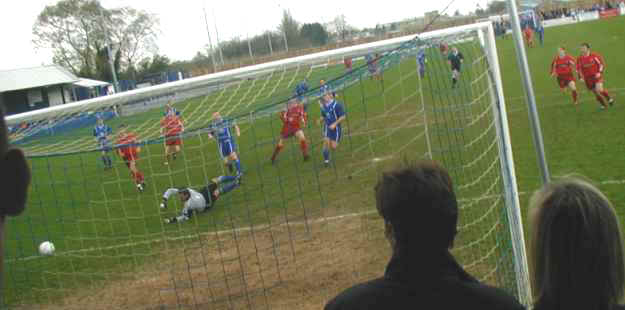 City see a first half shot go the wrong side of the post.
City found themselves shooting up hill in the second half but had hardly had time to get used to the altitude when we spurned a golden opportunity. Chippenham had been trying to push out quickly all game, possibly disconcerted by having no forwards to mark. Suddenly Hoskins held up the ball and slid it in to Lee Smith who had raced clear of the defence. The young forward found himself eight yards out with the keeper to beat, steadied himself and then screwed his shot wide of the post. Difficult to forgive, and he knew it.
Chippenham were beginning to look seriously twitchy now and were still struggling to create any clear opportunities. there was a great deal of huffing and puffing but little inventive play. Our three centre backs were all working well together and keeping the Chippenham forwards well marshalled. Only once did a striker break free, and even then they found Darren McCluskey's foot stretching out to rob him of the ball. Rawlins was looking a useful channel for them in an unusual right wing position, but he often found his progress hampered for long enough by Howard to allow reinforcements to arrive.
City were just looking like they may be able to weather the storm and escape with a point when the resolute defence suddenly lost concentration. City had been dealing with the ball flying across our box all game, but suddenly with twenty minutes to go an arm came out and the ref had little option but to give a penalty. The culprit looked like Griff, but it was a long way away. However when Tweddle fired his spot kick low he gave Matt Bath all the chance he needed, and our keeper added to his reputation with a fine block to preserve City's chances.
However Chippenham had more held in reserve and sent on sub James Bent who instantly looked of a different quality to most of the other players on the pitch. Within minutes he'd wriggled free to fire one shot narrowly wide, and then on 75 minutes cut in the right hand channel to fire a shot across Matt Bath and into the goal. An important goal celebrated by one Chipp director in a series of gestures that seemed to invite the City support to join him on his little viewing platform for a mug of Nescafe. I'm not one to demand higher standards of directors or players than I do of fans, but someone at Hardenhuish could do with giving this gentleman a hefty slap before he gets his club in serious trouble.
City did not let their heads drop though and showed commendable fighting spirit to fire a couple more chances towards the home goal. Lee Smith did considerably better with a second effort, while Luke Prince went on an excellent run only to find himself without options and eventually surrounded by defenders with no get out pass available. City then won a free kick that Burns saw well saved, the resulting corner causing some panic before being hacked clear.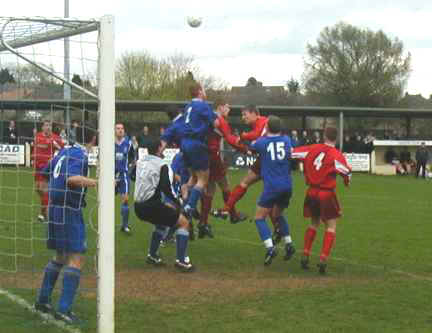 Chipp clear the corner and City's last chance of a point disappears.
All in all City may consider themselves a little unlucky not to have stolen at least a point from this encounter and fans can take pride in a battling performance more reminiscent of those that got us so far up the table a few months ago. However while the game gave us reassurance about our ability to defend and underlined the quality of some of our players, it did nothing to give us optimism about our attacking potential. Quite simply we looked a blunted blade this afternoon, without Baylo we never looked like scoring or getting ourselves into positions to worry Chippenham. Hosky worked hard as always, but says himself that goalscoring is not a major part of his game. Prince is a creative player but looks to drift wide, when he creates chances there's no-one there to put them in the net. Lee Smith needs to add more to his game and become more aggressive in the box, he doesn't look like learning that in this division and needs a spell in a lower division. We cannot afford to be so reliant on one striker, especially one with Baylo's injury problems. If any more money is found then it has to go on finding a forward, with that in place we could still find ourselves looking a real threat next season.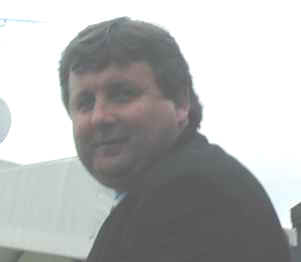 Have a Word: One Chippenham director
who needs to keep his hands to himself.