For the second season running City's Trophy trail went no further than Milton Road as Cambridge City dumped Gloucester out in the 1st round. However City's display was better than the final score suggests, and for long periods of the game it was not obvious that we were the side from a lower division.
City were dealt a pre-match blow with the news that Matt Taylor would not be in goal as Newport didn't want him cup-tied. Burns called up local youngster Adam Bennett for his competitive debut, with the rest of the side unchanged from the victory at Shepshed.
City started brightly and we should have grabbed an early goal when Burns' long ball gave Luke Prince a chance to show some early sparkle. He turned and played in Andy Hoskins, but he was bundled wide and had to settle for a corner. City had a better chance a few minutes later when Hosky again used his strength to turn a defender and put Prince through. however he had little chance to line-up a shot before Marshall took over and snatched his shot wide.

City clear their lines at Milton Road.
It would be wrong to say Gloucester were controlling the game as Cambridge enjoyed the bulk of possession. However the home side looked flat up and lacked any creative flair to cause worries for City. Adam Bennett in the City goal had a few early touches to settle any nerves, but was largely unbothered as City worked hard to keep Cambridge at arm's length. When the Lilywhite's did threaten they first found McCluskey blocking their way, and then saw a good ball across the box cleared behind by Griff.
City had more opportunities but had to be content with snap shots from outside the area, with both Prince and Marshall smacking shots into the hoardings. Prince was concerning the home defence though, and Webb was again promising when allowed to come forward down the right. Gloucester did get what our movement had deserved on the half hour when a good move down the right saw Griff and Prince make room for Webb to put over a cross. Jenkins latched onto it but his shot was knocked out by a defender, but it only went as far as the edge of the box where Chris Burns drove a fierce shot into the top corner.
The lead didn't last long and City can only blame themselves as they let all the good defensive work go to waste with a sloppy mistake. City conceded a string of corners that we seemed to have survived, but then a low angled ball saw Wilkin get across his marker to tap in at the near post on 35 minutes. City then compounded the error just before the interval when we went to sleep as a deep cross came in and Challinor rose unchallenged to place his header in off the post.
City did not really deserve to be trailing at the break and we started strongly. Cambridge never cleared their lines fully after the kick-off and Jenks made the most of an opportunity to cross. Hoskins flicked on the angled pass but it just eluded Luke Prince at the far post.

Both sides had periods of pressure in what was turning out to be an entertaining and balanced cup tie. Webb was being forced into a more defensive position and was struggling to keep out Fox and Wilde. However the crosses were being comfortably dealt with by Griff and Bennett was handling the high ball competently enough. At the other end the home side were not really coping too well with either Hosky or Prince and we had a rash of free kick opportunities. None were deemed close enough for Dunton to have a crack at, and Steve Jenkins could not find the target or a killer pass with his attempts. However he went much closer from open play when Hoskins flicked the ball to him about 30 yards out. Jenks' shot had the keeper beaten but flew fractionally over the bar.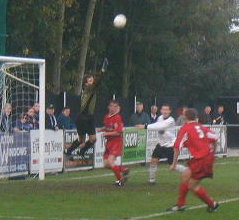 Bennett punches clear a Cambridge cross.
Cambridge's left -back Martin Fox then hit the goal of his life to clinch the tie on 69 minutes. He seemed to still be too far out for danger when he beat Dunton and cut inside, but he then hit a thunderbolt that screamed past Bennett and into the stanchion of the goal. With City two down it seemed to be too much of a mountain to climb and our thoughts looked elsewhere when Cambridge added a fourth a few minutes after. They cut down our left and Pope was presented with a tap in with the defence floundering.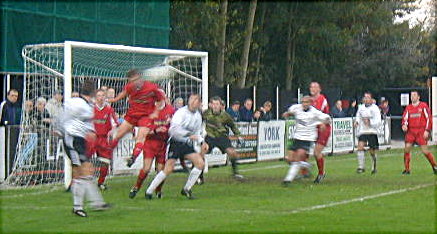 Griffiths meets a Cambridge cross and City breath again.
Despite our obvious disappointment we did manage to rally and recovered a little in the last ten minutes or so. Lee Smith came on to add a little freshness up front, with Luke Prince moving to the wing having faded as the match wore on. City took out their frustration on the hapless referee, who added to his crimes against hairstylists by obliging every Cambridge appeal with an immediate free kick. The poor ref even managed to respond to our travelling fans with a stylish raspberry - like his haircut something that hasn't been in fashion since the Seventies.

Whatever the ref's failings he had little option but to book Hosky after he left the Cambridge left-back with a few bruises to go with his goal having clattered him into the hoardings. The ref then seemed reluctant to re-start the match this side of Christmas, despite the player being off the pitch and this having been helpfully and clearly pointed out to him by Brian Godfrey. When play did re-start it was City who were the more dominant, with Lee Smith doing well and Gary Marshall still full of running down the left. However we couldn't create ant more scoring chances and were left ruing not having translated our first half performance into a comfortable lead.

While we can't look at the game and feel the result was unfair the score line certainly flattered the DML Premier team. Apart from a few defensive lapses we played well and it is doubtful that teams in our division would have been able to prevent Hoskins and Prince from turning their hard work into more clear scoring chances. Griff looked more commanding at the back than he did at the start of the season and Jenks was tidy and efficient in midfield. However with Gloucester now out of three cup competitions the fans will be hoping for some success against Cinderford on Tuesday to provide some continued variation to the fixture list.

And the whole thing written without once mentioning fireworks...