City desperately needed to regain some composure and flair after recent disappointments and playing some decent standard opposition seemed to bring out some quality from the Tigers squad. Without ever hitting full throttle City did just enough to edge out promotion chasing Bromsgrove in a tight encounter.
City were forced into a reshuffle as suspension to Steadman, injuries to Wilkinson and Radcliffe and flu hitting Adie Harris all combined to leave our squad looking threadbare. Jenks returned in the midfield while Bayliss started up front as Hoskins was pressed into service as a makeshift left-back. The weakness of the side was not immediately apparent though as in the early minutes Chris Thompson signaled his intent with a couple of strong runs into the heart of the Rovers defence.
City were not entirely comfortable when Bromsgrove pushed forward, but of the two sides exchanging early blows it was Gloucester who were creating more threats on goal. A clever bit of play by Webb forced a corner, and a series of wicked in-swinging crosses from Thompson kept the pressure on. The first was hacked behind while from the second Karl Bayliss' header forced a smart tip over from Lowe in the Rovers goal. Only a soft decision on a push in the box rescued the visitors as Cox's header thudded onto the base of the far post. Moments later City were back in front of the Rovers goal, but Bayliss elected to work in a shot that flew high when a careful prod could have put Cox in front of goal.
Bayliss forces acrobatics from Lowe in the Rovers goal
~City City were enjoying this but Bromsgrove were a constant threat on the break. Chipps was unlucky to be booked when one break saw him and Burns exposed as the Rovers forward burst towards the box, only to tumble across the Aussie's path. The free kick proved easy for Bath. At the other end City were at last playing some of the free flowing passing football that had escaped them in recent games, with Webb and Thompson particularly impressive. Tom Webb had a great chance when good play by Bayliss and Thompson set him up for a shot which required a good save to put it wide.

Bromsgrove also had their chances, with Griff relieved to be able to clear a shot from Frost off the line after he had been caught in possession near the half way line. Thankfully the captain's bandaged head didn't hamper his speed in getting back to save the day. Burns was having less luck in defence, several time his mishit clearances put Bromsgrove straight back onto the attack and greatly amused the travelling support. However the Rovers fans will have not enjoyed some wild finishing that wasted what few chances they created. Their nearest effort was a curling free kick that was spectacularly tipped wide by Matt Bath.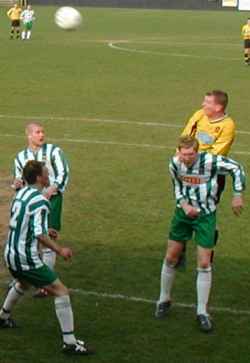 Baylo wins another header in the box
While Bromsgrove were scrapping in midfield they were finding the sheer energy of Webb a real problem. City were pushing forward, but Bayliss was finding it difficult to keep up with Cox's runs. Several times though the veteran forward shielded the ball well and sent in Webb or Cox for shots that they never quite got away. The final opportunity of the half fell to Chris Burns after another Thompson corner was only cleared as far as the boss on the edge of the box. The gaffer fired his shot over the bar.
If Rovers fans thought their forwards had been a little casual in the first half they had real reason to tear their hair in the second. As early as the 48th minute Paul Danks spurned a golden opportunity after Dyson had escaped both Hoskins and Burns. Bromsgrove enjoyed a strong ten minutes and City were looking vulnerable for a spell. they were grateful for the strong physical presence of Steve Chipps, if not the quickest he is a constant irritant for forwards who find him on their backs as soon as they get possession.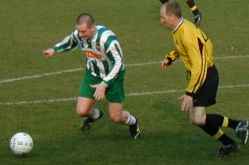 Marshall tries to close down a late attack
City managed to weather the storm and finally Matt Bath was able to get off a clearance that didn't come straight back at him. Jenks was sent down the left by Thompson and he turned his man before sending in a low cross towards Cox whose shot was well saved by Lowe from close range. The keeper's luck didn't last though and on the hour Jimmy Cox celebrated his decision to turn down Kidderminster Harriers by grabbing the cruicial goal. He latched onto a clever Webb pass and saw his first two efforts pushed back by Lowe. However Cox was not to be denied and he showed great persistence to finally find the net when it seemed the defence had arrived to clear the danger.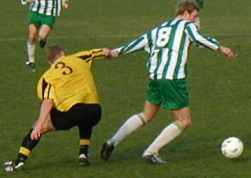 Jenks tries to get to grips with Collins
The goal opened the game up a little as Rovers tried even harder to get forward. This put even more pressure on Andy Hoskins who despite valiant efforts looked a little at sea as he continually lost his man at left back. On several occasions he was rescued by his team mates, not least Steve Jenkins who cleared at the near post after an especially dangerous cross. For all the Tigers good defensive work they were lucky when Griff was left in the wake of Richard Burgess and the striker closed in on goal. As he approached Bath's goal the former Port Vale forward elected to try the chip and watched as the ball looped tamely into the T-End. He was subbed minutes later.
Having spurned several good chances Rovers could have had little complaint if the Tigers had added to the scoring as they threatened to do in the closing stages. City had put Marshall on for the shattered Karl Bayliss, possibly to add to the nerves of the T-End faithful. Masher did make a positive contribution, sending Jimmy Cox on a left wing run which should have seen the striker put in Thompson for a chance. Instead Cox saw his 50th City goal in his sights and tried to beat the impressive Lowe from a tight angle. Moments later Webb almost got the goal his hard running deserved when Cox did send over a hard low cross that was almost turned in by both Tom and the defender.
In the end this was a well deserved victory from a tightly fought contest. City will have been delighted to find some form and to have salvaged a good result after so many recent disappointments. While promotion has slipped over the horizon, a top six finish would still be a proud achievement to close Burns' second season.