City went into this match hoping to take their recent return to form onto the road. The only change in the side was inforced by Griffiths's suspension, his place taken by captain Andy Tucker who returned from a hamstring injury.
Bromsgrove are a club with similarities to City, suffering the consequences of past financial excesses and still in the midst of some conflict between fans and various directors. Few City fans can go into the Victoria Ground and not remember that awful afternoon in May 1991 when for a few minutes we all thought victory had won us promotion to the Conference. The highest reaches of non-league football seems a distant hope for both these clubs in their current state.
City started brightly but before long the match settled into a pattern of long-balls and hopeful clearances. These were made even more difficult to control by a firm pitch that produced plenty of bobbles and inconsistent bounces. The only early events saw Baylo's shot blocked and an innocuous challenge on the Rovers keeper that left him hugging the floor.
With both sides largely clearing the midfield there were good chances for both sides as the ball flew from end to end. Ally Hines had to be wide awake to clutch onto a Bromsgrove header, and then Tucker needed to be alert to clear as another header flew back across the City six-yard box. However City enjoyed a good spell in the middle of the first half when only profligate finishing kept the score goalless.
First Steadman floated over a deep cross which Parnell met unchallenged, but he couldn't get any power behind his header. He almost made amends a few minutes later when his long ball saw Cox race clear. Cox was tugged by a Rovers defender, but the ball ran on to Smith who didn't have quite enough time to shoot before finding the keeper at his feet.

More City pressure saw a good move on the edge of the Bromsgrove box, Bayliss and Jenkins linked up before Jenks played in Cox with a quick one-two. Cox hit a firm shot but fired wide. Cox was then unfortunate to be flagged offside from another long ball. Perhaps the best City chance fell to Smith after Marshall and then Cox worked the ball across goal. Smith collected eight yards out but didn't get good contact and wasted the chance as it seemed to get trapped under his feet. City also had a free kick opportunity after Smith's pace had drawn a foul, but Marshall's shot lacked quite enough meat to trouble the keeper.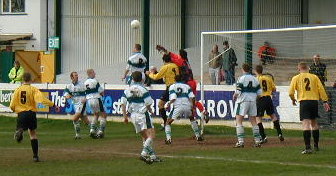 Bromsgrove punch clear under pressure from Callinan
It was far from being one way traffic though as City got plenty of chance to practice their new found defensive skills. Both Tucks and Parnell were again in good form, but there was more than a touch of luck as well when the home side saw a high looping cross from Xioyrappa bounce off the City bar.
The second half was largely more of the same, with both sides keen to clear their lines with big clearances. City fans will have been far from bored though, still relishing the novelty of us regularly having players under the hopeful punts from the Bromsgrove defenders. Gavin Rae replaced Jenkins and moved into left-back, and played a full part in keeping the defence as resolute as it was.

City survived one scare when a fantastic cross beat the defence, but the Bromsgrove forward planted his header wide. Medcroft came on for Smith and made a couple of telling contributions as City tried to find a little forward momentum. A Medcroft pass sent Cox through but he stumbled over the ball, a lapse of concentration that summed up a game where he never seemed totally switched on.
City then made the breakthrough, and when it came it really looked easy. Marshall sent over a near-post corner that was met by Callinan who jumped higher than any of the watching defenders and was rewarded with the crucial goal. City then enjoyed another good spell when they could have added to their lead. Cox squared the ball to Medcroft who stepped over the ball to let in Abbo when he'd have been better off taking it on for a shot. City also had some concerted pressure as the ball bounced around the Rovers penalty box, one clearance almost fell to Baylo but he saw the ball snatched off his foot and blasted into his face instead.
The last ten minutes saw Bromsgrove mount a real barrage on the City goal as they searched for the points they still need to make sure of avoiding the drop. City's defence looked well marshalled and held their line very well. The other noticeable difference between City of late and some of their past performances is the amount of bodies getting back to smother opposition attacks. Abbo and Callinan were both chasing right until the end and Marshall carried on scrapping until limping off, looking exhausted, to be replaced by debutant Tom Webb.

Rovers did manage to create two real chances. One far post header forced a smart save from Ally Hines while the other saw City let off again by poor Bromsgrove finishing. A good surge carried the winger past Rae and his cross wrong-footed City only for the header from Nicholls to go wide from close range.

While City may have rode their luck at times this was a really good win and we looked more organised than in the past. Some of the younger players at the back are beginning to believe that they can defend and keep sides out, and that confidence is boosting the whole team. Having been leakier than a fishing net we've now gone 270 minutes without conceeding, but that record will face a real test against prmotion chasing Bilston at Meadow Park this Tuesday.