This was by no means a classic encounter, but that City eventually managed to run out 4-1 winners without really showing more than glimpses of their top form says much for the chasm between the two teams. City eventually managed to get the ball on the floor for long enough to overcome both a dirty Bedworth side and a pedantic referee.
City were forced to reshuffle up front with Hoskins suspended, and perhaps surprisingly Burns opted for Steve Jenkins to partner Cox up front while Wilko and Smith returned to the midfield and right flank respectively. Bedworth meanwhile were much changed from the side that ripped City apart to such impressive effect last season. Who knows what their manager Ian Drewitt thinks he's doing, but his side seem to have gone from an attractive passing side to a bunch of strong arm kickers.
The opening fifteen minutes were punctuated by a series of Bedworth fouls, many needless kicks and chops that seemed to be intent on letting our players know they were in for a rough ride. The ref tried to clamp down with a smattering of yellow cards, but after this early show of strength he patently lacked the bottle to see through his stance to a logical conclusion that should have seen a couple of Bedworth red cards for persistent fouling. As it was the visitors tactics seemed to be working as Gloucester struggled to settle in a disjointed match.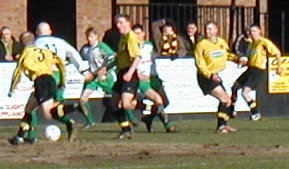 Harris & Webb look to link up in an early attack
City were however able to enjoy the occasional run, but both Thompson and Harris saw early charges forward cynically halted. They were not helped by a lack of movement up front. Cox looked like no-one had flicked his on-switch, while Jenkins trundled across the Bedworth defence without looking a threat. We did create chances though - Smith unlucky with a rasping drive and Jenks squirming free only to lose his shot under his feet.
The opening goal came totally against the run of play. Bedworth's two previous attacks had been well marshalled by Chipps and Griff before any real danger emerged. Then out of nowhere Martin Crowley turned Webb and edged ahead of Wilkinson just long enough to unleash a thirty yard bullet that whistled past Matt Bath and clipped the far post on its way into the net. Bedworth celebrated; City looked stunned. If Bedworth had been playing for the draw before they'd surely defend even more staunchly now. With the labouring Jenkins up front City looked flat, and to really challenge we may need to make tactical switches quicker than we did today.
City tried to strike back but huffed and puffed without looking convincing. Still the trips halted moves before they began and some of our best football was played deep in our own half with neat turns by Griffiths and Thompson. When City managed to force a corner we came close to leveling, a half-cleared cross was sent back to Adie Harris and his driven effort was seen late by Griffiths and his diving header somehow cleared the bar from close range. Minutes before the break City should have taken the lead, Cox ran on to Smith's cross but was wrestled to the ground. The ref would surely have awarded a penalty but allowed play to carry on as the ball ran through to Wilko yards out with the net at his mercy. The midfielder must have been watching Giggs on TV at lunchtime though as he too contrived to balloon his shot skyward.
City equalised soon after the break having come out revitalised, quite possibly after a well-deserved roasting from Burns and Cook. Both Webb and Cox had already enjoyed successful runs towards the Bedworth box, but the crucial move came when Thompson flicked the ball inside for Lee Smith and he charged past one man, only to be tripped by his outstretched leg. This time it was a foul too far, and the referee pointed to the spot. Chris Burns took responsibility for the crucial kick, and his powerful shot crashed past the arms of the diving keeper.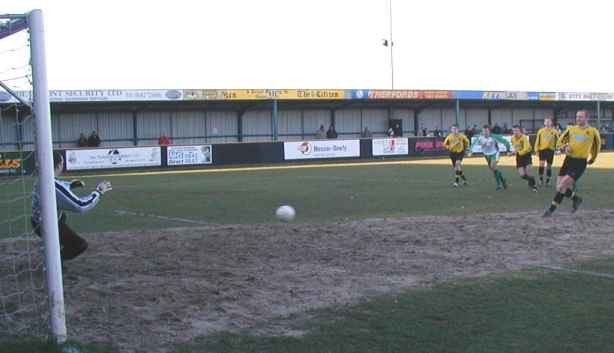 Burns slams home City's equaliser from the penalty spot
City then dominated the game and managed to get the ball on the ground for long spells. The passing and movement threatened to bewilder the visitors as we pushed at them. After several promising encounters floundered for lack of the final pass City took the lead with the move of the match. Webb took the ball just inside our half and played a clever chip down the line for Cox to race on to. His pace took him flying down the left wing and he whipped in his cross as he approached the by-line. Lee Smith was one of the few players on the pitch who could keep pace with him and when the cross arrived he had plenty of room to lean forward and nod the ball into the net past a stranded keeper.
Cox shapes to cross from
the left
Moments later Smith is
engulfed by team mates
With City now flying Bedworth resorted to their bad old tactics and City were getting more frustrated at the constant trips and shirt tugs all over the pitch. The ref had lost all interest in punishing the fouls, and seemed more and more confused as to when to let play go on and when to stop it. City were doing their best to keep some rhythm, but were also wasting some of the free kicks that came their way. However we added a well deserved third when another deft Webb flick set Cox straight into the heart of the Bedworth area. He cut in and swept past one defender before sending in a fierce shot. his effort was well parried by the keeper but Steve Jenkins was on hand to roll in his first goal of the season. In truth Jenks had looked lost up front, but when it mattered he was in the right place at the right time.
The match then took a turn for the worst as the game threatened to boil over. The referee had entirely failed to control the outrageous digs from the Bedworth players and inevitably one of our players was eventually caught retaliating. Surprisingly the culprit was mild mannered Chris Thompson who was accused of having head butted forward Lee Ross, who had kicked him up in the air for what must have been the tenth time in the half. It was the players first card of the season, something the ref may want to mull over tonight. From that point the game swung towards Bedworth, although the players on the pitch were soon evened up. City players gave up on the ref and began to exact some justice of their own. Lee Ross was on the end of one particularly hefty challenge and departed on a stretcher, the Greenbacks had already put on three subs and were themselves down to ten men. In some way natural justice was done after their boot boy tactics.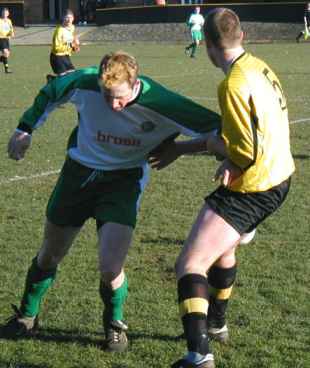 Chippy gets to grips with
the Bedworth attack
City did not seem to fully appreciate that they had the same number of players on the pitch as Bedworth, and instead adopted a siege mentality that bought the Midlanders on to us. City were defending too deep and only Cox was really providing any outlet. While the defence was desperate at times, City now look a lot less frail at the back. Chipps and Griffiths were snapping at the heels of forwards, but at times it was close. Matt Bath came dashing out of goal at one point, and then got stranded out of his area as Bedworth played the ball round him. However by the time the shot eventually came in Stephen Chipps was running back to head the ball clear of the line.
After a lengthy spell under the cosh City eventually made the game totally safe in the dying minutes. Cox and Webb had been carrying a two pronged attack for some time, and one long ball provided a clear break for Jimmy Cox. He pushed past one defender and roasted another as he ran half the length of the pitch before cutting in. It looked as if the angle was too narrow and he must try and find Webb, but the striker unleashed a fierce drive that smashed past the keeper at the near post - his 13th goal of the season. A nice little flourish in front of the HTV cameras visiting Meadow Park.
All in all a pleasing win that keeps City's late promotion run alive for at least another few days. The Tigers have now not lost in nine games since Boxing Day and will be looking forward to the key local derby with Cinderford on Tuesday. The loss of Chris Thompson with a needless three game ban is an annoyance though, especially as it seems likely to include a potentially vital home clash with Weston on St. David's Day. With other results going our way City are now only six points adrift of 2nd place Bromsgrove with three games in hand, but five adrift of Weston with just one game less played than the north Somerset outfit.