City looked to have plenty to be confident about as they headed into this match on the back of a morale boosting win at Weston on Tuesday. New signing Mark Hardcastle went straight into the City midfield and the squad was also lifted by the return of Chris Burns to the subs bench after his ankle injury. The scene was set for Gloucester to consolidate on their recent away form in front of our own fans. Sadly no-one had explained this to the visitors.
The match started brightly enough with City again playing some attractive passing football down the flanks. That start seemed even more promising when City by-passed the midfield to open the scoring. Taylor's kick found Hoskins who released Lee Smith scampering to the left by-line. He crossed back to Wilkinson who found a huge gap in the Bedworth defence and swept the ball in for his first City strike.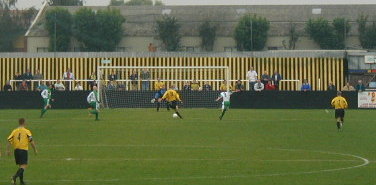 Wilkinson shapes to put City ahead
That was as good as it got for City and those of a more sensitive disposition might want to leave the report now. Our lead lasted for all of two minutes, and that was after Bedworth had slammed a chance against the outside of the post. The goal was simple when it came. The midfield was too far adrift of the defence and Bedworth found room to play. Thompson was given room to turn and fired a low shot from the edge of the box past Taylor's left hand. City were then punished again for a lack of concentration almost immediately. The re-start led to City sloppily losing possession and when Bedworth raced clear Griff was caught out of position and enabled Partridge to fire a shot straight into the top corner.
City still looked to have a great chance of winning the game at this point and the next twenty minutes were fiercely contested. Unfortunately Jenks was having a rare match off-key and looked half a yard short with passes going astray. Despite that City were making progress down the flanks with Marshall and Lee Smith providing crosses. Smith almost scored with a curving drive after Hoskins had made him some room, but the shot was palmed over well by Glover for Bedworth.
Hoskins and Smith also had chances from close range, but on both occasions the ball rolled agonisingly across the goal without getting the vital touch. After one of these incidents a Smith challenge on the goalkeeper sparked a pointless bout of shoving. However Bedworth's keeper can think himself lucky the referee failed to see him come all the way around the edge of the main ruck to punch Lee Smith before falling to the floor again clutching his knee.

City didn't hold on to the initiative for any length of time though and got hit by a final blow just before the break. As had happened before City were simply too loose at the back and Thompson easily ghosted past Marshall to cross low along the six yard box. Delves seemed to have been asleep and left Partridge entirely unmarked at the far post to tap in his second and Bedworth's third.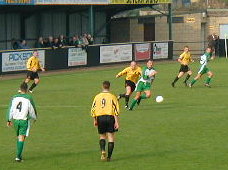 Steadman and Smith see
another attack broken up
Player-manager Chris Burns had taken as much of this as he could stand and put himself on for the second half, pushing Steadman back into defence. There was no chance to assess the benefit as Bedworth walloped us with two quick strikes to finish the match as a contest. After 48 minutes Webster capitalised on some ponderous City defending and slammed the ball past Taylor from just inside the box. A minute later City got another shooting lesson when Webster smacked another scorching strike into the net from further out.

At 5-1 down and most of the second half still to play our side faced a real test of character. In fairness City never gave up hope and never stopped working, with Hoskins and Smith up front being especially deserving of praise. The game was effectively over, but it could still have been different when Hardcastle's cross was met by Parsons diving header which thumped against his own post. Smith and Hoskins both had further efforts but very little was going right for City.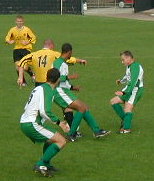 Burns enters the fray
Burns had made a difference in the midfield which was now looking more fluent and really competing in a way that hadn't been apparent in the first half. However the whole team was left stranded by a fluent passing move that involved most of the Bedworth side and ended with Webster completing his hatrick with a simple tap in against a stranded Taylor. The poor City keeper making his home debut must have wondered what had happened, although not at fault on any of the goals conceded.

City saw further half chances go begging, but the last minutes of the game just about summed up the whole of the match. City enjoyed a period of concerted pressure with a string of corners and possession moving around the edge of the Bedworth box. Burns jinked his way into the area, while Smith and Hoskins both saw chances missed as they tried to dig the ball out from under their feet. Finally Burns saw his header blocked on the line and quickly cleared up field. City's defence was again laid bare with too many players committed in the other half and Bedworth's sub was able to poke the ball beneath the advancing Taylor.
To complete City's misery Chris Burns then allowed the referee's performance to get under his skin and he was dismissed for confronting him after the final whistle. However understandable his frustration Burns will be disappointed that he reacted like that, especially when there was nothing to be gained from his vehement protests. City will hope to be able to lift themselves again quickly for Tuesday's derby game at Cinderford and look to shake some of our current inconsistency. There will be some pleasure in the encouraging movement shown by Hoskins and Smith up front, but the real worries will be in defence. At times we looked static and off the pace, with Griff, Dunton and Delves all failing to read the game or to move up as a unit. If you learn most from your mistakes then at least our young players can look at this as a match that provided plenty of opportunities to improve.