Bedworth seem to have the voodoo sign over City this season as they smacked four past Burns' team to end our good recent run of form in resounding fashion. City fell victim to a sensational forward display from Chris Partridge who added a hatrick to the brace he had grabbed in Bedworth's 7-1 demolition of City back in September.
The match started with a bang as Bedworth grabbed an opener before anyone had settled, least of all me still scoffing a restorative burger. A long pass found Craig Whitmore after Griff slipped, the Bedworth striker had all the time and space in the world to slip the ball past Matt Bath after barely half a minute. City almost went further behind minutes later when Whitmore sailed past Kenny Howard, but when he found Partridge the striker blasted into the attractive green chipboard that surrounds their pitch.

City recovered quickly and both defences were looking extremely vulnerable. Prince won a free kick which was clipped over from the left by Steve Jenkins. The curling ball was met by an unmarked Darren McCluskey at the far post and he planted his free header into the net from six yards. It looked like both sides could get a hatful, unfortunately this turned out to be only half right.

McCluskey celebrates his equaliser against a static Bedworth defence.
Bedworth had taken it upon themselves to print their programs with their opposition today marked up as Worcester City. Our team looked to have taken this identity crisis to heart, and our defence which has improved so much suddenly looked as if they had just met. Much of this was down perhaps to the size of The Oval pitch, and was exacerbated by the pace and movement of Partridge.
The next fifteen minutes were the best of the match as both sides tried to exert a commanding influence on the game. Both teams pressed forward and did their best to attack. Luke Prince seemed to be having some success down the right flank and twice produced good crosses that made the Bedworth defence flap. Unfortunately one ball ran loose to Baylo who fired wide, the next one almost reached Hoskins but he couldn't dig the ball out from under a divot.
Bedworth regained the lead on 23 minutes as quick passing exposed the City defence and saw Crowley put in Partridge who again had time to pick his spot and shoot past a stranded Matt Bath. City then had a let off when Wilkinson lost possession in midfield and Partridge raced clear. However he lost the ball under his feet, allowing Neil Griffiths to catch up and put in a tackle with McCluskey completing the job with a hefty clearance. Marshall was on hand soon after to clear another dangerous cross fired in from the left.
Bedworth were much more direct than City, presumably used to playing on a pitch where the middle of the park looked like it had been thoroughly ploughed and dug over. While Bedworth limited their passing to the last third, we found it difficult to adapt and tried to pass over the impossibly rutted surface. City wasted one chance when Dave Wilkinson picked the ball up just inside the penalty box having been found by Burns and Prince. Instead of turning the ball goalward the player dribbled into a cul-de-sac and ended up prodding the ball harmlessly back into midfield. A few minutes later though he did better, running on to a loose ball on the edge of the area and firing his shot narrowly wide of the post.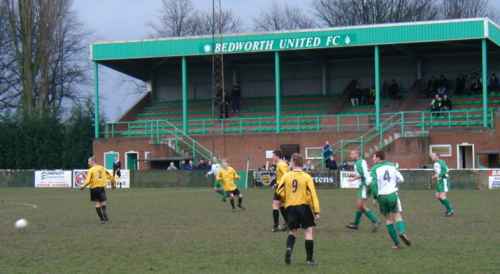 Bedworth hold the line and we seek inspiration.
As the match progressed it became increasingly tetchy with several personal battles carrying on all over the pitch. The ref set the tone for the game when he bizarrely refused to book a Bedworth player who scythed down McCluskey long after the ball had been played. A few minutes later the ref then missed a flailing elbow that caught Prince in the face. Having set out his stall the ref continued to ignore random acts of violence throughout the game. Gary Marshall and Aston exchanged punches, leaving Marshall with a cut near his eye but neither player with a card. The ref continued to miss things in the second half, Marshall again escaping punishment in another exchange of blows. Perhaps the ref had just lost his cards, but the inconsistency is worrying. The muppet who carded almost our entire team at Cirencester in September would have managed to get both teams down to eight players this afternoon.
Before City got the respite of the half-time break things were to get worse. City's defence again looked pedestrian on 45 minutes as Goodman thundered through and flicked the ball across goal for Partridge to tap into the net. Things could have been even more disastrous though, moments later the impressive Crowley sent over a floated chip that clipped Matt Bath's crossbar.
The second half was generally a lot tighter. Bedworth defended high up the pitch and City found it difficult to slip past the offside trap. The home team were content to carry out occasional forward raids, but each time they did go forward they looked more likely to create a scoring chance. Chris Burns came closest to unlocking the Bedworth backdoor (their keeper's favourite phrase). The boss's cross field passing was again superb, and this raking ball found Prince on the left. He beat his man and the cross reached Bayliss who was unlucky to see his shot pushed out by Bedworth's man mountain of a goalkeeper.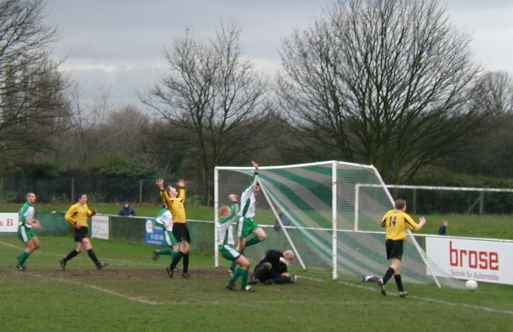 The pain of it all as Webb fires into the side netting.
Both sides had second half goals disallowed for offside, Partridge's tap-in was chalked off and then Andy Hoskins saw a header go the same way. Despite the protests he was several yards off when Jenk's free kick was flicked on. Bedworth face being chucked out of the FA Cup and DML due to the low quality of their lights, perhaps a reason for allowing the game to disappear into the gloom before eventually putting the lights on to glimmer in the dark. City began to put on subs with both Webb and Stockley getting a chance to stretch their legs, but it was the Bedworth sub who made the greater contribution. McGregor crossed from the right for Partridge to complete his hatrick from close range after a knock down had wrong footed Bath.
City tried to respond with Tom Webb and Prince combining well down the right, Webb then just failing to stretch and poke in a far post cross. While City's defence had remained fragmented the Bedworth team had looked more solid as the game went on. Baylo again looked a little off colour up front as several of his efforts just misfired. City's misery was complete a few minutes from the end when McCluskey hobbled off after a heavy challenge. There would have been little to impress the watching scouts from Crewe, although no-one should think this was a true reflection of what City are capable of.

For all the effort City put in to shouting and looking aggrieved at the result this was just one of those days when suddenly nothing seemed to quite click. Hopefully this was just a blip, mitigated a little perhaps by the pitch which didn't favour our attempts to pass the ball around on the ground. The most relentless optimist could perhaps point to the previous result at Meadow Park and suggest we've improved by three goals. Chris Burns has referred to the remainder of this season as a long warm-up for the next campaign, but he'll know that to turn into serious promotion contenders in 2003 we will have to avoid off-days like this one.

Well that turned out to be a sound prediction...