City crashed out of the FA Trophy at Buckingham Road, but left with some pride left intact after a battling display that prevented the rout that looked likely after the opening 20 minutes. In glorious sunshine City ran out to a thunderous reception from 300 travelling fans. Burns had reshuffled his squad with Thompson returning on the right flank and Bayliss making a surprise appearance in midfield. At the back Steadman got the nod over Stephen Chipps with the Aussie relegated to the bench.

The new line-up may have been partly to blame for City's poor start as the players looked lost from the start. Aylesbury burst from the starting blocks and ripped into the fragile looking Gloucester defence. We fell behind in the fourth minute when Kezie Ibe robbed Neil Griffiths as he looked for a team mate and the pacey forward accelerated into space, leaving Burns and Griff trailing in his wake. Matt Bath did fantastically well to block his first effort but could do nothing as Ibe slotted the rebound past him.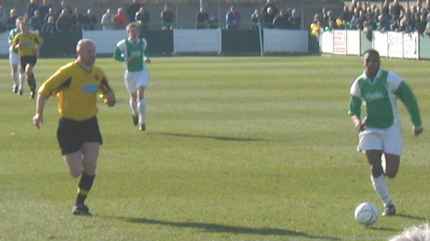 Burns desperately tries to keep up with Ibe as he closes in to score
The first quarter of the game was a disaster for the Tigers as the players failed to settle at all. Neither Baylo or Wilkinson could live with the midfield competition and we could not get our passing game going at all. The Gloucester midfield lacked enough pace to get them out of trouble and they couldn't utilise either Thompson or Harris on the flanks. The marking was far too loose and only one side looked like adding to the score line and sure enough soon after Matt Bath had saved City with one good stop he was again picking the ball out of the net.

On the 15 minute mark Aylesbury caught Adie Harris trying to push up the left wing and he was stranded as his opponent raced beyond him. the cross dissected the City defence and Maskell was unmarked as he placed his header. Once again Bath made a great stop but with the ball pushed wide our players were slow to react and Rory Hunter slotted a tame looking slot through the penalty area and inside the far post. City heads dropped and only a smart Matt Bath save from close range after a goalmouth scramble prevented a rout. Aylesbury saw a third disallowed after Bath had been bundled over challenging for a cross.

It was only with about half an hour gone that Chris Burns was able to inspire his young side to rally. Very gradually we were starting to find some passes going to feet and Burns tried several times to get Jimmy Cox free with his characteristic long raking passes. However City did get a lifeline thrown to them when Karl Bayliss was pushed in the box and Chris Burns converted the 35th minute penalty. This visibly lifted the City players who finally began to play with a little belief. Adie Harris found some space and after a few range finding crosses he found Bayliss who forced a smart save from the keeper. City were now dominating possession but were not creating much in the way of clear chances and will have been grateful for the chance to re-group at half time.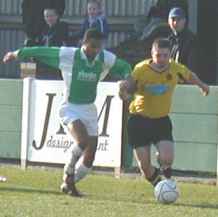 Cox bursts down the wing
The second half was a scrappy affair in which neither side managed to gain much of a strangle hold. The ball was often lost in a forest of legs in midfield and fluent movement was rare from either side. City were in the game far more in the second period and both sides had several chances to add to the scoring. Matt Bath needed to be alert as he carefully watched a looping effort from distance which he eventually had to tip over the bar. City had few clear chances but were at least creating problems for a Ducks defence that looked far from comfortable when under pressure. As always the pace of Jimmy Cox seemed the most likely source of a goal while Andy Hoskins was beginning to put himself about after an entirely anonymous first half. City could have gone level after the twinkling feet of Adie Harris carved an opening and his cross was only half cleared. The ball fell to Dave Wilkinson just inside the box but his shot whistled just over the bar.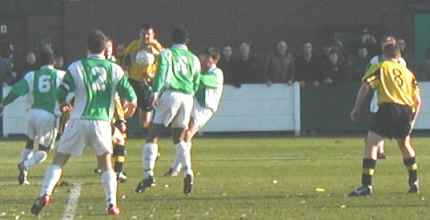 Hoskins tries to break through the Ducks' defence
The game was effectively finished by the ref who made the seemingly common mistake of thinking we'd all paid to watch him rather than the teams. Having missed several earlier trips he suddenly became card happy, but his retribution was entirely focused on the Gloucester players. Will Steadman was the unfortunate victim in all of this, picking up a red card on 65 minutes for a seemingly innocuous challenge on Ibe near the half way line. It would be fair to say that the Aylesbury players were not making a determined effort to stay on their feet and their fondness for lying on the floor contributed to bookings for Burns and Thompson for equally trivial fouls. The bad feeling amongst City's following was impounded when the Aylesbury left-back went unpunished for sliding through sub Lee Smith's standing leg as he prepared to cross.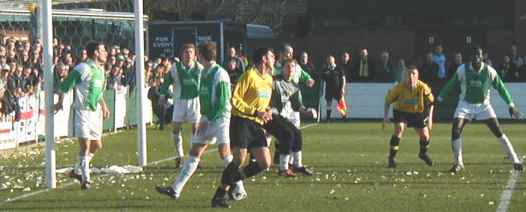 Griff readies himself to challenge for a corner
City's best chance to level fell to Andy Hoskins after some more good movement from Jimmy Cox and interplay with Harris allowed the winger to send over a dangerous cross. Bayliss came close to converting the cross and it narrowly eluded Smith before falling to Andy Hoskins with the goal gaping in front of him. However from 12 yards out he managed to slice his shot and it spooned wide for Cox to retrieve at the by-line, but the moment was gone. City struggled to create much, although this was a brave effort and it was not obvious that the Tigers were a man down to their higher division opponents. However we lacked the legs to really get forward and Aylesbury worked hard to stop any attacks lasting long enough for numbers to get forward in support. In the end City's Trophy dream stuttered to an end and Aylesbury's fans found voice to cheer their teams progress to their first semi-final.


Top: City players troop off in dejection at Buckingham Road.
Bottom: City's travelling army of fans fill the away end.
Although defeat is hard to bear it was probably what we deserved, on the day we didn't perform at anything near our best and were fully punished for a bad start. For all the temptation of blaming some poor refereeing and misfortune in front of goal Aylesbury were the better side for most of the game and their forward line was pacey and very mobile. It was a shame that we went out without really giving a good display, but who would have dreamt we would reach the quarter-finals of the Trophy when the competition began for us at Atherstone in early October. We've had great wins over Woking and Southport and the side has learnt to believe in itself. We have nothing to regret, and to achieve the club's second best ever Trophy performance from the DML Western division is really an achievement to savour.

The real disappointment of the afternoon was not really the defeat or even the manner that it happened. The real sadness was the reappearance of the self-styled CDB to drag the good name of our club through the dirt. Their appearance may even have had a detrimental affect on the result as it certainly killed the atmosphere and our vocal support was a fraction of what it would have been. Most City fans were watching these Burberry clad buffoons rather than the game. That they started threatening City fans when thwarted from getting to the Aylesbury fans is really beneath contempt, these people are nothing more than bloated bullies. Our club need to get a grip on this problem and take responsibility to identify them and ban them before they destroy what we are trying to build at Meadow Park.