Both sides went into this match having been unceremoniously dumped out of the FA Cup last week. For both teams it was a last real opportunity to keep hopes of a big pay day against one of the major non-league sides in a later round.

Despite the friendliness of the locals Sheepy Road is never a hospitable place to visit, boasting a micro-climate ten degrees below the rest of the Midlands and a ground thrown together from the cast-off portakabins from nearby building sites. None of this really helps when you're facing an awkward side who've already beaten you this season.
The opening exchanges set the tone for the whole of a largely forgettable first half. Coxy escaped briefly down the wing but was soon shackled back before getting free, almost immediately the home side smacked the ball straight up the other end and Griff was called on to put the ball out. City had reverted to playing Jenkins at the back and he looked even more uncertain than in other recent games as he faced near constant aerial bombardment.
Things did not look promising for City when Will Steadman was booked for blatantly tugging back his opponent as he threatened to run on to another heft boot upfield. However Will went on to be one of the foundations in a determined battling City performance. This was largely a game won through grit and determination and simply not giving in.
.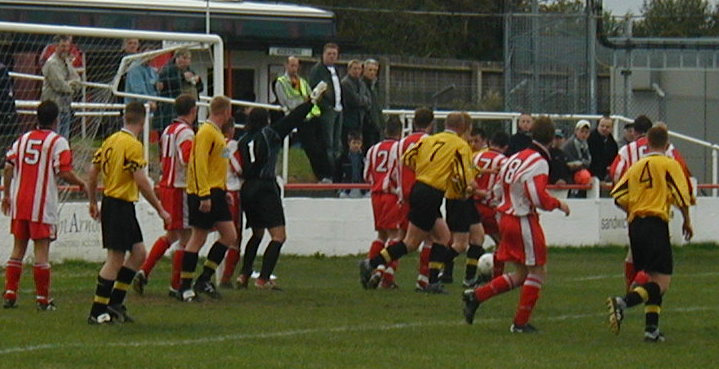 The Adders scramble away a City attack under pressure from Burns
The midfield was a crowded battleground and for the first twenty minutes there was little in the way of meaningful action as the tackles snapped in from both teams. The Adders pushed up their back line to compress play still further and they unashamedly hoofed the ball skyward and forward at every opportunity. In fairness you couldn't blame them, the pitch was bumpy and the grass cut long - hardly favouring passing football. Hoskins and Cox both ran hard for little reward as the pace of the match forced City to also lump the ball forward fairly aimlessly.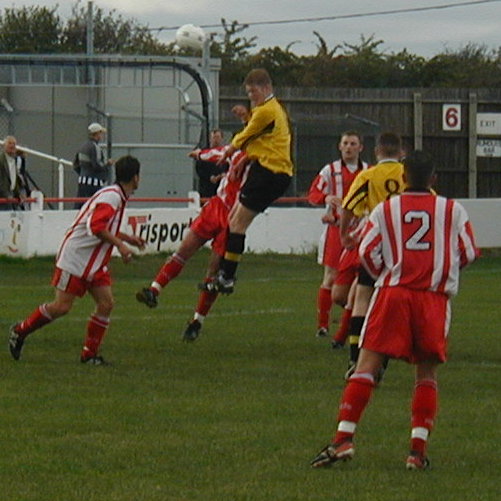 Wilko heads goalward from a first half corner

There was little in the way of goalmouth action for City to get excited about. Cox ran through on goal once but the Adders keeper was first to the ball. Despite the lack of clear cut chances City were getting through some sterling work with Adie Harris and Neil Mustoe combining well on the left and even managing some smart tight interchanges. The lack of space was causing some niggles though, and Chris Burns got caught out by one neat turn when he was booked for what looked a brutal hack but was simply a missed kick at the ball. The boss had looked tired against Newport, but in this game he was more of an influence and covered as much turf as Wilko and Mustoe in midfield.

Although by the last ten minutes of the first half City were starting to put some passes together it was in this spell the home team created the only real opportunities for either side. One long ball actually found a team mate down the left and he took half a yard past Griff before crossing to a team mate inside the City box. Thankfully the Adders forward looped the ball over the bar. Minutes later City had their keeper to thank for going in level at half-time. Steadman missed one long ball and the forward ran in on goal only to find Matt Bath at his best to push his shot back out from point blank range. The ball rebounded straight to the forward who had another go only to find Bath's reflexes equal to him again. The ball then fell to the player a third time, but by now the angle was very narrow and Matt Bath made a remarkable third stop to push the ball out for a corner.

Having got through a first half battering City caught the Adders napping as the match re-started. Almost from kick-off Jenkins carried the ball out into midfield and sent Cox free down the left flank. He cut inside the area and squared the ball for Hoskins who gleefully volleyed home from eight yards. The Adders must have been shell-shocked as it was City's first chance and their tight defence had suddenly just evaporated.
That goal really lifted City and for five minutes it was all Gloucester attacking as Atherstone were lost in recriminations. A good move down the right saw Lee Smith get forward and send in a fizzing shot that just cleared the Adders crossbar. More threats were coming down the left where Adie Harris and Jimmy Cox were combining well and attacking with great pace and verve.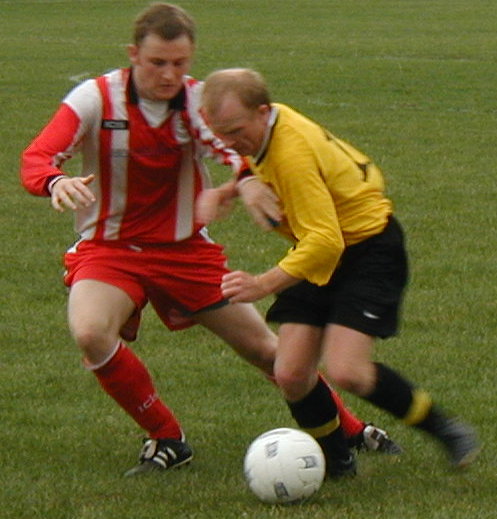 Adie Harris torments the Adders defence.
After a few minutes where City should really have created better chances to put the game beyond doubt the home team composed themselves and were again making some inroads on our defence. They never regained their iron grip on our forwards though, and the rest of the game flowed a little easier as Atherstone pushed forward looking for an equaliser.
They certainly had chances to get level as they wasted two good chances, both again created by hopeful punts upfield. In fairness though we defended well, with Will in danger of developing a numb forehead after all the clearances he was having to put his head to. City had their chances too, Hoskins getting a great chance as sub Tom Webb burst from midfield with his first touch after coming on for Wilkinson.
Towards the end of the match things threatened to boil up when Jenkins was involved in a stupid off the ball square up with Adders sub Cammock. They went nose to nose before Jenks seemed to suffer some sort of delayed reaction that saw him in a crumpled heap on the floor. I may have missed the contact between them, but it looked as if Jenks may have been watching a little too much continental football and was lucky to escape with a booking.
The end of the match saw City ride their luck in the closing minutes when Matt Bath again made a fantastic save as an Adders forward charged through on goal. That stop saved the tie, but really this was a match won by constant hard running and scrapping by the City midfield where Mustoe had possibly his best game to date for City.
City's win saw them become only the second side this season to win at Sheepy Road and set up a visit to Banbury United in the FA Trophy 1st Round, the Oxfordshire team also having recorded a surprise away 1-0 win, theirs at high-flying Bromsgrove.