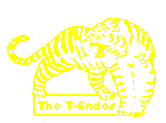 We welcome all contributions to the T-Ender. Please send any material for the site by
email to the address above.

Disclaimer
The views expressed on these pages are not those of Gloucester City A.F.C., its directors or officials, or of any other company mentioned. Neither do they represent the official views of the Gloucester City Supporters' Club or its committee.
While we make every effort to ensure information placed here is accurate we do not accept responsibility for errors that may occour. If you do find a mistake please let us know.

All pictures and material unless otherwise stated are the site's own and is
© www.t-ender.co.uk
All material may be reproduced with permission and appropriately attributed.
Saturday 31st December '05

Yate Town

at Lodge Lane

Southern League Premier Division
(match 24)

vs

Gloucester City

Yate Town

3

Scorers: Wood (18), Campbell (25), Edwards (64)

Gloucester City

1

Scorers: Corbett (30)
City Side:

Bath, M.Thompson (Reid 71), Mansell, Griffiths, Tomkins, C.Thompson, Harris, Webb, Addis, Corbett (Randall 78), Wilkinson.


Subs not used: Knight, Burns.
City Bookings: Wilkinson (dissent 15), Wilkinson (retaliation 54), Griffiths (handball 55)
T-Ender Man of the Match: Richard Mansell; possibly his best game to date for City with several good runs and important tackles.
There is a depression hanging over the club at the moment and the City players looked like they had the weight of the world on their shoulders as they slumped to a half-hearted and heavy-legged performance against a Yate side who strolled their way to victory without being tested by a City side lacking zest or ideas. It was not a good note to end the year on, with City struggling to claw their way back into the match after drifting through the opening section of the game and finding themselves two goals down before managing to produce anything at all. The match was effectively ended when City were reduced to ten men when the ever unpopular Dave Elsey goaded Wilko into a reaction that got the City midfielder a second yellow card. Tellingly, this was not one of those occasions when a riled ten man team fight back, and Yate were able to coast their way to the points.

The match was shrouded in yellow and black despair before the kick-off. It looks as if any hope of managing to keep Neil Mustoe at the club has been extinguished. The player has provided crucial backbone and experience to a somewhat brittle City team, but as the club's highest paid player it looks like the former Manchester United trainee is to be sacrificed to keep the rest of the side together. It is horrible to see your side's best player looking for other clubs when given the chance he'd stay. No-one seemed particularly excited by the news that Darryl Addis is staying, especially as we seem more than happy for him to train alone and in turn have to sacrifice another player to get the wage bill below the impossibly low level necessary because of the club's suffocating financial position. To add to the sense that the club is plunging into the abyss we seem to have rather carelessly lost loan signing Alex Sykes who simply wasn't at Yate for the match. One moment he's telling the local paper he'd like to stay at Meadow Park, next he's gone with two games of his loan still remaining.

All of this left City trying a fairly lop-sided line up, especially in defence where Marvin Thompson seemed to be playing somewhere out on the right of the defence and Richard Mansell re-called at somewhere around left-back. Even in the warm-up our players looked down and demoralised. The Yate players by contrast looked full of life. It did not bode well and from the kick-off the home team looked far stronger. Our challenges were simply brushed aside and Yate seemed to have incredible amounts of space, probably helped by playing on a pitch that must be as big as any in the division. Our defence seemed to have only the vaguest idea of what formation they were meant to be playing - to say they lacked shape would be kind. It wasn't looking too promising for us, and then to cheer the fans up even more it started to rain.

City's defence was having real problems down both flanks and we survived a scare when our former centre back Lee Jeffries managed to put a free header over the bar. It wasn't quite one way traffic though. A bright City attack finally found Addis who laid the ball back into the path of Richard Mansell who had made a good run from the back. From the centre of the pitch and 20 yards out his drive whistled just wide. Mansell has been disappointing since joining City in the summer, but he looked much brighter today and is perhaps beginning to adapt to football at this level.




Thompson brings the ball forward whilst Addis tries to escape Lee Jeffries.

For all that brief glimpse of the ball in the Yate half we were struggling to put anything together and another of our former players, Paul Chenoweth, was bossing the midfield in his usual frenetic way. Wilko was frustrated and managed to talk himself into the book after getting a talking to for a trip as Yate tried to counter attack. Sometimes we have to learn to walk away. It can hardly have been a surprise when after a few more scares Yate finally found the net. It was a simple goal made even simpler by a shocking lack of defensive pressure. Elsey had plenty of space on our right to put over a well flighted cross into the centre of the goal mouth. No-one had picked up the run from midfield and with our defence statuesque Jason Wood rose unchallenged to plant a firm header past Matt Bath.

Dave Elsey is always an entertaining figure to watch in any game he's playing in. He's carved out a bit career as the pantomime villain of south-west non-league football, a position helped by looking a bit like a pantomime dame with his deathly white pallor and his wobbling chins. He should really have done so much more with his career, he has a great left foot but is simply too fat and slow to be real quality. He also has a nasty cynical attitude to the game that always gets opposition fans on his back, no-one likes a cheat. Elsey was too have a pivotal part to play in this match having already created the opening goal, and his next contribution was to crush poor Marvin Thompson under his not inconsiderable bulk. At least he seemed to survive. A good Yate move involving Elsey and Chenoweth set up Darren Edwards but with Griff struggling to close him down the former Mangotsfield forward ploughed his shot wide.

The warnings were there but a defence and midfield that had worked so hard up at Rugby now seemed to be wandering in complete disarray. The inevitable second goal came as the ball was worked well across our penalty area, pulling our people all over the place until the space was found on the Yate right. Steve Campbell had all the time he needed to pick his spot inside the far post and drive the ball low across the stranded keeper. It was no more than Yate deserved, and to be honest with just 25 minutes gone it looked as if City could be about to get buried, and Yate weren't even being forced to work for their lead.

It might sum up City that the player who lifted us back into the game was the old warrior Adie Harris who at 40 still seems to have more energy and drive than players half his age. His scampering run down the left finally managed to get us a platform in the Yate half and after beating two defenders he laid the ball off to Corbett who won a corner that unfortunately we wasted. But at least we'd been in the Yate penalty area. The signs of recovery were there and another strong Adie Harris run saw him cut into midfield and find Wilko. He turned and looked to be heading into the penalty area before he was tripped just outside. Luke Corbett lined up the free kick, but no-one really had high expectations. We've seen plenty of City dead ball efforts. But this was different and the free kick gently curled and dropped about as snuggly as it could into the top corner. Tony Court was no where near it in the Yate goal. It was a hell of a shot and at least in Corbett we do have a player who can still find something a little bit special.

The goal lifted the players and for the last quarter of an hour of the first half we got back into the match and played well for a short burst. We produced a great flowing move down the right where Chris Thompson and Wilko combined well to slice past the wheezing Dave Elsey but Addis seemed to trip over the ball as he received it on the edge of the box. It was only prodded as far as Thommo who fired in a shot from distance that flew wide. Another great run from Adie Harris saw him exchange a one-two with Addis and it was only a good last ditch tackle that prevented the veteran winger getting a shot away. The favourite moment of the half had to be Chris Thompson finally having space to knock the ball behind Elsey and wave as he accelerated past the wide-load fullback who turns with all the speed of an oil tanker. Unfortunately the resulting cross was wasted when we had players in the box and the equaliser looked possible.

For all our improvement it was not one way traffic. Some of our improvement seemed to be due to a tactical reshuffle with Mansell dropped deeper and Griff seeming to be in midfield to add some bite to rival Chennas in the centre of the pitch. Of course it could just have been players fling around out of position. In the midst of all of this Yate wasted another free header as we struggled to get near another deep cross. You felt if we could play like this for long enough Yate were vulnerable down the flanks and we could still win the match. Wilko went close as another Chris Thompson cross found the midfielder's run into the box, but he had to twist to connect with the cross and his volley sliced just wide. At least the match was more even now but we still looked vulnerable at the back, and Richard Mansell did well to reach a goal bound shot and clear from under the bar.

After a much improved end to the first half the City fans were hoping that the early malaise of the start of the match would be forgotten but the second half started with City again pegged back in our own half and defending deep. Another Edwards shot flashed across goal and Tomkins managed to get ahead to get rid of a dangerous steepling far post cross. Mansell looked more awake than he had for most of 2005 and made a great tackle from behind to halt a dangerous run from Yate's Steve Campbell, even managing to come away with the ball and get Adie Harris away up the wing.

Griff tries to connect as a City corner flies across goal.

There was more hope as City settled back down again and both Chris Thompson and Adie Harris got some success out wide. We seemed to very slowly realise the futility of smacking high balls for Addis to lose against the commanding presence of Lee Jeffries, but we had more success in the channels. Corbett is now a central figure for us and he almost produced another moment of individual magic when he picked up a loose ball and tried to lob the Yate keeper from 30 yards. Corbett did well to spot him off his line and Court had to back pedal to clutch the ball high over his head as he got to the goal line. It was a good effort, and if he'd been able to put it just a little to either side of the keeper he'd have been in deep bother.

One of City's main problems is our reluctance to get bodies into the box. Even when playing well we don't have forwards to aim at in the goalmouth. Addis may be good at holding the ball up but he is rotten at predicting play and gambling on crosses. Corbett is a great forward but too often drifts wide to pick up the ball in the manner of a poor man's Thierry Henry. All too often this leaves him with the ball out wide when he is the person with the job of getting on the end of his own crosses. At least Wilko makes runs from midfield, but he's looking a little patchy at the moment and we still miss Smith attacking the box from the far post. Corbett showed the problem when he picked up the ball out wide on the left. He showed good pace to beat two men and as he began to cut into the box he found his options in the box limited. His only choice was to shoot, and the ball was dragged well wide with a good attack coming to nothing.

The turning point of the match came just ten minutes into the second half. City had been given a free kick after Chris Thompson had been tripped attacking down the right. City packed the Yate penalty box for the free kick and there were all sorts of pushing and shoving with Elsey's grabbing at Wilko at the centre. When the ball went out for a corner there was more gamesmanship from Elsey. Having tugged at Wilko, grabbed his hands and clawed at his chest the tubby cheat stamped on Wilko's foot and tried to scrape his boot down his calf. Wilko unsurprisingly shoved back at the soft padding around Elsey's ribs, resulting in a great deal of exaggerated clutching.

Chris Thompson asks to be excused after having to run too near David Elsey.

The ref summoned them both over and there was a sickening inevitability about the yellow cards shown to both players, and with Dave Wilkinson now having his second yellow it was swiftly followed by a red card. It's easy to accuse the ref of getting it wrong, particularly a Bristol ref who seemed to be on very friendly terms with the Yate players when the match started. For all of that though Wilko really paid a heavy price for a needless booking in the first half. The booking of both players is still a cop out though, it seems grossly unfair that a player can attack another and know that if he succeeds in getting a reaction the aggressor will only suffer the same punishment as the victim.

That red card completely deflated City and you'd have thought more than one man had gone as huge gaps suddenly appeared all over the place. Wilko isn't yet in his best form, but even when he's at the peak of his game he tends to be a player you notice more when he's not there. We certainly could see the gaps now. It was hardly a shock when having but together some sustained pressure on the City goal Yate scored again, Darren Edwards finally finding the net with a neat flicked header. At 3-1 and a man down we ran the white flag up and the match was effectively over.

We offered little up front but Mansell did manage another surging run that took him past several players. He rather blew it when he arrived on the edge of the Yate area, laying the ball behind Chris Thompson. Yate tried to rub it in by sending on Jimmy Cox, but the former City star had a quiet game. The only time he threatened to get free Griff snapped at him and took the ball away. The sub didn't even have a number on his shirt, suitably enigmatic but he's also more than capable of having put it on inside out.

The last 20 minutes could have got even worse for City as we showed precious little fight or spirit. Griff could also have seen red after a trip on the edge of the area, coming just ten minutes after he'd been booked for a dubious handball. Injury plagued Marvin Thompson probably had the worst afternoon of anyone at Lodge Lane as he staggered off after getting a crunching blow to what is politely described as the mid-regions.


In a twisted way you had to admire the award of Yate man of the match to David Elsey, presumably a dark bit of humour aimed at the away fans rather than a true view of the lumbering wreck's contribution to the game. Sadly though his ethically dubious contribution probably did make him Yate's match winner. There was precious little else to talk about apart from the strange substitution of Corbett, who could only have been carrying an injury, surely. Addis had a quiet game even by his own standards, but it seems as if he is the one player whose presence on the pitch is vital to our well being come what may.

This was hardly a vintage City performance. Of course, it's not the first game we've been off colour and it was match that hinged a great deal on a bad red card. The turmoil of the last few weeks seems to give it extra meaning, there is a serious danger of the bond between players and fans beginning to unravel and the mood among fans is dark. It is not enough for players to think they've done everyone a favour simply by being here. We want to see blood, sweat and tears - what's the point in making sacrifices on wages and showing such incredible loyalty to the cause just to go through the motions where it matters most? Fortunately today's defeat has only seen us drop one place in the table to 16th. We are still in the depths of a relegation battle given the amount of extra games we have played, but we must hold our nerve. There are some games against other struggling sides we must ensure we win, and just scrap for what other extra points we can. The one advantage we have is we still have a large number of home games to play, of our remaining 18 league games 11 will be played at Meadow Park including particularly vital games against Evesham, Yate, Chesham and Hitchin.

* Many other results went our way around the division with other struggling teams being beaten. There was no surprise at the McEnhill Stadium where Salisbury stayed top by comfortably dispatching bottom side Northwood 3-0 with the help of a first half brace from Matty Tubbs. King's Lynn are in good form and are now up to third spot after a comfortable 3-0 win over Hitchin with Danny Bloomfield scoring the first after just two minutes. Our win at Rugby Town is probably our best result of the season to date and their continued good form saw Aylesbury crushed 4-0 at Butlin Road, with David Stone adding to his reputation with another brace. Aylesbury are looking to be in real trouble now after another round of pay cuts have seen more reinforcements drafted into the squad from the youth team and local football. Evesham also lost 2-1 at home despite putting up a determined fight against Merthyr. Unfortunately Cirencester's recovery continued with a Gareth Hopkins brace helping them to a perhaps not unexpected 2-1 win at Cheshunt. Chesham also managed to get a point at home to Banbury after a Leon Callander equalised an earlier penalty. In the rest of the division Bedford dropped points in a home 1-1 draw with Grantham while Halesowen earned a good 2-1 win over Bath City after Steve Pope grabbed their winner with three minutes to go. Tivvy won 2-0 at Team Bath, while Chippenham won a tough game 3-1 over Mangotsfield to maintain their promotion hopes and keep them second in the table.

SLP Table; Southern League website.
| | | | | | |
| --- | --- | --- | --- | --- | --- |
| Referee: | S. Snartt (Bristol) | League Position: | 16th (-1) | Attendance: | 340 |
| Conditions: | overcast with showers | City Form: | LLWLWL | Match Report: | by t-towel |
Work commitments mean that we are keen to obtain other match reporters willing to provide details on some City matches. All text can be supplied by email, with no need to worry about web design or formatting. If you are interested please contact the T-Ender.