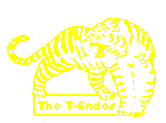 We welcome all contributions to the T-Ender. Please send any material for the site by
email to the address above.

Disclaimer
The views expressed on these pages are not those of Gloucester City A.F.C., its directors or officials, or of any other company mentioned. Neither do they represent the official views of the Gloucester City Supporters' Club or its committee.
While we make every effort to ensure information placed here is accurate we do not accept responsibility for errors that may occour. If you do find a mistake please let us know.

All pictures and material unless otherwise stated are the site's own and is
© www.t-ender.co.uk
All material may be reproduced with permission and appropriately attributed.
Saturday 3rd December '05

Gloucester City

at Meadow Park

Southern League Premier Division
(match 19)

vs

Aylesbury United

Gloucester City

1

Scorers: Wilkinson (64)

Aylesbury United

1

Scorers: Lawford (54)
City Side:
Bath, C.Thompson, Sykes (Mansell 77), Griffiths, Tomkins, Davis, Mustoe, Webb, Addis, Corbett (M.Thompson 68), Wilkinson.
Subs not used: Pritchett, Rimmer, Randall.
City Bookings: none
T-Ender Man of the Match: Neil Griffiths: a series of crucial blocks and spread cover down the left side when Sykes left gaps behind.
It was probably fair this hard-fought match ended in a draw but neither side ever looked like they had given up on this entertaining contest that saw both teams enjoy periods of dominance and both grateful to their keepers for some fine saves that kept the score down. Either side could easily have snatched victory but neither could land the crucial blow and neither really controlled the game for long enough to quite deserve it. City will be frustrated not to have grabbed another home win but will take comfort from extending our unbeaten run and finally escaping from the bottom four for the first time since the opening day of the season.

Last season Aylesbury destroyed City in both matches home and away, beating us by three in both games with some considerable ease. Times have changed though, and Aylesbury's financial cuts have taken their toll, although even with those restrictions they must be sorely disappointed to have been sucked into the relegation scrap. They have drafted in several new players, including recent signing John Lawford who scored a hatful of goals for Chesham United last season. City also boasted a new signing, all be it a temporary borrowed one, with former Forest Green player Alex Sykes starting a month's loan spell from Bath City. He went straight into the side on the left in place of Marvin Thompson who dropped to the bench. The subs also featured City youth player Mark Pritchett, called up to the first team squad for the first time.


Top. Corbett - too quick to capture
Bottom: Aylesbury see off a City corner.

New loan signing Alex Sykes made an immediate impression on the match and looked keen to get back into action after missing the last three months with a groin problem. The player is clearly a touch above what we've been used to and he immediately lifted the spirits with a coupleo of jinking runs that left Ducks right-back Matt Hayward floundering. On both occasions Sykes did well to wrap his foot around the ball and get dangerous crosses over but City couldn't convert them. Davis got forward well to reach one only for his shot to zip wide, while the second effort reached Addis whose vague flick never carried enough menace to trouble the keeper.

The match was slowed down on the boggy Meadow Park pitch but Aylesbury looked like a good attacking side and some of their crisp passing suggested a team in a slightly false position in the table. The Ducks also seem to give the City players a slight inferiority complex, perhaps remembering last seasons matches when they comprehensively wiped the floor with us. City still managed to create their own chances but Aylesbury had more of the ball and really made the City defence work hard for 20 minutes.

Aylesbury debutant John Lawford had a good chance when he escaped from Tomkins but he dragged his shot wide from the edge of the box. Another Aylesbury shot was beaten out by Matt Bath and Sykes got back to clear the rebound, but we were having difficulty putting our foot on the ball. Tomkins was forced to make a solid blocking challenge soon after, and within a minute Matt Bath was back in the action with another fine diving save to stop a low drive from Greg Williams. The most threatening player was Ducks winger Neil Lazarus who was causing Sykes huge problems in his defensive role. It was Lazarus who came closest to giving Aylesbury the lead after a good run across the by-line caused confusion in the City box and Wilko cleared off the line before Matt Bath made a save with his legs from close range to push the ball onto the post. Neil Lazarus caught the eye with some dangerous probing runs for the visitors.

City did manage a few chances of their own, Wilkinson sending in a looping header having stretched to meet a Corbett cross and Addis seemed to have a case for a penalty after he was tripped trying to turn on another Sykes cross. Sykes was getting forward well and was still our main attacking outlet but he was also leaving huge gaps behind him and we were looking weak down the left flank. Neil Griffiths was doing a fantastic job getting back to fill the gaps that were being left and with Mustoe frantically waving his colleagues into position the City defence started to provide some sterner resistance to the Aylesbury attack and we fought our way back into the match. Sykes went on a strong driving run from the half-way line and cut inside before piling everything into a oa fierce drive from 30 yards out. It seemed destined for the top corner but Jack Rashid was equal to it with a full-length save. The resulting corner almost saw City take the lead after Wilko's flicked header and Corbett almost scrambled the ball in from close range.

City were looking far more comfortable now and were at least in the game, and with both teams trying to attack whenever possible this was developing into a decent match. Tom Webb emerged from midfield on a break-away and we had an extra man over with Aylesbury's full-back caught up field. Unfortunately Webb fed the ball through to Addis and the forward's ponderous decision making gave the defenders time to get back and close things up. City were looking a lot more confident after our recent wins and our movement was much improved, but even so we were struggling to break down the Aylesbury defence which looked well drilled. Both teams were fully committed and there were some tasty tackles flying in, Wilkinson particularly in the midst of it. City had one final attempt when Corbett picked up an Addis ball but dragged his shot wide, leaving both sides having to go in at half-time without a goal to show for their efforts.

Aylesbury didn't have long to wait to get their goal. The second half seemed to take a while to get going but it looked like it was City who were doing most of the attacking with Sykes seeing another dangerous cross cut out at the hear post and Addis showing good persistence on the left but still couldn't quite get his shot away. All of that just provided the platform for Aylesbury to hit us with a quick counter-attack that cut through our defence. A long ball from the back found the impressive Lazarus who drifted left before sending over a good cross. Lawford knows how to finish off those kind of chances and he timed his run to suddenly charge between Griffiths and Tomkins with a powerful header that found the City net.

Loan debutant Sykes stretches to get the cross in.


That goal rocked City and in equal part gave the Ducks a bit more spark and we could have fallen further behind in the next few minutes. Chris Thompson was forced to make another good tackle on Lazarus but a few moments later he got away again and slid the ball in field. Griffiths bravely charged down the first effort but his block fell to Scott McCafferty who rifled in a fierce shot. Matt Bath is one of the best shot savers in the SLP and he proved that again with a fantastic save to his right. These were tricky moments for City and Wilko also made a good block with Bath making another save from a shot from outside the box.

We could easily have lost our way at this point but Tom Webb put himself about and we managed to haul ourselves back in to the Aylesbury half and once we put their defence back under some pressure we again looked the better side. Quickfire crosses from both wings through Webb and Sykes really started to stretch the Ducks defence. City then put together the move of the match with some clever midfield work by Mustoe and Webb to create space for Lee Davis to cross and Corbett came very close to squeezing the ball in at the near post. You could feel City getting closer to the equaliser and another fine move saw Sykes and Chris Thompson carve their way down the pitch and Thommo flick the ball in field to Griffiths, the City skipper crashing in a smart volley that Rashid did well to reach and tip over the bar. City were pressing all the time but when the goal came it looked very easy as the Aylesbury defence suddenly lost concentration. Webb got down the right again to pick up an overlap ball from Thompson. His cross simply eluded the defenders who'd also missed Wilko's run into the box and the City midfielder had little trouble sliding the ball in from close range for his his third of the season.

Thommo plays spot the ball as City press on the right.

Getting back on level terms was never going to be enough for City at home to another side struggling against the drop and City continued to pile on the pressure. Aylesbury were feeling the heat ands started to get caught out in midfield and picking up three quick yellow cards as Sykes, webb and Corbett all found themselves on the end of heavy challenges. City switched to 4-4-2 and try to get into the Ducks, although Luke Corbett limped off to be replaced by Marvin Thompson. Sykes was moved further up the pitch, but unfortunately the reshuffle was probably badly timed as the winger was just running out of steam with his lack of match fitness now becoming apparent.

With Mansell coming back on for Sykes in the last few minutes we finally seemed to rediscover some momentum and in the closing stages Aylesbury had their keeper Jack Rashid to thank for them managing to cling on to a point. Frustratingly Darryl Addis had a good chance to pick up a Webb through ball but he seemed to pull out of what was a close range with the keeper who'd come off his line very quickly. Sad to say, but from the T-End it looked as if the forward had bottled it.

In fairness to Addis he doesn't hide and for all of his current problems he does work hard and carried on looking for the ball. With Neil Mustoe now getting forward more and more often and looking like the City player who wanted the points the most there were plenty of frantic challenges and defending from the visitors. Mustoe then produced a fine chip from the left to Addis beyond the far post. This time he connected with a text-book volley that again found Rashid able to twist back and make a remarkable save.

City's last effort came in the final minute as Mustoe piled through a couple of challenges only to finally see his fierce shot charged down by an Aylesbury defender. City were forced to settle for a point at the final whistle, but it was probably a fair reflection of the whole game even though City had dominated the last period in their search for a winner. Rashid got warm applause from the home fans, and in fairness to Aylesbury this didn't look like a side so lacking in quality they deserve to be where they are in the table. City still need to do more to show they too deserve a place away from relegation fears, but at least we're now steadily picking up points and beginning to show some much better attacking movement.



* City's winning run may have come to an end but at least this point finally sees us out of the bottom four relegation places for the first time, passing Evesham whose match at Mangotsfield was one of two fall victim to waterlogged pitches after the recent barrage of heavy rain. In other results at our end of the table the surprise result came at Merthyr Tydfil who lost 1-0 to bottom club Northwood. Cheshunt and Cirencester both stay in trouble, Cheshunt falling 3-2 victims to the continuing Rugby Town revival while Ciren lost 2-1 at Banbury after going behind to two goals in the first five minutes. At the top of the table Salisbury lost 1-0 at Grantham and Bedford beat Chippenham 2-1 to be the side to take advantage and jump above them in the table.
| | | | | | |
| --- | --- | --- | --- | --- | --- |
| Referee: | A.Sheffield (Walsall) | League Position: | 18th (+1) | Attendance: | 299 |
| Conditions: | dry and overcast | City Form: | DWWLDD | Match Report: | by t-towel |
Work commitments mean that we are keen to obtain other match reporters willing to provide details on some City matches. All text can be supplied by email, with no need to worry about web design or formatting. If you are interested please contact the T-Ender.