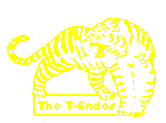 We welcome all contributions to the T-Ender. Please send any material for the site by
email to the address above.

Disclaimer
The views expressed on these pages are not those of Gloucester City A.F.C., its directors or officials, or of any other company mentioned. Neither do they represent the official views of the Gloucester City Supporters' Club or its committee.
While we make every effort to ensure information placed here is accurate we do not accept responsibility for errors that may occour. If you do find a mistake please let us know.

All pictures and material unless otherwise stated are the site's own and is
© www.t-ender.co.uk
All material may be reproduced with permission and appropriately attributed.
Sunday 30 September 2007

FA Cup sponsored by E.On
2nd Qualifying Round

at The New Lawn, Forest Green.
Gloucester City

0-2

Shortwood United

Scorers:

-

Scorers:

J.Singh (14), A.Hoskins (49)


K.Sawyer

1.

M.Pearce

J.Reid

2.

O.Roberts

J.Price

3.

J.Embling

©

N.Mustoe

4.

B.Mammola

L.Tomkins

5.

A.Thomas

C.Thompson

6.

P.Smith

L.Smith

7.

J.Singh

M.Richards

8.

M.Green

J.Pitcher

9.

J.Cant

J.Welsh

10.

A.Hoskins

©

T.Webb

11.

B.,Pugh

Subs

A.Allard

12.

W.Steadman (for 6, 85)

(for 7, 56) A.Sykes

14.

R.Evans

(for 9, 62)

(for 2, 56) M.Rose

15.

L.Kavanagh

(for 11, 65) M.Whittington

16.

J.Coates (for 7, 78)

S.Griffin

17.

G.Cornwall

Bookings:

City: none - we weren't interested enough to mistime a tackle...
Shortwood: P.Smith (foul tackle 33), J.Embling (foul tackle 51), R.Evans (foul tackle, 67), A.Hoskins (kicking ball away, 90)

Dismissals: none

T-Ender City MotM: Neil Mustoe - one of few players who didn't completely disgrace themselves and at least the skipper looked bothered.

A week of some media interest and Cup excitement ended in humiliation as City put in one of the most dismal performances in recent memory against a spirited and combative Shortwood side who thoroughly deserved to emerge from the tie with the glory and the plaudits. City made the worst possible start and having conceded a goal inside the first 15 minutes we were left chasing the game with little heart and even less gumption. Fittingly it was former City legend Andy Hoskins who delivered the final blow, bundling in from close range just after the break to give Shortwood a lead that the Tigers rarely looked like they could manage to claw back. Yet again City's cup hopes end in tatters against lower division opposition. Yet again we get a good crowd and local publicity, and on the big occasion the players didn't show up.

City started well enough and began with some promising possession, a strong Jack Pitcher run from the right ending with a rather tame Webb shot right at the keeper. Pitcher also flashed a shot wide after Richards flicked on a long throw. City had more of the ball but Shortwood still managed to look more dangerous on the counter-attack, it was a pattern that persisted throughout the game. The Nailsworth outfit went close to taking the lead when Pugh escaped down the wing and fed left-back John Embling. His hanging cross caught Sawyer in problems and he was thankful to gather it up after the ball came back off the post with both Singh and Hoskins looming.

City didn't take notice of the warning and it was Shortwood who took an early lead with a well taken goal greatly assisted by lax defending. Jamie Reid was again caught out by a player slipping wide behind him and he's just not quick enough to give an opponent that much head start. Shortwood's Ben Pugh had time to pick his spot and his cross was inch perfect from James Singh to power his header into the net from eight yards. Good as the goal was, you had to wonder why neither central defender attacked the cross at the near post and why no City midfielder had tried to track Singh's run into the box.

The Gloucester pressure for the remainder of the first half always suggested we could spark into life, but whilst Shortwood rode their luck at times we were far from clinical or controlled. A good Jamie Price corner caused Shortwood problems with Pitcher and Richards both close to finding the vital connection. A little later another good Price delivery from a free kick sparked a hectic goalmouth scramble, but while Welsh and Webb both hacked goalward the Hellenic side had enough bodies to block and when Price spanked a shot back in when the ball was cleared it flew just over the bar. Despite being pegged back Shortwood could easily have extended their lead, Lyndon Tomkins needed to dive full length to beat Hoskins to another Pugh cross at the far post. Richards was guilty of sloppily giving the ball away while Lee Smith's pace was crucial in managing a vital tackle in the area to prevent Pugh from shooting as he closed in on Sawyer.

City must have been hoping to spend the second half camped out around the Shortwood penalty area, and to take the game straight to them. Instead we were again attacked down the right with both Smith and Reid left trailing once again by the excellent Pugh. His high looping cross left Sawyer flapping at the far post under pressure from Singh, and when the ball rolled back across the open goal it was all too easy for Andy Hoskins to score from close range for the second.

City did manage to provide some sort of comeback, especially once Sykes and Whittington were both on the pitch to add a willingness to risk the odd shot, but by and large it was too little and too aimless. Welsh managed a decent run and lay-off to Neil Mustoe who drove his shot just wide, the City skipper was virtually the only player still willing to take the ball on or try and run into space. Syko smashed a decent drive just over the par and Price's 25 yard effort was swerving into the top corner but lacked enough pace to make Shortwood's keeper struggle. Richards went close with a header from a corner, Pitcher's half volley crashed straight into a defender on the line. It was all desperate stuff, but lacking enough power and quality.

Previously the manager has questioned some of his players character and mental fragility, the problem today was that too many players simply went into hiding. We have players of great ability, but it counts for nothing if you lack heart. You either have to show passion or energy, or keep your discipline and cool to keep passing and keep the ball moving to team mates. We managed neither this afternoon. Shortwood could even have grabbed another late on, Matt Rose misplacing his pass and the resulting cross seeing Marc Richards all over the place as his clearance sliced on to the top netting.

By the final whistle the City fans' frustration with the lacklustre efforts of their side boiled over and the players left the pitch to a crescendo of booing and a rousing choruses of "You're not fit to wear the shirt" and "what a waste of money". Hard to argue with either. The Shortwood players celebrated and they certainly deserve their moment and their place in the hat, their players and Hosky in particular were well applauded by the City fans - but Gloucester fans will feel we should have provided them with sterner opposition.

T-Ender Match Snaps

| | |
| --- | --- |
| | |
| Lee Smith gets back just in time to deny Wood's Ben Pugh | Pitcher gets away - but the goal's behind you Jack... |
| | |
| Syko comes off the bench to try and warm up their keeper. | The all to familiar sight of Sawyer searching for a last ditch goal. |





Team Selection:

After City's fightback against King's Lynn there were few changes to the City side. Jason Welsh shook off his groin problem to start with Pitcher up front, while Marc Richards returned to central midfield. Perhaps surprisingly Alex Sykes was the player to lose out with Tom Webb moving across to the left. Shortwood welcomed back keeper Martin Pearce and midfield hotshot James Singh, but City fans were disappointed to see 'Super' Will Steadman kicking his heels on the Wood bench.

TBBM Said:

"I'm not wasting all my time coming up here to watch this. Even Tuffley Rovers would be better."
And that, simply and starkly, is why this was such a disaster..

Tactics Board:

Is there any point talking about tactics when I can't imagine for our moment the players were instructed to not bother picking up attackers, hoof the ball forward aimlessly, carelessly lose possession and don't try too hard. Surely the players were told to keep it tight in the opening stages so Shortwood didn't have reason to get their hopes up, and certainly not give them a lead to defend. Failed on that one.

Once we were trailing Il Mister had little option but to throw fresh bodies on, and he was hardly short of options when it came to players to take off. The early double substitution ended Reid's misery, moved Thommo to right-back, Richards into the centre of defence and Webb across to the right. Unfortunately Rico still looked out of touch at the back and whilst Matt Rose could be forgiven for being rusty after a month out, we hardly needed him to be giving the ball away too. At least both Alex Sykes and Whitts showed a willingness to shoot, but by then we were up against it.

Anorak Corner:

Here's the happy one prepared before the match: City last played a competitive game on a Sunday way back in February 1991. We won 2-1 at Cambridge City, the winner coming from a Jeff Meacham penalty.

Difficult to let this defeat pass without reflecting on our recent FA Cup record against clubs from FA Vase tier of football. In reverse order: defeat to Shortwood from the Hellenic Premier, home draw against Liskeard from the Southwestern Premier, defeat in replay against Christchurch from the Wessex League, defeat to Street from the Western League. Prior to that you have to go back to 1996 when we were knocked out by Thatcham Town. Given that only once in four seasons have we managed to beat a side two divisions below us, and that after a replay, you wonder why we always start as favourites.

T-Ender Verdict

Before mentioning our players, the first words should be about Shortwood and their players. It's all too easy to focus on what went wrong for City but Shortwood showed not just plucky spirit and energy, but also had the professionalism and composure to execute a tactical plan. They worked hard, got players back in numbers and forward in support of our attacks. Our players are supposed to be very good, and today they were made to look very ordinary. Shortwood thoroughly deserved their win and showed nearly everything our lads didn't.

I don't think booing players is normally the right thing to do - nobody sets out to lose and they deserve our support. Ultimately they carry our hopes and dreams. This afternoon it would have been a dereliction of fans' role at the club to fail to let the players know just how completely unacceptable this abject surrender was. This was an important game for Gloucester City FC: whether judged by the prize money, the need to perform in front of a crowd and the local media, the point in the season or simply local pride. The players let us down.

Right now there are lots of people digging out their last few pennies and working day and night to keep the club alive. The players may just have noticed that we're slightly up against it at the moment. The fans are all going out of their way to get to games, traveling costs more and takes more time, and we're all paying extra at the gate to be at a stadium none of us want to be at. The club, the manager, and even the fans through the Supporters Trust are gambling on stretching the playing budget to try and bring in extra quality when we should perhaps arguably be saving up for all the expense involved with the ground problem.

To be doing all of that and seeing absolutely no return in terms of quality or even passion and commitment is shameful. I hate booing our players, but they were lucky the fans didn't chase them off the pitch at the end. They need to have a good long hard think about if they actually want to play for City - and if they do they need to start bloody looking like it. If not I'd rather we saved our cash for a new ground and stuck out the youth team. I'm sure the manager will be as angry as the fans - the current squad probably have the next couple of home games to show the pride we expect from them when they wear our colours.

Highlights Elsewhere:

There's precious little comfort in it, but at least City weren't alone as SLP clubs suffering FA Cup embarrassment over the weekend. Our next league opponents Mangotsfield crashed out to Southern Division Fleet Town, never recovering from two early goals in Hampshire. Merthyr face a tricky trip to the New Forest to replay against FA Vase finalists Totton, and they'll be kicking themselves for losing a 2-0 lead. Hemel were facing Isthmian League opposition in Chelmsford City, and the SLP leaders went down to a second consecutive defeat after another two early goals.

It wasn't all gloom though. Bedford Town salvaged a 3-0 half time deficit against Isthmian Premier Boreham Wood to level the tie. There was also some ominous form from some of the other SLP promotion hopefuls. King's Lynn traveled to Stourbridge, who we play in the Trophy next month, and won 5-0 with former Norwich skipper Craig Fleming scoring again after his debut goal against us last Saturday. The most impressive result of the weekend was back on Friday night, when Team Bath showed how lower division opposition are meant to be dispatched, winning 8-1 at Money fields - Craig Townley claiming a hatrick and SLP tops scorer Scott Canham bagging a brace.

Other Match Reports:

Tiger Roar Neil Phelps' post-match Tim Harris interview
Neil Phelps' Shortwood match pics gallery
Gloucester Citizen match report
Non League Daily report
Daily Telegraph non-league match report

Further Reading:

BGB Southern League Website Cup Results
FA Cup Official News & Results
Shortwood United FC website
| | | | | | |
| --- | --- | --- | --- | --- | --- |
| Referee: | R.Gillard (Chard, Somerset) | City League Pos: | n/a | City Form: | LLWLWL |
| Ref Watch: | 5 - Adequate, after last week maybe even excellent. | Attendance: | 706 | | |
| Conditions: | occasional hazy sunshine | Lorry Score: | 1 | Match Report: | by t-towel |
Work commitments mean that we are keen to obtain other match reporters willing to provide details on some City matches. All text can be supplied by email, with no need to worry about web design or formatting. If you are interested please contact the T-Ender.