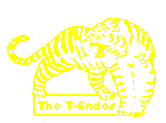 We welcome all contributions to the T-Ender. Please send any material for the site by
email to the address above.

Disclaimer
The views expressed on these pages are not those of Gloucester City A.F.C., its directors or officials, or of any other company mentioned. Neither do they represent the official views of the Gloucester City Supporters' Club or its committee.
While we make every effort to ensure information placed here is accurate we do not accept responsibility for errors that may occour. If you do find a mistake please let us know.

All pictures and material unless otherwise stated are the site's own and is
© www.t-ender.co.uk
All material may be reproduced with permission and appropriately attributed.
Saturday 17 November 2007

British Gas Business Southern League Premier
(match 14)

at Top Field, Hitchin.
Hitchin Town

1-2

Gloucester City

Scorers:

M.Olaleye (46)

Scorers:

W.Morford (24), M.Whittington (26)


R.Perks

1.

K.Sawyer

D.Deeney

2.

J.Reid

M.Ducket

3.

M.Noakes

4.

N.Mustoe

©

L.Gentle-King

5.

A.Thomas

© C.Williams

6.

A.Sykes

T.Sealey

7.

M.Rose

S.Hill

8.

M.Richards

R.Pringle

9.

W.Morford

W.Mills

10.

M.Whittington

M.Olaleye

11.

L.Smith

Subs

N.Mountford

12.

A.Harris

(for 11, 77) C.Kierans

14.

A.Allard

(for 9, 67)

R.Miller

15.

J.Pitcher

(for 10, 67) P.Jackman

16.

J.Bevan (for 10, 61)

D.Iwediuno

17.

D.Mehew

Bookings:

Hitchin: R.Miller (90+1 diving)
City: M.Whittington (44 foul tackle)

Dismissals: Hitchin: R.Miller (90+1, 2nd booking - dissent)

T-Ender City MotM: Neil Mustoe - the skipper brought some much needed quality and composure to a defence that all worked hard

City held on at Hitchin to claim three points in the league for the first time since the start of September, and the tension towards the end of the match as City clung on to the precious victory was almost unbearable. When City raced into the lead having scored two in three minutes from sweeping passing moves it looked as if the visiting Tigers could go on to chalk up a large score. However Hitchin fought tooth and nail in the second half and having came out of dressing room to pull a goal back straight after the break the match became a gripping test of character and resolve for the City side.

City took the lead courtesy of a wonderful flowing cross field move when suddenly all the creaking component parts of the City attack suddenly clicked into smooth operation. City broke out of dence through Mustoe, and Morford and Whittington combined well to move possession along down the left. A decisive cross field ball from Sykes spread play out to Smith on the right and his pace tore through the Hitchin defence before delivering a high cross towards the back post. Will Morford outjumped his marker but seemed to have got under the ball, but in fact his slow header looped over the keeper and with glorious tantalising precision fell under the bar in the top corner.

The goal buoyed City and our support had barely finished leaping around and texting the news to all and sundry before the match got even better for the travellers. Another Lee Smith run zipped past the bewlidered full-back and this time he sent in a low cross arrowed towards the near post. Michael Whittington did exactly what we'd hoped he would do more often this season, and cleverly got the wrong side of the defender and gamble on the near post run, leaving him perfectly positioned to stoop down and bundle the ball past the keeper from a tight angle.

T-Ender Match Snaps

| | |
| --- | --- |
| | |
| Will Morford leaps highest to reach an early forward punt | Whitts shot is blocked up into the wintry gloom at Top Field |
| | |
| Leaping like a salmon - Whitts manages to outjump Deeney | Reid gets stuck in and awkward in the midfield mixer. |





Team Selection:

There were a host of enforced changes to the City side. Kevin Sawyer and Jamie Reid returned after one game bans, while there was a surprise recall in attack for Michael Whittington at a ground where he scored probably the finest goal of his previous City loan spells. Marc Richards returned in defence after back problems, whilst Michael Noakes gets a third start despite managing to be carried off early in the first half of both his last two games. The pressure on the City squad was underlined by assistant manager David Mehew joining Adie Harris amongst the subs.

TBBM Said:

Tactics Board:

Anorak Corner:

T-Ender Verdict

Make no mistake about it - this is a huge result for the club and to manage to record it after a week that saw the club's hopes of a new home crudely dashed and our youth team skipper season wrecked by a school rugby injury does at least suggest the players have found some iron in their gut. In the first half City managed to put together some eye catching passing football and always looked to have the better of a Hitchin side that looked defensively fragile. The second half seemed like a different match, this was nothing short of a lengthy scrap with little good football from City. A few weeks ago we'd have caved in - today we were able to show just enough grit and determination to hold out, and enough sense to run the clock down. Suddenly we're seven games unbeaten and at least on the pitch - we feel like we're going somewhere....

Highlights Elsewhere:

City's win took us up two places above Hitchin and above Ciren on goal difference, their cause not helped by being thumped 4-0 at home by King's Lynn who got the perfect start with a Jack Defty strike in the first minute, Danny Bloomfield going on to add a brace as well. Cheshunt are still bottom but got something from a goalless draw with Mangotsfield. Banbury finally ended the only other winless home record to our own with a 2-1 win over struggling Corby Town helped by a Matty Gooderick opener in the second minute.

The top of the SLP is starting to look congested, mainly due to a shock defeat for leaders Hemel who saw their points cushion cut thanks to a 1-0 defeat at Clevedon with Matt Prosser getting the only goal late on. Team Bath are heading the chasing pack with another 1-0 win at Brackley, whilst Chippenham are also closing ground after a tempestuous 3-1 win over Swindon Supermarine. Former Marine players David Pratt and Luke Gullick were amongst the Bluebirds scorers, probably not helping tempers with three Swindon players dismissed as well as the Chippenham keeper. Halesowen Town's changes are starting to pay off with the new look side stuffing Rugby 4-1 at The Grove, with Dean Brennan, Zema Abbey and Paul Devlin amongst the Yeltz scorers.


Other Match Reports:

Further Reading:

BGB Southern League Premier Results & Website
BGB Southern League Table

| | | | | | |
| --- | --- | --- | --- | --- | --- |
| Referee: | G.Muge (?????) | City League Pos: | 19th (+2) | City Form: | WDWDDW |
| Ref Watch: | 7 - mostly unobtrusive and spot on for the big late diving decision | Attendance: | 267 | | |
| Conditions: | gloomy & overcast | Lorry Score: | 4 | Match Report: | by t-towel |
Work commitments mean that we are keen to obtain other match reporters willing to provide details on some City matches. All text can be supplied by email, with no need to worry about web design or formatting. If you are interested please contact the T-Ender.