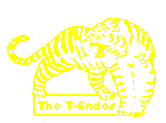 We welcome all contributions to the T-Ender. Please send any material for the site by
email to the address above.

Disclaimer
The views expressed on these pages are not those of Gloucester City A.F.C., its directors or officials, or of any other company mentioned. Neither do they represent the official views of the Gloucester City Supporters' Club or its committee.
While we make every effort to ensure information placed here is accurate we do not accept responsibility for errors that may occour. If you do find a mistake please let us know.

All pictures and material unless otherwise stated are the site's own and is
© www.t-ender.co.uk
All material may be reproduced with permission and appropriately attributed.
Saturday 27 October 2007

BGB Southern League Premier Division
(match 12)

at The New Lawn, Forest Green.
Gloucester City

0-0

Banbury United

Scorers:

-

Scorers:

-


K.Sawyer

1.

A.Wheeler

J.Reid

2.

L.Travers

M.Noakes

3.

T.Kinch

© N.Mustoe

4.

M.Essex

A.Thomas

5.

B.Milner

S.Ellis

6.

A.Fuller

M.Rose

7.

M.Feely

T.Webb

8.

W.Blossom

©

J.Pitcher

9.

M.Nicholls

M.Whittington

10.

M.Murphy

L.Smith

11.

S.Bridges

Subs

A.Harris

12.

M.Gooderick (for 9, 69)

(for 9, 43) W.Morford

14.

D.Beckett

J.Bevan

15.

S.Ibrahim (for 11, 89)

(for 10, 64) A.Sykes

16.

A.Sambrook

(for 3, 82) A.Allard

17.

K.Sullivan

Bookings:

City: K.Sawyer (handball outside area 31)
Banbury: W.Blossom (foul trip 83), M.Murphy (obstruction 90)

Dismissals: City: K.Sawyer (second booking - handball outside area 54)

T-Ender City MotM: There will be tougher attacks than Banbury but Ashley Thomas looked solid and composed all through his debut.

A match marred by a controversial refereeing decision saw City have to settle for a point from a game that they dominated despite being reduced to ten men when keeper Kevin Sawyer was dismissed due to the most unsympathetic interpretation of the handball rules imaginable. Despite the game ending without goals it was certainly not a match without incident or passion, and having often felt like we were facing twelve men it says a lot for the City players that they ended the game looking more likely to snatch the win.

City started with the new refound brightness of a team that believed they could win football matches, but it a momentary defensive lapse saw Nicholls scamper through on goal with Matt Rose waving forlornly for an offside flag that never came. Fortunately the forward seemed shocked to be in such space and hurried his shot, pulling it harmlessly across goal. That reminded City to play with a little urgency and we produced some decent attacking football to keep the Autumn gloom at bay. It was great to see Noakes back in action after his injury problems and he was our main attacking weapon down the left, his first time cross just eluding the head of Whitts. Minutes later and Mustoe's ball clipped over the top caught out the Banbury defence and Michael Noakes was haring through towards goal. He had a long way to travel and his final shot was a little tame and rolled to the keeper, you suspect after a few more games that might end up in the net.

The ref had already shown alarming signs of fragility when he spent an age fretting over a decision on if to give a free kick or throw in after Blossom seemed to go in with a raised foot on young Sam Ellis. That smacked of chronic indecision, but the ref really put himself in the City crosshairs with a ludicrous decision to book keeper Kevin Sawyer for handball outside his area. The big keeper had slid in to gather the ball well inside his box but his momentum on the slippy surface carried him on for several yards and outside his area, although he did make every effort to let go of the ball before he passed over the line. It was a free kick, but to suggest that his actions were deliberate and therefore cheating and deserving of a booking was a complete injustice - Sawyer had even tried hard to avoid the handball. The ref seemed oblivious to both the lack of intent and the need for some common sense on a wet surface that saw both sides struggling and slipping at times.

Banbury were also having problems with the greasy surface and that saw a defensive mix-up when Jack Pitcher's pace panicked Mark Essex and despite Banbury's Kinch trying to block off Pitcher the keeper felt under pressure and handled the back pass. Unfortunately that wasn't deemed to be cheating - and all too predictably an indirect free kick from close range was charged down and came to nothing. Pitcher looked lively and it was a worry to seem him crumple to the floor as he turned away from a challenge - time will tell but it looked like another thigh strain and the Bristolian was unable to make it until half-time.

The second half was a scrappy and disjointed affair until the ref decided to put himself centre-stage with a reprise of his Kevin Sawyer decision, again the keeper slipped as he advanced out of his area and clearly attempted to throw the ball away to avoid the handball. Again the ref was unsympathetic and this time of course the second yellow card meant Sawyer was off - and the mood around the two sides of The New Lawn got increasingly ugly. To be stupid once might be forgivable, this looked like sheer bloody-minded destruction of a perfectly good football match. Tim Harris' angry reaction in running on to the pitch to poke his finger at the linesman might not be what's meant to happen, but its hard to defend referees from abuse by fans and players when they seem so oblivious to what's happening in front of them. Things finally settled down with a reluctant Kevin Sawyer heading off, handing his shirt to Matt Rose who seemed to get the goalie's position on the basis that he was taller than Neil Mustoe!

Normally you'd expect a side in City's position to spend the rest of the game defending while Banbury rained in shots and high crosses to test the novice goalkeeper. It says much about both the new found spirit in the City team and the poverty of Banbury's attack that neither of these things happened. Matt Rose must think goalkeeping child's play as he had nothing more fraught than a few backpasses to field, while City's ten men continued to stretch the Puritans and looked far more likely to grab the points. The ref did little to win round the fuming home fans as he didn't even bother to speak to Bridges for a two footed lunge on Noakes, it's a dubious standard of rules when a challenge that could put a player out of action for a year gets less punishment than a couple of technical and inconsequential breaches. David Mehew followed Tim Harris to a position away from the dugout after another angry confrontation with the ref - the players often rib Boris for being a little slow and it could just have been a delayed reaction to the Sawyer sending off, although the ref gave plenty of choices on what to get fired up about.

City rallied impressively though, sparked by some solid tackling by Sam Ellis who really stepped up to the plate today and helped by the willing industry of Will Morford who ended up as a lone striker working hard across the Banbury defence. Tom Webb almost split the visitors with a strong run but his final cross outpaced Morford and Smith. Alex Sykes made his presence felt within minutes of coming off the bench - first seeing a trademark 20 yard drive drift just wide of the post and then almost getting an acrobatic volley on target after Ellis had flicked on Smith's cross. The match ended goalless, but City will take some comfort from a spirited fight back and the simple fact that we looked the side more disappointed to hear the final whistle.

T-Ender Match Snaps

| | |
| --- | --- |
| | |
| Sawyer safely gathers in as Banbury threaten from a corner. | Pitcher causes chaos and forces Wheeler to pick up a short backpass. |
| | |
| Sam Ellis shows he's up for the fight with Banbury skipper Blossom. | Morford chases another lost cause as he leads the line alone late on. |





Team Selection:

Several welcome bits of team news - one the debut of centre back Ashley Thomas after his move from Shortwood United, the second a recall for home-grown left-back Michael Noakes after eight months out with his ligament injury. However City's injury problems meant Matt Rose being moved into the defence, although that did mean another chance for youth team skipper Sam Ellis to impress in the first team midfield. Also Pitcher and Whitts got another chance to line-up together, a forward pairing that might seem lightweight but could surely be devestating if it could click. Poor Banbury look like a side ravaged by injury and budget cuts, missing both skipper Andy Baird and young strike partner Troy Bryan through injury.

TBBM Said:

"Does the ref realise he's sent Tim to a place where he breaches a police cordon?"
Forest Green's dubious use of police tape comes a cropper in a tangled mess of Licensing Law, PACE and FA badged pomposity.

Tactics Board:

Tim Harris looks like he's been happier with the side playing 5-3-2 and fans' expectations that the system would work well with Michael Noakes attacking down the left looked justified in this match, certainly he adds some genine width and attacking threat to match that of Smith down the right. Ashley Thomas looks like a proper defender of the type we've needed for some while, the only remaining pressing concern will be if the little n' little partnership of Pitch n' Whitts can start worrying defences.

Anorak Corner:

This really is one for the out and out City anorak collector - this marks back to back home league scoreless draws after our 0-0 battle gainst Hemel - the last time we've put 0-0 home league results together was December 1989 against Bath City and Burton Albion.

T-Ender Verdict

The sending off of Kevin Sawyer was a complete travesty and effectively snatched our chance of winning a game where we should have been looking to take all the points. Banbury have had all sorts of budget problems and this rather limp display did little to ease fears they'll be lucky to scrape clear of the drop this season. But, for all of that, there are certainly some positives to take from the performance for City fans.

A few weeks ago we would almost certainly have caved in following the red card, but in this game it galvanised us and the players dug in with a gutsy show that left you in no doubt they'd refound some spirit and passion. The attacking play and eagerness for the ball was unrecognisable from the low point of a month ago, while defenisvely we kept another clean sheet - despite losing our keeper. Ashley Thomas looked like a very good addition to the side and rarely looked under any pressure. Perhaps most impressively we didn't entirely lose it when faced with refereeing injustice, all too often in the past we've been so distracted by the officials the players forget their jobs. Despite the fans and management going bonkers at the officials the players regrouped and kept their concentration - from these flickers of professionalism do we take most comfort.

Highlights Elsewhere:

In the FA Cup Evesham battled to impressively hold Blue Square Premier side Halifax Town to a goalless draw, and that earns them a midweek replay in Yorkshire that means our scheduled league cup tie against them on Tuesday night will now be postponed. Chippenham were edged out 3-2 by Horsham whilst Corby also lost at home, 2-1 to Droylesden. Merthyr made Oxford United work hard but still ended up going out 2-1. Hitchin Town go into the hat with a fantastic draw at Blue Square Premier side Weymouth, leading for most of them atch only to concede an equaliser with four minutes left. The SLP's sole confirmed representative in the FA Cup 1st Round will be the Team Bath students, a Scott Canham goal enough to take them past Hornchurch.

There were six other SLP games today and some interesting results amongst them. King's Lynn clocked up another four figure gate as a Danny Bloomfield goal was enough to keep their title charge going with a 1-0 win over Bromsgrove. Hemel seem to be stuttering a little and will be disappointed to lose 1-0 at home to Clevedon, whilst the Cirencester revival came to a halt with a 2-1 defeat to Yate at Corinium Stadium, former City winger Mike Wyatt claiming the winner. Halesowen may have changed the managerial mix at The Grove but not even Big Ron's suntan could save them from a disappointing 1-1 draw with lowly Cheshunt, Steve Obeng pulling them level in the second half.

Other Match Reports:

Tim Harris post-match audio interview with Neil Phelps
Tiger Images City v Banbury photo gallery
Banbury United website match report

Further Reading:

BGB Southern League Premier Results & Website
BGB Southern League Table
| | | | | | |
| --- | --- | --- | --- | --- | --- |
| Referee: | D.Gratton (Stone, Staffordshire) | City League Pos: | 15th (+4) | City Form: | DWDLDL |
| Ref Watch: | 2 - to book a player for a patently accidental handball, twice, ain't good.. | Attendance: | 303 | | |
| Conditions: | persistent drizzle and mist | Lorry Score: | 1 | Match Report: | by t-towel |
Work commitments mean that we are keen to obtain other match reporters willing to provide details on some City matches. All text can be supplied by email, with no need to worry about web design or formatting. If you are interested please contact the T-Ender.