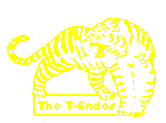 We welcome all contributions to the T-Ender. Please send any material for the site by
email to the address above.

Disclaimer
The views expressed on these pages are not those of Gloucester City A.F.C., its directors or officials, or of any other company mentioned. Neither do they represent the official views of the Gloucester City Supporters' Club or its committee.
While we make every effort to ensure information placed here is accurate we do not accept responsibility for errors that may occour. If you do find a mistake please let us know.

All pictures and material unless otherwise stated are the site's own and is
© www.t-ender.co.uk
All material may be reproduced with permission and appropriately attributed.
Tuesday 21st March '06

Gloucester City

at Meadow Park

Southern League Premier Division
(match 35)

vs

Yate Town

Gloucester City

2

Scorers: Whittington (12, 44)

Yate Town

0

Scorers: -
City Side:
Bath, Miller, Stonehouse, Preece, Holland, Harris (Addis 82), C.Thompson, Webb, Bevan, Whittington (Corbett HT), Wilkinson.
Subs not used: Reid, Randall, Tomkins.
City Bookings: Miller (foul 25).
T-Ender Man of the Match: Mark Preece; the young Rovers defender was exceptional under heavy Yate pressure in both halves.
Another display of nerveless finishing by loan star forward Michael Whittington proved decisive as this resurgent City side extended their current unbeaten league run to seven games, notching up a third consecutive win and third consecutive clean sheet in the process. In truth this was not a classic performance but again Tim Harris' collection of the old, the borrowed and the found showed a grit and determination that may have seemed unlikely just a month ago. Yate fought and niggled for every ball but for all of their defensive uncertainty they forced City to work hard for the points and at times made us defend deep and in numbers, but our concentration held and a combination of weak finishing and spirited tackling kept the Bristol side at bay. Points are really all that matter and at the end it was a vocal T-End that could celebrate and reflect on a four point gap now established between City and the drop zone. There's more work to be done but at least we've now given ourselves a real chance over the remaining seven matches of the season.

This game was always likely to be lively as the Yate side have nearly half a team of players who used to play in City colours who always seem to have something to prove on their return to Meadow Park. Chief amongst them is David Elsey, a strange man with obvious talent who seems to have sacrificed it all to become the wobbling travelling pantomime villain of south-west football and seems to relish the chorus of disapproval that follows his every move. He's never been popular at Meadow Park from his time with Ch#*tenham and despite a short spell with City, but a catalogue of fouls and gamesmanship in games against us over the years has earned him even more well deserved bile from the T-End. His most recent contribution came in goading Dave Wilkinson into a red card during City's 3-1 defeat at Lodge Lane in the away fixture earlier in the season. It would have been worth winning this game just to beat Elsey, but of course much more is at stake. City knew that we are running out of games to earn relegation survival points, and despite a run of six unbeaten league games going into this match the pressure was still on. Yate meanwhile have been one of the teams of the SLP season and have defied the odds to be within reach of the promotion play-offs, but their league position belies one of the worst away records in the division.



The evening didn't really seem to get off to a very promising start as fans arrived to find no programmes and no beer. In fairness the programmes only arrived a little late and is the kind of hiccup that happens from time to time, but the inability to generate a hiccup at the bar is a little more embarrassing. Not being able to serve beer must have got the club a few hundred valuable pounds and makes the club look a little slap-dash just at a time when we seem to be stumbling our way forwards again. It seems the 'no cash for beverages' scandal seems to be due to a cock-up in the licensing paper work and hopefully the problem will be resolved soon. It's sad to see the executive committee let down, we need to try and project a professional image which we didn't tonight. At least with only coffee, fruit juices and coca-cola to drink our caffeine and vitamin driven fans got even more of a lift when the Yate team sheet revealed their top scorer Darren Edwards was only fit enough to make the bench. There were however all five former City players in the Yate side: Elsey, Jefferies, Wyatt, Chenoweth and Cox. The current City side remained unchanged from that which beat Team Bath over a week ago.

The match saw City make the best of the opening minutes with a few tentative probes down the left and Whittington almost haring through on to a long ball from Chris Holland. Elsey got the predictable but necessary hostile cat-calls from the City fans and responded to his fan club by hoofing a sliced pass into the cattle shed, and both Adie Harris and Jody Bevan made him look silly with a couple of early feints and tricks that he couldn't keep up. For all of our confident touches and forward pressure Yate could easily have taken an early lead with two great chances that both fell to former City favourite Jimmy Cox. With nearly 100 City goals to his name Cox certainly should know where the Meadow Park goals are, but his misses may have helped his former club tonight as much as his scoring contributions have in past seasons. First Cox was put through on goal by a clever ball between Miller and Preece but Cox shot wide from 15 yards out. A few minutes later another ball over the top of the City defence allowed Cox to use his pace to again get clear on goal. This time he seemed to hesitate and it was just enough for Matt Bath to come rushing out and snatch the ball at his feet.

City looked a little fragile for a moment but we then managed to steady ourselves and seemed to get tighter in midfield with Tim Harris visible even in the stand waving frantically at his players. We began to apply pressure ourselves and Whittington suggested that Yate's slow defence could be beaten as he turned Lee Jeffries with a bright flick and left him trailing in his wake. It was a hopeful sign even if his shot from the edge of the box went wide. He had no such problems a few minutes later though as he latched on to a ball that cut between the Yate right-back and the central defenders. Michael Whittington is not a player you can afford to get half a yard away from you and he was on to the ball and into the Yate box before the defenders had turned. The striker was at a fairly tight angle but he drove his shot low across the Yate keeper and inside the far post. Whitt wheeled away and saluted the City fans who are now rapidly beginning to worry just how long we can keep this talented young lad at Meadow Park before his employers want him back. Certainly his goals and willingness to go in where it hurts for our cause have long since led to the City fans forgiving him even the grievous sin of being a Ch#*tenham Town player. The young forward certainly looks to have the ability and attitude to make it at League level, but hopefully he can help us out of trouble first.

Yate's record on the road must have led them to question how easily they can come back once behind away from home and City certainly seemed the more likely to add to the scoreline in the next few minutes. Jon Miller seemed to have a strong run blocked off and a few minutes later the same player saw a deep free kick tipped over the bar by the Yate keeper after his drive seemed to flick off a head on its way goalward. City came even closer to going further ahead when Adie Harris played a clever reverse path inside the box to Jody Bevan who turned well to put him within sight of goal. The former City youth player is still waiting for his first goal from open play since returning to Meadow Park, and he won't get much closer than this without finding the net. He tried to place his shot underneath the Yate keeper as he came off his line, but the ball just flicked the inside of the keeper's leg and that took enough of the pace from it to allow a defender to get back and crash it behind for a corner. The keeper had known so little about it he could have been a Labour party treasurer. Further City pressure came from a Stonehouse run down the left and after Bevan did well to keep the ball alive in the box Wilkinson almost reached the loose ball in the goalmouth and might have been tripped by the defender as he closed in. Minutes later Miller forced Tony Court to rush out of the Yate goal again as he almost reached a long ball that seemed to entirely catch the Yate defence cold.

After surviving that City barrage Yate came back into the match but the City players showed every willingness to match their energy. Miller went into the book for a clumsy challenge on Yate winger Jason Wood who looked their most effective attacking player all evening. Yate kept trying to run with the ball but several City players made notable tackles, Webb making one great challenge that allowed Wilkinson to break through and set Whittington on his way, Chris Thompson eventually producing a cross that Bevan almost reached in the area. Mark Preece impressed again in defence, making a couple of vital challenges in quick succession and with one of them deep in our own penalty area his timing needed to be as immaculate as it was. Wood was still getting far too much of the ball and several times turned past Miller, Webb and Harris on dangerous runs, but one run ended with a great block from Chris Thompson. Yate also had a spell of pressure with a string of corners, but twice Matt Bath acquitted himself well at the near post to punch the inswinging crosses away.



City attack a Miller long throw in front of the T-End. And out of the dark came light.

City consolidated their lead just as the half was coming to an end and it was Mike Whittington who again provided the vital touch of class. City put together a great move in midfield with Webb finally flicking a ball inside to Adie Harris who was able to thread the ball forward between two defenders and in to meet the clever angled run of Whittington. The through ball was sublime and left the centre-backs trailing but Whitt still had to beat one defender, and imagine our joy as we realised the last man was none other than David Elsey. Given sight of goal the forward seems to find an extra yard of pace and he simply left the Yate man looking as if he was some how running backward. David Elsey, more Elsey Tanner - and she'd have got closer to her man (bad line copyright of T.Lezard esq.). With Elsey stranded Whitt closed in on goal and even having ran wide you simply feel he's going to score and he confidently slid the ball under the keeper as he rushed out. The ball hit the net to initiate pandemonium on the T-End, but Yate keeper Tony Court also smacked into the City forward. It was certainly late but seemed an accidental collision, although some fans who'd not been distracted by the ball hitting the net were convinced the keeper had deliberately exacted revenge on the forward who'd twice made him look rather redundant. The forward was forced to hobble off having taken the congratulations of his team mates whilst lying prone in the six-yard box, but whilst his match was over prematurely he'd already done his job. We've had other good loan signings at Meadow Park and even have other borrowed players making vital contributions in this side but you have to go back to Bristol Rovers' Marcus Browning or Aston Villa keeper Michael Oakes to find a loan signing whose made a similar impact in City colours as Whittington.

With Whittington in the stand holding an ice pack to his swollen knee Luke Corbett came off the bench to stake his claim for a return to the starting line-up. He was straight into the action as his sharp turn saw him clattered by Yate's Lee Vickerman who was booked for the foul which also caused the first of several mini-scuffles that littered the second half. The match was struggling to find any real rhythm for a spell, but with a two goal lead to defend that didn't really trouble City. Yate were finding it hard to find any space but whilst City were defending well we were starting to find it hard to keep the ball ourselves. Gradually Yate began to pressurise our goal and Holland was needed to block a Jason Wood shot before Matt Bath made a fine flying save to tip over a Metheringham header.

The match was now set and City were by and large being forced to defend but we were also able to exploit a few more gaps in the Yate defence as they pushed further up the field in search of a way back into the game. A quick Adie Harris pass got Corbett free down the City left but he drifted wide and whilst he put in a good cross there were no other forwards in the City box. The City fans could see that the remainder of the match was going to be tough and really got behind the side with the T-End in full voice, and it was good to hear both some sustained noise and a bit more variety on the terrace, more like old times. Perhaps that noise did help a little as both Webb and Preece put in fine crunching tackles to keep Yate at bay. It looked momentarily as if the goal had been breached when Metheringham hooked the ball into the net at close range, but he was flagged for offside. The decision was only just as Preece had been flattened off the ball a few moments earlier, one of several examples of Yate strong arm tactics that the ref missed through the game.

Jimmy Cox had largely faded from the match but he popped up in the box and could have caused problems only to produce a tame shot from close range that Holland easily cut out. For all of our lack of possession we were still creating chances as good as those as Yate were managing, and Bevan put a good chance into the side netting after Corbett had done well to beat the full-back and cut his pass back to his strike partner. Bevan hasn't found his best form up front yet but does put himself about and as the match wore on he dropped back deeper where he made several important defensive headers as we packed our defence with yellow and black shirts. Perhaps Yate came closest to getting a goal back when Wilkinson ran back to head a dangerous free kick out from under our cross bar, the resulting corner also going close as Holland's clearance was blocked and looped just over the bar onto the roof of the net.




With City nerves now approaching hysteria two of the biggest cheers of the night came late on, the first as Mark Preece's thumping challenge cut out a Jimmy Cox run down the City right touchline, and the second as Elsey lined up a dangerous free kick 25 yards out. For all of his unpleasant character traits Elsey has a classy left foot, but whilst his curling effort beat the City wall it looped gently and miserably into Matt Bath's waiting arms. It was all but over although late sub Darryl Addis almost helped Corbett put a gloss on the scoreline as the striker nearly reached a through ball ahead of the Yate keeper. The final whistle was met with jubilation by the City fans and this was a good night at Meadow Park, the atmosphere crackled and the players showed great spirit in holding out for an important victory.

* City's result was made even better on the night as other results this evening also went our way. One time run away league leaders Salisbury City got their title challenge back on track by beating our next opponents Aylesbury United 3-1 in Buckinghamshire. Cirencester's recovery also came to a shuddering halt tonight with a 3-1 home defeat to Banbury United who were two up by the break. That defeat means City have closed the gap on Cirencester in 15th place to just three points, with both Team Bath and Cheshunt a point closer to the Tigers. Although City's league position remains an unchanged 18th the gap between us and that critical last bottom four berth currently held by Northwood is a slightly healthier four points. Another result in that match against Aylesbury on Saturday could allow our nerves to settle just a little....

| | | | | | |
| --- | --- | --- | --- | --- | --- |
| Referee: | R.Ganfield (Weston-super-Mare) | League Position: | 18th (=) | Attendance: | 366 |
| Conditions: | overcast and freezing | City Form: | WWWLDW | Match Report: | by t-towel |
Work commitments mean that we are keen to obtain other match reporters willing to provide details on some City matches. All text can be supplied by email, with no need to worry about web design or formatting. If you are interested please contact the T-Ender.