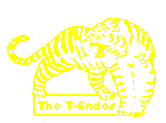 We welcome all contributions to the T-Ender. Please send any material for the site by
email to the address above.

Disclaimer
The views expressed on these pages are not those of Gloucester City A.F.C., its directors or officials, or of any other company mentioned. Neither do they represent the official views of the Gloucester City Supporters' Club or its committee.
While we make every effort to ensure information placed here is accurate we do not accept responsibility for errors that may occour. If you do find a mistake please let us know.

All pictures and material unless otherwise stated are the site's own and is
© www.t-ender.co.uk
All material may be reproduced with permission and appropriately attributed.
Saturday 15th April '06

Salisbury City

at McEnhill Stadium

Southern League Premier Division
(match 39)

vs

Gloucester City

Salisbury City

2

Scorers: Sales (39) Haddow (45)

Gloucester City

0

Scorers: -
City Side:

Bath, Miller, McKeever, Tomkins, Holland (Varnam 75), Eckhardt, Corbett (Preece 65), Webb, Bevan (Reid 65), Addis, Wilkinson.


Subs not used: Randall, Harris.
City Bookings: Miller (foul 32), Eckhardt (foul 53), Webb (foul 67)
T-Ender Man of the Match: Tom Webb; despite being under constant pressure in midfield Webb kept harrying and driving forward.
City's ten game unbeaten league run finally came to an end against Salisbury City who finished the match with at least one hand clasped on the Southern League championship shield. The City players acquitted themselves well against a strong and confident Salisbury outfit, and despite still lacking any real cutting edge to our play only an uncharacteristic defensive mistake and some sharp finishing by the home team left us contemplating defeat. The game could even have ended differently had the referee spotted a handball in the penalty box which everyone else in the ground seemed to have seen. It would have been harsh on Salisbury not to have taken the points, but we will not feel that we have fallen too short against the measure of the division champions. The home fans were left to celebrate inching closer to their now inevitable promotion, although the promotion party was a strangely muted and lacklustre occasion. Some people just don't know how lucky they are, when that title finally comes to Meadow Park the roof will come off the T-End.

The maths going in to this match were really all important. For Salisbury City a win here and the title was all but theirs, if combined with any dropped points by Bath City at Evesham then the title was absolutely certain. For City the pressure of relegation may have eased considerably but we still needed a further point to secure definite safety, or for Northwood to fail to win against Cheshunt. After all but securing our place in the SLP for next season City at last went into a match free of any pressure, but boss Tim Harris will still have been looking for good performances as his thoughts start to turn to next season. There was also the small matter of extending that ten game unbeaten run and of course the simple mean-spirited pleasure of robbing another team of their big day in front of their home crowd. We've had some form in this area, going up to Halesowen and putting the whole team across goal to hang on for a goalless draw that meant little to us, and who can forget the stunned disappointment from Redditch yobs and Redditch mayor alike as we held out for a 1-0 win to delay their Western Division title two years ago. The City side though is still missing several key players as injuries have taken their toll. Mark Preece made it to the bench but Lyndon Tomkins retained his starting spot, while Salisbury were missing suspended Southampton veteran Tommy Widdrington from the heart of their midfield.

Top: Can you spot the man really angry even before kick-off?
Middle: Holland gets one in the back as City go forward.
Bottom: McKeever finds some space on the left.

You'd expect a title chasing club to be drawing a big crowd at this stage of the season and the Salisbury public didn't disappoint with a decent turn out. The club was creaking at the seams with the extra people, but in fairness the car park stewards were doing a good job finding space and the bar staff were just about keeping their heads above water. Once inside the ground though, there was a strange lack of any real excitement. City must have taken a hundred or so supporters that by rights should have been lost in the swollen ranks of the Salisbury support, but yet coming into the ground all you could hear was the away fans. A handful of the Salisbury fans tried to respond to the City support, but they hardly made any noise at all. It was all too much for one particular Salisbury fan, or fat angry ugly fan as he quickly became badged. He was really very angry indeed. The singing from the small bunch of away fans in the corner was simply too much, bringing all manner of furious grimacing and gesturing. And we hadn't even started the game...

City managed to press forward from the kick-off but that didn't last long. Salisbury were obviously keen to get the champagne out as soon as possible and were soon hammering on the City goal. Jeff eckhardt was first to be forced into extreme action, charging down a shot from the edge of the box that he seemed to collect full in the face. From the resulting corner Matt Bath did exceptionally well to manage to react in time to an Alex Haddow header and palm the ball off the line. City were reeling a little and Salisbury just came straight back at us, but again found City defending to the very last inch of our goal line. Salisbury fired in another shot from the edge of the box that seemed to have beaten Matt Bath but this time Wilko was on hand to stretch out a foot and prod it to safety from virtually on the line.

City could easily have been buried in these opening exchanges but we did then manage to battle our way into getting some sort of foothold in the game, largely thanks to the industry and persistence of Webb and Wilkinson in the centre of the park. McKeever did well to win a free kick out on the left and from his cross we went close, Chris Holland winning the header and Corbett also managing to get on the end of his knock down.

Salisbury were still enjoying a lot of the ball but the City defence had stabilised a little now and the dangerous Paul Sales was finding his style rather cramped by the close attentions of Chris Holland. For City it was McKeever and Corbett who were providing the attacking threat, both of them finding most space down on our left. Neither Addis or Bevan were really having much joy against a competent and organised Salisbury defence, but the pace down the wing was scaring them a little and offered our best chance of stretching the home team.

Luke Corbett was at the heart of one of City's best moves as he flicked the ball past one man and then beat left-back Simon Browne to get in a dangerous cross. Salisbury were stretching but the problem is that if Corbett drifts wide we don't look like finding anyone else to get into the box and put the chances away. None the less we'd won a corner and from that Holland almost got his header on target but again the Salisbury defence looked very comfortable in the air and he was soon crowded out by three defenders jumping with him.

The match was now a lot more even that it had been in the opening minutes and Salisbury were now having to work a lot harder to create any chances while City were at least managing to press a little around the home side's penalty area. Given that this was a home game and that Salisbury needed the points for the championship and promotion the lack of vocal support they were getting must have been disappointing for their players. Fortunately a lot of the noise being made by us was of the "City, City" variety so perhaps they thought that was coming from their own fans. At least the Gloucester fans did provoke a bit of a response from the Salisbury fans, all be it that most of them seemed to have last done any communal singing around a cub scout camp fire; "Might, Mighty Salisbury" indeed! They certainly had no response to "our Cathedral's better than yours", although they did seem to get upset at any suggestions they were just a bunch of glory hunting part-time bandwagon jumpers who might need to be told that Salisbury were the team in white. Fortunately the banter was good humoured, and fat angry ugly man was stuck on the side of the ground where he could only grimace and point angrily at the Gloucester fans, presumably under the watchful eye of his community carer.

The City fans could have had real reason to celebrate as Corbett spurned a good chance. We'd managed to fashion some space with good play by Webb and Bevan, and Miller did really well to control a volleyed ball across the penalty area from the right flank. The speed of the ball caught the home defence napping and Corbett was on to it, bringing the ball down and turning his man in one deft move. Having given himself sight of goal though his shot lacked any power and was aimed straight at the considerable bulk of Kevin Sawyer who was easily able to collect it. That seemed to remind Salisbury they could actually slip up here if they didn't perform a little more and they responded strongly with another spell of pressure. This time though we managed to keep them at arm's length, Ashan Holgate unable to reach a good cross thanks to Tomkins' presence at the back and Webb finally on hand to scramble away a loose ball as we managed to block another testing cross.

We were starting to look more and mores stretched and some of our tackling was starting to look a little desperate. Wilko escaped with a long lecture after one trip in the centre of the park, but Miller was less fortunate a few minutes later when he did go into the book for blocking the run of Holgate. That free kick saw both Holland and Tomkins have to put in strong headers to fend off Salisbury's considerable aerial threat as we held out against a string of corners. Having finally got the ball clear it looked as if we had survived another bombardment, but it was a seemingly simple long ball that proved our final undoing. Chris Holland has hardly put a foot wrong since coming to the club on loan from Bath city, but he found himself turned all over the place by Paul Sales as he slotted in the opener. The ball from the back looked like meat and drink for a centre-back but Holland only managed to put in up in the air where the forward then managed to bring it down. City look a little more vulnerable down the left with McKeever often playing further forward than Stonehouse or Adie Harris, and Holland certainly had to try and deal with this on his own. Somehow he missed another chance to clear and ended up on the floor, but even having got clear Sales still had plenty to do. His drive from a tight angle flew past Matt Bath and inside the far post and is the kind of finishing we can only envy at the moment.

Salisbury take liberties with the the ten yards as McKeever lines up a second half free kick.

With Salisbury suddenly ahead the last few minutes of the first half were frantic and we had several good chances to get back into the game. First a deep cross from McKeever saw a wonderful bit of control from Corbett who laid the ball of to Wilkinson on the edge of the box. We all know what he can do from there, but Salisbury's defence is very strong and they showed why they let in so few goals as his shot was charged down from close range by one of three defenders who had immediately surrounded him. The yellow shirts were clustered around the box now though and Salisbury were forced to defend in numbers and we were even more unlucky as Jonny Miller sent in a fizzing drive through the crowded box. The ball collected several ricochets on the way, but ended up the wrong side of the post.

The resulting corner was only half cleared and saw City players go almost apoplectic as we should have been given a penalty to get us straight back into the match. Tomkins went close with a half volley that was just kept out and then the follow up cross from the right put the ball straight back into the Salisbury goal mouth. the cross cleared a crowd at the far post and found Paul Sales alone at the far post. The striker did what most centre forwards do when under pressure facing their own goal and panicked, lifting up his hands to control the ball before hooking it away. The ref and linesman must have been the only people in the ground who missed it. The City fans behind the goal certainly saw it, and even the Salisbury fans behind the goal saw it and judging by the rollicking dished out to Sales by his captain most of their players had seen it too. Corbett was lucky to stay on the pitch as he came close to pushing over the ref as incensed City players surrounded the ref, and Tim Harris did little better on the touchline as he bounced up and down in a red rage. Even our injured players got in on the act - Neil Mustoe waving his crutches around to such an extent that he was threatened with eviction by an over zealous jobsworth steward. Nice to know they apply double standards to home and away swearing players as well as home and away swearing fans.





Top: Salisbury's Sawyer prepares for take off.
Btm & Middle: Salisbury celebrate the title as one or two of their fans express their polite satisfaction. Madness on the Plains...!

As always of course all of that was ultimately hot air and we had to get on with it however bad the ref's mistake. We didn't really cope very well and perhaps our heads were still all over the place when Salisbury added a second a few minutes later. They had won a corner and it seemed as if it had been well dealt with as Holland held firm to head the ball away at the far post. Unfortunately we'd left a big gap on the edge of the box and Alex Haddow shaped up to drive a fierce shot into the top corner. It was another great finish and for all the injustice of the scoreline you couldn't argue with finishing like that.

The second half wasn't a patch on the first for either side. Salisbury seemed content they's scored enough whilst we were just doing our best to get past a very impressive Salisbury rear line. McKeever presented the best chance and he had the beating of Scott Bartlett at full-back. His clever shuffle left him trailing at one point, but although the cross evaded the defence it was also just beyond the stretching leg of Bevan. Salisbury seemed content to bide their time and played a lot of possession football, the one home player who seemed to still pose a threat was former City man Luke Prince. His clever jinking run almost undid Eckhardt who went in the book for a trip on the winger, and although the initial free kick was beaten our Prince himself went close as he latched back on to the rebound.

Prince was also at the centre of the latest installment of the occasional adventures of Matt Bath. The City keeper managed to trick his way past one Salisbury forward with an outrageous flick but Prince didn't fall for the keeper's ball skills and having robbed him seemed set to score. Prince dallied too long though and by the time his looping effort was falling goalward Matt Bath had hurried back to just manage to clutch it out of the sky. Even that kind of excitement didn't really get the home fans going, and without the competing vocal presence of our traveling support their lack of noise and atmosphere was embarrassing. You're about to win the League - and we can't even hear you! What a disgrace.

City were now spluttering and a double substitution tried to inject some life into things, Corbett's departure suggesting he's still not convinced Tim Harris of his worth. City were left with Chris Holland thrown up front to partner Bevan, signaling a more route one approach that didn't seem set to trouble the big Salisbury defenders. However the presence of Holland did cause them problems and after he was hauled to the floor McKeever's free kick sneaked round the wall but lacked enough pace to scare Sawyer.

City did manage one really good late effort as Reid shaped up well to meet Webb's flick on and drive in a low half volley that at least forced the Salisbury keeper into making a good stop. It still didn't look like we were going to score, and before long we ran up the white flag - or as it could be known we put on Andy Varnam. It was the Salisbury sub Matty Tubbs who came closest to adding to the scoreline, his good run ending with a crisp shot that Bath did well to stop low at his near post.



Our ten game unbeaten run was always going to come to an end and it was no shame that it ended here, at the ground of the SLP champions. The Salisbury team are a strong outfit, with plenty of strength and are clearly well drilled. They certainly impressed more on this showing than in a poor display at Meadow Park in New year. For all of that though City were edged out rather than comprehensively beaten, and in measuring ourselves against the title winners perhaps we might feel we have less work to do over the summer than we had feared. Tim Harris' main concern must still be up front, where Bevan looks laboured, Corbett out of sorts and sadly Addis looks as lost as he ever has. We now go into the Halesowen game still searching for a point for SLP safety, Salisbury need just a further point to make sure of the title but with their massive goal difference it was all but confirmed with this win today.

The Salisbury crowd's reaction to their success rather stuck in the throat. You know that amongst the 1,609 crowd there were a few hundred who really deserved today and understand exactly what this success means for them and their club. For too many of the others though this just seemed a complete waste of a league title and promotion. It was great to see so many kids there, and we'd all rather seem them supporting the local team than following Manchester United, Chelsea or even Southampton on the TV. But for all of those people you can be pleased for there was just a total lack of emotion, of triumph and of the sheer joy that comes from success after years of barren disappointment. A silent second half followed by some muted applause as the players celebrated the title, followed by smiles but little sheer noisy ecstasy in the bar afterwards. Can you imagine what Meadow Park will be like when we finally get our hands on that SLP shield? Muted and polite applause? More like bedlam as the T-End roof flies off I reckon...

* Bath City did just enough at Evesham to keep themselves theoretically and mathematically in the title hunt with former loan Tiger Alex Sykes grabbing the winner in a 2-1 victory that keeps Evesham in real relegation trouble. Perhaps the most significant result was Northwood's win over fellow strugglers Cheshunt, they came from a goal down to earn a big 3-1 home win that keeps their survival dreams alive. For the play-off hopefuls there were mixed results - King's Lynn kept on track with a Jack Defty brace taking them to a 2-0 win over Banbury while Bedford kept Aylesbury nailed to the bottom with a 2-1 win. Chippenham stumbled though, losing 1-0 at home to Tiverton courtesy of a Richard Pears goal. Elsewhere Yate are back in form and crushed Cirencester with a 3-1 win thanks to a Darren Edwards hatrick.
| | | | | | |
| --- | --- | --- | --- | --- | --- |
| Referee: | B.Knight (Denmead) | League Position: | 15th (=) | Attendance: | 1609 |
| Conditions: | overcast with light showers | City Form: | LWDWWW | Match Report: | by t-towel |
Work commitments mean that we are keen to obtain other match reporters willing to provide details on some City matches. All text can be supplied by email, with no need to worry about web design or formatting. If you are interested please contact the T-Ender.