This was never a thrilling match and the crowd found little excitement to warm them against the biting cold. City will view this as at least a point thrown away with one careless and uncharacteristic error from Chris Thompson which gifted the home side the crucial goal in a match where neither side created many clear chances on an icy and slippy pitch. Having enjoyed a good first half City seemed stunned by going behind and from that point the second half saw us struggle to get back into the match with the Brummies more than content to try and close the game down. Lee Davis could have rescued a point but he spurned a late chance and for the travelling fans the overwhelming memory of today will doubtless be the frostbite.
The match had been in some doubt after predictions of overnight frosts, but despite the bitter cold and a few morning snow flurrys Halesowen were able to keep the fixture on. The short journey up the M5 was complicated for many City fans by huge traffic jams, for us on the train the only problem was finding our way across Birmingham city centre and fighting off the hordes of sales shoppers. You don't realise just how hilly this area of the West Midlands is until you've tried to haul yourself up a few steep roads that are rapidly developing a wonderful frozen sheen of bone breaking ice. By the time we got to the ground I think we were all just glad to be in one piece and on flat ground.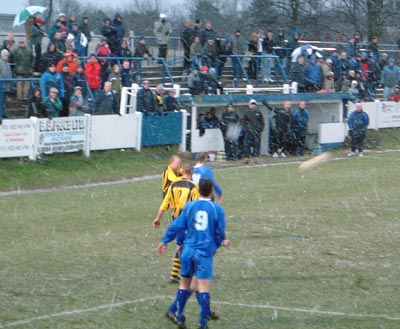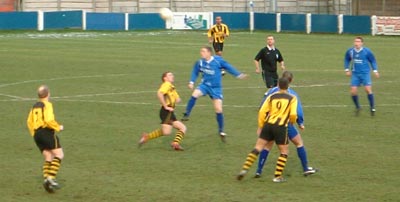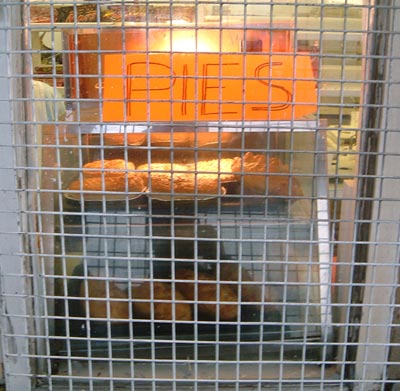 Top: Adie Harris hooks the ball through the snow.
Middle: Tom Webb is out jumped in the midfield.
Bottom: Some welcome warmth at Halesowen - but no Balti pies?
After all the pre-Christmas paper talk of reduced budgets and everyone leaving it was a relief to get back to action on the pitch, and an even bigger relief to see familiar faces in the City shirts. Although injured Neil Mustoe was still with the side, hoping to stay although the financial situation looks bleak and it seems he is the player to be pushed out. Addis was also in the side. According to the local paper Darryl Addis the shot shy Forest-based forward is due to leave in the New Year, but rumour had it that he'd been persuaded to stay. The City side had a now familiar look about it as contrary to suggestions that he'd put himself back in the team Burns limited himself to recalling captain Neil Griffiths to the defence. A settled side is fully justified, incredibly we were pursuing our fourth consecutive away league win.
This isn't going to be the longest or fullest match report in the history of the website. I'm a self confessed soft southerner and I wasn't taking my hands out of my pockets in that temperature, not to take notes and not for anything else either. Despite the cold we actually got going quite well and took the game to the Brummies in the opening stages. In fact, the freezing chill was probably enough to motivate even the laziest work-shy player to run around a little. At least if you did that the snow might not settle on you and single you out as being a lazy git.
The first minutes could actually have seen City go behind as former Stourport and Redditch winger Alex Cowley showed some fantastically quick feet as some clever sidesteps took him past Tomkins and Marvin Thompson but having done so well he wasted his shot, dragging it well wide with just Bath to beat.
City were enjoying the better of the midfield and Adie Harris was enjoying some space down the flank, encouraging the Yeltz defenders to slip on the difficult pitch. He threaded in a good ball to Dave Wilkinson who went sprawling in the area. I think the ref presumed he'd just lost his footing but actually his standing foot had been clipped and it was probably a much stronger claim for a penalty than the referee realised.
City were looking quite well balanced, even with Sykes' presence down the left forcing Adie Harris out to the right where he was our main attacking threat. Neither side seemed to find it easy to keep hold of the ball for any length of time, understandable in the circumstances. Both teams were playing carefully and the game seemed to be played in a decent spirit as the game could easily have become nasty if either side had chosen to fly in at each other on this surface.
It was definitely cold and you'll have to guess at the next few minutes as the call of the Grove's pie shop proved too alluring, it was mainly a chance to get your hands on anything warm. The food was good as it always is, but the trademark much anticipated and unnaturally orange stained Balti pies were missing. A shame, but nothing an old-fashioned chicken n' mushroom substitute didn't help.
By the time we got back on the terrace we seemed to have missed little, but with the snow now falling quite thickly the home team seemed to have got a firmer footing in the match. In the snow city were struggling to clear a succession of corner kicks, with both Tomkins and Griffiths each getting their head to a couple apiece. We were struggling to clear our lines, but when we finally did get a proper boot on the ball we almost caught Halesowen - well, cold.
Webb hared onto the loose ball and fed Addis who did his usual trick of holding up the ball well in front of the defender. This time though he managed to not hold on to the ball quite as long and played in Luke Corbett with an angled pass. Corbett took the defender on but took perhaps a touch too far and found himself crowded out without properly getting his shot away. City went even closer a few minutes later when Alex Sykes had another go from distance. The winger had tried a few digs earlier in the game but they'd either been well wide or a little lacking in oomph. This shot had both, and the keeper was struggling as it curled and dipped, dropping just the wrong side of his bar.
This was actually a good match and the first half almost justified that hellish walk up an ice rink. Neither team were on top for long and we soon found ourselves back defending, with Griff making a fantastic challenge on Halesowen's Simon Forsdick just as the Brummie forward looked to have got himself clear on goal. Lamey also went close with a curling free kick from just outside the box, but Matt Bath did well to pick it out in the low sun. He grabbed at the first effort but managed to gather the ball at the second attempt. The half finished with another switch of fortunes and City attacking goal. Another good move involving Harris and Addis moved the ball inside to Corbett who unleashed a fierce shot into the side netting.

And with that half-time, and the pure misery of the cold with nothing to distract us apart from Lee Randall impressively curling the ball in from 35 yards. The City fans were now at the far open end of the ground where it was, unbelievably, even colder. In fact you had to be really careful on the terrace as it started to ice up. Fortunately the City players are ever considerate of the suffering of our fans and were careful to produce little of any interest in the second half, presumably concerned any excitement could have caused a spate of broken bones amongst the travelling support.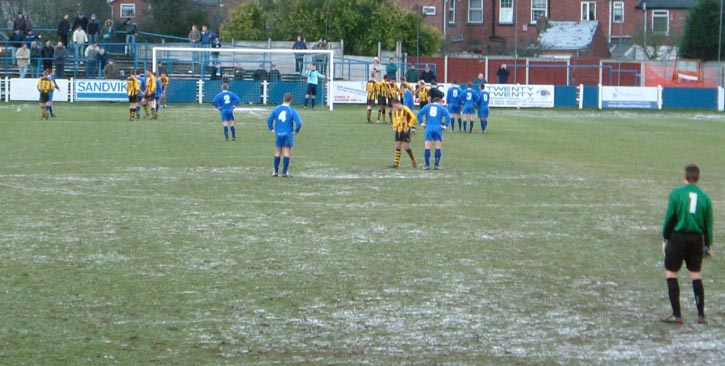 Matt Bath prepares his wall for a first half Halesowen free kick - don't panic, it went over.
Before we'd had chance to settle in our frozen locked positions the crucial moment of the match came, and it was a cruel blow for City who had done nothing to deserve to fall behind. The normally reliable Chris Thompson simply had one of those horror moments that can sometimes make defenders try to dig a hole in the ground, sadly for him nowhere near possible in Siberian south-west Birmingham. Thommo didn't seem under any pressure as he chased back to pick up a fairly aimless Halesowen long ball, but he didn't seem to check on Matt Bath's position and what was happening around him as he tried to tap a back pass towards his keeper. Matt Bath was simply too far away, but Howard Forinton was on hand to seize on the misjudged pass. With Bath now stranded the former Banbury striker had plenty of time to crash the ball into the net to give the home fans something to warm their toes.
That goal really seemed to deflate City and having managed to trade attacks before the break we now found ourselves really struggling for any of the ball at all. In fairness the goal also lifted the home side and Simon Forsdick was a constant threat and he seemed to be the most likely source of the next goal. Several of his runs looked dangerous, one of his attacks ended by a desperate trip from Tomkins that earned the defender a yellow card. Despite Halesowen's attacking play the dangerous Forinton was still being well shackled by Neil Griffiths who always seemed to be a step ahead of him. That left Halesowen with few actual shooting chances despite their increased possession and pressure, on several occasions Forsdick had shots from outside the box but Matt Bath was comfortably equal to them all.
We weren't really looking very inspiring but a few substitutions gave us a bit of last minute forward momentum. Jamie Reid came in and was almost instantly booked, but at least his enthusiasm gave us a bit of bite in midfield and we did manage to finally get forward and look like we might just grab the point our first half display just about deserved. However when the chance did come after it was spurned. Mansell and Reid helped find space for Lee Davis but his shot from the edge of the box was well wide and seemed to sum up a very disappointing second half.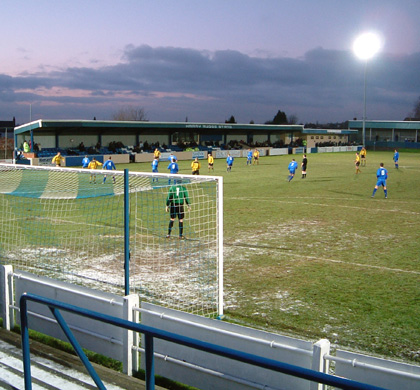 Corbett gets City on the attack amidst the ice and gloom at The Grove.
For City this was a dispiriting match that just seemed to slip away from us having hinged on one unfortunate individual defensive error. Halesowen will be cheered by the points but can take little comfort from having edged the match without really having shown enough to earn it. For City anxious glances at the league table are only matched by equally anxious at the weekly wage bill. Players need to be released but the management team seem to be delaying the inevitable and after all the suggestions that Chris Burns would quit seem to have been put off there still seems little new fire coming from the management bunch. For City fans this isn't perhaps going to be the happiest or most optimistic of festive seasons.
That just left us to negotiate a long and cold journey home. Having been well cheered and warmed at the Brummie hostelry behind the ground we tried to battle our way back home through the ice and snow. The first bit went well enough, but then we found ourselves stuck in the godless wasteland of Worcester Shrub Hill waiting for the next train going further south. And waiting, and waiting, as another train disappeared from the screens without explanation. Realising nothing was coming for another hour we took refuge in the bar of a nearby B&B, the only signs of life and hospitality within sight of the station. It should be against the law to have a station with no pub or cafe within sight. By the time we stumbled on to the platform at Gloucester station we were only just getting back the feeling in our extremities. Pointless and frozen, it was hard not to feel sorry for yourself, there was more chance of feeling that than your fingers. Surely the New Year's Eve trip to Yate can only be better.

* The matches at Bedford and Cheshunt fell victim to frost and heavy snow, so at least City didn't lose ground against all the opposition clubs at our end of the table. The Chiltern derby between chesham and Aylesbury ended with a point apiece after a 1-1 draw and the only side in the bottom few that will be happier after yesterday will be Cirencester. They thumped struggling Evesham 4-0 at Common Road, largely thanks to a hatrick from Mark Danks. The largest bank holiday crowd of the day saw Chippenham beat Bath City 2-0 in front of an impressive 1,612 packed inside Hardenhuish.

SLP Table; Southern League website.