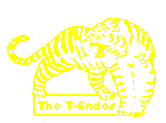 We welcome all contributions to the T-Ender. Please send any material for the site by
email to the address above.

Disclaimer
The views expressed on these pages are not those of Gloucester City A.F.C., its directors or officials, or of any other company mentioned. Neither do they represent the official views of the Gloucester City Supporters' Club or its committee.
While we make every effort to ensure information placed here is accurate we do not accept responsibility for errors that may occour. If you do find a mistake please let us know.

All pictures and material unless otherwise stated are the site's own and is
© www.t-ender.co.uk
All material may be reproduced with permission and appropriately attributed.
Saturday 14th January '06

Grantham Town

at The Meres

Southern League Premier Division
(match 27)

vs

Gloucester City

Grantham Town

2

Scorers: Brown (27), Sneddon (73)

Gloucester City

1

Scorers: Harris (12)
City Side:

Bath, M.Thompson (Randall 77), Mansell, Griffiths, Tomkins, Mustoe (Davis HT), C.Thompson, Webb, Addis (Rimmer 84), Corbett, Harris.


Subs not used: Noakes.
City Bookings: none
T-Ender Man of the Match: Chris Thompson; did well on his return to midfield with some smart turns of pace and never gave up chasing.
Tim Harris' first match at the City helm ended with a fifth consecutive defeat for a side that battled hard but were ultimately out muscled by another strong direct and more physical team. The pre-match optimism created by Harris' surprise arrival at City shouldn't disappear after one setback, but after going into an early lead through a coolly taken Adie Harris strike City found it hard to compete with Grantham's long-ball approach and after losing Mustoe at half-time the second half was disappointing with few ideas and little sparkle. At least the new manager will have plenty to think over in the next few days with many of the side's shortcomings laid bare - especially the problems created by having a squad that simply needs more quantity perhaps even more than it needs a boost in actual quality.

This game was always set to be a close affair. The two sides are just one place apart in the table and both last season's meetings ended in draws. This time of course there was more at stake, at least for City. This was the first match under new management, with the players bound to be keen to make a good first impression with new boss Tim Harris and his assistant Chris Smith. The new coaching duo had few options available to them when it came to team selection as our tiny squad had been reduced further by one match bans to both youth team skipper Jamie Reid and recent scoring hot-shot Dave Wilkinson. At least Neil Mustoe was fit after a month out, no doubt glad to get back on the field after a month that first saw him being levered out of Meadow Park, then staying on as temporary player-manager before having his playing career rescued by the arrival of the new manager. Grantham meanwhile are a side whose hopes of pushing on into mid-table and promotion challenging positions seem to have run aground. Despite some good results here and there they've struggled for form. With the boost in spirits provided by a fresh start City must have hoped they could arrest their recent run of four straight defeats.




Top: Adie shapes up to put City into an early lead.
Bottm: Another first half attack as City jostle for space in the Grantham box.

There had been plenty of speculation as to what Tim Harris would do with his first line-up, but despite some suggestions he would revert to 4-4-2 straight away City kept their now familiar 5-3-2 formation. However there was some change with Chris Thompson restored to a central midfield role, although that did leave Marvin still trying to fill in on the right of defence. At least it did give the players less to think about, although we took a little while to get going as the home side dominated the opening minutes of the match. Their approach was uncompromising from the start, a good hard boot from the back that by-passed midfield and got the ball forward early.

This of course is exactly the kind of route one aerial bombardment that we tend to suffer under and it was a relief to see both Griff and Lyndon get under some of the early high balls with some thumping headers of their own. None the less Matt Bath was called into action early on and had to make a good stop after Grantham's Sneddon fired in a shot from distance. At least that seemed to galvanise us a little and we gradually settled into our own pattern of play and began to look quite comfortable. With the ball finally down on the turf Webb was able to clip a nicely weighted ball over the top that just eluded Corbett. Even though that City attack was swept up by the Grantham defence we were soon back, this time Corbett did reach the through ball and managed to flick it inside to Rich Mansell making a good run from the left flank. He got into a good position but his shot was too weak to scare the Gingerbreads' keeper.

Grantham had been warned but when we moved the ball around quickly they seemed to be struggling. City went ahead as Tom Webb managed to produce a fantastic turn deep in our own half and produce a break down the right flank. Chris Thompson picked out Adie Harris as he broke forward and the veteran winger did the rest. He still had plenty to do and there was little support for him as he cut in to the box, but Adie turned one defender and produced a cool finish low to the keeper's left. City were ahead. It was a grey dreary day in a miserable soulless stadium but suddenly for the City fans it looked like a new dawn. There was a nice little twist that the first goal of the Tim Harris era came from a man nearly 42 years-old. Can I also be the first to point out Adie only gets a game cos his Dad's the manager?



This triggered our best spell of the match and another goal now could have really buried Grantham. Rich Mansell enjoyed another good run into the penalty area and he looked to have sent over a good cross but Grantham's Adrian Speed got a vital flick to put it away from the goalmouth. Corbett also had a great run after picking up a neat pass by Chris Thompson. The City forward had the Grantham defence in retreat and he managed a shot that slithered into the side net. Corbett's earned a right to shoot on sight but he missed both Mansell and Addis in the box and a good square pass could have opened up the home defence.

Grantham were in trouble when we actually got the ball down on the ground but we were equally struggling when they were in possession. Marvin Thompson gave away possession down the right but did well to track back and get in a vital tackle at the cost of a corner. Our troubles deepened when Bath couldn't get a firm grip of the corner, but fortunately Neil Mustoe blocked the resulting shot fired in from the edge of the box. That didn't solve our problems for long as Grantham began to realise the high cross wasn't our strong point. Another high ball from our right saw Matt Bath flap a couple of times at a ball that strayed close to the corner of our goal. We didn't deal at all well with the resulting corner and again conceded a soft goal to an uncontested header. The corner simply flew across the face of goal and Grantham skipper Grant Brown was unmarked to run in from the far post and thump his header beyond a stranded Matt Bath.

City could easily have regained the lead before the end of the first half. Webb was given a free kick for a foul on the right wing and from Harris' free kick Corbett pushed through a crowd of players only to see his header flash just wide of the post. Addis could have won a penalty for us when he managed a clever turn and was looking for help arriving inside of him when his legs seemed to be clipped. It happened just inside the box but the linesman managed to miss it entirely from only a few yards. The ref had a decent and almost entirely anonymous match, but his assistant missed nearly everything and if it had been a big match or the weather better then there would have been a suspicion he's snuck in with the flag to avoid paying at the turnstile. Another good City move broke down in midfield after Chris Thompson won a great tackle in midfield and got Mansell away, but as he found Adie Harris a firm block ended the move.

Corbett gets forward and finds himself alone under the glittering lights of the South Kesteven District Council Welcomes You stand.

City suffered a serious setback at half-time when Neil Mustoe suffered a recurrence of his hamstring problem and it was decided to take him off to avoid risk of more serious damage. Lee Davis came on but the change meant an enforced reshuffle with City trying to revert to a flat back four. With Wilkinson and Reid already missing the loss of Mustoe left the side now looking seriously lightweight and the lack of any ball winner had already caused us problems in the first half. In the second half it proved decisive and disastrous. We still managed to get forward a few times, once Addis got in behind the defence but his pass didn't find Corbett, while a few minutes later Corbett picked up a loose ball down the right but he in turn couldn't thread the ball through to Addis. Those few chances were just about all the meaningful opportunities we created as we ran out of ideas, and then out of steam.

Grantham were a distinctly ordinary side but they did still keep coming at us and it was their strength rather than any great flashes of footballing ability than undid us. The long ball tested our rather fragile defence while even when the ball did fall in midfield the pairing of Chris Thompson and Lee Davis were struggling to disrupt the Grantham attack. Their striker Jason Turner spurned one great opportunity when he shot wide having bundled his way on to a ball over the top of Neil Griffiths. We looked entirely flat and with Grantham now piling forward we were struggling to find any way of relieving the pressure. The vital breakthrough came when Davis gave the ball away and Michael Sneddon was able to run on to another ball over the top that turned our defence entirely. It looked as if Sneddon had been several yards offside, but that wasn't an end to City's bad luck. Lyndon Tomkins got back but his challenge only helped Sneddon wrong foot the keeper and flick the ball past Matt Bath to put the Gingerbreads ahead.

City were not looking as if we really had a plan to get back into the match. Grantham continued to simply pile forward and try to keep the pressure on with a series of high balls, another long looping cross almost caught us out but Tomkins managed to smuggle it wide at the far post. Another Grantham attack was only broken up by a smart challenge by Rich Mansell, but we were only able to keep Grantham at arm's length. We were along way from managing to mount our own attacks.

Davis and Noakes model new subs training kit.
Expect even more City errea sports kit soon!

In midfield we were now misfiring terribly. Neither Corbett or Addis were finding much space up front and with little to aim at our midfield passes were going astray with a horrible regularity. Normally reliable players like Chris Thompson and Tom Webb were giving the ball straight back to Grantham and we couldn't find any chance to reorganise. It was all a little depressing after what had been a fairly good first half performance.

One of the criticisms made of Chris Burns was that often substitutions weren't made to try and change the game. At least Tim Harris seems willing to try a few things, but he didn't have a lot of cards to play. Marvin Thompson limped off, possibly again struggling with his ongoing thigh problem, and City fans were treated to the sight of Lee Randall heading to the right back slot. He was unsurprisingly almost caught out for pace on a few occasions, but at least his long ball back up to our forwards did offer some brief periods when we managed to clear our lines. Harris also threw youngster Eddie Rimmer on for Addis to try and liven things up in attack, but by then the match was slipping away from City.

Our best chance to equalise was squandered when Corbett stepped up to take a free kick 25 yards out. Having seen his dead ball strike at Yate there was some expectation when he lined up the ball, but the shot was disappointing and there was something horribly predictable when we were caught miles offside as the follow up ball was played back in. If anyone was going to add to the score it would be the home side, and they had two late chances to add some gloss to the scoreline but their forwards wasted chances as they twice lobbed the ball over Matt Bath but also over the bar. The City keeper got a final chance to remind City fans why they'll be hoping he doesn't leave for Cinderford when he saved well from Turner.



It was a hugely disappointing end to a match that had seemed to promise more. At least Tim Harris has had an opportunity to see some of City's strengths and most typical weaknesses. We are a good passing side that can play most sides in the division off the park when we get the ball down. Unfortunately we are too lightweight and lack the players who can provide the necessary muscle to give us a platform that allows our talented players to attack teams. The squad is also simply now too small, and with Wilkinson, Reid, and then Mustoe missing we were simply brushed aside. Ideally Harris must want to bring in a stronger player up front, and a tall commanding centre back to try and solve our vulnerability to the high ball. We also have a continued problem with no defensive right-back option at the club, with a strong left-sided bias to the squad and both Marvin and Adie Harris struggling to fill that gap in recent games. The new boss will recognise these problems, but his first aim must be to try and keep as many of the current squad as possible and then just count the pennies to see if he can add a few extra people to start to give himself real options.

The whole match had a fairly surreal feel to it and that only continued with the train journey back to London. The crowded Hull train seemed to have gone through some sort of reality warp simply from being so crowded and going back to London via Cambridge for no apparent reason. That the train was full of Palace fans on their way back from Hull was not surprising, when it turned out that it was also full of the Palace first team it seemed as if the world of strangeness was complete. Not even our first team are stuck on public transport, and here were the entire squad of a promotion challenging Championship side - and not even in first class! Surrounded by their fans and desperately trying to listen to their DVD players while their fans clustered around them and chanted at them for a couple of hours. A return ticket from King's Cross to Grantham - £25.90, several hundred Palace fans chanting "We hate Cheltenham" without really knowing why, priceless. And Tim now has probably the only Gloucester City shirt signed by an England international while they sat on a train. All pretty weird...

* Despite having lost our last five matches we amazingly still find ourselves in 19th spot in the league. This may give us a slightly false sense of comfort though, if other clubs pick up just a few points from their many games in hand we will find ourselves quickly plunged deep into relegation trouble. Just two points separate us in 16th place with improving Northwood down in 21st. The battle is on.
Northwood's revival is causing real concern and they got another good away win today with a 3-2 win over Team Bath and surviving a come back from the students who pulled two goals back to make the visitors work for their points. Several other struggling sides fought out draws, with a Richard Ball brace earning Evesham a 2-2 draw at Aylesbury while Rugby and Yate drew 0-0. Chesham's slide to the bottom deepened with a comprehensive 4-0 defeat at Tiverton, while Cheshunt also came away with nothing losing 2-0 at King's Lynn. At the top of the table Chippenham gained ground on Salisbury City with a strong 2-1 win at Halesowen. Salisbury did the SLP proud in the FA Trophy, a Mark Haddow goal enough to earn a 1-0 win at Conference side Canvey Island and a place in the 3rd Round.
SLP Table; Southern League website.
| | | | | | |
| --- | --- | --- | --- | --- | --- |
| Referee: | P. Barnes (Peterborough) | League Position: | 16th (=) | Attendance: | 366 |
| Conditions: | grey, dull and persistent light rain | City Form: | LLLLLW | Match Report: | by t-towel |
Work commitments mean that we are keen to obtain other match reporters willing to provide details on some City matches. All text can be supplied by email, with no need to worry about web design or formatting. If you are interested please contact the T-Ender.