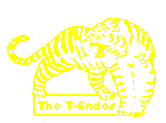 We welcome all contributions to the T-Ender. Please send any material for the site by
email to the address above.

Disclaimer
The views expressed on these pages are not those of Gloucester City A.F.C., its directors or officials, or of any other company mentioned. Neither do they represent the official views of the Gloucester City Supporters' Club or its committee.
While we make every effort to ensure information placed here is accurate we do not accept responsibility for errors that may occour. If you do find a mistake please let us know.

All pictures and material unless otherwise stated are the site's own and is
© www.t-ender.co.uk
All material may be reproduced with permission and appropriately attributed.
Saturday 29th April '06

Banbury United

at Spencer Stadium

Southern League Premier Division
(match 42)

vs

Gloucester City

Banbury United

1

Scorers: Stanbridge (89)

Gloucester City

0

Scorers: -
City Side:

Bath, Reid, McKeever, Preece, Tomkins, Eckhardt (Wilkinson 18), Addis, Webb, Bevan, Corbett (Randall 79), Pritchard (Harris 34).


Subs not used: Rimmer, Varnam.
City Bookings: none.
T-Ender Man of the Match: Jody Bevan - led the line well; harried the Banbury defence and unlucky his work didn't produce a goal.
This match was always going to have a party atmosphere but after the two teams met in a drab encounter at the end of last season at least this time both teams managed to produce an open end to end encounter that lived up to the occasion. With City having thankfully already done the hard work in avoiding the drop fortunately nothing rested on the result, and so it was hard to get too upset when Banbury snatched a win in the dying moments of the match. Defeat was hard on a Gloucester side who had twice hit the woodwork and once had the ball in the net, but the scoreline will do nothing to dampen the hugely improved spirits of City fans who will still be looking forward to the next season with far more expectation than seemed possible just a few months ago.

Our run to relegation security has not been done the easy way and Tim Harris found his options even further restricted as right-back Jonny Miller missed out having been on the end of yet another injury last Saturday. His place went to youth team skipper Jamie Reid making his first senior start of 2006, while up front the City boss opted for plenty of attacking options with Addis and Corbett both starting in midfield and Pritchard partnering Bevan up front. With centre-back recalled by Bath City as cover for their promotion play-off push the veteran Jeff Eckhardt came back into the defence. Banbury United had nothing left to play for either, but are able to boast some silverware having won the Oxfordshire County Cup in the week. It's no more than the Puritans deserve after a fantastic season that had seen them challenging for the play-offs at one point despite being amongst the pre-season favourites for the drop.

Top: Pritchard's progress is halted on the edge of the Banbury box.
Bottom: Adie Harris sees his cross blocked by the Banbury defence.

The poor Banbury fans who've twice seen us pitch up at their place for the last game of the season must think the City fans are more than a bit touched. After last seasons Hawaiian shirts today they got a variety of visitors including gorillas, furry tiger feet, the grim reaper, superman, Ali G and a load of extras from Reservoir Dogs. And quite a lot of City fans had worn fancy dress too. And we still had that bloody drum! It was all a bit much for the home fans who retreated into silence until they found their voice in the last few minutes, possibly not coincidentally when their lot scored.

For once the match got off to a quick start with both teams straight at each other from the kick-off. McKeever showed some good touches early on, he has the happy ability to make the ball look like its tied to his foot as he shuffles it about, this time Banbury's Stuart Bridges was the player to finally be left on the floor looking silly. That was all very well but Banbury were producing the more decisive pressure on goal. Matt Gooderick looked to have been forced wide as he enjoyed a good run on the ball, but from the right he produced a dangerous cross which Preece and Reid were both needed to clear.

From start to finish this was an entertaining contest that zipped from end to end. City won a corner that could have easily seen us take the lead as the Banbury keeper made a hash of his attempted punch clear, leaving the ball to drop behind him into the goalmouth where his defence helped him out with a big boot away. Banbury went straight up the other end with good interplay between Ady Fuller and Andy Baird. Baird finally looked as if he'd fluffed his shot but his looping effort turned into a dangerous pass that Matt Bath did well to gather ahead of the descending Banbury attackers. Fuller soon got forward well again down the City left where McKeever was again leaving a large defensive gap, this time the cross was just reached by Eckhardt who got a firm header to clear the City lines. Straight from that long clearance Justin Pritchard escaped his Banbury marker and was almost through but the Banbury keeper was out quickly to just reach the ball ahead of him.

Banbury were the first side to create a clear chance, coming from a free kick after Webb mistimed his challenge. Some how City lost their positions and Andy Baird found himself free at the far post as the ball dropped to him, but despite the space he missed from barely six yards out. That was a real let off for City and we looked slightly lost in midfield where perhaps we had too many players who haven't quite understood how to close the ball down and work when not in possession. As it was an early injury to Jeff Eckhardt forced a reshuffle to the side, Wilko coming on and slotting into the defence and Reid also moving on to the left to halt the Banbury threat down that flank. The change may not have been what Tim Harris needed so early in the game, but even on his wrong foot Reid did a solid job and the side looked more effective.

City were continuing to create problems for the home defence and Pritchard was almost an accidental provider as he turned on a low ball from the right. His scuffed shot caught everyone out and Bevan was the first to react as he poked the ball clear of the full-back and was unlucky to see his move halted by a fantastic saving tackle. At the other end Tomkins was caught out by Andy Baird and brought him down for a free kick on the edge of the box. Matt Bath did well to tip over the dipping free kick for a corner, and then did even better to gather a vicious low cross at the near post.

City's problems deepened as another player was forced to limp off, this time it was Pritchard suffering a return of calf problem. That created room for the return of Adie Harris who caused Banbury immediate problems and the twinkling feet of the little wing wizard gave the Puritans just a little too much to cope with. His quick footwork and direct run took him past two defenders and as he approached the by-line he sent in a dangerous low cross. It was so good that no-one dared touch it, Corbett seemed to be lost in admiration as the ball passed him as he watched at the near post. The ball continued agonisingly across an open Banbury goal just half a yard from the line, but no-one got the decisive touch and it was smuggled away for a corner. McKeever takes a mean dead ball and his inswinging effort was kept alive at the near post by Dave Wilkinson who hooked the ball back into play. The ref helped as the ball bounced off his backside, falling to Jody Bevan who did well to barge his way on to the ball and find some space. He crashed his shot goalward and was unlucky to see his fierce drive rebound straight back off the post.

City ended the half as the stronger side and even looked impressive in spells, Addis even showing more evidence of his slow recovery back into a football player with a wonderful touch to bring down a high ball and having brought it under control he placed it inside a defender into the path of Jody Bevan. The move eventually ended with a pretty brutal challenge on McKeever which got us a free kick. The ball was whipped in towards the far post where Lyndon Tomkins met it with a firm thumping downward header. When you see him in full flight he seems virtually unstoppable in the box and you wonder how the big centre back doesn't get more goals, perhaps he just likes scoring against Banbury - both his City goals to date came in a match against this opposition. This should have been another, but left-back Tommy Kinch scrambled across the goal line and managed to touch it away.

Tomkins is the target again as McKeever whips in a first-half corner. Lyndon only scores against Banbury and went close again several times today.

City were increasing their dominance of the match but as we pressed forward Banbury actually had the better chances on the break. Sub George Redknapp found himself played through with a clever low pass and he must have been disappointed not to beat Bath who made a great low save. The keeper may have impressed with his shot stopping but he gave the home fans something to cheer themselves by when he almost made a clanger by dropping a near post corner. Banbury were enjoying a strong spell and spurned another chance with a shot from distance, but having spurned their chances they should have been made to pay as City got back in to the match.




Top: Tomkins' header is kept out by the post and Banbury's full-back.
Btm: Addis beats Keiran Sullivan but the ref has spotted his arm come out.

The pressure from City was increasing and Banbury were really looking like they too would end up cracking under sustained City attacks. Having both Adie Harris and Mark McKeever on the pitch at the same time seemed almost unfair and there were long periods where Banbury couldn't get the ball off one or other of them. They linked up to move the ball across the width of the pitch and McKeever worked the ball to create space for a wicked dipping cross into the penalty area. Corbett looked to have beaten the defender to the ball but he got under the cross and his header spooned up into the air rather than into the net. None the less the move ended in a City corner and from this City hit the woodwork again, this time through Lyndon Tomkins' as he met the corner with a thumping header that smacked against the base of the far post. Darren Pond scrambled the loose ball away at the post and did enough to put off Luke Corbett as his follow up shot flew across the face of the goal.

City were sparkling with McKeever and Corbett combining to find Bevan in space down the left but his cross was cut out at full stretch by a puffing defender. Bevan's physical bustling almost paid off a little later as he flattened the keeper chasing a long throw. City were getting closer and Tom Webb turned his man inside out on the right before drilling a low cross into the area. The cross was flicked away, but fell to Bevan who really must have thought he'd scored as he fired goalward. The Banbury keeper must have felt he owed Jody one after their earlier bruising meetings and he was lucky to see the shot stopped by the inside of his leg. Another Webb run ended with a lay-off to Jamie Reid, but even the youth team skipper couldn't quite get a clear shot away and his effort ended up wide of the post.

As the match drew to a close it seemed for a moment as if City had again performed the miracle of the late winner as we got the ball into the net. It seemed so simple as Lee Randall unleashed a devastatingly accurate diagonal long ball that dissected the Banbury defence as it dropped over them and into the path of Darryl Addis. Suddenly he didn't look like a striker struggling for goals as he confidently took the ball away from the trailing Keiran Sullivan and having closed in on goal he stroked the ball under the keeper and into the net. However you could tell something was awry, not simply because Addis had scored but because his first glance was over his shoulder at the linesman. The assistant hadn't seen it, but the ref had. The goal was ruled out, Addis had brought the ball down with his arm as it dropped over his shoulder.

This hadn't really seemed like a goalless draw kind of game but really neither side deserved to lose it. Having seen our own goal ruled out it seemed a bit of a cheek for Banbury to steal the game themselves in the last minute. Perhaps the City defence had just started to believe in their own invincibility, perhaps in a game with nothing at stake it was inevitable a few thoughts would begin to turn to summer holidays. For whatever reason we seemed to just lose our concentration a few moments too soon, and Banbury sub Ollie Stanbridge was on hand to take full advantage. He seized on a loose ball and just moved effortlessly into the heart of the penalty area to drive the ball low past Matt Bath.




Even though there could barely be a minute left to play City could have fallen even further behind as Jon Gardner looked to capitalise on Mark Preece's slip, perhaps the only one he's made since coming to City on loan from Bristol Rovers. Fortunately Gardner lost his composure in front of goal and he fired wide, and a two goal defeat wouldn't have been at all fair. The defeat seemed a little bitter, but at least it didn't really matter and did little to dampen the feeling of end of season jubilation amongst the City fans. For most of the season it has been clear we could only judge this season a success but survival in the Southern League Premier. For that to be achieved in such a way that we could enjoy the final game without any pressure really shows how much was done in the last few months of the campaign. Next season will still be a challenge, but the fans have every reason to hope that at least next season should not see us scrapping for survival in this way.

* For City the season ended with a comfortable looking 13th place finish, a whole tow places better than our final position last season even though this campaign involved even more genuine relegation nerves. There was little to be decided in the SLP on the final day, but it was good news for Northwood. The complicated relegation situation for the 19th placed club saw them pull through with a goalless draw at Cirencester ensuring their points per game record was better than that of Hendon in the Ryman Premier. Other interesting results saw a Leon Gutzmore hatrick take relegated Aylesbury to a 4-2 win at Merthyr, while a Jimmy Cox brace helped Yate to a 3-2 win at Cheshunt. Is Jimmy finally showing a return to form to try and earn a City return?

The SLP promotion play-offs must see Bath City start as finalists, especially after a last day 2-0 win at rivals King's Lynn. The semi-finals take place on May Day, Bath City at home to Bedford Town while King's Lynn are at home to Chippenham Town. The final play-off takes place next Saturday 6th May. For City fans the best result would have to be for King's Lynn to go up, it would be great to get rid of that long expensive away trip and keep two lucrative local derby games. The sides likely to be playing in the SLP next season aren't yet clear due to play-offs and all the now traditional geographical playing around. Western Division champions Clevedon Town seem to be certain opponents next season though, with Redditch United likely to also return to the SLP after finishing in the bottom two relegation spots in Conference North.

SLP Table; Southern League website.
Traveling Lorry Count - 0
| | | | | | |
| --- | --- | --- | --- | --- | --- |
| Referee: | S.Tincknell (Watford) | League Position: | 13th (=) | Attendance: | 426 |
| Conditions: | warm sunny spells | City Form: | LWWLWD | Match Report: | by t-towel |
Work commitments mean that we are keen to obtain other match reporters willing to provide details on some City matches. All text can be supplied by email, with no need to worry about web design or formatting. If you are interested please contact the T-Ender.