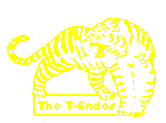 We welcome all contributions to the T-Ender. Please send any material for the site by
email to the address above.

Disclaimer
The views expressed on these pages are not those of Gloucester City A.F.C., its directors or officials, or of any other company mentioned. Neither do they represent the official views of the Gloucester City Supporters' Club or its committee.
While we make every effort to ensure information placed here is accurate we do not accept responsibility for errors that may occour. If you do find a mistake please let us know.

All pictures and material unless otherwise stated are the site's own and is
© www.t-ender.co.uk
All material may be reproduced with permission and appropriately attributed.
Wednesday 24 October 2007

FA Trophy
1st Qualifying Round Replay

at New Lawn, Forest Green.
Gloucester City

2-0

Stourbridge

Scorers:

J.Pitcher (32), M.Whittington (42)

Scorers:

-


K.Sawyer

1.

L.Solly

J.Reid

2.

A.Wells

A.Allard

3.

O.O'Connell

© N.Mustoe

4.

R.Collins

T.Hamblin

5.

K.Hadley

J.Welsh

6.

M.Brookes ©

M.Rose

7.

M.Jones

T.Webb

8.

L.Broadhurst

J.Pitcher

9.

M.Bellingham

M.Whittington

10.

R.Mahon

L.Smith

11.

S.Rock

Subs

A.Harris

12.

J.Dyson (for 5, 74)

W.Morford

14.

J.Rogers (for 10, 74)

(for 10, 57) J.Bevan

15.

L.Dimmock

(for 3, 68)

(for 9, 86) A.Sykes

16.

C.Slater

M.Noakes

17.

J.Ford

Bookings:

City: K.Sawyer (ungentlemanly conduct kicking ball away 51), J.Reid (dissent 62)
Stourbridge: R.Collins (foul tackle 32)

Dismissals: City: J.Reid (foul tackle, second booking 83) - Stourbridge: L.Dimmock (violent conduct retaliation 83)


T-Ender City MotM: It was great to get goals but Kevin Sawyer's first half saves won us the match, topped off with another fine penalty stop.

It might not have been the prettiest win, or the most convincing win - but the mere fact that it was a win is simply good enough - and not only because this was knockout competition. Finally City got some breaks and the chances fell our way, Pitcher scoring on the line and Whittington finally getting on the City scoresheet to give us a 2-0 lead at half-time, the first lead we've had since taking up tenancy at the New Lawn. Goalkeeping heroics from Kevin Sawyer had helped us win the second half and the big keeper was too much for Stourbridge in the second half, saving a crucial penalty soon after the break. We could and should have added to the score, but despite a late red card for Reid and no final flourish this was still the best night for City fans and players for far too long.

Allard had been disappointing with his use of our set piece opportunities, but he got another opportunity when Collins was booked for scything down Pitcher as he approached the box. This time the free kick swung away from the keeper and cleared the first defenders, giving the returning Jason Welsh a great chance to meet the ball running in from the far post. His header beat the keeper but crashed down off the crossbar, but Jack Pitcher was quickest to react bundling Whitts out of the way to touch the ball in from close range.

City then put themselves further ahead with a classic breakaway goal. Neil Mustoe picked the ball up but his probing pass seemed too close to the defender, only for Collins to slip and fail to control the ball. Michael Whittington pounced on his mistake and hared clear of the defence to close in on goal. He rounded Solley in the Stourbridge goal but with the goal gaping he seemed to hesitate and chose to check back on to his favoured right foot. It was the classic sign of a striker lacking a little belief, and for an awful moment it seemed the chance had gone. Whitts kept his head though to fire the ball under the keeper - it was an important goal in the game, but if it triggers Whitts back into scoring form it could also yet make our season.

City still had plenty of opportunity to throw it all away and early in the second half we again showed our worrying ability to get distracted by some questionable refereeing decisions. Matt Rose was unlucky to not get a free kick after a bruising midfield tackle but when he roughed up the offender as we defended a corner it gave the ref an opportunity to give a penalty. Mark Bellingham had caught an elbow in the head during the goalmouth scuffles and he stepped up to take the kick still rubbing his head. Sawyer helped him feel at home but kicking the ball off the penalty spot, a bit of gamesmanship which earned him a daft booking. Kevin Sawyer hardly needs those kind of antics, when Bellingham smashed his kick low to the keeper's right he must have thought he'd scored - but Super Kev hurled himself full length to powerfully push the ball wide, protecting his clean sheet and notching up his third penalty stop of the season to date.

City had plenty of chances to add to the score but perhaps our inability to grab something more helped create a situation where both sides seemed frustrated and there were several testy challenges going in as the game wore towards an end. The final straw seemed to be a lunge by Reid on Stourbridge sub Lee Dimmock, whose reaction sparked a routine bout of handbags scuffling and peace-making. Reid had picked up a pointless booking for dissent earlier in the half and another booking for this foul saw him leave early, closely followed by Dimmock for his retaliatory punch. It was all a bit of a mystery though, one of the disadvantages of the New Lawn is that the other end isn't just a long way away from where your stood - it's also a long way from everyone else too.

T-Ender Match Snaps

Allard lines up an early free kick as City look to open the scoring in the Stourbridge replay





Team Selection:

There have been surprises in team selection this season, but none greater than the recall for Jason Welsh who returned to the club just a fortnight after being released. Tim Harris deserves credit for so publicly swallowing his pride, as does the big Valleys boy for agreeing to come back to help out in this match. He took his place in defence, while Morford's afternoon game for his college allowed Pitcher and Whittington to get a chance to show they can build up a strike partnership. Perhaps the most welcome news of all was the return of Michael Noakes, on the subs bench after nearly eight months out with injury.

TBBM Said:

"Why'd he want to go and call you a twat then?"
Inexplicable old people conversation in the stand. Are we picking up local supporters after all?

Tactics Board:

Anorak Corner:

T-Ender Verdict

Despite all that we bang on about managers, tactics and refereeing decisions there are two big factors in football - confidence and luck. Tonight we got a little of the second and once we had a lead you could see the confidence grow. For much of the first half this game hung in the balance, but Sawyer made some top class saves to keep out Stourbridge and as we kept plugging away we got the bounce of the ball for a first goal and then took advanatage of a defensive mistake to claim the second, and from that point on the team grew and grew.

Laying our New Lawn home voodoo was essential, and hopefully we can now see the players grow and deliver the kind of performances we suspect they're capable of. Getting through in the FA Trophy was vital because of the club's short-term financial pressures, but getting points on the board in the league is equally important. That job begins on Saturday when Banbury visit, now we've found the net we can hope that there's plenty more to follow.

Highlights Elsewhere:

This match takes us thorugh to face Hillingdon Borough at the New Lawn in the 2nd Qualifying Round. The West London outfit edged past Bedowrth United 2-1 after extra time in a Tuesday night replay.

Other Match Reports:

Further Reading:

BGB Southern League Premier Results & Website
Stourbridge FC website
FA Trophy competition website
| | | | | | |
| --- | --- | --- | --- | --- | --- |
| Referee: | S.Phipps (Abingdon) | City League Pos: | n/a | City Form: | WDLDLL |
| Ref Watch: | 5 - bit of a twerp, but did spot head clash quickly. | Attendance: | 180 | | |
| Conditions: | overcast but dry | Lorry Score: | 6 | Match Report: | by t-towel |
Work commitments mean that we are keen to obtain other match reporters willing to provide details on some City matches. All text can be supplied by email, with no need to worry about web design or formatting. If you are interested please contact the T-Ender.