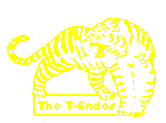 We welcome all contributions to the T-Ender. Please send any material for the site by
email to the address above.

Disclaimer
The views expressed on these pages are not those of Gloucester City A.F.C., its directors or officials, or of any other company mentioned. Neither do they represent the official views of the Gloucester City Supporters' Club or its committee.
While we make every effort to ensure information placed here is accurate we do not accept responsibility for errors that may occour. If you do find a mistake please let us know.

All pictures and material unless otherwise stated are the site's own and is
© www.t-ender.co.uk
All material may be reproduced with permission and appropriately attributed.
Tuesday 2 October 2007

BGB Southern League Premier Division
(match 9)

at The New Lawn, Forest Green.
Gloucester City

0-1

Mangotsfield United

Scorers:

-

Scorers:

M.Beadle (15)


K.Sawyer

1.

J.Rendell

C.Thompson

2.

N.Arndale

A.Allard

3.

J.Beswetherick

© N.Mustoe

4.

A.Ball

L.Tomkins

5.

P.Milsom

©

M.Richards

6.

R.Mowatt

L.Smith

7.

E.Wilmot

M.Rose

8.

M.Beadle

J.Pitcher

9.

A.Griffin

S.Griffin

10.

L.Ballinger

A.Sykes

11.

D.Wheeler

Subs

(for 11, 61) J.Price

12.

S.Bailey (for 8, 83)

(for 8, 76) S.Ellis

14.

G.Horgan (for 7, 88)

J.Reid

15.

J.Allward (for 11, 85)

(for 9, 72) M.Whittington

16.

D.Burborough

J.Taylor

17.

M.Kilgour

Bookings:

City: S.Griffin (dissent 31)
Mangotsfield: L.Ballinger (throwing ball away 33), P.Milsom (kicking ball away 63), J.Beswetherick (foul tackle, 84)

Dismissals: none

T-Ender City MotM: Marc Richards - while no City player blinded us tonight at least Rico looked fairly solid in the centre of defence.

City were again left trying to haul themselves back into a game after some slack defending gave Mangotsfield the opportunity to take an early lead, and from that point the Gloucester players looked like a group of players low on confidence and lacking in ideas. We can still feel ourselves unlucky not to have taken something from the game, but some unfortunate refereeing decisions only partly masked another disappointing night for the City faithful. With the league table making sorry reading the pressure seems to be starting to tell on some of the players and as a result this was a scrappy affair between two sides well below their best.

City can point to a bad decision against them that led to the opening goal, but it's only a partial excuse. Jack Pitcher was penalised for handball when it clearly bounced off his thigh, but the quickly taken free kick caught us out with too many players more intent on the ref than the ball. As Mangotsfield moved forward from midfield our defenders backed off Matt Beadle and the opportunity to shoot was all to inviting. The pitch was slick and the 25 yard drive inside Sawyer's left hand upright was just out of his reach.

Again City were behind at home, and right now we don't really look like we feel we can score, even when creating chances. To find ourselves chasing the game after conceding another early goal would have been exactly what we were hoping to avoid. City could have got themselves back into the game immediately, Scott Griffin mistiming a close range header when Pitcher's flick from Smith's cross seemed to have beaten the defence. Pitcher himself spurned another chance just before the break, finding space outside the box but seeing the ball run away from him and finally blazing over the bar.

We still seemed way off our best and it was hoped that an apparent half-time bust-up between City assistant manager Dave Mehew and Maggots skipper Paul Milsom might have provided the extra spark we've been sorely missing. In fact Pitcher came close to redeeming himself with a fine swerving drive from 25 yards which skimmed just over the bar with the Field keeper struggling. That was a rare highpoint for City as the away team peppered the City goalmouth and Sawyer's defence rode their luck a little as both Maggots forwards spurned good opportunities to put the game beyond our reach.

With a flurry of substitutions City managed to exert some late pressure on the Mangotsfield goal, finally getting the ball down and managing to set Smith away on the wing. A great pass back wide from Griffin set Smith away and his cross was met by Jack Pitcher who glanced his header wide from six yards. On another day Pitcher could have clocked up another hatrick, but even so this was the best City move in hours of play - quick, simple and incisive.

Unfortunately often with confidence low your luck disappears too. The impressive youngster Sam Ellis produced a neat turn and powerful shot which was deflected wide, while another low Smith cross whipped just beyond Tomkins and Ellis at the near post. Whitts was buzzing around the penalty area and his snap shot was dragged just wide of the post, but the final indignity came when the ref decided to produce a novel twist on playing advantage. Lee Smith beat Beswetherick but the left-back tripped him as the City winger went past with they by-line and goalmouth open and City forwards joining in support in the box - but the ref blew just as Smith righted himself, causing further frustration all round. The final chance saw a deep Price corner drop to Mustoe but he couldn't direct his stretching header and again City trooped off with nothing gained from another home fixture.

T-Ender Match Snaps

Richards gets a shove in the back as City defend an early corner
Beadle has the freedom of The Lawn as he shapes to score

Maggots keeper Rendell gets a fist to a City cross ahead of Tomkins





Team Selection:

Tim Harris can hardly have known where to start with making changes after Sunday, and none of those to suffer can have any arguments. Tom Webb and Jason Welsh bore the brunt of the managerial displeasure and were left out altogether, while Jamie Reid and Jamie Price made do on the bench. In came Scott Griffin up front, Alex Sykes restored to the left. Matt Rose into midfield and Alex Allard at left-back. Chris Thompson moved to right-back with Marc Richards shunted back to try and shore up the defence. The visiting Maggots gave a debut to new midfield signing Ronnie Mowatt after his move from Taunton, while diplomatically Gloucester hate figure Sam Bailey was relegated to the substitutes. Former City favourite Paul Milsom captained the visitors and 'super veteran' Mike Kilgour was on the bench despite being 53, but another former City player, Gary Thorne, missed the match.

TBBM Said:

"Noooo. Whhyyee?"
We're beyond words now. This is more primal suffering...

Tactics Board:

Under pressure sometimes showing resilience isn't just about running around a lot more and shouting at your team mates. It can also be about keeping your nerve, taking an extra touch and keeping faith in doing the simple things. Our players seemed to fall into the trap of either belting the ball aimlessly high and long, or trying to produce a single defence splitting 40 yard pass through an eye of a needle. We were too narrow in attack and only in the last 15 minutes did we make proper use of Smith's pace on the wing.

Anorak Corner:

Our home form last season was bad, this season is starting out to be catastrophic. And to think we thought playing all our games 'away' could even help - w3hatever psychosis is eating our players it ain't so easily fooled.

Five games at the New Lawn, four defeats and a draw. In all of them we've had to chase a game after going behind, in the last four we've conceded within the first 20 minutes. It's our worst start to a home league campaign since 2000 when we didn't chalk up three points at home until our 7th attempt in December, but at least during that run we won a few home cup ties to boost morale.

T-Ender Verdict

We should be grateful for small mercies, and this was an improved display on Sunday, but it was still a rather limp and washed out effort compared with the full blood and thunder reaction we perhaps expected from the players. Looking through the players' abilities and experience this was a game we should have won, but we didn't really do enough to suggest we would. This is a time when players need to show character and no little mental strength. Confidence is palpably low and too few players want the ball, make those runs into space or have the confidence to be patient and just keep possession with simple passing and wait for the right gap to come.

Everyone seems rather nonplussed and shell-shocked by our form, if the answers were simple we'd be running teams not watching them. The one thing that seems to be certain is that this is as much about showing guts and attitude as it is about tactics and ability. Hopefully our players learnt something on their army weekend in the summer, now is the time to dig in and show a little togetherness and spirit.

Highlights Elsewhere:

There were no other league matches tonight, but on Saturday two SLP fixtures took place whilst the rest of the division played in the FA Cup. Brackley Town took full advantage of the game to win a local derby with Banbury 2-1. and in doing so dislodge Hemel from the top of the table. Two goals in the last ten minutes did the damage, including a late winner from Tom Winter. In the other game a solitary David Stone strike was enough for Rugby to win 1-0 at Supermarine and to continue their surprisingly strong start to the campaign.

In the FA Cup Bedford Town crashed out 3-2 at home in a replay to Boreham Wood, the main significance for us is that it means our scheduled visit to the Eagles on 13 October will now go ahead. There were better results for other SLP sides, with Hitchin thumping Haverhill Rovers 5-0 in another home replay and Merthyr holding their nerve to win a 5-4 penalty shoot-out at FA Vase finalists Totton after 120 goalless minutes in the New Forest.

Other Match Reports:

Tiger Roar Neil Phelps' post-match Tim Harris interview
Neil Phelps' Mangotsfield match pics Tiger Images gallery
Gloucester Citizen match report
Mangotsfield United website match report

Further Reading:

BGB Southern League Premier Results & Website
BGB Southern League Table
Mangotsfield United website
| | | | | | |
| --- | --- | --- | --- | --- | --- |
| Referee: | A,Newell (Bridgwater, Somerset) | City League Pos: | 19th (=) | City Form: | LLLWLW |
| Ref Watch: | 4 - No advantage played for Smith and too soft with fouls. | Attendance: | 259 | | |
| Conditions: | persistent light rain | Lorry Score: | 4 | Match Report: | by t-towel |
Work commitments mean that we are keen to obtain other match reporters willing to provide details on some City matches. All text can be supplied by email, with no need to worry about web design or formatting. If you are interested please contact the T-Ender.