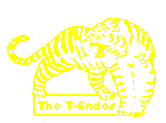 We welcome all contributions to the T-Ender. Please send any material for the site by
email to the address above.

Disclaimer
The views expressed on these pages are not those of Gloucester City A.F.C., its directors or officials, or of any other company mentioned. Neither do they represent the official views of the Gloucester City Supporters' Club or its committee.
While we make every effort to ensure information placed here is accurate we do not accept responsibility for errors that may occour. If you do find a mistake please let us know.

All pictures and material unless otherwise stated are the site's own and is
© www.t-ender.co.uk
All material may be reproduced with permission and appropriately attributed.
Saturday 22 September 2007

British Gas Business Southern League Premier
(match 8)

at The Walks, King's Lynn.
King's Lynn

2-1

Gloucester City

Scorers:

C.Fleming (10), D.Bloomfield (13)

Scorers:

A.Sykes (21pen)


S.Howie

1.

K.Sawyer

© D.West

2.

J.Reid

B.Chapman

3.

J.Price

C.Fleming

4.

N.Mustoe ©

C. Defty

5.

L.Tomkins

M.Camm

6.

C.Thompson

M.Frew

7.

L.Smith

S.Melton

8.

T.Webb

M.Nolan

9.

J.Pitcher

D.Bloomfield

10.

S.Griffin

J.Francis

11.

A.Sykes

Subs

(for 7, 76) J.Turner

12.

A.Allard

(for 10, 42)

(for 11, 73) A.Fisk

14.

M.Whittington (for 3, 78)

(for 9, 70) J.Defty

15.

T.Hamblin

G.Crane

16.

J.Taylor (for 11, 65)

R.Murray

17.

J.Bevan

Bookings:

King's Lynn: M.Camm (foul tackle 90)
City: J.Reid (persistent fouling 24), T.Webb (diving 44), K.Sawyer (dissent 49), L.Tomkins (foul tackle 54), N.Mustoe (dissent 86), A.Allard (foul tackle 89)

Dismissals: none

T-Ender City MotM: Kevin Sawyer - two point blank reaction stops and a penalty save kept City in the match during the second half

After a disastrously slow start when two dreadful defensive lapses allowed King's Lynn to race into an early lead City recovered themselves to put in a highly credible performance against strong opposition. The rest of the game was an evenly fought match and the players salvaged some credit for fighting back, and for ending in a position where they can think themselves a little unfortunate not to finally sneak a point. The whole match was however blighted by a bizarre display of casually inept refereeing which often left players and spectators scratching their heads trying to work out what the match official thought he'd seen.

City suffered under an early King's Lynn onslaught with the home side doubtless lifted by finally getting to run out in front of their own fans who had turned out in impressive numbers. We were forced on to the back foot but failed our first real test after Jamie Price had been forced to concede a corner. Joe Francis' high deep cross caught the defence napping and no-one tracked the run of Craig Fleming, leaving the former Norwich skipper with the all too easy task of finding the net with a free header in box to mark his Linnets debut with a goal.

In many ways our real problem is that all too often we cannot settle after a mistake and immediately make another. Thommo and Tomkins looked as if they'd never met and with City still seeming mentally on the coach Lynn were able to extend their lead just minutes later. It was a slick move from Lynn, but made simpler by no City players closing down the ball or marking attackers. Fleming caught Price out with a long cross field ball to winger Michael Frew, and after a quick exchange of passes took the ball in field to the edge of the City box Nolan had time to lay the ball off to Danny Bloomfield. The big Lynn forward seems to like scoring against City, and he was unmolested with time to take a touch before slipping the ball under the advancing Sawyer.

It looked as if City could be on the end of a big score, but in fairness this second goal finally seemed to sound the City alarms and we started to fight our way back into the match. City managed to put some pressure on the home defence and that quickly brought rewards, thanks to the first of many strange refereeing episodes. A slick move on our right involved Reid and Griffin to work the ball to Pitcher inside the box where he was caught by Fleming. Pitch stumbled but oddly the ref initially waved play on before acknowledging the linesman's flag and giving City a penalty. Most of the people in the ground were completely thrown by the delay between the foul and the decision, leaving considerable confusion and anger from the home side. Only lengthy CSI style unpicking of the evidence helped us work out what had gone on. Finally amidst all the noise and fury Alex Sykes was able to keep his cool, stepping up to drive his spot-kick low past the keeper to put City back in the match.

City were unsettled by the departure through injury of Scott Griffin, who'd done well in leading the line, but worse was to come from the ref. Tom Webb picked up the ball after some good running by Smith, and the City midfielder turned to run across the penalty box. He seemed to be heading away from goal by the time his trailing leg was taken from him by Linnets' Mark Camm. It seemed a clear foul, and for a moment it seemed the ref had seen it and awarded the penalty. But no. Unbelievably he then produced a yellow card for Webby, accusing him of diving - of course it's hard to stand up when your standing legs been swept away. This time I had a clear unobstructed view and this was a definite foul, even the Lynn fans around us were willing to concede that we should have had the penalty. Unfortunately by now it was clear the only 'simulation' on the pitch was from the half-wit trying to impersonate a referee.

By the second half City were enjoying plenty of dangerous possession but whilst they were struggling to carve out clear chances the Linnets looked more dangerous even though their forward forays were less frequent. Frew glanced a header wide with Allard doing just enough to put him off balance and City were relieved to see a long distance dipping shot drop narrowly wide. However the real saviour for City was keeper Kevin Sawyer who showed his best form to keep the home side out. City were carved open by a raking long ball from Fleming, and when Bloomfield squared to Matt Nolan he seemed certain to score. However despite having just a fraction of a second to react Sawyer flung out his right arm to keep out his close range shot.

City were then again the victim of confusing refereeing when Thommo was finally penalised for a debatable handball decision as he defended a low cross into the box, initially the ref waved play on but then he deferred to his linesman who had signaled for a foul. By this point no-one was shocked he seemed not to know what was happening, and who knows who was right. Whatever the justice of the decision it made no difference to the score thanks to another magnificent intervention by Sawyer. Nolan was again the victim, his low penalty was accurate and just inside the right hand post, but a lack of power gave big Kev just enough chance to fling himself full length and stretch his arms in the way. A few minutes later Sawyer was again in action, getting the slightest but most important touch to deflect wide Turner's cross shot after the Lynn sub picked up a long kick straight from his keeper. He was doing more than his bit to keep City's hopes alive and the big home crowd nervous.

The ref was by now all over the shop. There was some confusion over the final bookings to Mustoe and Allard, but if City did indeed pick up six yellow cards it will cost City and unwelcome (and unfair) £500 fine. The game was hardly dirty and it would be even harder to see how City merited five more bookings than Lynn. We should have had a pen and had a player booked for diving, a Lynn player falls theatrically in the box and whilst no pen is given neither is he booked. Can Kev and Neil claim fair comment as a defence for dissent? Did Reid and Tomkins tackles really seem worse than some of those from the home side? All in all it was a bad display by a match official who should be glad he's not exposed to televised replays which would have seen him roundly ridiculed. By the end of the game neither side had any confidence in him at all as he awarded us a corner we shouldn't have had, closely followed up by giving Lynn a throw in after their defender kicked it out. It's all too easy to attack match officials, but this was a farce.

With Whittington and Taylor joining the attack City pressed for an equaliser in the final few minutes, and showed plenty of energy around the box without ever managing to quite break down a well drilled Lynn defence. There were some good signs of a growing understanding between Reid and Smith down the right, but the crosses either eluded the forwards or were halted by some typically marginal offside decisions. Not an entirely dispiriting day, but certainly another game that underlines we cannot afford to just turn up for some of the match.

T-Ender Match Snaps

| | |
| --- | --- |
| | |
| Sykes slots home City's penalty to make it 2-1. | Syko finds himself space to cross from the City left. |
| | |
| Lynn's keeper brushes Whitts aside to punch clear. | Sawyer chases back into his half as Lynn clear from a late corner. |





Team Selection:

Tim Harris refused to opt for overly defensive tactics for the visit to The Walks and stuck with a 4-4-2 shape with Sykes and Smith providing width. However with Welsh out injured Scott Griffin got the nod ahead of Whitts to start alongside FA Cup 5 Star hero Jack Pitcher, presumabley with the hope Griff could hold the ball up a little up front. Tomkins returned to add some physical presence in the centre of defence, with the bench populated by a returning Tom Hamblin and Jody Taylor, and a place on the bench for Jody Bevan for the first time since his injury at Tiverton last October.

TBBM Said:

"This ref is trying to even things up, but he's not good enough to remember the last decision he got wrong."
1198 people wish the ref would go away and let the players get on with it.

Tactics Board:

The small gethering of City fans had much debate about substitutions. When Griffin was forced off injured it made sense for Tim Harris to try and improve our defensive position, despite having three forwards on the bench. Alex Allard came on to try and help shackle the dangerous Michael Frew from left-back whilst Price and Sykes each shuffled forward.
As the game wore on and City tried to chase an equaliser the City coach threw on two fresh forwards, ending up moving to a 4-3-3 shape. What was interesting though, was that Jody Taylor was the first forward to join the fray, ahead of Michael Whittington who'd already seen Griffin given a starting berth before him. City may not be in the middle of a Shevchenko and Mourinho style bust up but you certainly get the impression Whitts has done something to lose favour with Il Mister. At least players will get the message that they need to make the most of their chances in the team, and if Whitts energetic and wholehearted cameo at Lynn was anything to go by he certainly seems to now be anxious to redeem himself.

Anorak Corner:

This result put us 19th and in the SLP relegation zone for the first time since March 2006 when Whittington's winner at Northwood lifted us clear of the trapdoor spots. Of course it's a little early to panic after eight games played, especially with the league so tight that a win and three more points could lift us back in to the top half.

T-Ender Verdict

Although City will worry about a further defeat that plunges them into the early season relegation zone this wasn't the match or performance to blame for getting us in that position. Whilst there still have to be question marks about the defence's slow start there were some real pluses to be taken from the rest of our display, not least that the players managed to rally when early on it looked as if we could be on the end of a drubbing. There was plenty of spirit in improved defending and at times a strong Lynn defence was made to look decidedly vulnerable against the pace of a City attack that would surely have had more success against lesser opposition. If we felt we'd turned the corner in that Yate Cup win, we should hold our nerve and see this as a further step down the road back.

Highlights Elsewhere:

The shock of the day saw leaders Hemel Hempstead lose for the first time and beaten at home by lowly Supermarine, Justin McKay getting the only goal and Hemel's recovery hampered by the dismissal of sub Adam Martin. Lynn were able to close the gap, together with Team Bath who won 2-1 at Cheshunt thanks to a brace from Scott Canham. Brackley are still in second spot thanks to another away win - Justin Jackson one of the scorers in a 2-0 win at Yate. Cirencester are still without a win but picked up a good point in a 1-1 draw with Merthyr, while our next league opponents Mangotsfield continue to frustrate their fans with a 3-1 defeat to give Bromsgrove their first home win of the campaign.

Other Match Reports:

Tiger Roar Neil Phelps interview with Tim Harris
Tiger Images Neil Phelps pics from King's Lynn
Tiger Roar match report from King's Lynn
Gloucester Citizen match report
Norwich Pink 'Un match report

Further Reading:

BGB Southern League Premier Results & Website
BGB Southern League Table
| | | | | | |
| --- | --- | --- | --- | --- | --- |
| Referee: | S.Feerick (Peterborough) | City League Pos: | 19th (-6) | City Form: | LWLWLD |
| Ref Watch: | 2 - really bizarrely poor and simply wrong, wrong, wrong. | Attendance: | 1198 | | |
| Conditions: | sunny intervals | Lorry Score: | 0 | Match Report: | by t-towel |
Work commitments mean that we are keen to obtain other match reporters willing to provide details on some City matches. All text can be supplied by email, with no need to worry about web design or formatting. If you are interested please contact the T-Ender.