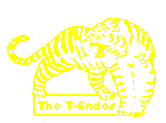 We welcome all contributions to the T-Ender. Please send any material for the site by
email to the address above.

Disclaimer
The views expressed on these pages are not those of Gloucester City A.F.C., its directors or officials, or of any other company mentioned. Neither do they represent the official views of the Gloucester City Supporters' Club or its committee.
While we make every effort to ensure information placed here is accurate we do not accept responsibility for errors that may occour. If you do find a mistake please let us know.

All pictures and material unless otherwise stated are the site's own and is
© www.t-ender.co.uk
All material may be reproduced with permission and appropriately attributed.
Saturday 3 November 2007

FA Trophy
2nd Qualifying Round

at New Lawn, Forest Green.
Gloucester City

3-3

Hillingdon Borough

Scorers:

W.Morford (8), A.Thomas (50)
J.Bevan (89)

Scorers:

L.Nelson (10), G.Brown (26pen)
S.Byefield (68)


K.Sawyer

1.

M.Davis

J.Reid

2.

G.Brown

M.Noakes

3.

R.Fenton

© N.Mustoe

4.

M.Howell

A.Thomas

5.

N.Turner

L.Tomkins

6.

R.Fitzgerald

M.Rose

7.

M.Kirby

T.Webb

8.

D.Lawrence

W.Morford

9.

D.Tilbury ©

M.Whittington

10.

L.Nelson

L.Smith

11.

S.Byefield

Subs

(for 6, HT) A.Allard

12.

W.Waugh

S.Ellis

14.

C.Hibbs

(for 10, 76)

J.Bevan

15.

M.Murray

(for 3, 10) A.Sykes

16.

J.Menegeli

A.Harris

17.

J.Duncan (for 11, 90+2)

Bookings:

City: L.Smith (soft obstruction 25), A.Thomas (foul challenge 77), J.Bevan (celebrating goal 89)
Hillingdon: G.Brown (foul trip 8), N.Turner (foul tackle 40), D.Tilbury (foul tackle 41)

Dismissals: none


T-Ender City MotM: Tom Webb put in his best display of the season and performances like that will surely have him off Tim Harris' transfer list. We take his industry and effort for granted, but his runs took him forward not sideways, he passed the ball well and won important tackles.

A dramatic match ended in City celebrations as fans favourite Jody Bevan put a career threatening knee injury behind him to grab a last gasp equaliser and take this Trophy tie to a replay in West London on Tuesday night. It was no more than City deserved after a typical bi-polar performance that saw us veer between thoughtless and sloppy passing to some sublime incisive and flowing passing moves that suggested the supporters have been right to expect so much more from this bunch of players. On paper a home draw against lower division opposition never looks good, but Hillingdon boasted their own sharp attack and this was a performance of some character battling back after seeing Michael Noakes collapse with a worrying head injury and twice going behind.

City slowly creaked through the gears with Hillingdon starting the more attacking side, but it was City who were able to gain an early advantage when Whittington was cynically tripped by Borough's Gavin Brown as he threatened to escape the defence in a breakaway. Webb's free kick caused all amounts of confusion in front of the Hillingdon goal with the keeper flumbling at Whitt's initial knockdown. finally the ball fell invitingly for Will Morford and he emphatically crashed the ball into the net from eight yards to claim his first City goal.

Our lead was shortlived as City were carved apart and caught short at the back as we attacked from a corner. The ball was quickly cleared and with too many players slow to get back the impressive Sammy Byefield charged down the left wing before delivering an inch perfect cross field cross. That was met by Dave Lawrence who easily outjumped Noakes to nod the ball down to Leon Nelson who had space to crisply turn and strike home Hillingdon's equaliser. It was classic counterattacking football but City soon had graver concerns as Michael Noakes suddenly collapsed on the ground before the game could re-start. With no other players near him there was obvious concern for the 19 year-old youth team graduate playing only his second game back after an eight month injury lay-off. With Ade Tandy quickly joined by Doc Byrne things didn't look at all good for the player lying prone on the grass and barely moving as he was stretchered off. With no easy explanation for what had happened the City players and fans all had other things to occupy their minds other than the state of the match and the necessary tactical reshuffle.

(Ed. Post-match news suggests that fortunately Noakes is more or less OK and hadn't suffered a major collapse or a recurrence of his previous injury. It seems that in jumping for the high cross that led to the goal he tumbled and landed awkwardly on his head, causing him to lose consciousness. Having been given oxygen and looked after by the club medics he was checked out at hospital where fortunately he seems OK apart from being a bit groggy from concussion and suffering some whiplash type injuries from the fall).

We had chances to get the lead back but Hillingdon looked sharp going forward and our defensive reshuffle left us looking even more disjointed and uncertain under pressure. Byefield was causing Reid no end of problems and Sawyer did well to get right behind his well struck effort after a turn of pace had carried the winger past two City defenders with alarming ease. Hillingdon also had some real height in attack and a ball swung in to the box from our left saw Lyndon Tomkins panicked and pushing Leon Nleson off the cross, leaving the ref pointing at the spot. Sawyer may have saved three penalties already this season but Borough's Gavin Brown gave the keeper no chance with a firmly struck shot.




City were forcing real pressure on the visitors goal, Will Morford blazing over the bar after a good move involving Mustoe, Allard and Webb. It seemed the crucial breakthrough would never come as the precious minutes ticked by. Then finally City found the ball falling in the right spot. Morford seemed to have been bundled over trying to reach a Mustoe high ball but as bodies piled into the box Lee Smith kept his head to find space wide on the edge of the box and pick out a City shirt in the goalmouth. Morford met the cross and his header smacked onto the bar, but this time it flew back out in the direction of Jody Bevan who headed into the gaping net from close range. It was a crucial goal, not just to level the match but to keep our season from sinking into gloom - and what a feeling that must be for Jody who's shown such dignity and bravery fighting back from an awful injury that led to medical advice telling him to quit the game. The ref showed every ounce of understanding and common sense to book Bevan for his clebrations with the City fans - why refs can't be told to just stop the watch and allow the players and paying spectators to enjoy the moment is beyond me.

That crucial header came with just a few minutes of added time to play out and City now face a Tuesday night trip to West London to replay Hillingdon at their Middlesex Stadium ground. At least we're still in the tie, and if we can keep the ball down and show the same attacking verve we summoned up in spells today then the game should hold no fears for us.

T-Ender Match Snaps

Whitts turns in a sharp shot as City press an early advantage.
Harris joins his worried players around the prone figure of Noakes.

City leave it late as they press forward against Hillingdon Borough and a pink bonfire sky at the New Lawn.





Team Selection:

TBBM Said:

"C'mon ref, he's practically shagging him" "...and that has to be a yellow card offence ref".
Whitts is wrestled to the ground and manages to wriggle away as the defender all but mounts him. And the ref walks away...

Tactics Board:

There were also some good personal performances. I thought Mustoe looked a class act despite being left rather vulnerable as a short and not lightening quick centre-back in the second half. Will Morford was exceptional, and won lots in the air as well as showing some good touches on the ground. Ashley Thomas isn't the finished article but I thought he did well again today and was also a real menace attacking set pieces and deserved his goal. Great for Jody to get on the score sheet after his year out. the ball on the ground on Tuesday night we'll win.

Anorak Corner:

T-Ender Verdict

Is it just me or are we just starting to get a little bit of home atmosphere at the New Lawn? Perhaps I'm just covered in a rose-tinted glow having been allowed the privilege of keeping the top on my bottle of pop at half-time, but in the last few games there's just the start of something that could be turned into home advantage. The excitement when that late equaliser felt more like being on a home terrace again - and I'm sure a few weeks ago we'd not have snatched that late goal after all that had gone before. Having finally won at the ground against Stourbridge the fans found some raucous hostility in the face of some dire refereeing in the Banbury match. I'm sure that extra bit of noise, support and familiarity with the surroundings really helps the players. Forest Green is never going to feel 'ours' and a two-sided ground always gives a substandard experience, but at least its starting to not feel quite like a bad away ground.

This match was far from a fantastic experience for the City supporters and there were times when we managed to look like strangers and too quickly resorted to the clumsy high ball which is never going to be the right kind of service for the strikers at our disposal. We also looked weak at the back again, taking too long to get to grips with the physical threat of the Hillingdon forwardl ine and always looking vulnerable down the wings. I'd prefer to look at the positives though - having gone so long without scoring we created chances all through the game and actually hit the net three times. Perhaps more importantly it would have been easy for the players to have gone into hiding, confidence is not yet recovered and having seen Noakes carried off half-conscious and losing an early lead it would have been too easy to fold. Unlike in the FA Cup exit this time we showed some spirit, and came through the latest test of character. Keep the faith - there are reasons to be cheerful.

Highlights Elsewhere:

Other Match Reports:

Further Reading:

BGB Southern League Premier Results & Website
FA Trophy competition website
| | | | | | |
| --- | --- | --- | --- | --- | --- |
| Referee: | R.Vaughan (Claverham, Somerset) | City League Pos: | n/a | City Form: | DDWDLD |
| Ref Watch: | 4 - I was going to defend him a little but he lost it totally by the end.. | Attendance: | 246 | | |
| Conditions: | mostly cloudy but dry & mild | Lorry Score: | 0 | Match Report: | by t-towel |
Work commitments mean that we are keen to obtain other match reporters willing to provide details on some City matches. All text can be supplied by email, with no need to worry about web design or formatting. If you are interested please contact the T-Ender.