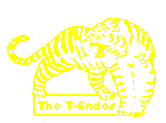 We welcome all contributions to the T-Ender. Please send any material for the site by
email to the address above.

Disclaimer
The views expressed on these pages are not those of Gloucester City A.F.C., its directors or officials, or of any other company mentioned. Neither do they represent the official views of the Gloucester City Supporters' Club or its committee.
While we make every effort to ensure information placed here is accurate we do not accept responsibility for errors that may occour. If you do find a mistake please let us know.

All pictures and material unless otherwise stated are the site's own and is
© www.t-ender.co.uk
All material may be reproduced with permission and appropriately attributed.
Saturday 13 October 2007

British Gas Business Southern League Premier
(match 11)

at The Eyrie, Bedford.
Bedford Town

2-0

Gloucester City

Scorers:

S.Sinclair (79), J.Hatch (82)

Scorers:

-


M.Armitt

1.

K.Sawyer

R.Miller

2.

C.Thompson

E.Lawley

3.

A.Allard

4.

N.Mustoe ©

C.Grieve

5.

L.Tomkins

B.Farrell

6.

M.Richards

J.Woolf

7.

L.Smith

© D.Stupple

8.

M.Rose

A.Phillips

9.

J.Pitcher

M.Lyon

10.

J.Price

S.Sinclair

11.

A.Sykes

Subs

I.Draycott

12.

M.Whittington (for 9, 68)

(for 10, 71)

J.Hatch

14.

J.Reid (for 11, 77)

S.Brown

15.

S.Ellis

(for 7, 43) L.Knight

16.

J.Bevan

A.Stevens

17.

W.Morford (for 10, 29)

Bookings:

Bedford: none
City: J.Pitcher (jumping at keeper 34), M.Richards (foul tackle 35), K.Sawyer (dissent 79).

Dismissals: none

T-Ender City MotM: Lee Smith - his pace was our main threat and he got the ball into the danger area, and even came closest to scoring

Despite playing some attractive attacking football and creating a string of good chances City somehow contrived to come out of this game without anything to show for their display, losing out to two late Bedford goals that underlined the importance of putting away your chances. City had battled hard and at times threatened to tear a disjointed home defence apart, but we lack that killer instinct in front of goal and we were thwarted by a unpalatable mixture of lacklustre finishing, inspired goalkeeping and good old-fashioned bad luck.

City started far the brighter on a still Autumn lunchtime perfect for football. We found some early joy down both wings and within a few minutes had unsettled Bedford keeper Michael Armitt; he came and flapped at Thommo's high cross and was only able to drop it invitingly into the path of Jamie Price who was running in at the far post. He fired in a fierce shot but the keeper went a long way to redeeming himself with a fine reaction save from close range. The keeper looked uncertain under the high ball, but we struggled to test him further on crosses.

Bedford came into the game far more but both sides struggled to carve out clear first half chances. Smith had good possession on the wing but was struggling to find the range on his crosses, although Richards should have done better with a header at the near post. Bedford's Andrew Phillips impressed up front, but the Eagles' best chance fell to strike partner Michael Lyon who fired over from close range after a good low cross after Sinclair brushed aside Allard.

By the middle of the second half City had clicked up a gear and the Bedford defence was being left increasingly ragged as Lee Smith started to find his range and Alex Sykes was regularly threading through some clever and dangerous through passes. At times the Eagles' penalty area resembled a pinball machine as the pressure mounted and defenders flapped the ball away. A clever pass from Mustoe put Pitcher through on goal but his shot was well blocked by the keeper who was becoming a busy man. Matt Rose planted a header inches wide from a Sykes free kick and Rose almost had another chance after Will Morford showed a good turn of speed to beat the keeper to a through ball only for his cross to just elude the city forwards.

The chances kept coming for City, and it really seemed a matter of time before we finally broke our scoring drought. Sykes fizzing drive was tipped wide by Armitt at full stretch, and Matt Rose again went close with a header from the resulting corner. City kept the pressure up and a further corner was met at the far post by an incredible leap by sub Michael Whittington. His header back across goal was met by Tomkins who volleyed into the ground and was unlucky to find the keeper in exactly the right spot to grasp the ball to his chest. When Lee Smith's followed up after Richards saw his header saved we seemed sure to score, but the wingers header glanced off the inside of the post and was somehow hooked to safety by Darby on the line.

City were piling forward, but Bedford were still in the game and went close Luke Knight wasted a good chance by shooting high from inside our penalty area. The warning had been served but even so it felt like a complete sucker punch when a low ball from the left somehow traveled right across the City defence and was picked up by Stuart Sinclair cutting in off the Bedford right wing. His low shot was crisply hit and seemed to flick off a defender as it sped towards Sawyer, but the City keeper seemed to throw himself backwards and stop the ball right down by the post. However the linesman signaled for a goal, although Kevin Sawyer did a good depiction of a person filled with outraged injustice. He charged over to the linesman who cowered under him like a frail sugarpuff confronted by a Honey Monster with an angry hangover. Predictably enough Sawyer's protests achieved nothing except a booking for dissent - and possibly making the ref's assistant walk rather awkwardly for the rest of the game.

That goal was bad enough, but we have a horrible habit of completely switching off when something bad happens, and yet again we were caught feeling sorry for ourselves whilst Bedford marched on and killed the game off with a second goal. Eagles' sub Jamie Hatch cut in off the left with Allard slipping over and eased wide of Tomkins before slamming in his shot past the net for a conclusive finish. Tim Harris must despair of the amount of times over the last year we've contrived to go on from a setback to concede again and ensure catastrophe.

T-Ender Match Snaps

| | |
| --- | --- |
| | |
| Eagles' Stuart Sinclair cuts inside Allard down our left. | Bedford keeper Armitt has another go at punching it. |
| | |
| Matt Rose's header produces a fingertip save from Armitt. | Whitts gets a taste of the turf as Bedford toughen it out. |





Team Selection:

City kept an unchanged team - meaning last games' red card bad boy Jamie Price kept his starting place. The changes came on the bench, with Sam Ellis drafted in along with new signing Will Morford, last season with Hellenic title winners Slimbridge. That meant no place in the travelling party for transfer listed Tom Webb. Bedford also named an unchanged starting XI after the midweek home draw with Hemel.

TBBM Said:

"There can't be a gypsy burial ground under the Lawn as well as under Meadow Park. How the hell did we end up this unlucky?"

Tactics Board:

Tim Harris seemed to add to our attacking options early on by sending on debutant forward Will Morford instead of left midfielder Jamie Price. The attacking platform worked well with Smith and Sykes a constant threat, and as the game wore on we're lucky to be able to have a player of Whitt's quality to come off the bench. The problem today didn't seem that we were outplayed, out-fought or out-thought.

Anorak Corner:

429 minutes since Alex Sykes netted his spot-kick at King's Lynn for our last goal. That's our longest barren run under Tim Harris and the longest since September 2005, and that run included two FA Cup ties. Ironically that drought ended with a goal at Bedford - from Tom Webb. It might not be time to hit the panic button, but fans can be forgiven for checking they remember where its located...

T-Ender Verdict

City can take some comfort from another good effort, but we can ill afford to carry on being this unlucky for very much longer. Us simple folk who heap praise largely based on showing of heart and attacking zeal might feel this was a hell of a lot better than a few weeks ago, but for the coaching staff it must be another week of headaches and problem solving. We can't afford to carry on spurning chances and need to become more clinical in front of goal, and just as worrying we need to solve our continuing inability to keep defensive concentration for a whole 90 minutes.

We will play far worse than this in the future and win, but we can't simply hope for our luck to change. Somewhere a long the line we need to keep on doing the basic things to force all of the factors towards us getting lucky. And more than anything we need to dig in and keep believing in the players, the club and that one day the damn thing will somehow ricochet in off someone's backside and into the other team's net...

Highlights Elsewhere:

With the FA Cup 3rd Qualifying round taking place there were only four SLP games this weekend - but one was a top of the table clash between Brackley and Hemel. The Tudors ran out emphatic winners with a 3-0 away win, although their keeper Ian Brown played a big part while all the goals came in the second half. Rugby kept up their good form with a 2-1 win at struggling Cheshunt, while Supermarine pulled out of the bottom four with a 4-0 demolition of Bromsgrove. Amongst the scorers at Hunts Copse was Mark Draycott, returning to the club after a spell with Cirencester.

Back in the FA Cup Shortwood United's heroics ended without any loss of honour with a 3-0 defeat at Maidenhead. SLP clubs had a mixed afternoon, title chasing King's Lynn lost out 2-1 at Conference North side Tamworth. While Corby ran out 3-0 winners against lower division opposition Glapwell, while Merthyr cruised past Paulton Rovers. Clevedon won't make the 1st Round for a second season after being thumped 5-0 at Eastleigh, while Chippenham brushed aside Bashley 5-1 in the all SLP encounter - despite a consolation goal from former Tiger defender Matt Parnell.

Perhaps the best SLP result saw Hitchin overcome Ryman opponents Margate, trading goals to end up 4-3 winners after seeing a three goal lead levelled in a memorable match. Team Bath also progressed on Sunday, an own goal knocking out Conference South strugglers Weston-super-Mare. The shock SLP defeat saw much fancied Halesowen Town dumped out by Midland Division side Evesham United, now including in their side new signing Danny Hodnett who played five games for us last season. The 3-0 cup exit was enough for the Yeltz board who have sacked manager Martin O'Connor as a result.

Other Match Reports:

Tiger Roar Neil Phelps post-match audio interview with Tim Harris
Tiger Images Neil Phelps pics from Bedford
Tiger Roar Bedford match report
Bedford Town FC match report
Bedford Today local paper match report

Further Reading:

BGB Southern League Premier Results & Website
BGB Southern League Table
Bedford Town website
| | | | | | |
| --- | --- | --- | --- | --- | --- |
| Referee: | N.Field (Enfield) | City League Pos: | 20th (=) | City Form: | LDLLLW |
| Ref Watch: | 4 - not great. His version really is a non-contact sport. | Attendance: | 294 | | |
| Conditions: | overcast but dry and still | Lorry Score: | 6 | Match Report: | by t-towel |
Work commitments mean that we are keen to obtain other match reporters willing to provide details on some City matches. All text can be supplied by email, with no need to worry about web design or formatting. If you are interested please contact the T-Ender.