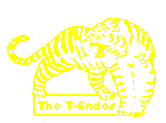 We welcome all contributions to the T-Ender. Please send any material for the site by
email to the address above.

Disclaimer
The views expressed on these pages are not those of Gloucester City A.F.C., its directors or officials, or of any other company mentioned. Neither do they represent the official views of the Gloucester City Supporters' Club or its committee.
While we make every effort to ensure information placed here is accurate we do not accept responsibility for errors that may occour. If you do find a mistake please let us know.

All pictures and material unless otherwise stated are the site's own and is
© www.t-ender.co.uk
All material may be reproduced with permission and appropriately attributed.
Monday 2nd January '06

Gloucester City

at Meadow Park

Southern League Premier Division
(match 25)

vs

Salisbury City

Gloucester City

1

Scorers: Wilkinson (32)

Salisbury City

2

Scorers: Davis (26), Turk (67)
City Side:

Bath, Harris (M.Thompson 69), Sykes (Mansell 69), Griffiths, Tomkins, C.Thompson, Burns (Corbett 81), Webb, Addis, Knight, Wilkinson.


Subs not used: Reid.
City Bookings: Burns (elbow 2), Griffiths (foul 13), C.Thompson (foul 39), Tomkins (push 41)
T-Ender Man of the Match: Matt Bath; a string of fine stops including a miraculous double save in the first half that kept us in touch.
Even at their very best City were always going to struggle to get anything against league leaders Salisbury City, but this match had ceased to be about the result for most City fans after the news this morning that the game would be the last in charge for manager Chris Burns. The departing gaffer had demanded that his players show him that they would fight and scrap for everything, and they certainly did that in a tough contest that City were a little unlucky not to end with a point. Salisbury looked an accomplished side in attack, but their much vaunted defensive record must have been built on more impressive displays as City found gaps in their defence. Salisbury could easily have been out of sight had it not been for some fantastic saves from keeper Matt Bath, but at least the spirit and effort of the City players made a welcome return that brought back memories of some of the best days of Burns four and a half seasons at Meadow Park. After disappointing displays at Yate and Halesowen at least this was a good display for Burns to sign off on, and the players will feel they didn't let their mentor down on an emotional day for everyone who has stuck by City through the trials and tribulations of recent years.

In a strange way we went into the match a bit more relaxed than we had in other festive matches. The motion of the occasion made it a one off, and a break from looking at the league table. Playing a side like Salisbury also took away any pressure of expectation, with their vast playing budget and commanding lead at the top of the table most City fans fully expected our side to be swept off the pitch and to be impressed by the team that have made themselves practically champions elect by the half-way point of the season. Burns' team selection showed that the match was as much about farewells as it was about the result, with both Burns and Knight back in the starting line-up - in Burns' case his first league start since November and for Knight his first since September. Surprisingly one of the players to make way to the subs' bench was Luke Corbett, City's top scorer and main goal threat. This may not have boded well with Salisbury featuring their prolific strike partnership of Paul Sales and Matt Tubbs with former Southampton and Port Vale player Tommy Widdrington supporting from midfield. For all of their money and ability there's something nice and homely about seeing our old friend Kevin Sawyer, the 'big-boned' former Ciren keeper, in the top side's goal.




Top: One last huddle before the last match of the Burns era
Bottom: Burns bids farewell to SLP officials as he's booked for a stray elbow

Burns and Knight took to the pitch through a guard of honour from their players and there was a good turn out on the T-End to give them a vocal welcome for their last game. There was certainly an extra charge to the game and for all of his years of experience Chris Burns has never really coped very well with channeling his emotions once on the pitch. I think one of his main problems has been almost caring too much, and you imagine his desire to help the club descends on him like a mist. He certainly seemed pretty charged up in the opening minutes as he opened up with a flying elbow on Salisbury's Wayne Turk. The City boss escaped with a yellow card but was perhaps fortunate his last match didn't end in painful embarrassment.

We expected much from the Salisbury side and they certainly opened the match looking like a confident and well drilled outfit. They moved the ball around fairly well but didn't really have a great deal of sharpness or gloss up front. It looked as if we were to concede an early goal when Matt Bath slipped as he came out to collect a fairly tame shot, but Griff trudged back into the mud to get rid of the ball before it threatened the goal line.

Sykes returned to the City side after his strange sudden absence from the team that lost at Yate a couple of days ago. After a bright start his impact in his loan spell from Bath City has diminished and he's looked particularly vulnerable when asked to carry out defensive duties as a left wing-back. He was caught out in the first few minutes and Lyndon Tomkins had to be alert first to head away the resulting cross and then to also block the next follow up attack. Salisbury were finding our defence just a bit better than perhaps they'd expected and they were also already putting passes astray. Perhaps their desperation accounted for Matt Tubbs going down like a big girl when Griff tackled him, but his strike partner Paul Sales had no excuse at all for one of the worst affronts to hairstyling seen at Meadow Park in many years. There were things you could really not like about this over-paid bunch of prima donnas as well as revelling in sheer green-eyed jealousy of their inflated wage bill.

For all of their pressure you could see the Tigers players suddenly almost instantly have an Emporer's new clothes moment. This lot aren't that good! In a few minutes we started getting forward ourselves and the Salisbury midfield seemed to take an age to changing their forward runs into defensive work. Addis picked up a ball out wide having drifted out to the wing and his pass picked up a sharp Adie Harris run and his low shot wasn't too far off. A few minutes later City could have really shocked the top team. Burns may have been forced to adapt the way he plays as he ages but he still has a great eye for a pass and as sweet a left foot as has ever graced the SLP. With Webb winning the ball Burns looked up and sent over a fantastic pass that picked out Dave Wilkinson's run behind the Salisbury defence. He drove his shot well but Sawyer uses his size well and got enough on the shot to rob it of much of its pace, and with the ball limping agonisingly towards the net a defender was able to get back and clear.

Salisbury responded but were not anywhere near as fluent as perhaps we'd expected. They were being harassed in midfield and their slowness in reacting seemed to be typified as Widdrington's late attempt to clear the ball saw him catch poor Adie in the chops. Even when the most dangerous strike force in the division did manage to break through our defence they were to find Matt Bath in his best form. Sales turned quickest on to a ball over the top of the City defence but he was foiled by a fantastic double save from the City keeper, beating his first shot out and then scrambling back across goal to smother his follow up effort from the rebound. Sales went close again a few minutes later but this time he saw his looping header hooked off the City goal line by Neil Griffiths. You felt that the City goal was living a charmed life but the Wiltshire side got their goal eventually. It came from a low driven free kick that some how sneaked right through the City defence. Matt Bath again parried the initial shot but this time there were plenty of attackers on hand to pick up the loose ball and Craig Davis tapped the ball into the net.

On another day that could have been the end of the Gloucester challenge but the Salisbury side had done little to really intimidate us. Webb saw a well driven free kick smack into the wall just wide of the far post but within six minutes we were still level. Sykes was playing his last match of his loan spell, and he too wanted to sign off with something more memorable than his defensive frailties. He headed off on a strong run down the left carving his way through the away defence before prodding in a low ball across the Salisbury goal. Dave Wilkinson was playing further forward than his normal role and looked to have got ahead of the ball, but as he turned and fell he still managed to hook the ball from behind him and lift it over the keeper and into the net. It was a great run and a wonderfully improvised bit of finishing and for a little while we could hope for a result the occasion deserved.

The Salisbury side seemed stunned by having been pegged back and the rest of the half saw City easily match their more expensive rivals. We did pick up a couple more bookings for tackles the ref judged to be too robust, but we were certainly not being over ran. Chris Thompson produced a string of solid tackles to frustrate any Salisbury attacks down the right and again Matt Bath was equal to anything they did manage to get in terms of shots on goal. Griff got caught out and he surrendered the ball it looked like we would still go into the break behind but Matt Bath again made a superb diving save to keep the ball out. At the other end you felt we were just a frustrating touch away from finding that last touch that would unlock the leaders' defence. Addis was getting a lot of the ball and holding it up well, but whilst he could pick up clever passes from Sykes and Webb he wasn't quite getting himself clear to go for goal.


Matt Bath prepares to make another great save as Salisbury attack in the Somme, sorry - the T-End goalmouth.


The first half saw Salisbury trying to impose themselves on the game far more, presumably having been on the end of a tongue lashing from their manager. A good early attack saw the ball flicked onto the mullet from hell, Sales must have been starting to despair of ever finding the net and again Matt Bath was on hand to clutch the ball with another good stop. City were actually quickly on top and creating pressure but we were having the same problem we've had for much of the season, especially with Corbett missing we didn't look like our forwards could get into scoring positions or had any great desire to even shoot. A great move involving Burns and Knight found Webb but his deep cross found no team mates running into the box. Unsurprisingly Salisbury were starting to get a little anxious and it was now Burns' turn to be on the end of a nasty clattering challenge that got Matty Tubbs into the book. It was ironic it was the Salisbury number 10 putting in that kind of challenge as from his earlier inability to stay on his feet you can't imagine how long he'd have stayed down if he'd been elbowed like that. Burns got unsteadily to his feet, probably astonished any player could be daft enough to try and start a vendetta against him of all people. Tubbs wisely spent the rest of the match avoiding going anywhere near the ball. It was the City old stars who were making the most impression on the match, and Knight was unlucky to see a fierce shot charged down on the edge of the box.

The match seemed to be gradually drifting to a stale mate and hit a bit of a flat spell. City seemed a little blunt up front, whilst Salisbury had lost their way and were finding City difficult to break down. Gradually you had the sense that we were being pushed back and we suddenly found ourselves defending far too deep and all but inviting Salisbury on to us. This wasn't a good tactic and eventually we paid the price. The Salisbury strike force was having an off day and it was Wayne Turk, one of their central midfielders who stole in to get the Lillywhites their winner. The ball was lobbed in over the City defence and with our players back-pedaling he seized on the ball, turned Griff and squeezed his close range shot past Bath at the far post.

Knighter finds some space in a crowded midfield.

That goal actually sparked the match back into life and it was only fitting that the last 20 minutes of Burns' time at the City helm should see his side pressing for a goal in front of the T-End. Slowly the atmosphere built up and for this last spell of the game the casual observer would have been had pushed to tell it was Salisbury on top of the table. We were playing some great football and a good move across the opposition box ended with Sykes' sweetly struck shot skimming just wide.

It was now Salisbury's turn for their keeper to prove his worth with Sawyer making several good saves. His big framed bulk also produced one of those moments of T-End inspiration as he got a re-worked rendition of the Kaiser Chiefs song with "I Predict a Diet" helping his goal kicks reach the half-way line. None of that stopped him getting to a screaming shot from sub Richard Mansell who suddenly found dynamite in his boots to thunder in a real belter that Sawyer did well to reach. Wilkinson's follow-up volley was also blocked on the line.

Burns went off with 9 minutes to go, and received a huge ovation from all corners of the ground. Only now did Corbett get a chance to stretch his legs but it was too late from him to make any real impact on the match. We were creating chances now but too many of our shots lacked any conviction. Addis was guilty of a complete air shot while Chris Thompson and Wilkinson did little better as they produced tame shots when given the chance to shoot. City had one last chance when Knight was tripped on the edge of the box and the veteran lined up the dead ball. He produced another accurate dead ball and after Wilko's flick on Chris Thompson almost managed to squeeze it in at the far post, but it wasn't to be.



This wasn't one of City's greatest performances but given the quality of the opposition the City players will fell they acquitted themselves fairly well and with a little bit more quality we could easily have snatched a point. For all of our determination though it is perhaps easy to forget the side's debt to Matt Bath for a string of great saves. Salisbury were disappointing today, and on this show they'll need to be careful not to run out of steam on their title challenge. Of the sides we've already played Chippenham and King's Lynn looked more impressive and even Aylesbury offered more in their attack.

Of course this match wasn't really about just a result, it was about saying goodbye to Chris Burns and an opportunity to thank him for all he's done. While there have been moments where his tactics have infuriated and some strange comments carried in the local press there is no doubt at all about the effort he's put into his job over the last five years. Given the lack of funds the club's progress has been incredible, and to take the club into the Southern League Premier and the FA Trophy quarter-finals are memorable achievements. All of that was at the forefront of everyone's minds as both Burns and Keith Knight got an extended reception from the City fans before a tearful Burns retreated from the Meadow Park pitch for the last time. Perhaps he'll be back at some point, but in the meantime we need to all try and pull together and find some resources for likely caretaker successor Neil Mustoe to try and keep the club up.

* Down at the bottom most of our other fellow strugglers didn't make any ground on us. Aylesbury and Evesham lost at home to Bedford and Bath respectively, while Cirencester's problems deepened with a 3-1 home defeat to Yate who've been struggling to win away. Neither Northwood or Chesham will be pleased with a 1-1 draw although Northwood will have been relieved to grab a last minute equaliser. Hitchin's return to form continued with a thumping 4-1 win over Cheshunt courtesy of a Josh Sozzo hatrick.

SLP Table; Southern League website.
| | | | | | |
| --- | --- | --- | --- | --- | --- |
| Referee: | A.Watts (Kidderminster) | League Position: | 16th (=) | Attendance: | 551 |
| Conditions: | overcast with occasional light showers | City Form: | LLLWLW | Match Report: | by t-towel |
Work commitments mean that we are keen to obtain other match reporters willing to provide details on some City matches. All text can be supplied by email, with no need to worry about web design or formatting. If you are interested please contact the T-Ender.