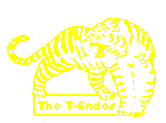 We welcome all contributions to the T-Ender. Please send any material for the site by
email to the address above.

Disclaimer
The views expressed on these pages are not those of Gloucester City A.F.C., its directors or officials, or of any other company mentioned. Neither do they represent the official views of the Gloucester City Supporters' Club or its committee.
While we make every effort to ensure information placed here is accurate we do not accept responsibility for errors that may occour. If you do find a mistake please let us know.

All pictures and material unless otherwise stated are the site's own and is
© www.t-ender.co.uk
All material may be reproduced with permission and appropriately attributed.
Saturday 3rd September '05

Gloucester City

at Meadow Park

Southern League Premier Division
(match 7)

vs

Rugby Town

Gloucester City

5

Scorers: Webb (3), Harris (9), Mustoe (18 pen), Davis (42), C.Thompson (71)

Rugby Town

2

Scorers: Squire (7), Stone (52)
City Side:
Bath, Kear (Reid, 63), Harris (Rimmer, 79), C.Thompson, Mansell, Burns, Mustoe, Webb, Addis, Davis, Knight (Lewis 72).
Subs not used: Randall, Cook.
City Bookings: none
T-Ender Man of the Match: Lee Davis; not a midfielder, but a genuine hardworking goal scoring threat up front.
The pressure was on today as City ran on to the pitch admiring the rest of the Southern League Premier Division from our uncomfortable position at it's very bottom, winless and feared by some to be hopeless. This was a match that we couldn't afford to lose and with our backs firmly to the wall the players showed some gritty determination to get back just a little pride and some valuable points.

The last time Rugby had visited Meadow Park they had also arrived at a time when the Tigers were in desperate need of confidence, goals and points. That match last January ended with City running out unlikely 6-1 winners to end a six game winless run. Much has changed for Rugby in the months that have passed since then, but on this showing not for the better. Their side was weak and disorganised and former Stamford boss Billy Jeffrey could be about to chalk up the unhappy record of two successive SLP relegations with different clubs.

The City players shouldn't have needed anything further to light their fires for this match, but the unfortunate Rugby Town management did find a way with their refusal to shift the fixture to a time that would have avoided a financially distressing clash with the England vs Wales World Cup match. The players and the fans are well versed in how fine the line is between City breaking even and further cuts in the budget. Rugby's refusal to allow the fixture to move seemed petty and spiteful, costing the club several hundreds of well needed pounds. Having alienated much of their own fan base with the manner of their name change the Rugby Town officials seem intent on spreading their unpopularity across the SLP. The players knew a win here today would be doubly sweet for Gloucester City.

The players came out with an urgency that had been sadly missing from the last few games. With neither Griff or Marvin Thompson quite recovering as hoped we were forced to soldier on with a patched up defence, but at least our management had seen the light and ditched the suicidal lone striker formation that had misfired so badly against Tiverton and Mangotsfield. Addis was partnered by Lee Davis up front, with Kear also bolstering the attack from the right flank. Immediately we were zipping around the pitch and unsettling the Rugby players right from the kick-off.



Top: Knight bustles and harries.
Bottom: Addis prepares another attack on the Rugby box.

The breakthrough was almost instant and it underlined the extra potency of a twin strike force. Lee Davis is a little pest for defenders and his hard work harried a defender into stumbling over the ball, and once the forward had nicked it away from him he arrowed down the right wing before cutting the ball back across the edge of the penalty area towards Webb. The youngster has often shown a tendency to lose his head when presented with the opportunity to shoot but he made no mistake this time with a wonderful instinctive drive that flew past the keeper and into the net.

City were ahead and it felt good, but 87 minutes is a long time to hold onto a lead and Rugby responded positively with a few long balls punted forward and instantly putting us under some pressure. One long cross swung over caused total panic in our defence and Matt Bath's attempt to catch it saw him only fumble it into the path of the dangerous Kevin Slinn. Fortunately the Rugby striker took a touch to bring the ball under control and that gave Bath an extra moment to scramble across and redeem himself with a good save with his legs. The City keeper seems an odd mixture of fantastic saves and alarming howlers at the moment, his confidence appears lower than those who saw him in the recent match against Merthyr would believe possible.

It was to prove costly for City as our lead was wiped out after just 4 minutes. We rarely look comfortable under the high ball and a swinging Rugby corner proved our undoing. Bath came for it but lost it's flight, and was stranded as the shot crashed in. Adie Harris performed miracles to get his head on the shot and deflected it onto his own cross bar. There would have been arguments as to if it had already crossed the line but Rory Squire made certain by bundling the ball in from close range.

The fear was that this could deflate City and the self-doubt would creep in and see us fold as we had against Mangotsfield. Fortunately we had no opportunity to think at all before we were back ahead. City had broken down the right with Knight and Webb getting forward well. The ball was slid across the face of the Rugby defence. Addis missed it and Kear only got the ball stuck under his feet but managed to prod it across to Adie Harris who had drifted infield from his position on the left. Most of Adie's goals have come from close range or after long runs so this was a bit of a collector's item as he looked up and sent in a superb shot from 20 yards out. The keeper was caught out and the strike was inch perfect, dipping beyond the keeper and under the bar. Pick that one out - Adie ain't ready for retirement yet!

With City back in the driving seat the game actually found a few moments to gather breath and some form of pattern began to merge. City's midfield were bossing the game, with Rugby having the look of a side that was being overran with ease. Mustoe collected loose balls, tackled and was always on hand, with Webb getting better and better with each passing moment and driving City forward with charging runs that suggest he is a player starting to believe in himself again. Up front Addis was running their defence ragged and Davis was snapping at their heels and making sharp little runs. Between the pair of them they were making Town (VS, United, whatever) look decidedly edgy and they were glancing in their rear mirrors more than looking for what was on ahead of them. With possession and dominance we were able to get more players forward, and both Mustoe and Thompson had shots charged down on the edge of the area as the City players queued up to have a go from the range that Webb and Adie had found the net.


It was all too much for the gobby Rugby 5, Rob Gould. He seemed keen enough to tell the ref what he was doing wrong (in fairness not much the whole match) but could perhaps have done with concentrating a little more on his own game. His team mates had soon had enough of his frantic squeaking and his captain was moved to forcefully tell him to be quiet and go away and procreate. City had reason to be glad he didn't because he was a liability for the visiting defence and an Addis turn left him trailing, and City were unlucky that his low cross evaded Kear and Davis at the near post. City were causing them all sorts of problems and what Addis and Davis lack in height and physical strength they compensate for in simple hard work. Davis chased down another attempted clearance and got away down the right, having time to wait for support to arrive and nearly picking out Mustoe as he charged into the goalmouth. The captain managed to get a boot on the cross but sliced wide.

City were on top, but had reason to still feel a little uneasy as the main reason we were holding out was implementing the old mantra of attack being the best form of defence. Each time Rugby actually got at us we were struggling to cope. We had a let off when tall defender Delroy Gordon was left unmarked to get on the end of a deep free kick but fortunately he produced one of those strange headers that fly off in totally the wrong direction and used to lead to shouts of "50 pence head" in the playground. On the other wing we survived another scare as Rich Mansell was left trailing by David Stone, who sprinted down the wing and sent over a good near post cross that Matt Bath made hard work of, slapping it away for a corner. A further cross found Mr Gobby in the area, but he was not having a good day and his free header cleared the bar and the T-End to general relief. At least this afternoon our defensive woes were not being as over-exposed, with the emphasis on attack giving our opponents things of their own to worry about.

Our next attack provided a welcome cushion for us, and Rugby's woeful defender was again the centre of attention as Gould gave away a penalty. Kear produced a neat flick on the right and exchanged a one-two with Adie Harris to create room for the cross. Kear may have had his critics since his arrival at Meadow Park, but surely even they would concede after this match that the boy is a footballer. His cross was inch perfect for Davis who was his only target in the box. Davis doesn't look like someone who should win a header against two defenders, but Gould was taking no chances and leant all over him to prevent him competing for the ball. The ref pointed at the spot, and Gould went potty. It was interesting that none of the other Rugby players seemed particularly surprised - ours seemed more shocked as we've become so unused to ref's giving us anything until our players are virtually decapitated. Mustoe seems to have laid some of his penalty nerves to bed, and having confidently stroked in a penalty last Monday he stepped up to do the same with this kick. A 3-1 lead felt good.

With some of the pressure eased our team began to cut loose a little and we played some really good passing football. Webb, Knight and Mustoe all exchanged crisp passes in midfield and with Addis and Davis both making plenty of good runs there were openings coming thick and fast. Rugby were being well exercised. Webb in particular looked more and more impressive as he carried the ball forward. Lee Davis looks so much better up front than in midfield it is a mystery as to why he's ever found himself further back in the team. His snapping at ankles almost created a chance out of nothing as he latched onto a short back pass and forced Steve Wilson in the Rugby goal to save well with his feet. Webb was reveling in the space and he won a free kick as he drove out of midfield, the resulting shot from Burns forcing the keeper into another good save low to his left as he bent the ball past the wall.

Top Left: Addis produces a low save from Wilson. Top Right: Burns jumps for a City corner.
Bottom: Davis tries to snap up another chance in the Rugby box.

You sensed City could yet kill the game off before the break and Kear was desperately unlucky not to get his first City goal. Harris and Knight created problems down the left and when the ball went back infield Kear picked it up and with no back lift sent another fierce drive goalward, only to see his effort come crashing back off the crossbar. Addis almost got to the loose ball but his follow up was scrambled wide by a collective panic of Rugby defenders. That only offered temporary relief and moments later Kear skipped past the full-back and pushed the ball on to Addis. His flick caught out the near post defender and Davis found himself alone in the six yard box to knock in City's fourth of the day and his third of the season. He is a sharp finisher and I'm sure given the chance to get a run of games up front will prove himself to be a 20 goal a season forward at this level. Rugby were reeling now and desperate for the whistle, but things could have got even worse as the hapless Gould was skinned by Adie Harris who left him trailing as he cut in on goal. He found Webb and his cross into the box almost saw Davis grab another but at full stretch he couldn't quite direct the ball on target.

Rugby must have been given the rollicking of their lives at half-time and their players were back out on the pitch long before the City players strolled out to re-start the second half. Their ears must have been ringing and they really went for us for a good 15 minutes, but they were not a good side and even their best was not too impressive. For all the extra bite in midfield it was still us that were getting closer to goal. Addis' clever flick sent Knight in on goal and he was unlucky to see a fierce shot charged down for a corner. That saw Burns almost manage to head home at the far post. City were still producing some great moves, Lee Davis' pressure forced a mistake and Kear enjoyed a good run into the hear of the Rugby defence.

It looked as if Rugby would have to be content to keep the score down but City have never been ones to make life easy for ourselves and our defensive problems were being masked rather than mended. Rugby attacked and our players stood off David Stone as he picked up the ball on the edge of the area, inviting him to shoot. He chanced his arm with a good drive, but Matt Bath was rooted to the spot as it found the net. It may have been he was unsighted, but it looked horribly as if Matty had got his positioning wrong and allowed a goalward effort to go past in the belief it was going wide.

We almost retaliated instantly, with a clever back heel flick by Kear leaving a defender standing and allowing him to send over a sweeping cross. It looked as if Adie Harris would run in and meet it but that mullet of Lee Davis' must effect his hearing and he didn't hear the shout, peddling backward to head the ball away from Adie at the crucial moment. With the City lead now reduced to two goals Rugby pushed forward, sensing our nervousness. There was plenty of pressure but fortunately we had just enough about us to see them off, although the gaps down the wings were looking worrying with Knight, Harris and Kear all visibly tiring on a very warm day. The defending was nervy, but Burns got his head on a few crucial long balls and with Mustoe going back to provide extra cover the gaps were not too obvious. There were moments of real City class despite the pressure, Burns instigating counter attacks with two sweeping cross field passes finding first Addis and then Harris.

Webb gallops free down the Rugby left.


Kear went off, surely having proved a few doubters wrong but still some way short of full fitness. Reid came on to add more defensive bite to the midfield, and he was involved in a good passing move with Webb and Knight to produce a good cross that was wasted. The signs of a City recovery were there though and we still looked like we could pass our way through the Rugby defence at will. The final crucial goal was probably our best passing move of the game and was started by a cleverly placed defensive header from Burns into the path of his assistant Keith Knight. He found Webb down the left wing and he beat his man to find time and space to pick his spot. The cross beat the first two defenders and found Chris Thompson running in to make an extra man in attack. Thommo had time to bring the ball down and pick his spot as he crashed the ball in past a stranded defender. He celebrated like a man scoring his first goal in over a year, in fact since scoring against Cirencester in March 2004 (trivia points to Joe). The rest of the side celebrated like a side who weren't sure they wouldn't concede two more, but felt they wouldn't let in three.

That settled a lot of nerves and took the wind out of the Rugby sails. The hapless Gould had changed his 5 shirt for the 17 shirt, possibly in the hope I'd stop jibing him, but even I'm not that stupid and I could still see him. Especially as he ran out of his box with his arm up for offside, looking pretty dumb as Knight's pass found a well timed diagonal run from Davis who forced a good save from the Rugby keeper. The match had now got to the point where people were hoping to really humiliate Rugby and discussing who they'd most like to get the next goal, with Addis particularly deserving and needing to find the net having now gone 13 matches without a goal. Sadly it wasn't to be, but there were more chances at both ends.



Matt Bath should have been boosted by a good block with his legs as well as by a few more confident catches from Rugby's hopeful crosses. City had reshuffled with Knight finally limping off to be replaced by Lance Lewis. Having been so prolific in pre-season he now looks like a player who needs plenty of time to adjust to the Southern League, and with Davis shunted back into midfield we immediately looked less likely to add to our tally. Lewis is a player whose effort encourages support from the fans though, and he was unlucky to miss out as an Addis pass almost picked him out. A few moments later another huge Burns clearing header sent Webb through. He seemed to have set himself well as he cut into the box but having set himself he got his head up and lifted his shot well wide. He can be so frustrating as you know he can produce good shots and in another game we may not have been able to afford to see that wasted.

City were still pressing for further goals but by the end it was Rugby who were doing more pressing. Slinn was unlucky to see his effort hacked off the line by Chris Thompson and then unlucky not to manage to capitalise as the loose ball ricocheted around our goalmouth before Thompson finally got rid of it. Matt Bath also got another chance to remind himself that he is a good keeper, a flying save at full stretch to push a dangerous drive wide of the post. The final whistle brought heart felt applause from the City fans, which must have been very welcome to our players having heard the unusual sound of boos at their last game. The clash with the England match meant the City crowd was down to the most loyal diehard remnants of supporters who well knew what the win meant to the club and that anything less would have been cause for serious concern.

This was a vital win and the goals must do much to lift our confidence, but we must also not get carried away. In the same way as defeats to strong teams like King's Lynn, Chippenham, Tiverton and Mangotsfield did not quite mean a crisis this win over a weak Rugby side does not mean all of our problems have been solved. Rugby were poor, and their display may explain why they were keen to play at the same time as England, to avoid exposing their inadequacies to a larger crowd. The positive aspects have to be our forward play; the promise of the Addis and Davis partnership, the improved form of Webb and Kear. The problems remain that we are weak at the back, but the return of Griffiths, Marvin Thompson and Tomkins will at least help that enormously. We also lack options to adapt to a second plan of attack, and a taller more physical centre forward would still give us an alternative, but one that we cannot currently afford. These are all issues that are much better discussed on the back of a win, and at least all the Gloucester fans went home happy and satisfied. The decision on watching this instead of the England match turned out to be the right one too, One up front didn't even seem to work when the lone striker's Rooney!

* City's victory was all the more vital after a midweek Northwood win had seen us dumped to the very foot of the table. Today's win sees us become the last side in the SLP to record a win, but does lift us to the lofty heights of 20th spot. Matches last night had seen the top of the table continue to take shape, with early pace setters Salisbury City keeping up their form with a 3-1 win over Yate. Merthyr continued their pressure with an impressive 3-1 home win over Cirencester while Banbury United continue to be the surprise of the season so far. Expected to struggle in this campaign they recorded an extraordinary win over promotion chasing Bath City who were humbled in a 3-0 home defeat. In other matches played today Mangotsfield retained their unbeaten record with a Luke Corbett goal enough for a 1-0 win over Hitchin. At the bottom City saw fellow strugglers Evesham get in to form with a Richard Ball brace bringing a 2-0 win over Aylesbury, while Northwood seem to be finding their feet and scrapped another point in a 1-1 draw with Team Bath. Tiverton continue to be a surprise presence at the wrong end of the table, the prolific Chris Dillon striking for Bedford to seal a 1-0 win at Ladysmead and leave Tivvy a lowly 18th.
| | | | | | |
| --- | --- | --- | --- | --- | --- |
| Referee: | J.Cordy (Bristol) | League Position: | 20th (+2) | Attendance: | 223 |
| Conditions: | bright sunshine | City Form: | WLLDDL | Match Report: | by t-towel |
Work commitments mean that we are keen to obtain other match reporters willing to provide details on some City matches. All text can be supplied by email, with no need to worry about web design or formatting. If you are interested please contact the T-Ender.