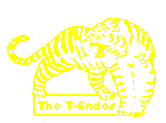 We welcome all contributions to the T-Ender. Please send any material for the site by
email to the address above.

Disclaimer
The views expressed on these pages are not those of Gloucester City A.F.C., its directors or officials, or of any other company mentioned. Neither do they represent the official views of the Gloucester City Supporters' Club or its committee.
While we make every effort to ensure information placed here is accurate we do not accept responsibility for errors that may occour. If you do find a mistake please let us know.

All pictures and material unless otherwise stated are the site's own and is
© www.t-ender.co.uk
All material may be reproduced with permission and appropriately attributed.
Tuesday 23rd August '05

Gloucester City

at Meadow Park

Southern League Premier Division
(match 4)

vs

Merthyr Tydfil

Gloucester City

1

Scorers: Davis (39)

Merthyr Tydfil

1

Scorers: Williams (90)
City Side:
Bath, C.Thompson, Harris, Griffiths, Mansell, Burns, Mustoe, Webb, Addis, Davis, Knight (Lewis, 67).
Subs not used: Randall, Wilkinson.
City Bookings: C.Thompson (foul), Griffiths (foul), Webb (persistent fouling), Mustoe (time wasting)
T-Ender Man of the Match: Matt Bath; a string of fine saves that deserved to seal three points for City.
It doesn't matter how you shake things up, if you lose good players or bad, sign better or worse replacements. What you can always count on is however deserving or undeserving the City performance the thing that will always undo us is simple damn, bad luck. It's almost as if at some point part of the initiation as a City fan is to smash a mirror, curse a magpie, flatten a black cat or move to number 13 in Bad Luck Avenue. Perhaps Meadow Park was built on Gypsy land? In truth our second half performance hardly merited a win over a tough battling Merthyr team, but that hardly seems to matter with us and a luckier side would have held on another few moments for the win. The only thing you can take for granted following City it seems is that the disappointment will be as painful as possible, and so it proved as for the second year running the Martyrs escaped from Meadow Park with a point courtesy of a last gap equaliser.

The drama to follow seemed unlikely when the match kicked off. Merthyr are always a strong side and in new boss Tim Harris they have a manager who is as familiar with our team as any rival manager in the Southern League. We could not really have expected much from the match, but home advantage still counts for a lot and the return of Chris Burns after suspension certainly had a galvanising effect. We weren't afraid to set the early pace with Webb lively in midfield and Davis twinkling up front with a few sharp runs. One good interchange created an early chance for Addis who fired in a good shot only to see the Merthyr keeper save well.

Merthyr have some strong players though and our patched up defence got an early test. A long ball from the back would have been routine for an experienced defender but poor Rich Mansell must wonder how he's suddenly fetched up being pressed into service as an emergency centre-back. He fluffed the header and with his back to the forward an overly cautious header back to the keeper left Matt Bath stranded as Steins bore down on goal. Mansell had plenty of reason to add Bath's name to his Christmas card list as the keeper rescued him with a fine save, rushing out to smother the ball under his body as the striker closed in on goal.



City were enjoying the match and in the first half we could probably lay claim to having enjoyed the best of the possession. Mustoe looks livelier and fitter than last season and his running was ensuring the Merthyr players could never settle. Between them he and Webb were providing vital cover for the defence and the Martryrs players were struggling to make their runs. Knight was also being given space to pass the ball and when he is given the opportunity he can still run a game, and his prompting was helping Addis and Davis sparkle. Morris was the busier of the two keepers. Addis went close having turned inside his marker and curled a shot just past the post, and moments later he laid a good ball off to strike partner Lee Davis whose fierce drive brought a good stop from the Martyrs keeper. The creaking Welsh defence looked to be in real trouble when Davis nipped in behind them to latch on to a weak defensive header and Morris was forced to produce a carbon copy of Matt Bath's save at the other end a few minutes earlier.

This was a remarkable start for us after such a disappointing few weeks, and for a short time it was possible to imagine that better things could happen. Chris Thompson had been moved to the right side, and his availability further up the field made a big difference as he added a bit of extra quality and poise on the wing. It was a good move between him and Webb that led to the latter being tripped, giving City a free kick in a dangerous position. We're well used to seeing these sail into the car park, but Knight stepped up to send a wickedly curling effort over the wall and it needed another fine save from the Merthyr keeper to push it around the post.

We were playing well going forward but Merthyr had their own chances and when exposed our defence looked to have its own problems. Burns had mopped up plenty of headers and loose passes around our box but when he slipped Merthyr's Dane Williams raced in on goal and Bath needed to produce another sharp save to beat out his shot. City then had a real let off when the follow up shot was sliced wide when Merthyr seemed to have the goal at their mercy. City were determined to get back on the offensive and were fighting hard, in Thompson's case literally as he and Merthyr's Paul Keddle went into the book as the ref tried to clampdown on a series of individual pushing matches that were bubbling along in several parts of the pitch. The ref could have done well to look a bit closer to home, as his mistakes in awarding free-kicks and throw-ins were starting to cause their own problems.


Pretty sky, pretty lights, same old rotten luck....

One of our problems so far this season has been failing to capitalise on our chances and having managed to unexpectedly exert so much pressure on the Merthyr goal it was vital we converted that into a lead, and finally we did. Webb had gone on another charging run and just when he was running out of ideas he was tripped and Knight took the free kick. Thankfully we resisted the temptation to try another one of our bizarre and over complicated free kick routines and instead put over a good cross that Burns was able to muscle on to. He was unlucky to see his near post header come back off the post but Davis was first to react to the rebound and snapped up his second of the season from close range. Davis looks sharp and if he's allowed to continue up front he looks like he could get in the region of 20 goals during the campaign. That finish was the kind of six-yard box poachers finish we've lacked for a while.

A 1-0 half-time lead is always a fragile thing but on our earlier form you'd be forgiven for looking forward to the second half. It was an ugly second period for our players though, as inexplicably we simply lost our way against a resurgent Merthyr team. They came out as fired up as you'd expect, presumably having been told to do much better or not bother coming back in to the dressing room at the end of the match. We should have been expecting the Valleys side to rally, but as they closed us down we simply seemed to sink under the pressure. It was a strange first ten minutes of the half with our midfield simply forced back. The space was now gone and under pressure passes no longer found yellow shirts and the forwards stopped making the same sort of sharp runs that had helped give the man with the ball the options he needed.

As the Welsh hordes began to close on the goal Matt Bath became a one man defensive wall. First he flew across goal to meet a swerving effort hit from the edge of the box, and then the keeper was able to get behind another fierce drive hit from 20 yards as he fell on Williams' shot. An even better save came a few minutes later as City struggled to stop the danger coming down either flank. A free kick was dropped into the City box and Eckhardt rose highest to plant a firm header downward towards the far corner. It looked a certain equaliser but Bath produced a show-stopping fingertip save to stop it crossing the line. It was a shame that the entirely unmerited decision to segregate the match had put off many Welsh fans from traveling as this was now a good attacking display by their team. At least the local constabulary were out in force to see some football for a change. Strangely, both police and the club seemed to think that the other had asked for the segregation and high-vis police presence. Something strange going on.

The match was becoming scrappy and we were being forced into errors. Both Griff and Webb were booked for fouls as the City side were forced into constantly stretching for desperate tackles. Lewis came on to provide some fresh legs and his pace certainly seemed to give us something on the break, but on one of his rare opportunities to run at the Welsh defence he frustratingly got the ball caught under his feet and the chance went begging. With Davis back in midfield we seemed to have all but ran up the white flag, but for an agonising half hour it seemed as if we might just weather all the Merthyr pressure. They threw on a big forward, but Burns and Griff combined to stop his headers falling to team mates.




The one City player who seemed to keep going throughout was Mustoe, and there were occasions when he emerged from midfield carrying the ball only to find himself with little around him and only Addis to aim at. He's also a wily campaigner now and it seemed he would manage to help the clock tick down as he kept the ball in the corner flag area, but the ref was alive to that and booked him for time wasting as he tried to sneakily kick the ball away when Merthyr were awarded a free kick. It seemed as if the 90 minutes were up, but the ref was determined to add time one and it cost us dear. The long ball pumped up into our box was half-cleared but fell to Dane Williams who crashed a huge volley into the net, a shot that even Matt Bath could not get near. Cue wild celebrations from Merthyr, and that familiar unbelieving anger from City fans. Many blamed the ref. Perhaps I'm just out of practice at this, but while the ref was undoubtedly poor his decisions had not cost us the game - we'd simply allowed ourselves to get brushed aside in the second half and Merthyr deserved at least a point.

After the game Burns was fuming in the bar and made no secret of his anger, apologising to fans and threatening a wholesale clear out if the players went "hiding" like that again. Certainly some of our players faded badly as the match went on, you'd expect Thommo to have more influence, even from the right flank - while Mansell and Webb also made less impact against the blue wave we faced. In this kind of match the presence of Dave Wilkinson is sorely missed, and hopefully he'll be back fit soon. On this showing he could find himself playing alongside some new team mates if Burns doesn't get the reaction he's demanded over the Bank Holiday.

* City's draw may have doubled our points tally to date, but we are still floundering in 20th spot, although the season is well known for being a long run rather than a short one, or something. The more bitter type of City fan (it's not just me surely?) may find some slight comfort from seeing Ciren's promotion aspirations being firmly put in their place with a 3-0 defeat at Salisbury, although it may say more about the quality of the Wiltshire team than of any Cirencester faults. The other Wiltshire side in the division lost last night, with Chippenham surprised by the Team Bath students in a 2-0 defeat. Aylesbury's good start continues with a Drew Roberts goal enough to see off King's Lynn, while Bath City's 100% record ended at Lodge Lane where they needed a Scott Partridge equaliser to hold Yate Town to a 1-1 draw. Our next opponents Tiverton face an intriguing and hopefully draining match at home to Mangotsfield tomorrow night.

| | | | | | |
| --- | --- | --- | --- | --- | --- |
| Referee: | W.Barratt (Bromsgrove) | League Position: | 20th (=) | Attendance: | 355 |
| Conditions: | dry with broken could | City Form: | DDLL/DW | Match Report: | by t-towel |
Work commitments mean that we are keen to obtain other match reporters willing to provide details on some City matches. All text can be supplied by email, with no need to worry about web design or formatting. If you are interested please contact the T-Ender.