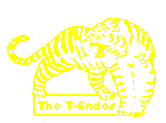 We welcome all contributions to the T-Ender. Please send any material for the site by
email to the address above.

Disclaimer
The views expressed on these pages are not those of Gloucester City A.F.C., its directors or officials, or of any other company mentioned. Neither do they represent the official views of the Gloucester City Supporters' Club or its committee.
While we make every effort to ensure information placed here is accurate we do not accept responsibility for errors that may occour. If you do find a mistake please let us know.

All pictures and material unless otherwise stated are the site's own and is
© www.t-ender.co.uk
All material may be reproduced with permission and appropriately attributed.
Monday 29th August '05

Gloucester City

at Meadow Park

Southern League Premier Division
(match 6)

vs

Mangotsfield Utd.

Gloucester City

1

Scorers: Mustoe (18 pen)

Mangotsfield United

3

Scorers: Shore (25 pen), Wilmott (37), Claridge (45)
City Side:
Bath, Harris, Mansell, C.Thompson, Lewis, Burns, Mustoe, Webb, Addis, Davis, Knight (Kear HT).
Subs not used: Wilkinson, Randall, Cook.
City Bookings: Mansell (foul)
T-Ender Man of the Match: Neil Mustoe; box to box energy that other players should be trying to emulate.
City's management team face a difficult week but must hold their nerve and lift their players after this demoralising dismal Bank Holiday defeat to an impressive looking Mangotsfield side who outmatched our sad Tigers in every department. Poor tactical decisions and lack of toughness in key areas saw City contribute to their own downfall in one of the most disappointing displays of Burns' reign at Meadow Park, and one that the boss clearly took to his heart.

Mangotsfield have strengthened considerably over the last season and their side is stuffed with good players, and a look at a team sheet with a quality striker like David Seal on the opposition sub's bench can't have done much for the City camp's already fragile morale. Many City fans had hoped to see at least one or two of our injured players make a return, but Wilko's ankle continues to cause concern while Griff and Marvin Thompson are still at least a week away from fitness. That left Burns with the same problem as on Saturday, with no recognised defenders meaning we were forced to send out a frail looking team with Mansell and Chris Thompson joining the boss himself in defence.

That disappointment was as nothing when fans realised we were also persisting with the same formation that had barely got out of our own half in the first period at Tiverton. The sight of Darryl Addis playing as a lone striker and target man in a home match hardly lifted the crowd, so expectations were already sliding even before the Mangotsfield defence so ably countered our tactics within the first few minutes. Realising Addis was out numbered they let him pick the ball up and then took it off him as easily as if robbing a toddler of their jelly babies. Unless Addis managed to find support instantly he was done for. Even his clever turns only momentarily postponed the inevitable as possession was squandered. Once Mangotsfield had the ball they could also push a defender up into midfield to counter our extra numbers there, nullifying any advantage we may have hoped for in the centre of the park.



Top & Middle: Mustoe slots his penalty and celebrates putting City ahead.
Bottom: Addis jumps highest, but who can help him.

It was hardly uplifting football for the home fans and we had an early warning when Mangotsfield's former Bristol Rovers forward Rob Claridge put a speculative dipping drive just over the bar. Alarmingly he'd been left with plenty of time to get his shot away on the edge of the box. City were struggling to go any where with precious little width and no options to aim for up front. The chances were all at the other end and former City winger Luke Prince almost opened up our splintering defence with a deep cross to the far post that the Field striker should have put away.

You could not accuse any of our players of shirking the challenges or lacking in effort, but unkind phrases like headless chickens seemed to come to mind pretty easily. There were moments of class. Addis did manage to bring down a few balls under control despite the defensive pressure, and having wrestled off a few challenges he managed to slide the ball wide to Adie on theleft. He beat his man, but the City problems were there to be seen as the cross came over and oddly enough Addis found himself alone in the box and marked by four defenders. With one player up front and our midfield trying to protect the defence we were sat too deep with a great chasm between our attack and anyone else.

Incredibly City were then literally handed a chance to grab the lead. We'd managed to win a free kick after the put upon Addis was bundled to the floor and Knight sent over a decent searching cross. Burns was the natural target and he tried to get to the ball only for Field's Anyinsah to punch it away from him. It was so blatant even a Southern League ref had no option but to give it and Neil Mustoe stepped up to nervelessly slot the spot kick into the net.

The surprised T-End tried their best to be jubilant but you had a sense no-one was really fooled by having taken the lead so early in them atch. Noen the less the goal lifted our team and for just a few minutes we looked like we could make even this strategy work. We produced some pressure on the away goal and managed to keep possession long enough through Mustoe and Knight to get some numbers up the pitch and around the Mangotsfield box. A Knight header broke up an attempt for the Bristol team to counter attack and Lewis' pace carried him forward before feeding Addis who was unlucky with a shot that went wide.

All of that seemed a fleeting, perhaps imagined, memory a few minutes later once we were back defending. There are too many players back there being forced to carry out roles they are not familiar with and it was not a surprise when Mansell carelessly tripped up Luke Corbett and gifted the visitors a penalty. That was duly slotted in by Drew Shore and our lead had lasted less than 8 minutes.

City fans had precious little to enjoy in the match so we made the most of watching one of our former players making a tit of himself. Prince was getting lots of the ball but always had a habit of not actually going anywhere with the ball and he enjoyed plenty of runs across our defence without going through them. The problem was you felt this was more out of his habit than our defending. Prince also launched himself acrobatically at a cross but his twisting volley was hooked well wide and he got to look satisfyingly silly as he landed on the floor.

Such pleasures were few and far between though as the Bristol side established a stranglehold on the match. We managed a solitary attack when Addis got free down the right and his deep far post cross even found a City player at the far post. Unfortunately it was the slightly built Lance Lewis, pushed too wide and unable to get any power on his header.

It wasn't long before the inevitable happened and we fel;l behind. Ellis Wilmott must have got fed up with trying to pick past the City defence and given the space available in midfield he let fly with a low drive from around 35 yards. The ball whistled inside the far post with Matt Bath left standing. Perhaps our keeper was unsighted and it's very likely he wouldn't have reached it anyway but there's something slightly consoling as a fan to at least see your keeper try and get to the shot.

Once behind even a goal defecit seemed to leave us with an insurmountable hurdle to overcome. In fairness Mustoe and Webb were chasing every ball, but even when we won possession we could not get forward. We seem to have forgotten how to move off the ball, so all of our passing involved pushing the ball side to side in midfield looking for openings that never came. Webb produced a great turn that should have split the Field defence, but he just faced the same problems. The City fans were getting hugely frustrated. Some were shouting to hit it forward, but the problems were deeper than that. There was no-one there to get a forward ball.




The next goal only seemed likely to come at one end, and it was not the end with poor Darryl Addis stood as isolated as a man with a rucksack on the rush hour bus. Matt Bath had been in excellent form over the last few weeks and he made another great save from Wilmott, rushing out to cut the angle and saving with his legs. That didn't stop the questions of how Wilmott had sliced through the defence without even a challenge. Worse was to come in the last minute of a miserable half. A bizarre deep cross showed just how bad our defence was, as our penalty area was so unguarded it was allowed to bounce and lifted high up enough for Claridge to meet it and lift a clever looping header over the stranded Bath and into the net.

For the first time I remember in recent years City's bewildered players left the pitch to muted booing from the T-End. City fans have supported through thick and thin over recent years, and have shown themselves willing to forgive performances that would leave other supporters foaming at the mouth. Everyone understands the loyalty the players have shown and the restrictions the coaching staff are working under. This effort though smacked of total disorganisation and incompetent tactical decisions. Knight reacted angrily and started shouting back at the fans, but perhaps Knighter needs a bit of a slap. He has given a lot over the last few years, but even in such hard times the fans who prop the club up are entitled to demand better than this. Your energy would be better directed at those in the dressing room Mr Knight. Rumour has it that the disasterous formation was something Knight has been pushing for, so perhaps he took the reaction to it a little personally.

At least by half-time the system had been changed, and with it had gone Knight, replaced by Kear as Lewis was pushed up front to provide some very welcome support for Addis. It seemed unlikely we could have got back into the match but if Kear had been able to make more of an early chance then perhaps things could have been different. He is a player who frustrates at times but he has shown some good touches and he did well to take the ball past the Field defence. As the goal opened up in front of him he inexplicably checked and tried to pick out Addis in the box. Why!!! If you can shoot, shoot for God's sake! Why do so many of our players seem intent on making the game so difficult.


Left: Addis turns in the Mangotsfield box.
Right Top: Mustoe looks for some help in the midfield.
Right Bottom: Burns gets crowded out at a City corner.

At least that attempt on goal did at least seem to make us believe a little more and the second half was a lot more even, all be it that the visitors had probably relaxed back into their armchairs by now. They still looked more likely to score, but at least we were also getting forward ourselves. We could have fallen further behind when another bit of terrible defending almost cost us dear. We were struggling to clear our lines at all and one bad clearance fell to Rob Cousins who crashed a shot onto the post, with Matt Bath needed to get to the rebound whilst the rest of the defence admired the pretty clouds. They were not alone in wanting to be somewhere else. The Bristol side was pushing through without really needing to try too hard and our side looked seriously demoralised. Even when we did get forward it hardly seemed to be with a great sense of purpose. Webb's finishing is often exasperating but under this kind of pressure it seemed to sum up our spirits. Addis did well to find Webb behind him and as the defence opened up it lookedl ike Webb could actually still give us a late life line. His head was all over the place though and the shot sailed high into the car park without troubling Danny Greaves.

If Mangotsfield felt they had the match won and it was time to take it easy, and they certainly knew how to rub salt into the wound. On came Ross Casey to take his place in the Mangos' midfield. He didn't exactly set the world alight but just the sight of him strutting his stuff didn't help an already thoroughly miserable afternoon. I remember him - he was rubbish for us... We were not exactly going out with all guns blazing, this was more the whimper of an aged arthritic cat than the roar of what should have been a wounded, well, tiger. By the end Mansell was booked for holding on, quite strongly, as another Mangos player tried to slip past him. The defence looked well battered and the forward line had been barely glimpsed. Far too late in the match Davis was rescued from midfield anonymity and moved further up front. It was too little too late but he did have a moment to remind us this could have been different. He wriggled clear to get onto a low Mustoe pass and his fierce drive was tipped onto the post. It wasn't going to be the kind of match that could be rescued with one shot against the run of play.

An emotional Chris Burns contemplates the future on the Meadow Park turf.

This was a terrible disheartening morale sapping defeat, not only had we been well beaten but we'd rolled over. Not only had we rolled over, but we'd played into the hands of the opposition with tactics so inept they'd disgrace a low division 5-a-side league. Inviting the opposition onto our weakened defence was bad enough, to leave one target man up front at home with no support possibly unforgivable. To place our main chance of goals in midfield where he is too lightweight to make an impact seemed odd. To have failed to learn from the Tiverton misery was perhaps the biggest crime. No wonder poor Chris Burns stayed out on the Meadow Park pitch, close to tears and seemingly contemplating throwing in the towel.

Fortunately the City manager rallied later in the evening but his anger and disappointment are understandably real and etched deep. For City fans, whatever the disappointment, Burns remains the man. Whatever has persuaded him to take leave of his tactical senses that will hopefully prove temporary. What he has achieved on a shoestring budget should not be forogtten too quickly, and without him the club would be in far worse shape. That can be no excuse for players settling for mediocre performances though, and even if the players were playing for nothing the fans who work every bit as hard for the club have aright to epxect better than this. Burns' commitment and dedication shine through, and his main task will be to instill the same hunger and will to win in the rest of his charges then we still have little to worry about. And not piss about with stupid tactics with such limited resources.




Now is a time for stout hearts, loyalty to the cause and not allowing our nerves to fray. After six games we're not where we hoped to be, but these were always difficult fixtures. In reality we perhaps only have one or two less points than we could have expected. Failing to beat Cheshunt was the worst result of the lot, and perhaps we could have hoped to take at least a point from three home games. That apart we knew we were not going to challenge for promotion, and it is with the vist on Rugby next Saturday and the FA Cup tie the follwoing week that our season properly begins. Time for a steady hand on the tiller, and no panic on the terraces. Burns deserves our vocal support over the next few weeks.

* Six games and only two points. Now might be a time for calm but looking at the league table does make your heart palpitate when you see City propping up most of the rest with only Northwood, pointless and adrift at the bottom. Tiverton are the surprise strugglers so far, and perhaps we should have shown their injury depleted side less respect. Their 2-1 defeat to Yate today hardly suggests they were amongst the pre-season title favourites. It hardly seems of interest to us at the moment but there were some interesting results amongst those setting the early pace and those who fancied their chances of promotion at the end of April. Salisbury continue to set the pace with two late goals seeing off Merthyr, while a solitary Danny Bloomfield goal gave King's Lynn a 1-0 win over Bedford. Bath City stuffed interlopers Team Bath in a derby of sorts, Scott Partridge grabbing a brace in a 4-0 victory to confirm his place as the early season leading goalscorer. Ciren's promotion hopes have been cruelly tested, suffering another humbling moment as they were brushed aside by Chippenham who won 2-0 at Hardenhuish.

| | | | | | |
| --- | --- | --- | --- | --- | --- |
| Referee: | D.Eaton (Tewkesbury) | League Position: | 21st (-1) | Attendance: | 425 |
| Conditions: | dry with sunny spells | City Form: | LLDDLL | Match Report: | by t-towel |
Work commitments mean that we are keen to obtain other match reporters willing to provide details on some City matches. All text can be supplied by email, with no need to worry about web design or formatting. If you are interested please contact the T-Ender.