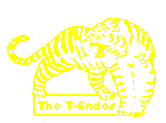 We welcome all contributions to the T-Ender. Please send any material for the site by
email to the address above.

Disclaimer
The views expressed on these pages are not those of Gloucester City A.F.C., its directors or officials, or of any other company mentioned. Neither do they represent the official views of the Gloucester City Supporters' Club or its committee.
While we make every effort to ensure information placed here is accurate we do not accept responsibility for errors that may occour. If you do find a mistake please let us know.

All pictures and material unless otherwise stated are the site's own and is
© www.t-ender.co.uk
All material may be reproduced with permission and appropriately attributed.
Tuesday 25th October '05

Mangotsfield Utd.

at Cossham Street

Southern League Premier Division
(match 13)

vs

Gloucester City

Mangotsfield United

5

Scorers: Claridge (11), G.Warren (16), Amyinsah (41), Seal (65), Shore (70pen)

Gloucester City

4

Scorers: Corbett (1,49), Reid (43), Wilkinson (80)
City Side:
Bath, Reid (Burns 83), Harris, Griffiths, Tomkins, M.Thompson, Mustoe, Webb, Corbett, Davis (Varnam 57), Wilkinson.
Subs not used: Knight, Mansell, Randall.
City Bookings: Corbett (not retreating at free kick 9), Tomkins (foul 37)
T-Ender Man of the Match: Luke Corbett: It may be corny but a two goal debut is hard to ignore and his presence lifted the whole side.
Our recent matches against Mangotsfield always seem to bring goals and another fantastic night of attacking football ended up with City once again feeling the bitter knot of disappointment and defeat. Unilke the home defeat in August though, the City fans will at least have left east Bristol with great pride in the team. Each one of them fought until the final whistle, and despite a string of unfortunate defensive mistakes we took an impressive Mangotsfield team to the wire. Indeed, had the ref not committed one, perhaps two, crucial and decisive errors the game could have been very different. Perhaps most importantly we have found a focal point to base our attacking play around, a centre forward to lead the line. It is early to pass final judgement but on this display Luke Corbett is the real deal and the T-End may well have at last found a new goalscoring idol to fill the boots of Andy Hoskins, Jimmy Cox and Karl Bayliss. Keep everything crossed, but this was not the performance of a bottom four side.

Since the disappointing Trophy exit to Cirencester there has been time for Burns to take stock and shake-up the City squad. He has wielded the axe, read the riot act and generally thrown every football management cliche in the book at his players. Perhaps most importantly has come the signing of Luke Corbett, and so success starved are our fans that the arrival of a striker with a history of goals could hardly have been more eagerly greeted if we'd announced the signing of Michael Owen or Thierry Henry. To add some extra bite to the occasion City's new signing would make his debut at the home of Mangotsfield, the club he left only a week or so before. Our previous meeting with the Bristol team was only a few weeks ago, and ended with a terrible spineless, shocking abject 3-1 home defeat. With Mangotsfield now in the heady position of 4th this would be a stern test of the new City side.

Corbett could easily have felt slightly under pressure if he was aware of the anticipation his signing had caused, and it would be easy for a player to disappear when returning so quickly to a club who so uncermoniously rejected him a few weeks before. Instead Luke Corbett made one of the most sensational impacts a City player's made on their debut (at least since young Michael Noakes last year!). Sometimes our forward passing has seemed to lack any direction, but the suspicion has always been our static forwards haven't been making the runs to pull defences out of shape. The game had barely started when Corbett showed what we'd been missing. A slide rule pass from a twinkling Lee Davis found the young striker already running onto the ball at full pace. his touch was assured as he cut past the defender and from the edge of the area he struck home a sweet drive past the despairing Danny Greaves. Was it his first touch? It was certainly a hell of a way to announce yourself to fans of your new club, and didn't he enjoy it. One-nil after 50 seconds, and celebrations that seemed to veer just slightly towards the Maggots dug out. And I'm sure Martyn Grimshaw was watching.


Having taken such an early lead it was always going to be a mammoth task for City to manage to keep out a side of Mangotsfield's attacking ability out for 89 minutes. We survived one scare as Marvin Thompson cleared one effort of the line. The equaliser then did come and had a fairly bizarre birth, coming as it did from a soft free kick given against Corbett who was then outrageously booked for not retreating to allow the kick to be taken. The ref hadn't told him to get back and the player was going backwards at the time, but I'm sure it merited a booking. When it was taken we failed to clear our lines and eventually the cross from our left found Rob Claridge with far too much space in which to level the scores.

City were looking a whole lot better going forward but the defence was far from comfortable against a pacey Maggots attack. The Bristol team were tearing into our flanks and each time they went forward we looked slightly desperate. The home team soon extended their lead and it was hardly a huge shock. We'd struggled under a couple of high balls with Matt Bath forced to punch clear and then Griff put the ball behind under pressure at the far post. The corner came in and seemed to catch our defence by complete surprise, not really what should happen for a fairly routine ball whipped into the near post. The corner evaded everyone and dropped all the way into the six yard box where central defender Gary Warren had the simple task of bundling it in from close range.

City fans could have been forgiven for expecting the side to cave in. Despite having nearly a full strength side out it looked like too many of our old problems remained unaddressed. It almost got worse when another deep cross from the left caught us floundering and Matt Bath made a fantastic point blank save from Claridge. This was exactly the point where the players decided at Cirencester that the match was as good as over and they'd rather be somewhere else. Tonight couldn't have been more different as the players responded and got stuck into the Mangotsfield midfield. Mustoe and Wilko both put themselves about with help from Reid, Webb twisted and turned and actually ran forward, Adie was bombing down the left wing and Lee Davis seemed to enjoy playing just off Corbett in a position between midfield and the forward line. We played some good, quick inventive football that stretched the Maggots defence and just as importantly created some respite for our own defenders.

The attacking pressure created two situations that should and could have tipped the match in our favour. First came a bizarre misunderstanding between the Bristol side's keeper Danny Greaves and his centre back. A clever Webb and Mustoe move sent in a diagonal ball behind the defence that had both Wilkinson and Corbett chasing down towards the area. Greaves rushed out of the box and bravely scrambled it clear before being flattened in a collision with his own player. From behind the goal it seemed as if Greaves had used his hands, and being clearly outside the penalty area we should have had a free kick and the keeper trudging back to the dressing room. With the City players outraged the linesman studiously studied his boots and the ref shrugged his shoulders. You had the feeling the lengthy delay in restarting the game was because Greaves was embarrassed as much as winded.

We were producing some good moves and could have found the net again. A good Adie Harris run ended with a deep cross that Reid just got his head to. The ball fell to Mustoe on theedge of the box and his drive was cleared by a fortunate Rob Cousins' back header for a corner. We went close again when Tom Webb made a clever run into a gap that appeared down the left and he cut in far more decisively than is often his habit. This time he beat his man and picked out Reid running in at the far post. Unfortunately the cross was just too quick for Reid, but it was an encouraging sign.

Worse was to come though in an incident that really should have seen the home team reduced to ten men. Again Dave Wilkinson was involved as he raced onto a beautifully weighted ball from Davis that cut through the entire Mangotsfield defence who had followed the run of Corbett. Wilko was through and bearing down on goal when he was clumsily hauled down by Gary Warren just on the edge of the area. Justice cried out for a penalty, but at least we confidently expected the consolation of a red card for the offending player. Some how the ref was the only person in the entire ground who didn't believe the defender was the last man whose foul had prevented a goal scoring opportunity (to quote the rules). He duly produced a yellow card to howls of genuine shock and disappointment from the City supporters. My spies in the stand tell me the ref was being watched by an assessor who also agreed it was a clear red card, although that's little consolation to us. On this performance he'll be lucky to be running the line in Division 3 of the Worcester under-11s League by next weekend. To add further insult to the situation he then woefully failed to get the Maggots defensive wall back anything approaching the ten yards, and lets face it you can tell ten yards in a penalty area. The resulting free kick from Mustoe was driven inches wide of the far post by Mustoe, and you felt that the extra yards could have been crucial. Sometimes the ref's get unfair stick; too often it's well deserved.

City could feel themselves very unlucky to be behind but there were also definite signs of vulnerability at the back. Maggots are a good side going forward and there's no shame in finding them hard to deal with, but at times we did play into their hands. Adie Harris was providing a threat going forward down the left but the impressive David Anyinsah was giving him a torrid time in his defensive role. Marvin kept coming over to try and help but all too often he was getting away from the pair of them. Lyndon was booked for a foul on the same player, grabbing him after he'd been comprehensively beaten by his speed. The warning signs were there and we paid the full price when he cut in field and ghosted between Harris and Tomkins, turned Marvin inside out and buried a low drive past a seemingly hypnotised Matt Bath.

At 3-1 down we'd have been forgiven for waiting the few minutes for the half-time break, but on this showing we've rediscovered our bottle. Nobody exemplified this better than the ever more impressive Reid. The latest star to emerge from the youth team is starting to look at home in the first team and he showed great composure to haul us back into the match. Davis and Webb seemed to have ran out of options when Mangotsfield shunted their attack back into midfield, but Jamie Reid took a touch and chose his spot before letting rip with a perfect 35 yard drive that flew past Greaves and just inside his left hand post. 3-2 and match back on, and just in time to give Burns a much easier dressing room talk. The Supporters Trust may not have agreed money to put Reid on a contract as suggested in The Citizen, but on this form he will attract interest from other clubs and City are bound to be counting the spare change to see if they could manage to tie him to the club.

After the break it was City who had the bit between their teeth and we put pressure straight back on the creaking Maggots defence and we didn't have long to wait for the breakthrough. An Adie Harris cross was half cleared and Webb prodded it back up into the air over the penalty spot. Wilko was stronger than the defender and got his head to the ball and Luke Corbett was sharpest as he seized on the loose ball and volleyed it in from six yards. City were level, Corbett had underlined the point he'd already made, and City fans were starting to believe.

We enjoyed a good spell of pressure but despite some more imaginative runs by Corbett, Webb and Harris the clear chance would not come. Adie had another good run but his shot was too weak to trouble Greaves. Mangotsfield were feeling under threat and a couple of their players went into the ref's little notey book for hacks at Mustoe and Davis. From one of the free kicks Reid again went close with a good drive that was saved under the bar by the keeper. Lee Davis had a good game tonight and it was unfortunate the clattering late challenge on him prematurely ended his evening. Slightly perplexingly his replacement was Andy Varnam, and it appears his departure to Slimbridge is less permanent than hoped (sorry, feared). The poor lad needs somewhere to work on his game at a slightly lower level, despite his hard work on the pitch his touch and positioning are not quite yet up to the Southern League.

Varnam could hardly have been blamed for the next twist in this strangest of games though, as this was all self inflicted at the other end of the pitch. Mangotsfield had lost a little of their attacking sparkle but suddenly our defence imploded with a few individual howlers that gave them back the initiative. First came a needlessly physical challenge from Tomkins that conceded a free kick 25 yards out on the corner of the penalty box. City looked to have everything under control, but there's little you can do against the kind of quality strike produced by David Seal. The Aussie struck an improbable drive that somehow dropped under the bar at rocket speed to leave the City defence stunned.

Worse was to come a few minutes later as we again lost our way under a difficult corner. It looked as if Marvin had managed to hack the ball half clear but the second cross caught Griffiths out of position and he flicked the ball with his hand. The City captain could have been forgiven for thinking that the handball rule had been repealed as the ref had missed so many from Mangotsfield in the first half, but none the less it was a dead cert penalty that Shore put away with ease. Griff will be kicking himself for such an uncharacteristic rush of blood.

City could easily have packed up at this point, but despite the series of errors in defence we still obviously felt the home team's own back line was still beatable. Corbett was limping from an earlier knock and was also visibly tiring, but even on half a tank and one leg his presence was unnerving the Mangotsfield defenders. He played a vital role in setting up a tense final ten minutes when we clawed our way back into the game again. City managed a spell of concerted pressure with the crosses raining in on the Maggots goal and finally we got the breakthrough. A half-cleared corner fell back to Adie Harris and his second cross was met well by Varnam running in at the far post. Corbett had wriggled free and crashed a volley goalward only to see Greaves parry with a great reaction save. It was in vain though as the ball fell to Dave Wilkinson who twisted the ball in through a crowded goalmouth and into the net.

With just one goal in it the stage was set for a barnstorming finish. Still a goal behind City gambled and replaced Reid with Burns, the gaffer adding his height and strength to supplement the forwards with Reid coming off. The resulting tactical reshuffle left huge gaps at the back which the home team almost exploited. First a fierce drive crashed back off the bar and rebounded around the penalty box until Mustoe finally booted it to safety. A few minutes later Mangotsfield's Rob Claridge suddenly found himself in the penalty box with the ball and just Matt Bath for company. With time to pick his spot the former Bristol Rovers forward somehow failed to get the ball past the keeper in two attempts with Bath rushing out and flustering the striker.

At the other end City came close to snatching a point with Tom Webb's shot skimming off the head of a defender and wide for a corner. Closer still was a brave run from Neil Mustoe that took him through several challenges before his low cross shot just eluded Corbett at full stretch at the far post. For a moment a dream hatrick and last minute equaliser must have flashed through his mind. Sadly, it wasn't to be, and the final whistle left us the wrong end of a nine goal thriller.




Ultimately of course we ended up with the same result as in the home fixture a few months before, but this was a very different display. There are many reasons for optimism; we're scoring goals again, we have a striker, but best of all we seem to have regained a bit of that never-say-die attitude which has carried us so far in the last few years. The previous Mangotsfield defeat left Burns disconsolate on the Meadow Park turf, on this performance the manager must be confident a win is just around the corner. Mangotsfield are a strong side, and with better refereeing and less calamitous defending we could easily have beaten them. On this showing the Bristol team certainly have the firepower to make the play-offs but their defence is fragile and stronger teams than us would not have gifted them the amount of goals they needed to take all the points. For us the next game is Bath City, and our record at Twerton Park is poor, but after this performance we'll have just a bit of a spring in our step.

* At least results have not quite dumped us to the bottom of the division with Northwood surrendering a first half lead to Chesham who ended up running out 3-1 winners. Some of our other fellow strugglers fared better with Rugby's revival continuing with a 2-1 win at Cirencester, while Hitchin got three important points with a 2-1 win at Cheshunt. In the Western Division Cinderford won 3-2 against Rushall Olympic with a goal from debutant Richard Kear who returned to the Forest club after being released by City at the weekend.

| | | | | | |
| --- | --- | --- | --- | --- | --- |
| Referee: | N.Brimming (Worcester) | League Position: | 21st (-1) | Attendance: | 332 |
| Conditions: | dry and overcast | City Form: | LLDWLL | Match Report: | by t-towel |
Work commitments mean that we are keen to obtain other match reporters willing to provide details on some City matches. All text can be supplied by email, with no need to worry about web design or formatting. If you are interested please contact the T-Ender.