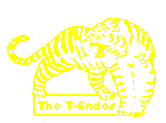 We welcome all contributions to the T-Ender. Please send any material for the site by
email to the address above.

Disclaimer
The views expressed on these pages are not those of Gloucester City A.F.C., its directors or officials, or of any other company mentioned. Neither do they represent the official views of the Gloucester City Supporters' Club or its committee.
While we make every effort to ensure information placed here is accurate we do not accept responsibility for errors that may occour. If you do find a mistake please let us know.

All pictures and material unless otherwise stated are the site's own and is
© www.t-ender.co.uk
All material may be reproduced with permission and appropriately attributed.
Sat'rday 12th November '05

King's Lynn

at The Walks

Southern League Premier Division
(match 16)

vs

Gloucester City

King's Lynn

4

Scorers: Bloomfield (4,79), Hammond (33), Smith (49)

Gloucester City

0

Scorers: -
City Side:
Bath, M.Thompson (Davis 65), Mansell (Harris 51), Griffiths, Tomkins, Burns (C.Thompson 51), Mustoe, Webb, Addis, Corbett, Wilkinson.
Subs not used: Knight, Randall.
City Bookings: Burns (foul 30), Griffiths (foul 53)
T-Ender Man of the Match: Luke Corbett:
Kept making the forward running despite the growing deficit. A shame he couldn't also be on the end of his own crosses.
City may feel they have a prominent ally to share the sentiment that sometimes it's better to lose doing the right thing than give in and do the wrong thing, but despite a great deal of pretty football we were given a harsh lesson in the difference between not taking your chances and finding the net. We enjoyed huge amounts of possession and this wasn't a performance that merited a scoreline that suggests a drubbing, but for all of that King's Lynn demonstrated a piercing directness that undid our defence all too easily and all too frequently. If football matches were decided on artistry or on a judge's points we may have left The Walks with a point, but matches are decided on goals and we are abjectly lacking in those. This was not one of our dreadful spineless performances but it was a match that rather neatly showed up where our problems lie. There seemed to be some clear lessons for Burns and Knight from this game, but only time will tell if they are willing or able to act on them. Playing like this you could believe that surely our luck will turn soon, but everyone at the club must now be beginning to have that slow climbing desperate fear that the points must come soon, before it's too late.

King's Lynn have the largest attendances in the division and one of the biggest budgets to go with it, making them regularly one of the pre-season title favourites. Those expectations mean the side must feel under pressure and despite still being in a strong league position the fans have started to turn on the board and manager Tommy Taylor making this a big 'must-win' game for the home side. Disappointing FA Cup and FA Trophy campaigns have led to budget cuts and a reduced squad, and how it makes you laugh to hear their poor manager shake his head at the terrible prospect of having to use local players and promote youth team players into the first team squad, even (whisper it) to the bench. Welcome to the real world you Linnets! With all of this going on the pressure was on and it might have been a good time to be going to The Walks, for all that our away form prevents foolish optimism on any City trip at the moment.

The small (or elite!) band of City fans who'd made the season's longest trek at least had some happy signs on the pitch. Burns had shaken off the rigours of age to play in midfield, freeing Mustoe to take up the defensive berth where he's been performing so well in recent weeks. Mustoe, playing against a former manager in Lynn's Tommy Taylor, had been listed as banned by the FA for reaching five bookings, much to the confusion of the FA discipline unit who only have him listed as having had three yellow cards (and I make him on four). All confusing, as was the decision to drop Adie Harris to the bench after a good performance against Banbury. At least we had some strength on the bench with Chris Thompson at least recovering from his thigh problem enough to join the subs, along with Lee Davis who is still struggling a little with tight hamstrings. I'm not sure what that means, but rather him than me.

Top: Minutes silence for Doug Gillard.
Middle: Addis chases another ball in vain
Bottom: Burns encourages Lynn to throw those shapes.

The match was opened by a minute's silence for Southern League chairman Doug Gillard who died the previous day. When the match kicked off it must have seemed to the home fans that their side were still paying their respects as City were the only side actually running around out there. Webb and Mansell both got forward well with a crisp exchange of passes that almost opened up the Lynn defence. Down the same wing we almost got through again when Addis released Corbett and his deep cross was nearly met at the far post by Marvin Thompson rushing in from the right.

For all our early pressure the early breakthrough came at the other end and really seemed to stun our defenders as it came from the Linnets first real attack. The danger seemed to come from nowhere as a Bath clearance was headed back in by Defty and that somehow caught us flat, allowing Bloomfield to race in towards our penalty area. The one player who tracked him back was Mustoe and it looked as if he'd done enough to steer him away from danger but somehow the dangerous striker managed to reach out and get just enough on the ball to poke it towards goal. Even then the ball didn't seem to have any real pace on it but Matt Bath seemed to miss it as the ball trickled into the net.

The early lead should really have knocked us back but even with that early blow the match continued with City looking the more convincing side in midfield where Webb found plenty of the ball and we had the better of the possession. One Webb run ended with a free kick outside the box which Corbett fired into the wall and City had another chance when Addis did well to knock a long ball back to Wilko only for him to shoot wildly into the trees. We were enjoying some spells of concerted pressure but struggling to produce any clear cut chances. From a succession of corners Lyndon Tomkins found himself up front and he almost managed to turn in the box, and then got a flick onto a Griff long throw but neither fell kindly to other City players.

We've so often been left to reflect on missed opportunities this season you feared the worst when a good Marvin Thompson ball into the box was smartly brought under control by Corbett only for the striker to run out of space near the post and for the defenders to be able to scramble it clear. Throughout the match King's Lynn seemed to be playing more in the manner of an away side, and the danger signs were there to see as Burns was booked for a midfield trip as the Linnets tried to break past him at speed having broken up another City attack on the edge of their own box. King's Lynn had several pacey players in their side and Mansell in particular was struggling on the left whenever they got space to run at him. On this occasion he was left railing and a low cross came flying in and seemed to be turned away br Griff. The ball then ricocheted around our penalty area and lodged under Burns, but with players descending from all sides the loose ball seemed to escape from Burns and Griff and Danny Hammond reacted quickest to rifle a shot past Matt Bath.

A two goal deficit seemed particularly harsh but the game probably hinged on the next minute as Lynn failed to settle after their goal and gave a clumsy penalty. City had hoisted the ball forward and as Burns nudged the ball back into the area Dave Wilkinson was grappled to the floor by a clumsy challenge from Grant Cooper. Despite some half-hearted protests it was a clear penalty. Mustoe stepped up to take the kick which went low to the keepers left, Higgs went the right way and tipped it round the post. It was a decent save but the kick lacked power and conviction, and if you don't take those kind of chances it's hard to put the opposition under any pressure.

Even having missed the penalty City should have got back into the game but again our woeful finishing let us down. The keeper looked vulnerable under high balls throughout the afternoon and we almost profited when a weak punch didn't clear the Lynn area and the ball was poked back into the goalmouth by Webb. Marvin found himself eight yards out with the goal at his mercy but his shot grazed the bar as it flew high. In the end City were probably grateful to escape back to the dressing room with the game still not entirely beyond them as Lynn's Jack Defty again did for the bereft looking Richard Mansell and sent in another dangerous low cross that flew across the face of the goal but thankfully eluded everyone. A few minutes later Burns was called into action with a good block on a shot from the edge of our area.

City had dominated most of the first half but could hardly blame anyone but themselves for the scoreline. Sometimes we don't seem to be able to help ourselves and here it seemed as if the realisation that King's Lynn were a little wobbly had led to us losing our heads. Instead of trying to frustrate and smother the home team while gently probing for openings we'd gone for it with everything and in committing so many people forward left ourselves well and truly open to counter attacks. Even with those numbers forward we'd not actually created the clear cut chances you'd hope for from that kind of possession.

Top: Another City corner unerringly finds a defender's head at the near post. Look at where our players are!
Bottom: Mustoe finds the keeper is still awake at the back, and if we can't score from there....

The open match that had been developing at the end of the first half really took hold in the second period with City having no option now but to look for attacking opportunities and leaving ever larger gaps at the back. King's Lynn had an effort go close from distance before Corbett almost connected at the far post with another good searching cross from Marvin Thompson. Wilkinson then really gave the oddly subdued home fans something to think about as he picked up an Addis flick and fired in a shot just wide and into the side netting. The City shooting was again in stark contrast to what Lynn had to offer though. They went straight up the other end and another run down the left ended in Adam Smith having space to drill in a fierce low drive that beat first Matt Bath and then Neil Mustoe as he dived at it on the line.

At three down it was all but over and City threw caution to the wind with an immediate double substitution. Chris Thompson got his first taste of league action in more than a month, while Adie Harris took over from Mansell on the left wing. On this showing Mansell needs someone to rescue him as he looked lost out on the wing this afternoon, offering little going forward and unable to cope defensively. Harris' arrival instantly restored some balance to the side and gave Lynn something to worry about down both wings. The two new subs had an instant impact as a good exchange of passes moved us towards the box where Addis laid the ball back to Webb whose shot whistled just past the post.

The match may have been all over but there was still plenty of time left and if you didn't worry too much about our future you could enjoy what was now an open and entertaining game. Both sides were running at each other and passing quite well, and both sides were creating opportunities. Noticeably though we were still not turning our control of the midfield into a scoring chances, and when we shot it was off target whilst another Lynn attack brought a fine acrobatic save from Matt Bath. A similar good move from us saw Corbett and Webb create room for Mustoe but his shot was just over the bar.

Corbett was still going despite the score and he produced another good cross that was cut out for a City corner. This time the keeper flapped a little and City almost capitalised but neither Wilko or Griff quite got to the ball. Chris Thompson had caused all sorts of problems in the centre of the park since coming on and got a nasty boot to his head for his troubles, caught as he stooped to try and reach a low ball. You know it's nasty when the home fans audibly wince. After a few hefty slaps around the face from the physio he was able to carry on, although later on he left the pitch to get a fresh unbloodied shirt (we have a spare, like a proper club!) and to return with an impressively expansive bandage on his head.

Corbett seemed to be having a good game, he was certainly working hard and making plenty of runs into the channels behind the defenders of the sort that strikers normally expect to be rewarded. A partnership with Addis doesn't seem to be developing though and Burns has a problem to sort out. Addis is a fine player who also works very hard and shows plenty of nice touches and strength in holding the ball up. As a striker though he is unconvincing, he doesn't gamble or make runs when not in possession and seems to react rather than create. His game is all about holding the ball up whilst Corbett seems to be all about fast service behind defenders. Corbett may be better suited to linking up with Davis as they did on his debut at Mangotsfield when City scored four. Addis hasn't ever looked like delivering regular goals, but could have something to offer from midfield or out wide. It's a real quandary for Burns who has shown Addis a lot of loyalty since signing him from Cinderford, but some drastic tactical surgery seems to be needed before the team stagnates.

The problem seemed to be exemplified when Addis didn't quite reach an Adie Harris cross as it passed him in the goal mouth, he looks like a player who needs one to bounce in off his shin to give him a bit of heart. At the other end City were now thinly spread as they tried to push forward and salvage at least a goal from the match. Tomkins made an excellent block to stop one shot, and then Matt Bath made a fine save to tip the follow up effort over the bar. It was end to end stuff and Corbett made another good run before pulling the ball back to sub Lee Davis who hadn't had chance to warm his boots and he dragged his shot well wide.

We were looking more like a team now since the substitutions and both Chris Thompson and Neil Mustoe made impressive driving runs from midfield. A wonderful move saw City spread play out to the right where Corbett got over another good cross that seemed to leave Wilko with space in front of goal, but somehow the ball got stuck under his feet and the danger was snuffed out. From the resulting corner City lost the ball and immediately found themselves in trouble. Mustoe made a good saving tackle on the half way line but he was out numbered and the loose ball fell to Bloomfield who raced clear to close in on goal. His form is such that no-one seemed to doubt he'd score, and he duly did to give the scoreline an embarrassingly emphatic look to it. It was harsh on us, but we'd fluffed repeated chances to make a game of it.

The match really was all over now and whilst City showed great professionalism in continuing to chase a goal it was just one of those days when all fortune had deserted us. City will play like this on occasions and themselves score four, but there are issues for Burns to look at both up front and in defence. We must not get too demoralised because on this performance we should yet get the results we need, but whilst there is a long while to go yet the clock is ticking.

Top: Last season's Ugly Steward winner puts in another storming entry.
Middle: Is the sun setting on our Southern League Premier hopes?
Bottom: Chris Thompson gets something to distract him from his sore thigh.




* With most SLP clubs still in the FA Trophy (sigh) the only other game saw struggling Northwood and Rugby United fight out a goalless draw. Ideally we'd have liked both teams to lose but at least that keeps Northwood bottom and the only side still below us in the table. Lynn's win lifts them up to 6th.

* In the Trophy Cirencester battled to a 2-2 draw at Banbury United in the tie City could have featured in, after Mucky's 89th minute goal seemed to win it for Banbury only for Charlie Griffin to run up the other end and equalise in the dying moments to earn Ciren a replay. The division's form teams continued their success in the Trophy: Bath City winning 2-0 against Bromsgrove with another Jon Holloway goal and despite three red cards following a mass brawl, Salisbury dispatching Western Division promotion chasers Clevedon 2-1 and FA Cup hopefuls Chippenham surviving a scare to win 3-2 at Hemel Hempstead after the home team had battled back level after being two down. Shocks were few and far between but Chris Dillon's brace won a local derby all-SLP tie at Hitchin by 2-1, and Tiverton came a cropper in a 3-1 defeat at Western Division Solihull Borough after the Brummies raced into a 3 goal lead by half-time.

| | | | | | |
| --- | --- | --- | --- | --- | --- |
| Referee: | S.Burt (Northampton) | League Position: | 21st (=) | Attendance: | 690 |
| Conditions: | clear, dry and getting chilly | City Form: | LDDLLD | Match Report: | by t-towel |
Work commitments mean that we are keen to obtain other match reporters willing to provide details on some City matches. All text can be supplied by email, with no need to worry about web design or formatting. If you are interested please contact the T-Ender.