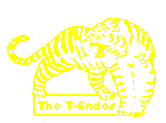 We welcome all contributions to the T-Ender. Please send any material for the site by
email to the address above.

Disclaimer
The views expressed on these pages are not those of Gloucester City A.F.C., its directors or officials, or of any other company mentioned. Neither do they represent the official views of the Gloucester City Supporters' Club or its committee.
While we make every effort to ensure information placed here is accurate we do not accept responsibility for errors that may occour. If you do find a mistake please let us know.

All pictures and material unless otherwise stated are the site's own and is
© www.t-ender.co.uk
All material may be reproduced with permission and appropriately attributed.
Saturday 22nd April '06

Gloucester City

at Meadow Park

Southern League Premier Division
(match 41)

vs

Hitchin Town

Gloucester City

1

Scorers: Corbett (79)

Hitchin Town

0

Scorers: -
City Side:

Bath, Miller (Reid 6), McKeever, Preece, Tomkins, Holland, Pritchard, Webb, Bevan (Eckhardt 81), Addis, Wilkinson (Corbett 66).


Subs not used: Randall, Harris.
City Bookings: none
T-Ender Man of the Match: Mark McKeever; a potent attacking threat who showed just an edge more class than Hitchin could live with.
City signed off in front of their Meadow Park fans with another narrow home victory to keep the incredible run that has taken the club to SLP safety going for another week and send the home supporters away hoping for more of the same next season. This was another game that exhibited our new defensive solidity with Hitchin struggling to get much sight of the City goal, but despite dominating most of the game the Gloucester side found it equally tough to find the net. The goal City deserved finally came with just 11 minutes left and for the second consecutive match it was a striker coming off the bench who found the crucial touch, this time it was Luke Corbett who crashed the ball into the net from close range.

Top: Tomkins prepares to pounce as Hitchin pushg a corner away.
Btm: McKeever's cross heads for Bevan at the far post.

On the face of it this match had nothing at stake with both sides having finally confirmed relegation survival last weekend, leaving just the minor matters of club pride. For all of that it's always important for clubs to end their last home game of the season in some style if only for the optimsim now brimming around the club to be carried through the summer with the help of some good memories from this game. This time of the season also generates its own targets: we can still improbably finish in the top half, or aim to finish higher than last season's 15th, or perhaps most importantly a win here would confirm a finish above Cotswold neighbours Cirencester. Hitchin may have being distracted by the League Cup, being in between the two legs of the final and taking a one goal lead to Bromsgrove later in the week and certainly missed the presence of the division's top scorer with Josh Sozzo missing due to suspension.

After the tensions of the last few months incredible charge to survival you could feel the tension lifted from Meadow Park and the end of season party atmosphere was helped by the marking of the 50th anniversary of our own Southern League Cup triumph in 1956 where the club incredibly reversed a 4-1 first leg defecit against Yeovil Town to claim the trophy in extra time. The surviving veterans of that triumphant side were at the game and it was right to see their victory remembered, after all it is one of only two meaningful trophies the club has picked up in over a hundred years. Hopefully some of their winning fortunes might rub off on the current crop of players. The City side showed some changes, with Justin Pritchard making his debut up front having been signed on loan from Weston back on transfer deadline day and partnering Jody Bevan who was recalled to the side having grabbed the winner from the sub's bench on Easter Monday. Defender Chris Holland also returned to the side to replace the injured Jeff Eckhardt, with Adie Harris making the subs bench as he continues to recover from his hamstring problem.

The game took a while to settle but Justin Pritchard came close to giving City took the lead after Wilko got the best of an early midfield skirmish and prodded the ball through to Justin Pritchard. The Weston forward almost got the perfect debut start but the keeper did well to bravely dash out and collect the ball at his feet. City were just starting to move the ball around when our tactics were disruped by an injury to Jonny Miller after a heavy challenge in front of the main stand. He was forced to limp off, leaving youth team skipper Jamie Reid to deputise at right-back with just six minutes gone.

That reshuffle seemed to break our concentration and City were forced to weather ten minutes of Hitchin pressure as we seemed to slightly lose our way. The difference between this team and the one we had on the pitch six months ago is mainly our resileince at the back, and despite Hitchin lifting in several high balls Preece, Holland and Tomkins proved themselves equal to the aerial challenge.




How much closer can we get? Hitchin's keeper misses a corner and looks on anxiously as Chris Holland tries to make up the final yards.

We did finally get back into the game and slowly forced the blue shirts back into their own half with some good passing on what is now a difficult surface on which to move the ball around with such confidence. Those bobbles almost paid off for us as Addis broke from midfield to get down the right flank, and his low cross seemed to be a real grubber. Jody Bevan improvised well in front of goal and as the ball fell behind him his half volley back-heel unluckily smacked into the keeper who seemed to know little about the save he's made. It was a shame it didn't go in as it would have gone down as one of the cheekiest goals ever scored at Meadow Park.

The signing of Mark McKeever has really lifted the side as we've grabbed those last few vital points and it's a real shame the former Sheffield Wednesday player seems destined to return home to Northern Ireland in the summer. His tricky wing play may not have been enough to keep him in the professional game but at this level he simply leaves defenders in pieces as he proved on several occasions as he tormented the poor Hitchin right-back. His deft close control and step overs consistently gave him space to pick out some wonderful crosses. One neat bit of play saw him break down the left before finding Bevan, who in turn fed Reid on the other wing with a wonderful cross field pass. The youngster has never been afraid to shoot and his rasping 25 yard effort flew just the wrong side of the Hitchin post.

Bevan tries to get to the high ball before Hitchin's Richard Wilmot.

It was not all plain saling for City though and we survived a real scare when Tom Webb got caught in possession, perhaps day-dreaming about where on his mantelpiece to put his new player of the year trophy. Daniel French emerged with the ball and he broke forward strongly, and with City stretched we had good reason to be grateful to Preece who did well to block a pass that would have left the Hitchin strikers arguing over who would shoot past a stranded City keeper. The City mishaps seemed to spread as a few minutes later Matt Bath mishit a goal kick and with Holland bundling over the Hitchin winger we were left with a tricky free kick to defend. Again it was Preece who cleared the danger with a firm header at the far post.

Once City got back in their stride we looked more dangerous than we had for much of the half. Addis looks more comfortable than he has for many months and is now starting to show those deft touches which had given us all hope that he could be a real find when he first came to the club. Perhaps he benefits from being in a more withdrawn role where he has options in front of him that encourage him to do more than turn his back to goal and hold the ball up for support. This was certainly a more attack minded Addis than we've become used to, and his clever turn created space in the box, and with Hitchin stretching to clear Tom Webb saw his shot ricochet wide for a corner. McKeever has also added something with his vicious corner kicks, and this one caused havoc in the Hitchin goalmouth. Bevan almost connected and the defender could only knock it away from him. The ball fell to Tomkins eight yards out and the big centre back was unlucky as his goalbound shot was blocked by the keeper's feet, again the Hitchin goalie seemed to not know too much about his save.

Finally City made the crucial break through, this time we had a spare man in the penalty box who was simply in the right place at the right time to capitalise on the loose ball. The move had started down the right as Jamie Reid broke forward and pushed the ball down the wing to the advancing Tom Webb. Reid couldn't quite reach the ball as the return pass was blocked, but City kept the ball alive and McKeever was found in space down the left. He cut inside and saw his shot well blocked by Wilmot in the Hitchin goal, but his parry left the ball loose in the six yard box. Corbett showed a good striker's instinct and had already gambled on getting into the goalmouth, leaving him perfectly positioned to smack the ball into the gaping net. The reaction from the T-End showed that there's no such thing as a meaningless match to a City fan, and Corbett and the other players clearly wanted the win too. It was Corbett's 12th goal of the season and that tally might give Tim Harris some pause for thought. For some reason the new City boss doesn't seem convinced by Corbett, but he scores goals and we simply look more like winning games with him on the pitch.



* The vast amount of the SLP season has been decided so there was little of interest to report from elsewhere. However, Cirencester's 2-1 defeat at promotion play-off contenders King's Lynn has consigned them to a place below City regardless of results on the last Saturday. It would be churlish to gloat at their waste of there bigger playing budget and to laugh at Lee Smith for moving to a club more likely to meet his 'ambition' - wouldn't it!? The only club really with anything to play for are Northwood who need points to emerge from the complicated comparison between 19th spot clubs across three divisions as relegation survivors. They did their hopes no harm at all with a gutsy 2-1 win at home to Banbury, coming back from a goal down to win thanks to a Dean Clark penalty. At the other end of the table Salisbury lifted the Southern League championship shield and celebrated with a 5-0 mauling of Cheshunt. The play-off contenders are decided but the teams are still playing for home advantage, Bath City doing themselves good with a 5-1 away demolition of poor Aylesbury United, former Tiger Jon Holloay amongst the scorers.

SLP Table; Southern League website.
Travelling Lorry Count - 0


Bye for Now. The City squad return the applause from the T-End as the season draws to a close.
| | | | | | |
| --- | --- | --- | --- | --- | --- |
| Referee: | N.Brimming (Bristol) | League Position: | 13th (=) | Attendance: | 391 |
| Conditions: | sunny | City Form: | WWLWDW | Match Report: | by t-towel |
Work commitments mean that we are keen to obtain other match reporters willing to provide details on some City matches. All text can be supplied by email, with no need to worry about web design or formatting. If you are interested please contact the T-Ender.