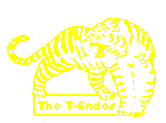 We welcome all contributions to the T-Ender. Please send any material for the site by
email to the address above.

Disclaimer
The views expressed on these pages are not those of Gloucester City A.F.C., its directors or officials, or of any other company mentioned. Neither do they represent the official views of the Gloucester City Supporters' Club or its committee.
While we make every effort to ensure information placed here is accurate we do not accept responsibility for errors that may occour. If you do find a mistake please let us know.

All pictures and material unless otherwise stated are the site's own and is
© www.t-ender.co.uk
All material may be reproduced with permission and appropriately attributed.
Saturday 25th February '06

Hitchin Town

at Top Field

Southern League Premier Division
(match 32)

vs

Gloucester City

Hitchin Town

2

Scorers: Hayes (34, 76)

Gloucester City

2

Scorers: Miller (9), Whittington (58)
City Side:

Bath, Miller, Stonehouse, Preece, Tomkins, Holland, C.Thompson, Webb, Bevan (Corbett 84), Whittington, Wilkinson.


Subs not used: Harris, Mansell, Rimmer, Randall.
City Bookings: Stonehouse (foul 81)
T-Ender Man of the Match: Chris Thompson; a good energetic midfield performance with some great skill on a difficult pitch.
City might have been content to take a point from this match before kick-off but will be left kicking themselves after being punished for some defensive mix-ups that twice saw City pegged back having gone ahead through Miller and Whittington. There were more signs that this team has the energy and strength to keep Gloucester City in the SLP, but with other results seeing us pushed back int othe bottom four City boss Tim Harris will be a little anxious that his players learn to close down matches having let Hitchin back into a game that could have been put beyond their reach.

Despite the confidence boost of that vital home win over Grantham last weekend that gave us our first win since before Christmas it was best not to expect too much from City on the road. Hitchin struggled last season and pre-season predictions that they'd again be down amongst the relegation strugglers seemed sound enough as they got off to a sluggish start in this campaign. However Hitchin rallied and despite some similar budget limitations as City they've managed to battle their way into comparative mid-table safety and no-one in the City squad would have been expecting an easy day on a boggy pitch at Top Field. Everyone was keeping a warey eye on Hitchin after their amusing 7-0 League Cup drubbing of Ciren midweek but we had a pre-match lift with the news that Canaries skipper and one-man strike force Josh Sozzo was missing. Apparently their top scorer was at a wedding in Italy, and no bad thing after he produced an electric four goal display to help Hitchin to the Errea Cup semis last Tuesday. Our own midweek activity had seen former Team Bath skipper Chris Holland arrive on loan from Bath City to bolster our defensive options and he went straight into the side with Harris reverting to two up front and Chris Thompson reverting to a midfield role.




Bevan bustles his way through the Canaries defence.

City took the lead after Mike Whittington was again on the end of some pretty uncompromising treatment and was compensated with a free kick after a push in the back. City sent the big guns up from defence for the free kick, but as it was they weren't needed. Jonny Miller lined up the dead ball and skimmed it into the box, and he must have been as surprised as anyone as he watched it end up in the Hitchin net from more than 35 yards. He hit it well enough, but this was no screamer and it even seemed to bounce as it some how fooled the bemused Hitchin keeper. Perhaps he expected someone to divert of deflect it, or perhaps he saw it late through a crowd of players, or perhaps he's just not very good. Who cares really - City were ahead.



City were the side with the better attacking ideas and Hitchin were more than a little fortunate to end the first half with their full compliment of players. Whittington seems to be the kind of forward that takes some physical stick, but in fairness to him he doesn't seem to let it put him off. He was game enough as a good ball over the top of the Hitchin defence saw him break free down the left. The keeper raced out to meet the danger and Whittington must have seen him coming, but still had the courage to nudge the ball past him. However, the keeper just kept going and clattered the striker to the ground. Whittington was clutching his head, and the keeper soon got the idea and moments later also held on to his. This left the ref with a tricky judgement to make. Had the players collided as both went for the ball or had the Hitchin keeper taken the attacker out? Needless to say the ref went for the easy option and gave the free kick without the red card that would have followed

The Hitchin equaliser came as a bit of a shock as they'd hardly threatened the City goal in a serious way up to that point. It seemed to be a defensive misunderstanding that cost us dear. A good move down our left saw Stonehouse beaten and a high cross pumped into the City box which Matt Bath or Lyndon Tomkins may feel they should have dealt with, but even when it was brought down Preece was in behind the forward to cover and looked to have time to clear the danger. Instead he seemed to miss that opportunity and former Dunstable striker Thomas Hayes nipped between Preece and the City keeper and slam the ball into the net from close range. It was good opportunsim from the Canaries' forward but we shouldn't have left the ball so invitingly in our goalmouth.

Top: Miller tries his luck again from another free kick but this time Wilmot is watching in the Hitchin goal.
Bottom: Tomkins jumps highest to get on the end of a short Whittington free kick.

City regained the lead after a good spell of pressure, and it came with another show of class from Mike Whittington who produced a goal that unlike the others in the match would have been a fitting winner. The young striker is on loan from Division 2 scum, sorry neighbours, Cheltenham Town, and his form at the moment is such I'm starting to wish the lad would take a slightly lower profile. At this rate he'll either be back at Whaddon Road on the fringe of their first team squad or someone else will come in for him. He's certainly now showing the quality that suggests he could play at a high level and this goal was arguably even better than those against Grantham last weekend. He raced on to a clever through ball from Chris Thompson, but as he latched on to the ball and pulled clear of one defender he was still 40 yards from goal and had plenty to do. Whittington beat two defenders as they tried to close in on him, but as he cut inside he still had time to look up and pick his spot. He was still on the edge of the box when he struck a sweet low drive just inside the keeper's right hand post, just where the only fleeting gap existed. It was a great goal, and he, his team mates and the ravelling fans all knew it. Given that, and perhaps his particular need to show the City fans that he knew it mattered, it would have been a complete childish travesty with his exuberent celebrations and earned him a booking. Fortunately the ref seemed to see sense and put his book away with just the goal noted in it, and quite right too. Whittington hadn't quite got as far as hurdling the fence to join the City fans, and could hardly have been accused of inciting his own supporters.

Top: Whittington sets of for his goal and looks up for that route to goal.
Btm: Stonebridge heads for the wide open spaces as he runs in from the left.

For all the Hitchin pressure and for all the alarm bells that were ringing in our defence you'd still have fancied our chances of carrying on doing just enough at the back to hang on to the points. Unfortunately we managed to lose our concentration and our luck didn't quite hold out. It was hard to see exactly what had happened in our penalty box, but having seen Wilko not put his boot right through a clearance the ball came striaght back into our area. As it fell to ground it seemed as if both Preece and Tomkins simply lost track of exactly where the ball was. It was nudged into the six yard box and again Thomas Hayes showed a good poacher's instinct to crash the ball past Matt Bath from close range. Hitchin could argue they deserved the goal, but to gift wrap a home side two opportunities of the sort we did can only spark some sort of inquest on the coach home.



* On its own merits a point at Hitchin is fine, but with other relegation threatened sides also starting to find form the pressure is on and we now need to convert draws to wins. This point takes our unbeaten run to four matches but with other teams around us picking up oints City are back in the bottom four and back in the relegation spots. Perhaps the most worrying result came at Mangotsfield where our next opponents Northwood came away with a very impressive 3-1 win.
| | | | | | |
| --- | --- | --- | --- | --- | --- |
| Referee: | S. Deerick () | League Position: | 19th (-1) | Attendance: | 338 |
| Conditions: | clear, cold & sunny with brisk wind | City Form: | DWDDLL | Match Report: | by t-towel |
Work commitments mean that we are keen to obtain other match reporters willing to provide details on some City matches. All text can be supplied by email, with no need to worry about web design or formatting. If you are interested please contact the T-Ender.