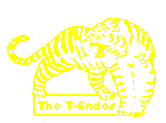 We welcome all contributions to the T-Ender. Please send any material for the site by
email to the address above.

Disclaimer
The views expressed on these pages are not those of Gloucester City A.F.C., its directors or officials, or of any other company mentioned. Neither do they represent the official views of the Gloucester City Supporters' Club or its committee.
While we make every effort to ensure information placed here is accurate we do not accept responsibility for errors that may occour. If you do find a mistake please let us know.

All pictures and material unless otherwise stated are the site's own and is
© www.t-ender.co.uk
All material may be reproduced with permission and appropriately attributed.
Saturday 17th April '06

Gloucester City

at Meadow Park

Southern League Premier Division
(match 40)

vs

Halesowen Town

Gloucester City

1

Scorers: Bevan (70)

Halesowen Town

0

Scorers: -
City Side:

Bath, Miller, McKeever (Randall 84), Preece, Tomkins, Eckhardt, Noakes, Webb, Corbett (Bevan 69), Addis, Wilkinson.


Subs not used: Reid, Pritchett, Varnam.
City Bookings: none
T-Ender Man of the Match: Tom Webb; midfield man was at heart of City's best moves and now showing he can run games at this level.
At last it's official: City are staying up! This was another match where City looked like they would struggle to find the net but Jody Bevan finally found his scoring touch as a super sub, finding the net with his first touch of the game. His sublime flicked header was enough to give City all three points in a match where we had dominated possession but rarely looked as if we could find the killer touch against a lacklustre looking Halesowen team that offered little throughout the game. The result was all important, and the win secures our Southern League Premier future for another season, and will give Tim Harris a strong platform to build for the next campaign. After the remarkable escape he's conjured up at Meadow Park since taking over in late January the fans will believe better times could be approaching.

City entered the match still needing that one point for safety, but for Halesowen there was nothing meaningful to play for apart from the small matters of personal pride and doubtless for some of these players their future at the club. Halesowen did manage a late rally to briefly make hopes of a play-off place flicker back into life, but that died almost as soon as it started and does little to disguise what the Brummies must feel is another disappinting season of under achievement. The Yeltz had won the Christmas fixture at their place on a freezing day, at least the weather was better now and hopefully City's form would be too. However Tim Harris' pleasure at bringing back Mark Preece into defence was tempered by the loss of Chris Holland with a groin strain picked up at Salisbury. Jody Bevan was also dropped to the bench, at least in part to rest another strain, allowing Harris to reshuffle the side into a stronger shape. McKeever moved into midfield and Michael Noakes got his first start of the season with the youth player providing us with a recognised left-back. If we were to seal survival today no one could claim we've done it the easy way after suffering so many freak injuries in the last few months. Halesowen were able to welcome back experienced striker Howard Forinton and must have hoped his return would help solve their chronic lack of goals.

Addis tries to get past Yeltz's Gary Knight.

City had some promising openings though in the opening stages as both Webb and Wilkinson showed some neat touches to make progress down the right wing. Miller had worked himself some space and having been fed the ball he produced a good cross that evaded the defence to fall to Michael Noakes running in from the left. Unfortunately he was still stretching for the ball and the youngster couldn't keep the ball down as it flew wide of the post. The City side seemed to have better balance to it with Noakes on the left and McKeever in midfield where the Irishman could drift into attacking positions on both flanks. At one point he appeared on the left and seemed to mesmerise the Halesowen full-back as he shuffled the ball around his foot.

City looked to have found a way through the defence when Wilkinson picked up on a stray defensive clearance and planted his header through the centre back for Corbett to latch on to, only for the linesman to flag for what could most kindly be described as a marginal decision. At least that gave us another opportunity to enjoy the dead ball kicking of the Halesowen keeper, already lampooned for skin so orange it hinted at diet deficiencies and afflicted by an odd rat tail haircut. The unfortunate Dean Coleman soon sent a distinctly dodgey goal kick all of 30 yards where it was gratefully picked up by Corbett. He slid the ball through to Addis but the poor forward is really looking lost in front of goal and his heavy first touch took him far too wide and his shot ended up in the side netting.

The match did not start with the greatest of promise as both teams sliced early balls out of play. The Meadow Park pitch doesn't seem to be responding well to all of the hours of love and care being lavished on it and you can expect some wholesale groundwork over the summer. It may be testament to our volunteers that the pitch is playable at all after the winter, but having once been a muddy bog it has now turned into a rough shale surface full of surprise bobbles and wobbles. Perhaps the pitch is an easy excuse, but neither side seemed to ever feel secure enough to get the ball down and really play.

It was scrappy frustrating stuff and didn't really seem to have any fluency to it. The ref didn't help with a rather fussy approach that saw his whistle kept close to his mouth, penalising Wilko for what looked to be a great challenge that won the ball cleanly. At least it allowed us all a quick glimpse of what Halesowen had to offer, all be it that it wasn't a great deal. Former Stourport and Redditch winger Alex Cowley has often had a good game against us and he looked a threat again today, at one point managing to shake off Noakes and cut the ball back into the penalty area. For a moment it looked as if the Brummies would score, but fortunately their Chris Smith did what ours would have been hoping he'd do, and promptly skied his chance into the car park.

While there wasn't really enough from either side to quite say we were controlling the game we were certainly enjoying far more of the ball. What we weren't managing to do though was really find that final pass to unlock the Halesowen defence. For a brief moment it looked as it Corbett had a glimpse of goal but he chose instead to try and continue to try and beat the defender. When the ball broke down the right Miller found the increasingly impressive Mark Preece pushing forward and his overlapping run ended with a fine cross that the defence only half cleared. The ball finally fell to Webb but having reached the ball he screwed his shot wide of the post.




City and the Yeltz in fierce contest in an often busy midfield.

Like at Salisbury you started to feel our best chance would come if we were awarded a penalty, and like Saturday we should have been given one. City got a free kick on the right for a trip on McKeever and Miller's cross was well won by Corbett. He planted his header down into the box where Mark Preece looked like reaching it until it was handled by the Halesowen defender. Half the T-End screamed for the penalty but both the ref and half the players were unsighted by the player's body, and of course only a hopeless fool would expect the linesman to help out his ref.

Top: Yeltz's Karl Johnson hides his embarssment as he gets done by Addis.
Btm: McKeever tries to latch on to Millers ball forward.

With just over 20 minutes left Tim Harris decided his side needed livening up and Jody Bevan took to the pitch. Given that he'd yet to score from open play since joining from Cinderford Town in February this didn't exactly seem a move set to change the game, but it did and did almost immediately. The move started with Addis showing some much welcomed spark and getting over a good cross from the right, but his ball was ahead of his team mates. Both Webb and Noakes did well to keep the ball alive on the left wing and Noakes played a good lofted ball down the wing to McKeever. He jinked to create room and sent in a firmly hit cross. From nowhere up popped super sub Jody Bevan who stole across his marker at the near post. He got just a touch on the cross, delicately flicking it over the keeper and beyond the post into the net from a narrow angle. Jody has yet to really hit his best form at City but has never stopped putting himself about, and at last he had his reward. With his first touch he'd grabbed the goal that was to take us through the finishing tape in the relegation race.



*

SLP Table; Southern League website.
Travelling Lorry Count - 4
| | | | | | |
| --- | --- | --- | --- | --- | --- |
| Referee: | L.Sinclair (Newcastle-under-Lyme) | League Position: | 13th (+2) | Attendance: | 471 |
| Conditions: | sunny spells and dry | City Form: | WLWDWW | Match Report: | by t-towel |
Work commitments mean that we are keen to obtain other match reporters willing to provide details on some City matches. All text can be supplied by email, with no need to worry about web design or formatting. If you are interested please contact the T-Ender.