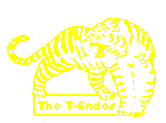 We welcome all contributions to the T-Ender. Please send any material for the site by
email to the address above.

Disclaimer
The views expressed on these pages are not those of Gloucester City A.F.C., its directors or officials, or of any other company mentioned. Neither do they represent the official views of the Gloucester City Supporters' Club or its committee.
While we make every effort to ensure information placed here is accurate we do not accept responsibility for errors that may occour. If you do find a mistake please let us know.

All pictures and material unless otherwise stated are the site's own and is
© www.t-ender.co.uk
All material may be reproduced with permission and appropriately attributed.
Saturday 18th February '06

Gloucester City

at Meadow Park

Southern League Premier Division
(match 31)

vs

Grantham Town

Gloucester City

4

Scorers: Bevan (31 pen), Whittington (45,80), Wilkinson (78)

Grantham Town

1

Scorers: Turner (23)
City Side:

Bath, Miller, Stonehouse (Randall 84), Preece, Tomkins, Addis (Harris 29), C.Thompson, Webb, Bevan, Whittington, Wilkinson.


Subs not used: Rimmer, Reid, Ferro.
City Bookings: Miller (trip 36), Tomkins (foul 72), Stonehouse (dissent 82)
T-Ender Man of the Match: Mark Whittington; hard to argue with two quality finishes and getting a keeper red carded. Match winning.
At long last Tim Harris and the new look City team had a win to celebrate. Count off what this result meant. A first win under Tim Harris. A first win of 2006. A first win after eight games. And perhaps more important than any of that, City out of the bottom four, by goal difference. This relegation scrap looks so tight it could easily go right to the last Saturday - we needed to win this match and you could see that the players and the fans knew it equally as well. It could all have been so different and this match looked as if it would be close until Grantham keeper Mario Ziccardi paid the full price for a bit of petulent behaviour. In the end it was his stupidity that decided this game as much as some fantastic finishing and a much improved City performance.

Harris has had few opportunities to really make team selections so far as injuries have taken their toll on a City squad that may be feeling the strain of training sessions that are a little more full on than they've been used to. Today the loss of Luke Corbett and return of Lyndon Tomkins gave the new boss a few choices and he went for a bold line-up that was a clear statement of intent. Tomkins came in for Jorge Ferro who dropped to the bench, while Addis came in for Corbett as City lined up with three forwards in an attacking side. Grantham inadvertently gave City a bit of a lift as they dropped forward Michael Sneddon to the bench after he'd proved the match winner when the teams last met in Grantham a few weeks ago.


Top - Preece and Tomkins go for an early City corner
Middle - Silly Boy. Grantham's keeper punts the ball away as City celebrate.
Bottom - Whittington hooks the ball as Matthews scampers to his goal line.

In that last match City had ended up 2-1 losers after Grantham had literally out-muscled a rather fragile and brittle looking Gloucester side. It looked as if the same could easily happen at Meadow Park as the first few City attacks saw Grantham's large solid defenders put in some thumping headers and clearances that gave us a little to think about. More encouragingly though the visitors were not getting their own way further up the field either and were struggling to make any impact on our goal.

Despite City looking marginally the more likely side to score it was Grantham who opened the scoring after Matt Bath spilled a high ball. The high cross hadn't looked too threatening when Matty came for it as it was hung up near the penalty spot. It looked a whole lot worse though as he seemed to get tangled up with both Lyndon Tomkins and Grantham striker Jason Turner. As Bath spilt the ball Turner reacted first and seemed to initially scuff the ball goalwards where Matt Preece just managed to prod it away, but only back to Turner who this time crashed it into the net. After having enjoyed slightly the better of a fairly scrappy match City were now in the all to familiar position of being up against it.

There was no need for panic though, Grantham were more than capable of contributing to there own downfall with a string of niggly trips and pushes that gave us a steady supply of free kicks. The Grantham defence was more than capable of dealing with anything in the air, but on the ground the pace of Adie Harris and Tom Webb was upsetting them. City won another corner and this time the Grantham skipper Grant Brown met his match with City's own man mountain as Lyndon Tomkins came up for the corner. Sometimes when you see Lyndon challenge for a cross you can't understand how he doesn't get more goals from set pieces. As he hurtled towards a good Jonny Miller cross Brown had seen enough and decided desperate measures were called for, hauling Tomkins away and bringing him crashing to the ground. At least this ref seemed to be willing to look into the penalty area as the corner came across, and he had no hesitation in pointing to the penalty spot. It was a foul in the area, but the initial confusion from both sides tells you much about how often those get given in the Southern League.

What followed was then a shameless bit of gamesmanship as Grantham tried to unsettle Jody Bevan, who had picked up the ball and planted it on the spot. For most City fans the guts were already churning, for Bevan, looking for his first City goal since joining from Cinderford this was hardly what he needed. First the Gingerbreads keeper wandered around and tried to re-spot the ball, then Fabien Smith was caught trying to shove Whittington into the penalty area as they jostled on the edge of the box. None of that seemed to actually get through to Jody though. His penalty was sweetly struck and high into the corner. City were level and back in the match, sparking much relief from the Tigers fans behind the goal. The Grantham keeper had been biting to a bit of baiting from the home fans already, and he promptly picked the ball out of his net and kicked it out of the ground. Ooops - big mistake. He was promptly booked for time wasting, much to the hilarity of the home fans. More fun was to come.

Had the idiot keeper Ziccardi not already been booked what happened next would not have changed the game, but he had been and it did. Whittington was proving a handful with some smart turns and he escaped from the cumbersome Brown as he turned deftly on to a low ball from Chris Thompson. The forward was spinning to face goal and seeing the keeper rushing out of his goal decided to knock it wide to try and get round him. The keeper was already committed and seeing his target wriggling away he promptly clipped his ankles. The youngster could have stayed on his feet, but whilst he might be young he ain't stupid. Having been fouled he fell to earth and left the keeper in deep, deep trouble. It was a stupid challenge, but out of the area with several defenders behind him. He wasn't the last man so would not have earned a straight red card, but having already been booked for kicking the ball away his second yellow was followed by a red. How the City fans laughed, and how the Grantham players fumed. The keeper was loudly being hailed as an "imbecile" by his coaching staff, and if I was the Grantham boss I'd have told him he could use the extra time he now had to begin walking all the way home to Lincolnshire. Of course City promptly wasted the free kick, but the away side were down to ten men and with no keeper cover on the bench their defender Martin Matthews took on the gloves.

When City were able to take advantage there was little any keeper could have done to stop it. The move came down the right with some good movement from Chris Thompson and Miller helping nudge the ball through to Tom Webb down the right wing. For all his class and hard running sometimes Webb is accused of lacking the final product and wanting to take too many touches. On this occasion he was direct and dangerous. He took a touch, pushed past the full-back and whipped over a cross into the box that was pure venom. It begged for a quality finish and that was exactly what it got from Michael Whittington. The youngster got across his defender on the six yard box, brought the ball down on his chest before twisting to slam in a fantastic volley past the stranded keeper. With the half-time whistle just seconds away any Granthma hopes of packing the defence to hold on for a point were finished and Lee Glover faced a tricky team talk in the away dressing room.

Bevan first goes close with this header (top) and then gets his first City goal with this equalising spot kick (bottom).

Just when City looked as if they might let Grantham back into the game the extra volume and support of the anxious T-End seemed to rouse the players. All of those chances that had been spurned didn't matter a jot once the ball was back in the Grantham net and when the crucial goal finally arrived it didn't matter if it was hardly pure art. Adie Harris still has the pace and verve of a player half his age and he simply left two defenders trailing as he latched on to Paul Stonehouse's ball down the left wing. Adie spotted a gap in the stretched Grantham defence and put his cross behind the stretching defenders. Wilkinson still had plenty to do as he arrived at the far post, and it looked as if the chance would be swallowed up as Wilko improvised to bring the ball down with his midriff. As the defenders closed on him it looked as if he'd be crowded out. Wilko kept his head and barged and bustled his way to find half a yard and was then able to emphatically smash the ball into the roof of the net from close range. At 3-1 the victory looked safe. The T-End had been building the atmosphere and now there was as much bedlam as a few hundred people can enjoy. It's incredible what a bit of hope can bring and this was more like the good times, only with fewer people.

Top - Grantham captain Grant Brown was a pain all afternoon.
Bottom - Whittington seeks his fortune as Brown back pedals.

With the match over it was to the very great credit of the Grantham players they still tried to come straight back at the City defence. Having looked a little anxious and lacking in confidence before the Wilko goal the defence now looked a lot more sure of itself. The Grantham attack found Tomkins not afriad to put in a vital block and Thompson prodded the ball back out into midfield. There's no better player to take advantage of the gaps created by Gratham's exposed and depleted defence than Adie Harris, so it was to their misfortune that the veteran winger picked up the loose ball and found time to assess his options. His neat pass found a slicing run from Whittington that suddenly found the loan forward racing clear of two defenders with just the keeper and yards of empty pitch to contend with. The young player didn't panic and finished in style. The keeper may not have been a regular, but there was something very convincing about the way Whittington looked one way, gave a little shuffle, and then confidently chipped the ball over the advancing keeper to find the net from 25 yards. For City fans starved of anything much this kind of finishing and this kind of scoreline was heady stuff. It was good to see the striker seeming to enjoy it so much and celebrate for the T-End to share his moment with the fans. There are always doubts about the commitment of any loan player to the cause, never mind if they hail from the wrong side of the Golden Valley. We plainly have nothing to fear here. It was nice to see Tim Harris getting into the action too, gambling down the touchline to congratulate his players much like an excited ball of waving arms and legs.

This was at last some tangible evidence of a renewed optimsim that Tim Harris' arrival has brought to Meadow Park. We mustn't kid ourselves that the relegation battle will be easy or that this victory provides a quick fix. The keeper's dismissal changed a tight match and swung the balance in our favour, but even before that point we were at least competing with a tough Grantham side. A few goals and a few good touches will have done a lot for many of our players, and suddenly eight games without a win now looks a lot better as three games without defeat. More than anything it was good to see some smiles back on the faces of City fans and players, and the mutual love in at the final whistle suggests little of that team spirit we had under Chris Burns has actually gone. Tim Harris is a brave man whose decision to come to City in these circumstances deserves some reward, at least his delighted waving punching of the air as the T-End sang his name may suggest he wil at least enjoy the rest of this weekend.

* Our first win since before Christ mas sees us move back out of the bottom four and reach 18th spot in the table, all be it only on goal difference from Northwood. The side that had once been bottom fought back for a remarkable point against league leaders Salisbury City who must have thought they had taken the points when Tommy Widdrington restored their lead with just 3 minutes left, only for Northwood's Shayne Demetrious to nick a last minute equaliser and make it 2-2. The two struggling sides who have recently sacked their managers enjoyed mixed fortunes. Evesham's new boss Paul West will be delighted with 1-1 at promotion chasing Bedford courtesy of another last minute leveller from Adam Blake, the player who left Mustoe in plaster a few weeks ago. Chesham's new manager is former Watford and Milan striker Luther Blissett and he will have no doubts of the size of his rebuilding task after Chesham slumped to a 3-0 defeat at Chippenham where former City forward Matt Rawlins got a brace. Aylesbury also sneaked a point with a 1-1 draw at home to Rugby Town that took the Ducks off the bottom, but Cirencester are still in trouble after squandering a half-time lead to lose 2-1 at home to in-form Bath City. The other in-form team are Cheshunt who have now won 5 of their last 6 to open up a small gap between them and the relegation scrap after a highyl credible 1-0 win over Tiverton.

SLP Table; Southern League website.
| | | | | | |
| --- | --- | --- | --- | --- | --- |
| Referee: | David Hine (Worcester) | League Position: | 18th (+2) | Attendance: | 339 |
| Conditions: | misty and overcast | City Form: | WDDLLL | Match Report: | by t-towel |
Work commitments mean that we are keen to obtain other match reporters willing to provide details on some City matches. All text can be supplied by email, with no need to worry about web design or formatting. If you are interested please contact the T-Ender.