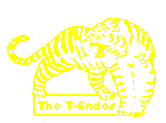 We welcome all contributions to the T-Ender. Please send any material for the site by
email to the address above.

Disclaimer
The views expressed on these pages are not those of Gloucester City A.F.C., its directors or officials, or of any other company mentioned. Neither do they represent the official views of the Gloucester City Supporters' Club or its committee.
While we make every effort to ensure information placed here is accurate we do not accept responsibility for errors that may occour. If you do find a mistake please let us know.

All pictures and material unless otherwise stated are the site's own and is
© www.t-ender.co.uk
All material may be reproduced with permission and appropriately attributed.
Saturday 14th October '05

Cirencester Town

at Corinium Stadium

FA Trophy
1st Qualifying Round

vs

Gloucester City

Cirencester Town

2

Scorers: Halliday (26), Cowe (58)

Gloucester City

0

Scorers: -
City Side:

Bath, C.Thompson (Reid 78), Mansell (Varnam 65), Griffiths, Tomkins, Wilkinson, Mustoe, Webb, Addis, Kear (Harris 65), Davis.


Subs not used: M.Thompson, Randall.
City Bookings: none
T-Ender Man of the Match: Dave Wilkinson; continued to tackle and block long after the rest had let their head's drop.
City will be wringing their hands over a series of early missed chances that allowed an uninspiring Cirencester side to eventually run out comfortable winners of this Trophy derby match. Defeat leaves City already out of the two main revenue generating knock-out competitions and with a hole in the budget that could well only be filled by chucking in a couple of players. On this latest dismal and wet showing from his team Burns has plenty more choices of who to chuck out than of who to put in his starting eleven.

It hasn't been the best start to the season but there were reasons why we entered the Trophy tie with something almost approaching optimism, or at least an expectation this might not be a complete fiasco. The fact it was Cirencester caused some hope that the players might manage to find some extra steel and vigour to their play; they seem to dislike our 'new money' upstarts even more than we do on the terraces. Our recent form of a win and a draw is about as good as we've managed recently and the return of Chris Thompson from injury left Burns himself as the only real absentee. The recent league match may have ended in defeat (again) but only cos we woz robbed by the referee (again) and we had hardly been outclassed by an outstandingly ordinary Cirencester team. Even the hazy autumn sun was shining on the Concretium Stadium - a definite improvement on New Year's freezing downpour when we all realised just how little cover there is at the new Ciren ground. Things were certainly looking up.


Wilko gets his back into the popular Halliday

This kind of feel good optimism is reckless if not downright stupid in a City fan and rarely survives the first few moments of actual action. This time though, there seemed little reason to be worried in the opening stages of the game. While City were struggling to string together too many passes we were enjoying the bulk of possession and the only thing really getting in our way was our own limitations rather than anything much being thrown at us by Cirencester. Mustoe had retained the defensive position he performed so well in at Evesham and even on the few occasions Ciren got forward they were quickly under control. Webb was dominating the centre of the midfield with Wilko breaking up play when we lost the ball, which was unfortunately far to frequently. For all that we looked vaguely in control, we were still struggling to really create much in the way of chances. Ciren's Darren Robison was a particular obstacle, even when the front two made a good run.

The first real chance came when Webb and Thompson found space on the right and the cross was worked over to the opposite wing where Mansell threatened to find some space. With enough time to pick his spot the effort was a disappointing low drive that went the wrong side of the post. If that was distressingly frustrating then worse was to come. A good spell of City pressure resulted in Mansell and Davis finding some space down the left and a decent cross towards the back post. For once Ciren found themselves a man short at the back and Chris Thompson could run in from the right to head goalward unchallenged. Some how he contrived to put the ball wide with the gaping goal at his mercy.


We're not a team that can afford not to manage to capitalise on our chances and you had a horrible sinking feeling when not even getting in an effort on goal proved enough. Addis did well to win a corner and the resulting cross soared over everyone to find Lyndon Tomkins running in from the edge of the area. His powerful header looked like it was destined for the far corner of the net but Ciren's keeper Steve Book managed to hurl himself upwards and get enough onto the ball to tip it over. More cursing and hand wringing followed, and there was worse to come.

Having soaked up the pressure Ciren then hit us with a real sucker punch. The danger seemed to have been cleared when Tomkins and Wilkinson closed down space on the right and forced the ever popular Halliday back up the wing. The winger managed to stay on his feet this time, and pushed the ball back up field to Jackson. The defence then stood off and allowed a dangerous ball to be propped up towards our back post, and with Griff forced to back peddle we lost out under the high ball and the header back across the goal mouth was bundled in from close range. It was a soft goal against the run of play, but one that in an odd way you knew was coming. Much in the same way you know your numbers aren't going to come up in the lottery.

Top: Lyndon Tomkins goes up and over at a City corner.
Bottom: Webb whips a cross towards the far post where it all goes wrong - again.

City should have seen this as a trigger to get the game by the scruff of the neck. Didn't it make the players angry, the sheer injustice of it all? We were behind in a game we should be winning. The answer is of course we don't know, because this lot don't exhibit much in the way of emotion. We prodded away a little more, but the goal increased the confidence of the home team and did little to galvanise us. We didn't even seem too exercised by a needless nasty late challenge by old boy Lee Smith. He'd had a quiet game and Griff and Mansell had kept a watchful eye on him, limiting his influence to one run for most of the first half. Frustrated he dived in on Davis, clipping him as he went past and sending him spinning into the air. It was a bad tackle and one that deserved the booking he received, especially as it was so far from any possible threat to the Ciren goal. The result was nothing. I get bored of our players shouting at the ref all the time and swinging their handbags at the opposition, but there is something terribly neutered about our current attitude. That challenge should have brought about some angry reactions, a few more determined tackles, an extra sense of determination to get forward and hit the opposition in the back of the net where it hurts most. We kind of shrugged and got on with prodding the ball about in a kind of disconsolate fashion.

If the first half performance had started to drop off then worse was to come in the second half. We managed an early attack that saw Wilkinson almost get his head to a long searching ball from Webb in midfield, but after that we found ourselves under increasing pressure as Cirencester did their best to show that they deserved their lead. After their pretty dire first half they managed to find a higher gear and finally started zipping the ball around a bit. Even just this extra bit of rhythm to their game was enough to blow us apart and you could see us visibly fold in the face of it. We survived a string of scares in the early part of the second half and had Cirencester's shooting been a little more efficient the score line could have become embarrassing. Cowe sent a screaming volley wide whilst Lee Smith scuffed a shot wide as Matt Bath rushed out at him. It could have been funny, but there wasn't much for City fans to enjoy here. Matt Bath then produced a fine diving save to turn a Halliday drive around the post.

Top: Webb escapes for a while in the midfield.
Bottom: City's bench hang their heads. Who said this was fun?

When it came the second goal was hardly a surprise. It stemmed down the right with Chris Thompson beaten by Fraser's run from defence and his low cross caused chaos in our penalty area. We did well to manage to keep the ball off the line when the first shot came in and Mustoe hacked Smith's follow up effort away before Wilko had another go at clearing our lines. Somehow we rarely seem able to actually get rid of danger, and again the clearance only found it's way to the edge of the box where it fell invitingly to the dangerous Steve Cowe. His venomous drive flew through a crowd of players and with Matt Bath unsighted it whistled straight into the net. Cue squeaky celebrations from the Cirencester schoolkids, grumbled curses from the City faithful.

We did our best to galvanise some kind of response but we look incapable of stepping things up when we need to do. We only have two gears, and one of them is reverse. We did at least manage to press forward, but chances were hard to come by as the Cirencester defence remained resolute. At times you felt they were toying with us and enjoying the chance to drill their defence in an extended training exercise. It was painful to watch. In fact Ciren went closer to extending their lead when Halliday's long punt up field found our defence admiring their boot laces and left Cowe to race free and crash another fierce shot onto our cross bar.

Burns tried to shake things up; off went the disappointing Chris Thompson and Richard Mansell on the flanks, along with the ineffective and largely invisible Richard Kear. They were replaced by Jamie Reid and Adie Harris who at least showed plenty of vim and vigour. Adie immediately skinned Lee Smith much to everyone's amusement, but having got free down the left there was no-one to aim for in the box. A few moments later Adie had another great run and having cut in from the left at speed he went wide round Book and shot for goal only to find Ciren's Craig Fullam on the line to clear the danger at full stretch. Naturally, we had no one near the ball to capitalise on the loose ball. Our forward movement at the moment is appalling and the arrival of Andy Varnam added little to our attacking presence. Varnam seems a very honest player who works hard and can hold the ball up well, but today he looked as likely to score as a eunuch. Poor Darryl Addis needs a holiday, and we need to find someone with a hunger to find the net before the side loses the will to even try and get the ball up field.



This was another hugely underwhelming City performance after a first period of the match where we could and should have taken a decisive lead and finished off Cirencester. Having not taken our chances and gone behind we then seemed to slowly fold. Burns' problems are twofold. The first is to find a consistent goalscorer, easier said than done, especially at a time when the budget will surely be shrinking having now lost our last remaining chance of adding some meaningful FA prize money to our meager budget. The second is perhaps even more challenging. Despite all the experience on the pitch we are lacking leadership and courage, and God alone knows how you inject that into a side. With the match still having half an hour to run a two goal deficit against Cirencester is hardly reason to give up. But we surrendered, rolled over, gave up. It's not really good enough, and no budget restrictions or perceived lack of ability is ever an excuse for what basically amounted to cowardice in the face of the enemy. Our players need an injection of belief, or failing that a rocket up the backside. Burns has a week and a half to make sure the message gets home before we face Mangotsfield.

* This season's Trophy draw seems to have paired together a lot of SLP opponents. Hitchin overcame Team Bath in another all SLP encounter while Tiverton must replay at Mangotsfield after a goalless draw at the Ladysmead. King's Lynn exited the competition in front of 1,720 people at Wimbledon. Several SLP sides went out to lower division opponents: Chesham losing 2-1 at Sutton Coldfield, Cheshunt losing 1-0 at Tonbridge Angels, Evesham losing 2-0 at home to Solihull Borough, Rugby losing to Leighton Town, Yate losing at Burnham and perhaps the biggest shock seeing Merthyr Tydfil crash out 3-0 at home to Rushall Olympic. Salisbury City were also taken to a replay by Paulton Rovers, while Halesowen must replay after a draw with Willenhall, Bath City needing a last minute equaliser at Dunstable, Banbury held at Brackley and Cinderford were only denied a shock win by a late Chippenham equaliser.
| | | | | | |
| --- | --- | --- | --- | --- | --- |
| Referee: | M Weaver (West Midlands) | League Position: | n/a | Attendance: | 322 |
| Conditions: | hazy sunshine | City Form: | LDWLLL | Match Report: | by t-towel |
Work commitments mean that we are keen to obtain other match reporters willing to provide details on some City matches. All text can be supplied by email, with no need to worry about web design or formatting. If you are interested please contact the T-Ender.