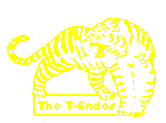 We welcome all contributions to the T-Ender. Please send any material for the site by
email to the address above.

Disclaimer
The views expressed on these pages are not those of Gloucester City A.F.C., its directors or officials, or of any other company mentioned. Neither do they represent the official views of the Gloucester City Supporters' Club or its committee.
While we make every effort to ensure information placed here is accurate we do not accept responsibility for errors that may occour. If you do find a mistake please let us know.

All pictures and material unless otherwise stated are the site's own and is
© www.t-ender.co.uk
All material may be reproduced with permission and appropriately attributed.
Tuesday 16th August '05

Chippenham Town

at Hardenhuish Road

Southern League Premier Division
(match 2)

vs

Gloucester City

Chippenham Town

3

Scorers: Constable (19), G.Thorne (41), M.Thompson og (44)

Gloucester City

0

Scorers: -
City Side:
Bath, Reid (Rimmer, 78), Mansell, Griffiths, M.Thompson, C.Thompson, Mustoe, Webb, Addis (Harris 55), Kear (Lewis 55), Davis.
Subs not used: Randall.
City Bookings: Mustoe (off ball kick)
T-Ender Man of the Match: Daryl Addis: On a difficult day for City's strikers he looked sharp and lively again after a disappointing end to last season.
This was always going to be a tricky match for City and only the most hopeful punter would have backed us to escape with a win against one of the promotion favourites. The bookies rarely call things wrong too often and we were at 3-1 for this, pretty generous for our level of football where none of the odds compilers feel confident enough to really chance their arm. Sadly, they weren't wrong either - Chippenham looked a strong well organised side with plenty of pace and muscle. Even at full strength we'd be lucky to turn them over and we looked a little off the pace throughout most of the match.

As it was City were far from full strength, with the defence especially vulnerable. With Burns suspended we could have done without Tomkins once again reporting crocked with another groin strain, and Marvin Thompson is showing commendable guts soldiering on with a hamstring injury. It seems young Dan Avery is out of favour or out of the picture for the time being so the defence involved keeping a few fingers crossed and hoping the Thompson twins and Griff could work miracles. They were always going to have their work cut out against what is now one of the most formidable proven strike forces at SLP level. A change of manager has done little to blunt the power of Dave Gilroy and Jamie Constable, with Sam Allison on the wing and the promise of Josh Jeffries in reserve on the bench. It was one of those matches that you went in to hoping for the best but not really daring to hope - but then remember that win at Histon last season...!

At least Hardenhuish is always an interesting place to go and watch football and gives you the sense of actually being at a football club rather than a Sunday pitch with a fence around it. We were also impressed by the officious announcements about not standing in the "yellow marked areas" because of health and safety pedantry. I'm sure our own officials would have listened in helpless admiration at the tannoy announcements but when you look at the ground that isn't yellow hatching in proper safety paint - that's a child's hopscotch grid in yellow chalk. I'm sorry - piss poor, someone call a white coated safety pedant right now I'm in danger!

All of this was far more entertaining than watching our brave boys keep the blue hordes at bay on the pitch. As the sun began to redden and drop our players were also going funny shades trying to keep up with the home side. Allison's pace was an immediate concern and he zipped past Marvin Thompson and Richard Mansell with concerning ease. Fortunately when he did it again a minute later Dave Gilroy planted his header clear of the bar.

It's a shot on goal, but it's a good bit wide.

City were not about to wave the white flag though and up front Davis and Addis were both trying their best to pull the Bluebirds' defence out of shape. Addis did well to hold up the ball and wait for help, but when it did Webb's cross was wasteful and not good enough to beat the familiar stocky figure of Gary Thorne marshalling the Chippenham back line.

One foray forward does not an even match make and while we were managing the odd attack we were clearly under the cosh almost from the first kick. There were signs of some spirited defending and Chris Thompson lifted the spirits with a wonderfully timed sliding tackle to rob Dave Gilroy as he looked to shoot. That showed we can defend, but being in the right place all the time for a whole 90 minutes is a tricky task under this kind of pressure. Matt Bath may be the club's top goalscorer, but his King's Lynn opening day celebrations were spoilt by knowing he was culpable for their equaliser. He showed no nerves here though, forced to make a smart stop and recover quickly to gather up a close range header after Chippenham had again got behind the City full-backs.


We had our own moments on the counter attack though, and Mustoe was enjoying a hell of a keenly contested tussle in midfield with Iain Harvey, a recent arrival at Hardenhuish from Tiverton. We were doing alright in the middle of the park, but just seemed to frustratingly lack that final punching power to get us through the defence. Addis did well again, holding on to a Mustoe pass and feeding Mansell as he got forward but his control let him down as he tried to bring the ball down on his chest and the opening closed as fleetingly as it had appeared. City were moving the ball well and Mustoe and webb exchanged several passes with Davis involved as we kept possession looking for an opening. This was impressive until Webb lost concentration and gave the ball to Allison of all people. The winger looked to be away, although Webb did well to get back and cause him enough problems that he ran the ball out of play.

Just at the point where you began to think we could frustrate the home team the goal came when Jamie Constable suddenly slipped Chris Thompson to pick up on a half clearance by Reid, and he rifled in a clinical finish from the edge of the box. That kind of finishing is exactly what we need to find and unsurprisingly the goal galvanised Chippenham whilst our hopes were already ebbing. bath kept the match alive with a smart save low by his near post, and again also did well to get to the loose ball first. City also went further behind as Ross Adams glanced a header across the face of the goal that fortunately managed to escape everyone.

After resisting the temptation to collapse like an Aussie bowling attack (C'mon!) we even managed a few more efforts of our own. Mustoe looks fitter and hungrier than at the end of last season and he motored clear of the midfield pack with players breaking on either side of him. This was more like it, and things still looked good as Mustoe picked out a Mansell run inside the right-back. He closed in on the Chippenham penalty area and produced a low drive, but it lacked enough about it to trouble Steve Perrin in the Chippenham goal.

City were even looking the more dangerous team for a few minutes, and could have scored as we benefited from some dubious officiating by getting a corner that plainly should have been a goal kick. When you're Gloucester City it doesn't do to throw away the few bits of fortune that come our way so we tried our best to take advantage. Unfortunately we lack the aerial strength to trouble teams at the moment, but we managed to keep the ball well with Mustoe again a central figure. The two Thorne brothers were difficult to get past, but even Gary looked a little flustered as young Jamie Reid stole in at the far post to meet a deep Mansell cross. His header seemed to slap him on the side of the head though and didn't quite reach Lee Davis as he tried to find space in the six yard box.






Top: City pump a hopeful corner into the box.
Btm Left: Addis twists and turns to good effect.
Btm Right: Reid contemplates the meaning of loneliness.


The game then threatened to flair up as players piled in from both sides to confront each other. It all seemed a total over reaction to a Webb challenge on the half-way line that was certainly clumsy but hardly vicious or especially late. It was enough to over excite the famously short-fused Iain Harvey who charged in to Webb with his elbow looking suspiciously high. That was more than enough for our own pocket head case and in came Mustoe, not even waiting to reach the melee proper before kicking out at a passing opponent. Steve 'big boy' Perrin then got his own one piece of exercise of the evening as he raced from his goal mouth to join in the scrap. After a suitable exchange of pushing and handbag waving the players backed off and waited for the ref to do his worst. Had the ref done as they're meant then there would have been a veritable flurry of yellow cards on both sides and Mustoe would have been on his way to the changing rooms, perhaps joined by Harvey. As it was the ref can hardly have seen much at all, Mustoe the only player held to account and him only booked. This is our best player, our midfield engine and one of the most experienced players in the SLP - for God's sake get a grip now! We don't have a side that can readily afford to be without him.

While we were still breathing deep sighs of relief and sorting a whip round for the ref Chippenham exacted far better revenge. It seemed to come out of nowhere as Chippenham tossed in a massive long throw that seemed to catch our defence by surprise and Gary Thorne stole in to thump a header into the net. At two down we were in real trouble and our shell shocked defence then conceded a real sickener to finish the match before the break. Chris Thompson looked to have plenty of time to tidy up an aimless attack but his clearance was then charged down by Gilroy who saw his effort deflected off Marvin Thompson and past a wrong footed Matt Bath for their third. The whistle couldn't come quick enough.

At least half-time allowed a chance for Burns to settle his troops back down and the second half saw a much more disciplined performance from the City defence, although in fairness Chippenham had probably decided to save their exertions for another day. The second half was largely scrappy with nowhere near as much meaningful action, both midfields canceling each other out and neither side seeming to risk much by committing too many players out wide. Burns didn't take too long to decide to go for broke and try and inject some pace into a tidy but uninspiring attack. The largely anonymous Richard Kear and unfortunate Lee Davis made way for diminutive speed merchants Adie Harris and Lance Lewis. We hoped for sparks, and at least we did now have something to keep the Chippenham defence on their toes.

The new arrivals created extra space for others in the middle and Webb could have benefited when he popped up just outside the box to crack a shot goalward, but from being well set his effort was wild and wayward. The Bluebirds were finding our own defence a little more determined this half, Marvin Thompson making an important header and Chris Thompson winning a great tackle, before losing it and then winning it back in a bizarre exchange down the right. The mood had calmed from the first half but came to the boil again briefly when Sam Allison blotted an impressive performance by trying to help out his defence. His clumsy chop at Mansell fully merited the yellow card. The free kick was wasted, but did also give keeper Steve Perrin opportunity to endear himself to the City fans with a volley of abuse. He's another player who should know better, and it spoilt the banter that had been exchanged in the first half.

And at least we'll always have the sunset to remember...


The rest of the match provided little real excitement with Chippenham happy to see out the last 15 minutes without further incident, The most dangerous moment being well dealt with by a firm Matt Bath punch clear. City could easily have grabbed a consolation goal as Lance Lewis carried a real threat, even though his control let him down a little. One run was ended but the loose ball was pushed into the path of Mustoe and he was a little unlucky not to get something when he was tugged off balance as he shot. A free kick did come our way when Webb was fouled, but City tried a bizarre routine involving all sorts of dummies and curving runs. Chippenham were as confused as the City players seemed to be, but after much pretence the final shot from Addis still crashed into the wall.

Allison must be a player with a death wish as he risked life and limb in scything down Mustoe as he picked up an Adie Harris ball down the left. The player was lucky not to pick up a second booking for that and his manager had seen enough and took him off before he was either sent off or carried off. You certainly don't want Mustoe after you. The dead ball didn't do much but Mustoe's energy is impressive and in the last few minutes he got forward as much as he had in the whole of the previous season. His exchange of passes around the edge of the box with Webb and Mansell would break down a weaker defence than Chippenham's, while a few moments later a good bit of play by Addis saw Mustoe charge in to the box and make Perrin scramble across his goalmouth.

It was all a bit too late for any real hope and the final whistle probably came as a relief to all concerned. Chippenham will be delighted with a comfortable win and look like promotion contenders again. With Steve White gone the side seems more willing to play proper football rather than simply bully their way to the points. For City two defeats isn't the ideal start to the season, but the matches against King's Lynn and Chippenham were never going to prove easy and any points would have been a bonus. However we must improve to take points on Saturday when we visit Cheshunt, we need to beat sides likely to struggle to keep ourselves out of trouble. The new players will take time to settle, and there are positives to take from the match - Mustoe and Addis both look much sharper than last season. Burns will still worry where the goals are coming from though, and be angry with his defence for surrendering sloppy goals. The squad is still short of a commanding centre-back to partner Griff, but with money tight that will have to wait.

* Elsewhere in the division the two big games of the evening saw some surprising results. Bath City took on Tiverton in a west country derby against tow of the pre-season title favourites. Bath made the most of home advantage to win the battle of the big-spenders, a solitary strike from talented young midfielder Andy Sandell on his home debut was enough to settle the game. The other game between two sides expected to challenge for promotion saw Cirencester underline their credentials with a 2-1 win over Halesowen, the Cotswold side coming back after going behind to a third minute goal. City's second defeat leaves us down in 20th spot, but there's plenty of time left yet.
| | | | | | |
| --- | --- | --- | --- | --- | --- |
| Referee: | A.Newall (Yate) | League Position: | 20th (-7) | Attendance: | 605 |
| Conditions: | warm sunshine | City Form: | LL/DWLL | Match Report: | by t-towel |
Work commitments mean that we are keen to obtain other match reporters willing to provide details on some City matches. All text can be supplied by email, with no need to worry about web design or formatting. If you are interested please contact the T-Ender.