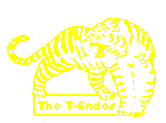 We welcome all contributions to the T-Ender. Please send any material for the site by
email to the address above.

Disclaimer
The views expressed on these pages are not those of Gloucester City A.F.C., its directors or officials, or of any other company mentioned. Neither do they represent the official views of the Gloucester City Supporters' Club or its committee.
While we make every effort to ensure information placed here is accurate we do not accept responsibility for errors that may occour. If you do find a mistake please let us know.

All pictures and material unless otherwise stated are the site's own and is
© www.t-ender.co.uk
All material may be reproduced with permission and appropriately attributed.
Satu'day 26th November '05

Gloucester City

at Meadow Park

Southern League Premier Division
(match 18)

vs

Cheshunt

Gloucester City

3

Scorers: Addis (29), Corbett (43), Mustoe (81 pen)

Cheshunt

2

Scorers: D.Fenton (27), Deane (48)
City Side:
Bath, C.Thompson, M.Thompson (Mansell 51), Griffiths, Tomkins, Davis (Knight 74), Mustoe, Webb, Addis (Randall 89), Corbett, Wilkinson.
Subs not used: Harris
City Bookings: Griffiths (foul 51), C.Thompson (foul 70)
T-Ender Man of the Match: Tom Webb: another excellent performance from a player who has found another gear and drove the midfield.
City battled hard to finally get a well deserved victory against a tough Cheshunt side who almost escaped Meadow Park with a point despite a creaking defence and some moments of sheer brilliance by a City attack that enjoyed some moments of rare inspiration. Ultimately City fans will be happy to celebrate vital points gained from another side struggling at the foot of the table, but as always City supporters were made to sweat by a side who can still inspire and frustrate in equal measure. Despite some poor luck in front of goal the players held their nerve and kept their composure to finally win the game with a Mustoe spot kick proving the winner for a second consecutive Saturday.

City came into the match on the back of our first away win of the season and knowing that a win here was every bit as important against a Cheshunt team that had looked pretty weak in the drawn match at their place earlier in the season. Another win would drag us back into the heart of the survival battle and in touch with many of the other strugglers. Burns had been very clear in his demands for more consistency from his side and for them to finally begin putting a few results together to get the club out of trouble but any dropped points today would signal that the survival fight could be all up hill.

My superstitions on the morning drive to games are many and varied as I desperately look for hopeful signs that fortune will be with the City. This didn't look to be going too well when I was on the receiving end of a crunching challenge from one of our main sponsor's own HGVs as it swung out and scratched along the side of my car at a roundabout. To add insult to it all the lovely people at Keyway then accused me of lying about it all but I'm sure they're actually very kind and honest really, as hopefully the insurance company will be finding out soon! That scrape hardly lifted my expectations that this was going to be our lucky day but at least Burns was able to name a side unchanged from the one that battled to that first away win at Cirencester, with the only change being the admission of Eddie Rimmer from the bench. Cheshunt had chopped and changed their side around a fair bit, but there were plenty of familiar names from the away game at their place - especially my favourite 'Antneee' Fenton who was on the receiving end of continual coaching from the Cheshunt boss last time out.


Top. Lyndon loses his footing in the Cheshunt box
Bottom: Addis jumps with Cheshunt's 'Antnee' Fenton

The opening spell belonged to City as we pressed forward in the first 15 minutes and looked to have Cheshunt immediately on the ropes. The difference a win makes was all too apparent as players who previously had been keen to hold on to the ball for far too long now had the confidence to knock it around a little more. Cheshunt showed a few good forays forward but in defence they looked poor with City's forwards finding far more room than they've been used to. Burns has found a better balance to his side with the two Thompsons operating down the flanks, and it was here that most of the space was being found.

The space benefited Addis when a clever reverse ball by Chris Thompson set him free down the wing. The striker was running out of space but still managed to get a high looping cross over towards Wilkinson at the far post but the keeper managed to slap it away. Both of our forwards seemed more mobile today and both dropped deep to pick up the ball, dragging the Cheshunt defence out of shape straight away. Corbett managed a clever turn to lose one opponent and found Addis with space on the edge of the area. From the corner of the box he sent in a swift shot that didn't quite curl enough to find the inside of the post.

Whilst City were getting forward well there were a few causes for concern at the other end. Cheshunt striker George Gregorio was causing some problems for us and whilst both Mustoe and Griff made good challenges on him early on there was a worrying occasion when he wriggled free and had a clear run on goal before blazing over the bar. At this point in the match though this just seemed like a minor concern as we were still getting forward with a great deal of promise, Webb already beginning to pull the strings. A good exchange of passes between Webb and Wilko sent Addis chasing on to a ball slid into the box but disappointingly Addis seemed to hesitate and failed to put in a challenge on the keeper. The likes of Hosky and Baylo would have left the keeper thinking twice about going for a ball like that again. Addis was seeing plenty of the ball but struggling at times to make best use of it, losing another good opportunity when played in by Corbett but not managing to play it back to his strike partner who had pulled into space at the far post.

After such a bright start we then seemed to slightly lose our way. It was almost as if having decided Cheshunt were there for the taking we decided to bide our time. It was a dangerous lull because while Cheshunt looked shaky at the back they were willing to get forward in numbers. A few niggling tackles were starting to disrupt play in midfield and Chris Thompson got a lecture for a firm tackle that left Dean Fenton in a heap on the touchline. It wasn't long before the full back got his revenge. We conceded another rather soft free kick 25 yards out on the right of the penalty box. Dean Fenton stepped up and lofted the ball over the wall and gently into the net to give Cheshunt an unlikely lead. It all seemed just a little too easy as whilst it was a sweet shot it lacked any real power, it looked a bit as if we'd got our angles and positioning badly wrong somewhere.


It would be easy for the players to have let our heads drop. Our earlier bite had softened to a gummy slurp and we were now staring down the barrel of a home defeat that would spell real trouble for the season ahead. At least the players showed that the apparent defeatism and lack of desire that dogged us in September has gone and whilst the fans shuffled uncomfortably on the terraces they got straight back at Cheshunt. In many ways the visitors may have scored at the wrong time as the goal provoked a City response in a match that had seemed to be drifting. The equaliser came just a few minutes later. A solid Wilko tackle spilled the ball to Webb who slid the ball down the right for Corbett to race on to. He slipped inside the full back and sent over a hard low cross into the six yard box. The keeper had to collect it but instead Martin Peat groped forward and only pushed it into the path of Addis. The City striker has had real trouble getting goals this season but he even had time to take a touch before lashing the ball past the defenders gathering on the line and into the roof of the net. 1-1 and a goal for Addis. Game on!

City were now back into their stride and that strange ten minute lull was all forgotten. City were attacking the T-End and the disappointingly spartan crowd were starting to stir as well. City's chances came thick and fast, and we should have really had more scoring opportunities given the amount of the ball we had. City were camped around the Cheshunt penalty area for long periods. Wilkinson almost found the net with a fierce volley that he produced from the edge of the box. It seemed destined for the top corner but 'Antnee' Fenton did well to get his head to it and just flick it over his own bar. The string of corners and throw ins even allowed our defenders to get in on the act with Tomkins and Griff spending as much time in the opposition box as in our own. Lyndon produced a nifty turn that put a Cheshunt defender on his back but his shot was charged down. Chris Thompson soon picked up on another loose ball and fired another low drive into the box. That too was blocked, but the Cheshunt defence was looking frantic as the ball was ricocheting pin ball style around their penalty area with our players desperately trying to prod it in the right direction. They were hardly being helped by their keeper, who didn't do much to relieve the pressure when he managed to collect the ball only to boot it straight out of play and give us possession straight back.

It wasn't quite one way traffic though and we were being forced to make the odd interception with Mustoe again looking very comfortable in his new defensive role and making the most of the opportunity to send us forward with some good long passes from the back. It did threaten to all go wrong though as a misunderstanding at the back gave Gergorio got free again and found himself with just Bath to beat. He knocked the ball wide of the keeper but having got to it and knocked it goalward he found Lee Davis scampering back to scrape the ball off the line and earn the congratulations of his keeper. For all of our pressure Cheshunt were having their chances, a few moments later the fat bald figure of Danny Jones also got clear having ran straight through the middle of the defence but blazed his shot well over.

Marvin makes the most of the space out wide - look at those gaps!


City were still looking good but it was frustrating stuff, with much of the frustration being focused on Addis. He is a player who clearly has talent and at times shows sublime touch and control, a player who can lead the line and hold the ball up with great strength. He just seems to be a player that we've yet to fit into the way the rest of the side often plays, with Addis always seeking the extra touch and whose natural instinct is to hold on to the ball not keep it moving quickly. The other frustration is that he often seems spooked when confronted with a decision as in this case. Another great ball from midfield set him free but he seemed unsure if he should shoot early or release Corbett, and in the end he did neither as the defenders closed back in on him. Fortunately the break through was to come soon, with a decisive attack that cut straight into the Cheshunt defence. Marvin Thompson picked up the ball in defence and had time to advance down the left wing. He looked up and spotted Corbett in space on the other side of the pitch. His ball sliced open the visitors and Corbett cut in on goal. He still had plenty to do but he produced a crisp low drive that left the keeper well beaten. It was clinical finishing that showed home fans what the striker can do and suggests Corbett really can deliver the goals we need. He also seemed to enjoy the goal, and it's always nice to see someone who relishes their own ability. City could have extended the lead in the last few minutes before the break, with Corbett again getting free with a clever turn as he picked up a Webb pass. Corbett crossed but Addis couldn't quite direct his header down on goal. As the whistle went Webb smashed a low drive inches wide. It looked like a second half to look forward to.

At the break it was difficult to see the match turning into anything but a City landslide, and you started wondering if this might be a game to finally give Randall a bit of a run out and to see if the strikers could fill their boots and improve our goal difference. This didn't allow for just how badly Cheshunt also needed the points, and with their players apparently being told that this was their last chance to prove themselves the half-time break galvanised the Hertfordshire team. They really threw everything at us in the first few minutes and we just didn't seem ready for it. Lyndon had to make an important header at the near post to deny them and Griff also made a good block. That didn't help enormously though and when the ball came back into the box Mustoe could only block a cross and it fell to Michael Deane who drove the ball back through a crowd of players and into the net. Cheshunt were back level and City had to lift themselves again.

City were able to come back at Cheshunt but had to first weather a spell of pressure which saw Griff booked and Marvin Thompson replaced by Rich Mansell out on the left. The midfield was in danger of being overwhelmed but Wilko and Webb managed to get themselves back into the match with a more combative approach. The Cheshunt side was remorseless in pressing us in midfield and they were clever in tripping and niggling high up the pitch before any free kicks got to close to the goal area. The ref had a good game though, and he didn't miss a great deal but also managed to stop the fouls from overly disrupting the flow of the game. By normal SLP standards it was a good display of officiating, made even more surprising as this is the same numptie who made such a mess of that Bath City match last season and got Mustoe and Tomkins banned for nothing. At least he's learnt.

One free kick came when Corbett was tripped and he took it himself, producing a fierce shot that the keeper again failed to handle and it looked as if Addis could again be the one to benefit. He reacted first and turned on to the loose ball but the angle was tight and his shot thumped against the post. We were now pushing forward with real zest and Tom Webb was the main driving force, showing again how much he is still improving. He was lucky to survive a couple of thumping challenges as he enjoyed a good run down the right, but despite the diving tackles he was still causing Cheshunt all kinds of problems. Another good cross was knocked back to Lee Davis and his shot was charged down by a defence now looking seriously stretched. The question was if we still had enough time to get the vital goal.

Top: Corbett finds there is just as much room on the right.
Bottom: Tomkins turns poacher with a nifty turn at the far post.

With both Chris Thompson and Webb operating particularly down the right a lot of our best attacks were coming down that side of the pitch. Webb exchanged another crisp set of passes and managed to beat a defender and keep the ball in play before sending a steepling cross into the box. Wilko was running in and did ever so well to manage to get any direction on a difficult header, forcing the keeper to make a diving save to tip the ball over the bar. City were now raining the shots in. Mustoe tidied up another attack and immediately set Corbett away down the left. The striker slid past two defenders before lashing in another well hit shot that the Cheshunt keeper pushed wide of the post.

The resulting corner could have seen City claim a penalty as the ball dropped to Lyndon Tomkins at the far post and he scooped it back across the goalmouth. Griff was ready to pounce but the defender brought the ball down with a hand. The ref was unsighted through the crowd of players but his linesman didn't have the same excuse. The match was too hectic now to have much time to worry about the appeals. City could have scored again as Addis sent over a cross that ran deep but was then collected again by Corbett who also managed to get the ball back across goal where Addis should have done better with a free header. The half-cleared ball fell to chris Thompson who fired in a drive that clattered wide. We were getting close, but would we find the net?

We were playing some great football at this point and a superb move almost created the breakthrough as Addis controlled a high ball and laid into the path of Webb. Tom produced a sublime touch to control the ball at pace with his toe as he broke into the box. His shot was well saved as it scuffed off the studs of the Cheshunt keeper. We went even closer as Corbett got away again down the left wing and having cut inside sent in a cross shot that veered in and just clipped the corner of the bar and post.



It looked as if time was running out for us as Knight replaced Davis and City really began to push players forward with Mustoe moving further into midfield. The decisive moment came as another City attack began to build down the left and Corbett pushed the ball on for Mansell to overlap. This time the cross was cut out by Nicky Gyoury who seemed to get a bit of arm to the ball. The ref certainly thought his arm had come up and quickly pointed to the spot, and despite the players protests he went into the book - even though some lucky punters got a glimpse of nipple as he tried to convince everyone the ball had hit his chest. Back in the goalmouth the nerves were jangling as Mustoe stepped up to take the kick. His last two efforts have been weak, even though his penalty last weekend proved to be the winner at Ciren. Will he have the bottle to put it away, knowing how crucial this moment could be to our season? The ball flew again to the keepers' left, but this time it had more height and pace on it and with the keeper also going the wrong way it was in the net. 3-2 - Mustoe's four successful penalties now make him the club's joint scorer. That should be a bit of a worry, but right now no-one could care less.

City could have added to the lead as several more chances came our way as Cheshunt's heads had gone by now. Addis found himself almost clear of the defence but again seemed trapped in his own indecision and didn't produce either a shot or the pass that could have sent Corbett or Wilko through on goal. Webb had another charging run, this time cutting in from the left wing and seeing his cut back cleared at full stretch by the wilting Cheshunt defence. His next cross from the left picked out Corbett in a crowded penalty area and the striker almost managed to poke the ball in at full stretch. It was looking as if City could add another but Darryl seemed fated to be the main on the end of the final pass and again he missed a good opportunity to add to his goal when put through but again he took an extra touch and was forced to cross when the shot had been on.

It looked to be all over bar the shouting, but Mansell was forced to make a good covering header and another block as Cheshunt tried one last attack. City were now shamelessly trying to run the clock down, sending Randall on for Addis to use up some time and Corbett and Webb trying to keep the ball in the corner for as long as possible. Eventually the final whistle came and we had the points. For the first time this season City had won two consecutive matches and the prospects for the rest of the season look so much better. With the next league match bringing struggling Aylesbury to Meadow Park we must try to keep up some momentum and drive ourselves up the table.

* The win was crucial but City still find themselves in the bottom four relegation places, although the win has lifted us to 19th, leapfrogging Cheshunt and pulling us above Cirencester who were without a match. Other SLP strugglers managed to get home draws against higher ranked opposition with with Aylesbury holding on for a 1-1 draw with Mangotsfield after David Seal equalised the Ducks' early lead. Evesham were also forced to settle for a point against King's Lynn after Richard Ball's goal was cancelled out by Danny Hammond with five minutes left. Rugby went even better with a single goal enough to continue their recovering form with a 1-0 win over Merthyr. The meeting of two sides doing better than expected saw Yate beat Hitchin 2-1, leaving both clubs surprisingly in the top half of the table.

The SLP fixtures were limited due to several clubs involvement in the FA Trophy but there was more disappointment than success for our remaining clubs. Chippenham must have fancied their chances of knocking out Conference South strugglers Carshalton but lost 2-0 at Hardenhuish Park, while Bath City were beaten by Yeading and Bedford thumped 4-0 as they visited Weston. Only title favourites Salisbury City did well, thumping Conference South side Newport County 3-0 to progress to the 1st Round proper. Halesowen may be the other SLP club to join them after they survived a tricky 1-1 draw at Sutton Coldfield to take the tie to a replay where they will enjoy home advantage.
| | | | | | |
| --- | --- | --- | --- | --- | --- |
| Referee: | L.Sinclair (Brierley Hill) | League Position: | 19th (+2) | Attendance: | 234 |
| Conditions: | dry and overcast after showery rain | City Form: | WWLDDL | Match Report: | by t-towel |
Work commitments mean that we are keen to obtain other match reporters willing to provide details on some City matches. All text can be supplied by email, with no need to worry about web design or formatting. If you are interested please contact the T-Ender.