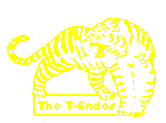 We welcome all contributions to the T-Ender. Please send any material for the site by
email to the address above.

Disclaimer
The views expressed on these pages are not those of Gloucester City A.F.C., its directors or officials, or of any other company mentioned. Neither do they represent the official views of the Gloucester City Supporters' Club or its committee.
While we make every effort to ensure information placed here is accurate we do not accept responsibility for errors that may occour. If you do find a mistake please let us know.

All pictures and material unless otherwise stated are the site's own and is
© www.t-ender.co.uk
All material may be reproduced with permission and appropriately attributed.
Saturday 20th August '05

Cheshunt

at Theobalds Lane

Southern League Premier Division
(match 3)

vs

Gloucester City

Cheshunt

1

Scorers: Gregoriou (49)

Gloucester City

1

Scorers: Davis (23)
City Side:
Bath, Reid (Randall 81), Mansell, Griffiths, M.Thompson (Harris 56), C.Thompson, Mustoe, Webb, Addis, Davis, Knight.
Subs not used: Wilkinson.
City Bookings: none
T-Ender Man of the Match: Lee Davis; looked sharp and caused Cheshunt problems although he too ran out of steam towards the end.
City's first visit to Theobalds Lane ended in disappointment as a good first half performance was wasted as our side lost their way in the second period and allowed Cheshunt to push their way back into the match to earn a draw.

Our first two games had seen two defeats, but while the pressure for points is already starting to build at least we could take some comfort from knowing that both King's Lynn and Chippenham are strong sides that we can expect to be amongst the promotion challengers at the end of the season. With difficult games ahead the visit to Cheshunt should have presented a bit of welcome relief and realistic chance of points. The 'Ambers' had been shuffled across from the Ryman league in the summer after escaping relegation only because of the collapse of Hornchurch. They are being widely tipped for another hard season this time around, and their dilapidated ground and spartan support does not bode well for them.

City should have been lifted by the sight of a sacrificial goat tethered in the wilderness just waiting to be savaged. We are not that kind of club though and instead we sniffed it uneasily, gave it a bit of a nip on the heel and then decided to warily leave it alone in case it was a trap. We had our own problems to contest with, although none excused leaving here without all the points. With Burns still suspended and Tomkins injured our squad took a further blow with Richard Kear now hobbling around on crutches. After Tuesday night's flat attacking form Lance Lewis had been expected to make his full debut up front, but as it was the speed merchant has a stomach bug and was only fit for sprinting to the toilet. That left us with a reduced sub's bench of three, including the still injured Dave Wilkinson, and the considerable presence of Lee Randall. Knight was drafted straight back into the midfield, with Marvin still forced to play despite his continued hamstring problem. To add to the general sense that we could barely tell the pointy joint in our arm from the fleshy bits we sit on we also contrived to arrive late and hand in the team sheet after the cut-off time. Another fine to be paid...



Top - Addis tries to hook the ball towards his strike partner.
Middle - Addis sees his shot charged down.
Bottom - Davis leaves Cheshunt thoughtful as City take the lead.

For all of our apparent limitations we started brightly enough, sporting the new red away kit of which the club seems hugely proud. We've now got more strips than we have defenders. The City players looked quickly at home on the big, bumpy pitch and we were soon spraying the ball around with some confidence. Mustoe hammered a long ball wide, right in to the path of Webb who loped forward to the by-line and sent over a good low cross that was forced out for a corner. Not a bad start at all.

The whole atmosphere was strange. The large pitch and barely interested spectators dotted around the crumbling perimeter hardboard made it seem like a slightly overblown Sunday League fixture. The Cheshunt players seemed no more at home here than ours. They did manage to exert some pressure on us, but the ball was being lumped forward fairly aimlessly and our defence wasn't too troubled. Bath warmed his hands on one drive but it didn't force him to move. It was all a little too much for the Cheshunt manager who was out of his dugout and shouting in a strange strangled Essex-esque mauling of the language. A particular target for his frustration was a mysterious figure called Antnee, who appeared to be Anthony Fenton, the Ambers hapless number 7. His players must find it difficult to settle if they can hear how their manager slates them whilst muttering in his dugout. An aimless corner upset him particularly: "I spend half the night working out set plays just for you to f#*king ignore 'em". Such is the life of a non-league boss. Burnsie is temperate by comparison.

Lee Davis looked in good nick today and it was his extra effort that provided the impetus for a better spell of City play. He was chasing back for every loose ball and was too nippy for the lumbering Cheshunt defence. His sneak attack took the ball off the opposition in midfield and allowed Mustoe to send through a good ball that almost got Addis away. It acted as a wake-up call for Cheshunt but also lifted City to better efforts. Webb almost threaded another low ball across the box to Davis whose checked runs suggest he's spent a worthwhile summer watching videos of how forwards should move off the ball.

It wasn't quite one way traffic though. Cheshunt were finding more width than City, and neither Reid or Mansell were really able to get forward much. We weathered a spell of pressure with Marvin Thompson doing particularly well to cut out a good cross and get his header the right side of the crossbar despite the attentions of Gregoriou. Cheshunt were pumping the ball high into the box but for all that they never looked like scoring or seriously ruffling our defence. Reid, Mansell and Chris Thompson all won important headers and before long we were back on the attack. A good Webb run found Lee Davis on the edge of the box and he laid the ball off to Mustoe who blazed a shot high over the bar.

The breakthrough came as Marvin Thompson had time to nod another hopeful Cheshunt upfield punt back down to the feet of Knight. After the frantic start had passed him by he must have been grateful for the chance to get a touch and he sent the ball through the midfield out to Webb on the right flank. He cut in field and poked the ball on towards Lee Davis. Defender Reddington and keeper Martin Pete left it to each other while Davis scampered between them. The keeper was too slow to get down and found himself stranded as Davis pushed the ball beneath him and into the net.


City went on to establish a tight grip on the rest of the half, but sadly we lack the firepower to put games away when we dominate spells of the match. There was some great football for a while though. Knight played an outrageous dummy on a Mustoe pass and allowed it to run on to Davis, throwing three players with a wave of his leg. Davis then pushed the ball on to Addis whose fierce drive was blocked by a last ditch tackle from the busy Reddington. There were flashes of inspiration from both Addis and Davis as they jinked around the perplexed home defence. At one point Davis' turn left Cheshunt skipper Dave Reddington on the floor, leaving him to bounce back-up and shriek at the ref, but making people look silly isn't (yet) against the rules. That turn again set Addis free but when he tried to turn the ball back across goal to Davis it was easy for the defence to cut out.

Cheshunt still got the ball forward but they were now struggling to get people forward and Chris Thompson was given time to emerge imperiously from the back with the ball at his feet. Stroll on Thommo! We looked in almost complete control and Mustoe had started telling Cheshunt what to do as well as his own team mates and the ref. The ball was being played about in some of our best style, but we needed that second goal. Another clever Davis turn won him space and he flicked the ball inside towards the run of Rich Mansell who tried a difficult volleyed flick over the keeper that ended up falling wide of the far post.

City tried to step up the pressure as the half drew to a close. Webb was full of the usual nice switches and turns, he made another long run that almost released Davis. It was a shame neither Lewis or Kear could have played, as Cheshunt looked vulnerable to pace and were struggling when the ball was played on the floor. Even Knight had a go, and his legs shouldn't now be made to look as quick as Cheshunt somehow managed. His run took him past a few players but ran out of steam just as he neared the box. City could reflect on a half-time lead, but that also gave the home side a chance to re-group and poor Antnee to get the benefit of his manager's wisdom.

Keeper Martin Pete makes another impressive claim from a City corner.

All City really needed to do was keep doing more of the same and keep plugging away until the second goal came. However our concentration was poor and the Tigers were stunned by a Cheshunt equaliser that came in dramatic fashion. Reid stood off Glen Parry a little too long as he ran down the Cheshunt left wing, but even when he sent over a deep cross it looked as if Cheshunt had too few in the box to offer a threat. However no-one had counted on the finish that came from George Gregoriou, previously anonymous up front for the home team. When the cross dropped though he twisted to produce a spectacular acrobatic volley that crashed past Matt Bath and into the roof of the net. No wonder the striker was pleased, it was a pretty special finish.

With the scores pegged back level we went a bit to pieces. We made a good initial response with a charge out of midfield by Webb and Mansell cutting in from the left only to finally produce a disappointingly weak effort. Addis also got on the end of a Reid pass and managed a trademark turn to wrong foot the defender, but while his drive had venom it was straight at their keeper. At half-time Cheshunt had put on sub Ross White, and by the look of it the big balding fella was someone who should have started the game. His bulk and passing ability made the midfield a lot more fiercely contested and Mustoe and Knight now had less time to dwell on the ball. Cheshunt put some good moves of their own together and the extra running forced City to make a substitution as Marvin Thompson limped off with his hamstring finally giving in after lengthy treatment in the first half. Adie Harris was the only genuine option, so a major reshuffle followed with Mansell pushed further into defence with the side seemingly unsure what formation was now in place.

Cheshunt were now producing their own chances but Griff and Chris Thompson were managing to get in those crucial tackles and interventions. At least with Cheshunt attacking a little more the game was opening up and there was more space for both teams. Jamie Reid has equipped himself well at the start of this season and his hard-tackling and no-nonsense approach suggest he is a star in the making. He ain't a right wing-back though, he can defend but lacks the pace to get past people. He does have a good stamina though, and he made a great run having gained some revenge on Parry by taking the ball from him in a tough tackle. Having got free though he found no-one with him.

Top: Oops - Griff checks to see if the ref's watching.
Bottom: Super Adie twinkles past another opponent.


City were now looking a little more stable and Addis latched on to a probing Knight pass only to see his low cross stabbed out for a corner by Reddington. Cheshunt were starting to feel the pressure down the right as Addis had drifted further wide to give us some much needed width. That put the left-back under pressure but left a huge gap in the penalty area to convert the chances that were now coming. Davis is sharp but needs to play-off someone with a bit of physical presence and we lack that kind of figure at the moment. Parry went in to the ref's book for a nasty hack on Reid, and for once we managed to produce a dangerous set piece with Knight's swinging cross almost met cleanly by Griffiths at the far post. His header was blocked though, and Davis's volley back goalwards was also charged down.

Cheshunt almost scored themselves as they broke out of defence in a sweeping move that ended with Matt Bath grateful to clutch at a downward header at the second attempt. The game was far more end to end now, Davis soon back in the Ambers box where he lost his marker and sent over a low ball. It looked like Mustoe would reach it, but as he pulled the trigger Addis swept the ball of his toe and scuffed his own shot wide. Aaargh - why don't they shout to each other!

City then came close to finding a much needed cutting edge. Knight jinked for space and produced a great ball inside to Reid. The naive simplicity of youth - he charged towards the goal and pushed past one defender before unleashing a vicious drive that flew just over the bar with the keeper stretching. We need a bit more of that kind of direct running, too often we seem to over complicate and want to walk the ball into the net.

There was more space available and while the Cheshunt sub Adams was an impressive player he wasn't all that mobile. Mustoe sailed past him bringing the ball out of defence and set up Addis who was once again crowded out before he could get a shot away. We came close to having a shock at the other end when a long kick from the keeper found it's way past the defence and ultimately had to be cleared off the line by Chris Thompson.

The arrival of Adie Harris on the left flank did give us a bit more pace down that wing and his run took him half the length of the pitch and he was able to reach the by-line and cut into the penalty area before pulling the ball back for Addis who once again saw his shot comfortably saved by the keeper. Addis was still looking for the ball, but always seemed to be just that half-yard too slow or not quite strong enough to keep possession under pressure. He's close to being a very dangerous forward, a goal might do him good as he's now gone nine games without.





While City still looked by far the stronger and more capable side we were starting to run out of ideas. At one pint Lee Davis emerged with the ball on the edge of the box and dithered for what seemed an age as he waited for support that didn't arrive in time to prevent him being submerged by the Amber shirts. As City ran out of steam Cheshunt began moving the ball around a little more freely themselves, although despite the quality of that finish they didn't seem to smart up front themselves. Our search for the points saw Burns chuck on Lee Randall to try and see if he could at least hold the ball up long enough for us to get forward in numbers. In a few months some hard training and fitness work could yet see Randall become a very useful addition to the squad, but he's simply too bulky to yet carry a real threat at this level. He did well to chase one ball down and step on it to prevent it going over the by-line, still having time to come back and deliver a decent cross to the near post. As with so many of our crosses though it was easily plucked out by keeper Martin Pete.

City pushed for the vital winner but it wasn't happening. Addis had another good run but was again pushed wide with just a little too much ease. He seemed to have done better a few moments later when he found Webb on the overlap but he always seems to want another touch and the opportunity ended up with another corner which we seemed unable to convert. The final whistle was a crushing shame, this was a game we could and should have won. The team as a whole just seems to lack a little of the self-belief that can provide a cutting edge. We're starting to believe we are going to struggle, when if you look at the individual talent and ability in the side as opposed to the playing budget we should be aiming for a top half finish. We need to shake ourselves out of our lethargy - Cheshunt will struggle this season and these are the points we need to pick up, even on the road. Burns will be glad to be able to bring himself into the squad for the Merthyr match on Tuesday; his presence, strength and commitment may lift the side to better things.

* City's first point of the season still leaves us in 20th spot, not pleasant even at this early stage of the season. Pre-season title favourites Tiverton suffered another shock defeat, this time 3-1 at the hands of lowly Banbury United. Their three first half goals leave the Puritans in a shock second place. Bath City continue to set the early pace with Scott Partridge again on target as they beat Grantham 1-0 to preserve the SLP's last remaining 100% record. Chippenham's early season form continues with Dave Gilroy's hatrick seeing off ten man Northwood 3-1 at Hardenhuish. Cirencester's early season form ended with a first defeat, losing 1-0 to an early goal by Grantham player-manager Lee Glover. Halesowen's slow start has been boosted with an impressive 1-0 win over King's Lynn ar The Walks.
| | | | | | |
| --- | --- | --- | --- | --- | --- |
| Referee: | T.McCaul (Kent) | League Position: | 20th (=) | Attendance: | 110 |
| Conditions: | mostly cloudy but dry | City Form: | DLL/DWL | Match Report: | by t-towel |
Work commitments mean that we are keen to obtain other match reporters willing to provide details on some City matches. All text can be supplied by email, with no need to worry about web design or formatting. If you are interested please contact the T-Ender.