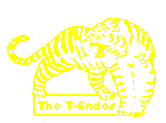 We welcome all contributions to the T-Ender. Please send any material for the site by
email to the address above.

Disclaimer
The views expressed on these pages are not those of Gloucester City A.F.C., its directors or officials, or of any other company mentioned. Neither do they represent the official views of the Gloucester City Supporters' Club or its committee.
While we make every effort to ensure information placed here is accurate we do not accept responsibility for errors that may occour. If you do find a mistake please let us know.

All pictures and material unless otherwise stated are the site's own and is
© www.t-ender.co.uk
All material may be reproduced with permission and appropriately attributed.
Saturday 1st April '06

Gloucester City

at Meadow Park

Southern League Premier Division
(match 37)

vs

Bedford Town

Gloucester City

0

Scorers: -

Bedford Town

0

Scorers: -
City Side:

Bath, Miller, Harris (Noakes 27), Preece, Holland, Corbett, C.Thompson (Eckhardt HT), Webb, Bevan (Varnam 81), Addis, Wilkinson.


Subs not used: Reid, Randall.
City Bookings: none
T-Ender Man of the Match: Mark Preece; another fine day for the City defence and no-one did better than the young Bristol Rovers man.
City's defence held out for yet another clean sheet to earn a valuable point against promotion play-off chasers Bedford Town. Either side could have nicked the game, but whilst Bedford enjoyed more possession it was Gloucester who created the better chances and Corbett will be wondering how he allowed the best chance to escape him just before half-time. However the Tigers would have been happy enough with a point before the kick-off, but will wonder if they've paid a high price for the draw as two more key players could miss the final four weeks of the season. First Adie Harris limped off in the first half with suspected ligament damage, then stand-in skipper Chris Thompson was also forced out of the match with what is feared to be a broken wrist.

This match was always going to be the sternest test yet of City's new found defensive solidity that has seen the new look line-up record four consecutive clean sheets on our current seven game unbeaten league run. Bedford seem to be set for a promotion play-off place and in top scorer Rene Howe and strike partner Chris Dillon have one of the most potent forward lines in the SLP. With the Eagles still needing points to confirm their place in the top five and our own need for further points to stave off the drop there was plenty to play for. Bedford have a fairly settled side but City were forced to make changes with Paul Stonehouse returning to Forest Green after his loan spell at Meadow Park. That left veteran Adie Harris making his 250th City appearance back on the left, allowing Corbett to come into the side with Addis playing a little deeper than usual to help in midfield. New veteran Jeff Eckhardt, just signed from Merthyr, took a spot on the bench along with youth players Jamie Reid and Michael Noakes. With the atmosphere cranked up to full tempo with the tannoy banging out stadium rousing anthem 'Stand By Your Man' (!?) we were ready for a real storm of football action.

Top: Corbett shoots wide from a tight angle.
Bottom: Bevan harries the Bedford defence as City look for a goal.

The opening stages saw both sides testing the ball with a few thumping lumps forward which didn't seem to bode to well, but Bedford were the team that settled the quickest and they were soon enjoying plenty of possession. For all of there bustle Bedford weren't really causing us too many problems though, and Webb set the tone for the City resistance with a thumping challenge to get City going forward again. Unfortunately the ball fell to Addis and the ball ran away from him.

Bedford found their way through the City defence with a good move but Dillon won't have appreciated how important this chance was until later in the game. Rene Howe had twisted well at the far post to head down a deep cross into the path of Chris Dillon. He was briefly unattended in front of goal and as Thompson and Preece descended he shot low, only to find Matt Bath in the centre of the goal and the City keeper who was able to parry with his foot. Really the keeper shouldn't have been given the chance. A few moments later Howe threatened agin to get free only to be stopped by the combined efforts of Thompson and Adie Harris.

City were able to put together some promising moves of their own despite Bedford having more of the play and trying to take advantage of playing with the blustery fitful conditions. Adie Harris was in quickly to take the ball off the toe of the dangerous Rene Howe and was able to nip away from him, accelerating into attack before letting Luke Corbett free down the right with a cross field pass. Corbett still had plenty to do but once he turned the defender he had a glimpse of goal, only to drag his shot wide across the six yard box from a narrow angle. That City attack woke the T-End who suddenly found their voice, the noise from the home end prompting a derisory response from the travelling fans. Thing is that shouting "You what" at people is a whole lot more impressive if you don't do it on your own. Perhaps the Bedford fans do irony, but Matt Bath was making as much noise as the Eagles fans as he tried to reorganise his defence.

Bedford continued to exert more pressure but were finding it hard to break through City's ever more determined and professional looking defence. What we seem to have developed is the happy knack of keeping our defence simple and effective, getting rid of the danger instead of trying to do too much too deep and equally importantly providing cover for team mates so if one slips a second man is close enough to still block the danger. Bedford wasted a couple of corners and long throws, whilst at the other end City were getting closer to goal from far less possession and saw a Corbett free kick from thirty yards make the Bedford keeper move smartly to pluck the ball from the top corner. However City's tactics could easily have started to unravel as Adie Harris' 250th City appearance was cut short with a ligament strain forcing him to limp from the fray.

Harris' replacement was youth team player Michael Noakes, making his first appearance of the season for the first team. The young left-back made a famous scoring debut last season when he came off the bench to grab the winner against Chesham and he came close to making a similar impact here. Addis did well to chase down a ball on the right and hook it back across the face of goal. The ball was too deep for Corbett but found Noakes at the far post and although he did well to screw round and get his shot on target it was easy for Ian Brown to gather in the Bedford goal. City had an even better chance when Wilko managed to prod the ball through to Jody Bevan. Even though the former Cinderford forward wasn't quick enough to out pace the defender he was persistent and at the last managed to get back at him and prod the ball through Mike Ford's legs towards goal. Unfortunately he couldn't quite get enough purchase on it and the shot trickled towards the keeper.

Bedford were still getting plenty of ball but any attacks were mopped up, all be it sometimes at full stretch with Mark Preece again grabbing the eye with a well timed stretching tackle to rob Dillon in the box. Bedford got even closer to a goal as a cleared corner came straight back in towards the City net with a swerving cross shot. Fortunately Noakes was still on the back post and was able to head the ball from under his own bar. The action was hotting up at both ends now and City really should have taken the lead just before the break. Noakes sent Bevan clear down the left and when he flicked inside the Bedford left-back there was plenty of space for us to attack. Bevan crossed well and found Corbett at the near post, but with the goal gaping he seemed to stumble over the ball and having over hit it the chance went as the ball trickled over the by-line.

City were still cursing that missed chance when our luck got even worse. Chris Thompson was shepherding the ball from play when he was barged over by a doubtless highly frustrated Rene Howe. The unexpected shove sent Thompson to the ground and in trying to break his fall against the preimeter wall it seems the City skipper succeeded only in breaking his wrist. He was having a scan after the game but the initial diagnosis from the club doctor was gloomy and City faced the second half with two of their starting back-line missing, and in the longer term possibly facing yet another player ruled out for the rest of the campaign. The ref was apparently lambasted for his performance after this game by the match assessor, and this was certainly a bad foul to have missed. That said, this ref was by no means the worst we've had this season. Perhaps the assessor should come and see more Southern League football.




Bedford's Rene Howe finds City defenders fighting each other to close him down.

That injury saw another enforced defensive reshuffle with veteran defender Jeff Eckhardt getting a perhaps unexpected early chance to make his City debut at the ripe age of 40. Poor Thommo will be left comparing injuries with the rest of our walking, hobbling and limping injured on the sidelines. Injured loan striker Mike Whittington seems to have struggled for space in the dugout but went up another notch in my estimations when not only did he show up for the game, but was even stood on the T-End chatting to the City fans. Not bad for a player who could easily have washed his hands of the club after his injury and simply returned to Whaddon Road to reflect on a job well done. Ch#*tenham announced this week Whittington is being offered a professional contract, and his prolific spell at City must certainly have dispelled any fears the youngsters not tough enough to cut it in adult football. He'd done so well for us you can only wish him well, even if it has to be on the dark side of the Golden Valley - hopefully he may yet get another chance to come back to Meadow Park on loan next season.

Back on the pitch the second half continued much as the first had finished. Eckhardt slotted in to the back three fairly comfortably and City tried to
make the most of having the wind behind us with a few wayward shots from distance. It was speculative but perhaps what the Bedford manager would have been hoping his side had done when they enjoyed that advantage. The Bedford forwards were putting in a strange fitful performance, both forwards looked the part but as soon as a City defender came their way they lost all interest. Dillon picked up a great ball and shaped to shoot, but then allowed Chris Holland to shepherd him meekly to the touchline.


Top: Webb brings the ball out of defence as City defend the T-End.
Btm: Corbett on the attack but on his own in the second half.

City were enjoying a period of real domination but like Bedford were
struggling to find any real conviction in the penalty area. The litany of
near chances created piled up. Noakes own a free kick on the left and Webb's resulting cross saw Howe head over, going nearly as close to putting the ball into his own net as he had the City net. Addis almost got Bevan away with a through ball that just evaded him, and Chris Holland's long pass looked for a moment as if it could set Corbett free but Bedford's Gavin Hoyte stuck to him and kept him away from goal.

It was just starting to look as if City might be gaining an advantage in the match when we almost fell behind. a quick Bedford break left Michael Noakes exposed and Chris Dillon bundled him off the ball to leave the youngster in a heap. The ref didn't whistle and Dillon found himself through on goal, but perhaps he wasn't really expecting to be allowed to continue and he wastefully dragged his shot wide as it scraped the near post. The match was certainly evenly contested and moments later Eckhardt came close to marking his debut with a goal. The former Merthyr caretaker boss ended up heading just wide after Tom Webb's wind assisted free kick had caused Bedford real problems and just evaded Corbett and Wilkinson before reaching the big defender.

City were trying to turn the screw and Bevan's presence twice forced errors from Bedford skipper Lee Howarth, but the match was getting more bogged down in a frantic midfield contest where both Wilkinson and Webb acquitted themselves with great effort if little guile. The match was slowly drifting towards a draw and both sets of fans were kept busy entertaining each other as the game did little to distract. It was good to see Bedford had managed to bring a few fans away with them, and the banter was in good spirits. Any attempt to compete with the T-End was short-lived though, that drum might not help much in the way of terrace innovation but it didn't half silence any away noise. The T-End was getting an increasingly close view of the ball, but even as Bedford pressed it just provided more opportunity to admire our new defensive composure, with Miller easily delaying Bedford down the right and Preece providing several good clearances and effortlessly dealing with Bedford sub Ian Draycott when he threatened to get clear.

The previous Saturday we snatched a late and rather undeserved victory, and we almost snatched this match late on too - although this would not have been as unjust as our win at Aylesbury. Noakes did well to get around the outside of his opposing full-back and his cross was met by Corbett who thumped his effort into the ground and watched it loop agonisingly wide. Then right at the death City could have grabbed it when Corbett threaded the ball in to the patch of Webb only to see the linesman's flag raised for what must have been the most marginal of offside decisions. Any argument was cut short as the ref ended the match, leaving the City fans celebrating what certainly felt like a point well gained.



Bedford now look certain for the play-offs, but are well out of the title race. They'll need to raise their game considerably from this performance to win a place in Conference South. For us there must be a slight worry that without Whittington we lack a cutting edge, although at least this game represented a first 90 minutes for Corbett since the trip to Grantham in January. With the injuries mounting we're also beginning to simply run low of personnel. With the youth team still chasing glory on three fronts they have their own fixture backlog to handle and the first team will need to be sparing in their use of the likes of Noakes and Reid. However there are still plenty of reasons to be increasingly optimistic with an eight point cushion from the drop and a nine game unbeaten league record, leaving the side on the verge of matching the best ten game unbeaten league runs twice achieved under Chris Burns' management in the 2003-04 promotion season. Even more impressive is our five games and 464 minutes without letting in a goal, a record better than anything I can find in the stat archives and certainly City's best defensive run since moving to Meadow Park in 1985.

* This was a good point for City who now have an eight point cushion from Northwood in the last relegation threatened position of 19th. It wasn't a great day for City though as several other results didn't go our way and leave us still anxiously looking over our shoulder. Perhaps the biggest surprise came at Merthyr Tydfil where bottom club Chesham raced into a four goal lead in just 26 minutes with both Joe Burnell and Steve Slade claiming braces in a 4-1 win. Both of the other bottom three also won, Aylesbury beating Halesowen 2-1 with an 89th minute Leon Gutzmore winner and Evesham edging out Northwood in a real six-pointer courtesy of a brace from Richard Ball. Cheshunt claimed a fanatstic point at promotion play-off hopefuls Chippenham while ahead of City several of the clubs we're chasing also posted good results. Former City boy Lee Smith is finally starting to repay some of his transfer fee as he grabbed a vital late winner to help Cirencester beat Tiverton 2-1, while Team Bath sneaked a 1-0 win at Grantham. Hitchin survived a late Yate fightback to win 4-3 having led 4-0 at half-time, Jimmy Cox getting one of the Yate goals. The title race remains tight with new Salisbury signing Luke Prince grabbing one as they edged out Banbury 2-1, while Bath City and King's Lynn also won to keep the pressure on. Elsewhere former City boss and new Shrewsbury Town first team coach Leroy Rosenior is still doing his bit to cheer up City fans; his new charges denting Ch#*tenham Town promotion hopes with a 2-0 win.

SLP Table; Southern League website.
Travelling Lorry Count - 4
| | | | | | |
| --- | --- | --- | --- | --- | --- |
| Referee: | P.Brown (Taunton) | League Position: | 17th (-2) | Attendance: | 384 |
| Conditions: | sunny spells and blustery | City Form: | DWWWWL | Match Report: | by t-towel |
Work commitments mean that we are keen to obtain other match reporters willing to provide details on some City matches. All text can be supplied by email, with no need to worry about web design or formatting. If you are interested please contact the T-Ender.