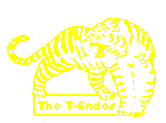 We welcome all contributions to the T-Ender. Please send any material for the site by
email to the address above.

Disclaimer
The views expressed on these pages are not those of Gloucester City A.F.C., its directors or officials, or of any other company mentioned. Neither do they represent the official views of the Gloucester City Supporters' Club or its committee.
While we make every effort to ensure information placed here is accurate we do not accept responsibility for errors that may occour. If you do find a mistake please let us know.

All pictures and material unless otherwise stated are the site's own and is
© www.t-ender.co.uk
All material may be reproduced with permission and appropriately attributed.
Saturday 5th November '05

Gloucester City

at Meadow Park

Southern League Premier Division
(match 15)

vs

Banbury United

Gloucester City

1

Scorers: Webb (33)

Banbury United

1

Scorers: Lamb (58)
City Side:
Bath, M.Thompson, Harris (Mansell 64), Griffiths, Tomkins, Burns, Mustoe, Webb, Addis, Corbett, Wilkinson (Davis 72).
Subs not used: Knight, Reid, Varnam.
City Bookings: Burns (persistent fouling, 28)
T-Ender Man of the Match: Tom Webb: seems to have found the direction and strength to push forward and run the midfield.
This was ultimately another frustrating game for City as they had to settle for a point after a sloppy period of play let Banbury back into a match that better finishing should have seen City put beyond their reach. Perhaps a point against a team in the upper reaches of the table should be seen as a reasonable result, but the Puritans were below strength and below par, and Burns will know his side must win home games or drastically improve our away form before our position in the lower end of the table becomes impossible to salvage.

City spirits were high coming into the match. First of all came a very welcome sight on the team sheet. Still in at number 7, Neil Mustoe. The City midfielder clebrated his birthday with a special gift for his club as he rejected a double-your-money offer from Southern League Premier rivals Mangotsfield United to again stay with the club he watched from the T-End as a boy. It was a decision of letting your heart rule your head, but that is exactly what football should be about. As an extra lift for the fans one of those players Mustoe watched as a schoolboy was also back at Meadow Park - with legendary striker Lance 'Magic' Morrison making a trip from Birmingham to return to his old stomping ground. Lance was a key player in getting the goals that fired City to the 1988/89 Southern League Midland Division title, and a real fans favourite as his incredible elastic legs bamboozled the opposition and seemed to defy the laws of gravity. Lance must have got a real shock though when he saw Adie Harris on the City team sheet. The ageless winger was in the City side all those years ago, and at 41 he's still here and still in Burns' starting eleven.

City really cracked into Banbury in the opening few minutes and in the first part of the game you wouldn't believe that the visitors were so high in the table and we were the side struggling at its foot. The best of the early chances fell to Dave Wilkinson who found himself running on to a ball just inside the area but seemed to slightly lose his bearings as he side footed the ball just wide of the post. A few minutes later another flowing move involving Harris and Corbett making progress down the left wing and a deep cross just out paced Tom Webb at the far post despite his attempt at reaching it with a diving header.




Corbett tries to find a way through the Banbury defence

An unfortunate recurring theme to recent games has been the impact of referees who seem to miss crucial incidents. You could make an argument that today's ref had a better game as he didn't seem to make any hugely crucial mistakes. However, that doesn't quite do justice to his strange afternoon. Without any moments that would have changed the result or the flow of the match the ref still managed to get a whole lot wrong. It was almost as if he had a random decision generator as many of his decisions seemed to bare little relation to what was happening on the pitch. Through the game the decisions probably evened out between the teams, certainly we got little in the first half whilst Banbury were on the receving end more often in the second half. Addis and Corbett suffered a lot in the first half as every challenge they made seemed to be judged as pushing, climbing or holding. Some may have been, but some were laughable. The final blow came when the ref waved his yellow card for a challenge so innocuous that I'm far from sure who was actually booked. It could have been Corbett, Marvin or Burnsie. Whoever it was, the ref was convinced he'd committed several fouls all over the pitch. Whoever it was, they were very harshly done by.

City were sparkling and making Banbury look desperately ordinary, but having lost a little of their initial momentum due to the referee's stop start whistling the question was whether we would be able to convert any of our pressure into a goal. Chances had come and gone but when the ball eventually ended up in the net it was a reminder of sometimes just how simple it can be to score a goal. For much of the first half Banbury constantly forgot about Adie Harris on the left and the one thing you cannot afford to do is allow Adie to build up speed down the wing. On this occasion he accelerated onto a wonderful Wilko pass and sped away from his marker, cutting in towards the penalty box. His low cross was right across the face of the Banbury goal and just beyond the stretching boots of Corbett and Wilkinson. Banbury's Keiran Sullivan must have been relieved to be able to prod the ball back out of the area but it only went as far as Webb out on the right of midfield. He seemed to take an age to get the ball out from under his feet and then looked unsure of what to do. With the T-End screaming "shoot" fortunately the Banbury defence were slow to react and Webb still had time to pull the trigger. When it came it was a superb 25 yard drive that beat the keeper with sheer pace and power as it flew into the net.

We really should have put the game well beyond a disappointing Banbury side before the half-time whistle but we narrowly missed the net despite a string of good chances and concerted pressure on the vistors' penalty area. Simon Tricker had plenty of stick from the City fans, he must surely be the roundest keeper in the division but he had the last laugh when he showed that fat men can still jump. Corbett had done well to turn sharply in the box after another good passing move that saw Addis, Webb and Harris all involved in creating the space. City's new striker must have fancied his chances of scoring on his home debut as he advanced on goal and seemed to have found the top corner with a smart curling shot. Some how Tricker launched himself into the air and produced a good save to push it wide, everyone winced as Tricker crashed back to the ground - fortunately the T-End roof stayed on. Another good move minutes later saw Webb race on to a Mustoe pass and check back in field to allow Wilkinson to fire in a shot that scraped past the post and into the side netting.

City had their warnings that Banbury were coming back in to the game but after a bright start to the second half the visitors dominated the next twenty minutes. The City midfield seemed to lose interest in the game and Banbury were finding more room on the wings than they had enjoyed in the rest of the match. Under this kind of pressure our defence no longer looked particularly comfortable and there was plenty of warning that an equaliser was coming. First Matt Bath was forced to scramble back across his goal line and fling himself towards a ball tricling towards the net after Gooderick met a deep cross with a thumping header that lodged in the mud. Bath just managed to flick it away for a corner as the Banbury fans were ready to cheer.

A few moments later another deep Banbury cross from the left was swung in and although Tomkins got close to the forward he couldn't prevent him from managing a goalward header. Fortunately Mustoe was on hand to block the ball on the goal line. It was only a temporary reprieve though as the ball came straight back over the City defence. There was suddenly space everywhere as the previously congested midfield evaporated and the killer ball was nothing more complicated than a gentle lob into the penalty area. The ball was picked up by Paul Lamb's angled run and he had time to take a touch and smash the ball past Matt Bath. It was no more than Banbury had deserved for thir spell of pressure, but the question was how City would respond.

City did manage to rally and after a few minutes of recovery the match ended as a free flowing contest with chances at both ends as the two sides both sensed they could come away with a win. City probably had the better of the late chances but Banbury went close when Potter latched onto a half cleared ball just outside our box and shot just wide. At the other end Lee Davis came off the bench where he'd been nursing his hamstring problem and almost sneaked a win with a late run into the area to meet a great Addis cross with a glancing header that flew just wide.





* This was not a fantastic result for us as we now find ourselves just one place off the bottom and now three points adrfit from pulling out of the relegation places. This was partly because of results going the way of many of the other struggling sides. Evesham leapfrogged us as a Richard Ball brace helped beat plummeting Chesham United 2-0 on their own ground in front of new manager Dennis Greene, formerly at Windsor and Maidenhead. Rugby's recovery continued with an impressive 5-2 win over Bedford, helped by a Kevin Slinn hatrick. Cheshunt also scrapped their way to a valuable point with a good draw at Tiverton while Team Bath moved further into mid-table with a 1-0 victory over Hitchin. Northwood remain the one team below City, losing 3-0 to Bath City with a further goal from Jon Holloway and another from Adrian Sandell who is currently training with Swansea City. At the top of the table leaders Salisbury City suffered a major shock as they fell victim to improving Yate Town who won 1-0 at Lodge Road. That enabled Mangotsfield to close the gap as they won 2-1 at Grantham, with Ross Casey getting an early goal for the Bristol side.

In the FA Cup Chippenham Town remain in the competition after a Jamie Constable goal ensured a replay after a 1-1 draw with Worcester City in front of 2,815 people at Hardenhuish Park. Merthyr Tydfil went out to Wallsall after a 2-1 home defeat on Friday night, but with a watching crowd of 3,046 and live coverage on Sky Sports the valleys side will still be pleased enough with their cup exploits.
| | | | | | |
| --- | --- | --- | --- | --- | --- |
| Referee: | M. Cassidy (Weston-s-Mare) | League Position: | 21st (-1) | Attendance: | 341 |
| Conditions: | showery rain | City Form: | DDLLDW | Match Report: | by t-towel |
Work commitments mean that we are keen to obtain other match reporters willing to provide details on some City matches. All text can be supplied by email, with no need to worry about web design or formatting. If you are interested please contact the T-Ender.