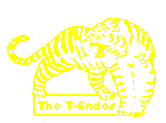 We welcome all contributions to the T-Ender. Please send any material for the site by
email to the address above.

Disclaimer
The views expressed on these pages are not those of Gloucester City A.F.C., its directors or officials, or of any other company mentioned. Neither do they represent the official views of the Gloucester City Supporters' Club or its committee.
While we make every effort to ensure information placed here is accurate we do not accept responsibility for errors that may occour. If you do find a mistake please let us know.

All pictures and material unless otherwise stated are the site's own and is
© www.t-ender.co.uk
All material may be reproduced with permission and appropriately attributed.
Saturday 11th December 04

Team Bath

at Twerton Park

Southern League Premier Division
(match 20)

vs

Gloucester City

Team Bath

1

Scorers: Heiniger (25)

Gloucester City

1

Scorers: Smith (33)
City Side:
Bath, L.Smith, Knight (M.Thompson 66), Griffiths, Tomkins, C.Thompson, Mustoe, Cox (Davis 80), Eaton (Addis 66), Webb, Wilkinson.
Subs not used: Burns, Harris.
City Bookings: none
T-Ender Man of the Match: Tom Webb; was a bundle of energy in the first half and kept working in a dire second half.
After last weekend's fine example of how entertaining non-league football can be and how high the standard of attacking football often is City fans could have been forgiven for thinking their side had been kidnapped and replaced by a load of talentless imposters who had been also had their isotonic drinks spiked. If last week's match was good, this weekend's showing was definitely both bad and ugly and fully deserving of an 18 certificate for repeated scenes of bad football. This was a match that City needed to win and after a lot of huffing and puffing ended up lucky to escape from with even a point.

The match was always going to have a strange atmosphere. Team Bath may have improved their facilities by buying into Twerton Park, but it is a huge stadium that makes Bath City's own crowds look a little lost in its wide open spaces. Team Bath's attendance melts into the expanses of empty terraces and with next to no home support it is difficult to generate an atmosphere. Determined to try, the students managed to create a queue at their one open turnstile as the entire crowd of 151 all tried to get in at once. The Team Bath experiment has long been controversial, but the ground move away from the university campus has estranged their side from what little community and natural support they could have ever claimed to represent.

The sense of the slightly unreal continued when the teams were announced. Lyndon Tomkins' return to the centre of the City defence was predictable as Burns wisely decided to give himself a rest, but the shock decision was the selection up front. Jimmy Cox returned, but the player to make way was recent signing Darryl Addis who has impressed in most of his City games to date and who seemed in fine form last Saturday against Bedford. Perhaps Burns feels he can't drop Eaton without being seen to give in to fan pressure, or perhaps he simply wants to get every bit of play he can for his money. The only rational explanation is that the selection was made on hairstyle, with Addis' bleached blonde locks counting against him - but even then one has to question if it is more offensive than Eaton's odd mohican pyramid look.






Top: Somehow Team Bath contrive to have a queue at their turnstile
Bottom: The 'crowd' enjoy the open spaces of Twerton Park

The match did not start too promisingly for City as the students attacked from the kick-off and we took a while to find our shape. The home side could have opened the scoring in the first few minutes when their winger ghosted past Lee Smith and cut the ball back for a shot from the edge of the area. Fortunately the drive lacked force and it was comfortably gathered up by Matt Bath.

City did begin to get into the game a little more and a determined tackle by Webb seemed to lift the side. With Cox back in the side we initially seemed to carry a bit more of a threat, and he looked to have got clear of the defence after Eaton's reverse pass into his path. However the ball seemed to get stuck under his feet and he never got his shot away. A few minutes later another flying Webb tackle enabled him to emerge in possession and break down the left. His cross found Wilko whose header went just over.

We were starting to look a lot brighter going forward and the students' concerns were obvious thanks to the shrill panic of their keeper. Some good work by Smith and Chris Thompson allowed Mustoe room to send over a deft cross from the right which Wilkinson tried to hook goalward but his shot ballooned wide.

We weren't to know it but this was probably our strongest spell of the match. Smith was countering well on the right and Knight had a few opportunities to show some nice tricks and touches as he turned his way out of trouble on the left. Webb was covering every blade of grass and getting involved in every challenge and his enthusiasm carried us forward. We went close again as a typical surge down the right carried Smith clear and his low cross was almost converted by Wilko at the near post.

The good work going forward was disguising a few problems that were apparent even at this early stage of the match. For all our zest we were lacking any real movement off the ball from our front two which meant every cross was being met by midfielders and our passing lacked imagination. At the back we seemed a little lost and the warning came when again Lee Smith was beaten too easily and it was only a dreadful miss in front of our gaping goal by Wojchiechowski helped keep the scores level.

City responded with a fantastic move as Webb and Mustoe picked their way through the Team Bath midfield and Eaton's deft flick but wilkinson clean through the middle of the students' defence. Wilkinson is our top scorer and entering the penalty area he probably felt entitled to shoot although Smith on his right was better placed to avoid the one remaining defender and their keeper. As it was his calls went unheeded and the shot flew wide. It's difficult to criticise Wilko too much when some of our players seem so frustratingly unwilling to take the responsibility of having a shot on goal. We were left to regret those wasted opportunities and unheeded defensive warnings in the 25th minute when yet again we were weak on the right and the home team were given far too much room to lay a ball square across the penalty area. Karl Heiniger struck his shot well and Matt Bath had little chance, but it was alarming how Griff and the rest of our back line seemed to freeze as the defence crumbled.

City were reeling and for a few minutes we were totally disjointed but we did manage to get back into the game. We spurned a great chance to draw level after Smith forced a corner which was only partly cleared by the students. Cox chased down the ball well and his cross from the right found it way back to the other flank where Knight did well and also found room to cross. For once the home side made a hash of their offside trap and Eaton found himself in space at the near post ten yards out. However he waved an unconvincing leg at the passing ball and failed to bring it down under control when he had time to do far better. Not a great moment for those who believe he adds something to make his divisive presence at the club worthwhile.

The argument against Eaton has not been about his ability or merits on the pitch, and he certainly seems to have put in some effort although he's never been the strongest player and his legs are visibly deserting him. He did well to chase down a ball on the right and flick it into the area where Cox couldn't control it. The ball only got as far as Knight on the edge of the box and he came close to repeating his strike of last Saturday with a fizzing shot just over the bar. That seemed to shake a few cobwebs out of our team and a minute later we drew level. Mustoe drove the team forward down the right and Chris Thompson made an all too rare forward run, creating an extra man down the right flank. He checked inside to Smith and the youngster was able to run along the edge of the box before unleashing a fierce low drive that flew neatly inside the keeper's left hand post. It was a great finish to celebrate his continued presence at the club after Chippenham's offer for him was rejected during the week. He was also a fitting player to score the 300th goal of Chris Burns' management reign.






Top: City get caught off balance as they push forward.
Bottom : Cox tries the old tripping yourself up trick as the students defence holds firm.

Before the half was over City had another opportunity to score as Smith escaped from a handball incident and fed the ball to mustoe who produced another good cross that failed to attract any interest from our forwards. The ball was again not fully cleared and Webb tried a shot but it was wild and high. At the other end we survived another scare as the defence stood off again and somehow we were able to smuggle the ball off the line through the combined efforts of Matt Bath and Chris Thompson. By the end of the half the City fans were hugely frustrated, especially with the front pairing who had produced little. Cox seemed to be trying to make the runs of old but lacked any conviction, belief or strength to carry himself into the same positions whilst Eaton showed the odd deft touch but more often was a static spectator. On a number of occasions both Webb and Mustoe were forced to play desperate balls as their strikers showed them absolutely no movement or options.

Twerton Park has not been the luckiest of grounds for us in recent years, particularly for some reason in second halfs. In the first half at least we'd shown some forward momentum but it seemed difficult to imagine we could continue to be so uninspiring in the attacking third. Somehow we contrived to follow history and get even worse. The first period of the second half saw some of the most inept football we've managed in recent years. There were moments when we threatened but we were simply failing to carve out clear chances. Cox escaped down the left but again found himself under pressure where previously he would have often raced clear. His chipped cross found Smith at the far post but he took an extra touch and the chance disappeared. In a rare moment of partnership Cox managed a flick from the corner that almost found eaton, but again he seemed to have lead in his boots and the chance went as quickly as it had arrived.

The game drifted away from us as a terrible torpor sank upon players who were beginning to believe that whatever they tried there was an ingredient always going to be missing. Team Bath were coming more into the game as their own confidence returned as surely as ours slipped away. Their passing was crisper and more decisive where as many of our passes went astray or simply found themselves stuck in blind alleys with no options available. Heiniger could have added to his earlier goal when he found himself in space as Tomkins was left marking an empty part of field. Fortunately this time the midfielder shot high and wide. Cox was still trying to get on the end of the odd pass and at least on this occasion I don't think he could be accused of not trying, however he made too few runs and just seems a shadow of the player he has been for us. There was something very sad about seeing him fluff another effort as Wilko touched on a long ball and Cox picked it up and turned promisingly towards goal only to see the ball get caught up between his feet and the defender allowed to come back across all too easily.

Eaton tries to look as if he might actually jump.

We almost fell behind again when Heiniger had yet another opportunity as we failed to learn the lessons from earlier and no-one picked up his late run on to a good deep cross from the right. Smith has learnt to defend well since moving positions but went back to bad habits as this match went on and was too often offering little more than an apologetic trailing leg as opposition burst past him. Fortunately the midfielder's header was poor and went high over the bar despite not having a defender near him. We could have come straight back into the game but Knight's excellent long range pass to Cox was spurned as the forward simply could not accelerate away from the defender.

Addis finally made a belated appearance, replacing Eaton who had by now simply sank out of sight amidst the deepening gloom. Knight also went off to be replaced by the younger legs of Marvin Thompson. Almost immediately Addis made a difference as he cut inside to receive a lay off from Cox and drilled a shot that forced Chitty in the Team Bath goal to make his first proper save of the game. The resulting corner almost fell to Griff but we were not getting much luck, and we didn't particularly deserve it.

Any upturn in our display was quickly lost though and the game fell into a subdued depressing pattern of misplaced passes. It was embarrassing and the Team Bath side were now able to dominate the game in a way that never looked possible when them match kicked off. We were lacking in ideas and instead of keeping it simple were now searching for an impossible single killer pass to unlock the home team defence. Our own defending was now looking ragged and disorganised, and it was down to fine individual blocks by Chris Thompson and Griffiths that more chances didn't come the way of the students. We were not defending as team at all and with our midfield increasingly needed to help out at the back we were failing to get forward in any numbers.



By the end it was the City goal that was surviving a few scares. Griff was at his most angelic when the team Bath players turned appealing for a penalty and the momentary confusion gave Mustoe time to whack the ball clear to safety in no uncertain terms. City then countered and again Addis gave us a little bit extra as he feinted one way to give himself room to fire in another shot, which whilst not too difficult for the keeper at least forced him to act. City were grateful to their own keeper before the final whistle though as we almost finished the match with nothing. We allowed ourselves to get stretched over on the right and with our defence all ball watching Marvin Thompson suddenly found himself stranded with two forwards to fend off. The shot that followed was well hit and Matt Bath needed to dive full length to push the ball round the post.

This could be the last game of Eaton's loan period and hopefully Burns will save his money until he can find a player who can add to the squad. Eaton should never have been allowed back into a City shirt after his disgraceful actions towards City fans in the past, but perhaps more to the point he doesn't add anything new to the squad. Trying as hard as possible to be impartial, Eaton's shown the odd nice touch since his return but offers us nothing as either a target man or as a goal poacher. He can't get into the positions he may want to and we have other players who are worth persevering with as they could still provide a long-term solution. Lee Davis looked like he could forge a good understanding with Addis in their games together while Jimmy Cox looks like presenting Burns with the managerial challenge of his career to date. We know what Cox is capable of but he is currently a shadow of his former self, a huge problem as his pace allied to Addis' inventiveness would really give SLP defences something to worry about. However, Cox looks a player low on confidence, belief and fitness. If Cox is still interested then Burns has to help him back to his best, if he isn't interested Burns either has to find a way to motivate him or begin to plan for a side without the second half of the strikeforce that fired us to promotion. Interesting times are ahead, but the answer up front needs to be more imaginative than a player in the veteran category.

This match was a distressingly familiar sight to City fans as once again we managed to get pulled down to the level of a more limited team rather than maintaining our own standards, tempo and shape. If we had managed just ten minutes of the kind of football we produced against Bedford we could have scared the life out of Team Bath, but instead we allowed ourselves to get drawn into some sloppy defending and lazy forward play. It was not as simple as lack of effort; more about lack of application. We know what we can do against the top teams and we need to produce enough professionalism to go out and produce the goods in games like this. Perhaps we took too much for granted against the side at the bottom of the division, but having played five previous tough competitive games against Team Bath in the last 18 months we should have been better prepared for what lay ahead. A point away from home is never a total disaster, but this was definitely two important points dropped when we face a difficult run of matches in the weeks ahead.

* Despite the disappointing result City maintain the 14th spot we held going in to Saturday, but the table is starting to open up a little and the top teams are starting to move beyond our reach while the relegation places remain uncomfortably close. Halesowen relinquished their grip on top spot as they fell to their first defeat of the league season at The Grove. Worryingly for City the triumphant side were our next opponents Hitchin Town whose new manager Darren Salton saw his new side get him off to a winning 3-1 start. Merthyr capitalised with a fine 2-1 win at Hednesford, but Histon couldn't close the gap as their cup hangover continued as they were convincingly beaten 3-0 by Bedford with strikers Chris Dillon and Paul Fewings again amongst the goals. At the other end of the table King's Lynn and Tiverton both continue to pull away from the bottom places after surprisingly being amongst the early strugglers. Tivvy won 3-1 over Dunstable who remain in the bottom four while King's Lynn finally showed signs of getting results for their money as the Norfolk team won 3-0 at Chesham.


| | | | | | |
| --- | --- | --- | --- | --- | --- |
| Referee: | B. Baker (Andover) | League Position: | 14th (=) | Attendance: | 151 |
| Conditions: | overcast and dull | City Form: | DDWLDD | Match Report: | by t-towel |
Work commitments mean that we are keen to obtain other match reporters willing to provide details on some City matches. All text can be supplied by email, with no need to worry about web design or formatting. If you are interested please contact the T-Ender.