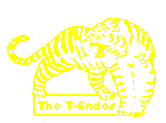 We welcome all contributions to the T-Ender. Please send any material for the site by
email to the address above.

Disclaimer
The views expressed on these pages are not those of Gloucester City A.F.C., its directors or officials, or of any other company mentioned. Neither do they represent the official views of the Gloucester City Supporters' Club or its committee.
While we make every effort to ensure information placed here is accurate we do not accept responsibility for errors that may occour. If you do find a mistake please let us know.

All pictures and material unless otherwise stated are the site's own and is
© www.t-ender.co.uk
All material may be reproduced with permission and appropriately attributed.
Saturday 29th January '05

Solihull Borough

at Damson Park

Southern League Premier Division
(match 28)

vs

Gloucester City

Solihull Borough

3

Scorers: Barry (30), Hawker (38, 73)

Gloucester City

3

Scorers: Cox (26), Wilkinson (53), Addis (65)
City Side:
Bath, L.Smith, Noakes (M.Thompson 34), Griffiths, Burns, C.Thompson, Mustoe, Cox, Addis, Webb, Wilkinson.
Subs not used: Reid, Tomkins, Knight.
City Bookings: none
T-Ender Man of the Match: Chris Thompson: made several crucial tackles and interceptions with useful runs from the back.
Once again we put in plenty of effort and showed real bravery and guts in this vital showdown with Solihull, but yet again the same demons came back to haunt us and a defensive fragility and lack of strength at the back cost us dear as having twice taken the lead we again come away with a single point from a match that should have been ours. This was a crucial game for City with the league table settling down and our inability to turn good performances into victories starting to increase the pressure and talk of relegation at Meadow Park. Assistant manager Keith Knight called for his side to show more mental strength, but again a lack of concentration and organisation proved our undoing.

Solihull have struggled for consistency this season having started the season with a much reduced wage bill which was always going to condemn them to a difficult campaign. Despite this though they still seem to have been able to attract some proven players at this level and with our usual lack of timing we were facing them on the back of some much improved results including a recent win at Bath City. Burns is looking for some magic ingredient to spark our side back into the form we know we are capable of, and 16 year-old Michael Noakes got this chance to start a game for the first time in the left wing-back position. His performance from the bench against Aylesbury last Saturday had clearly impressed when he seemed to add more natural attacking balance to the team.

Borough's ground is a slightly barren two-sided affair and the bleak surroundings hardly seemed to lift the spirits of either side. The game got off to a fairly muted start with a lot of hopeful long balls and a fair bit of time spent watching the ball flying aimlessly around as no-one was able to get their foot on it. It was nervous stuff, and both teams seemed very aware the game could prove vital at the end of the season. Mustoe had recovered from his hamstring strain to take his place at the centre of the midfield and was in all the right places, but even he wasn't managing to find any of his team mate's in any space.

City see another corner cleared at the far post.

With neither side creating too much space it came as something of a surprise when a fairly turgid opening 15 minutes was ended when Webb burst from midfield. He barely seemed to have the ball under control as he stumbled towards the area but never the less he poked it towards Cox who was able to play it back to him in a classic one-two that carried the midfielder in to the box. Webb has been off his best but this looked more like his old form and he was unlucky to see his shot lifted just over the bar.

We were having our usual problems of getting forward in sufficient numbers and instead of trying to use the flanks we were lumping balls up field to Addis and Cox, and too often seeing them come straight back at us having been easily cleared by a taller, stronger defence. We were having our own work to do in defence, but we looked (whisper it) comfortable. A dangerous cross was met by a firm Griffiths header and another tricky through ball found Chris Thompson smartly across to make a near and decisive tackle. Solihull seemed devoid of ideas and what was coming our way looked easily dealt with.

Our hopes lifted further when Noakes flicked through a probing ball down the left and Cox raced onto it, turning Andy Smith one way and then the next before cutting in field and beating another defender. The final shot was a foot outside the near post, but none the less the frantic Solihull shouting and pointing showed how they felt about being attacked at pace by a dribbling forward.

We then took the lead with an attack that had looked like it was going nowhere. Smith had managed to beat one defender but had seen his cross beaten away. However the ball fed back to Addis got the attack going again and found Solihull short of numbers at the back. With Cox making a more determined run in to a central area the home side looked exposed and Addis' cross was whipped across the face of the goal. With Cox battling to get their first Peter Barry had too much to do and in his determination to prevent Cox reaching the ball he helpfully flicked it past his own keeper. (The goal was later credited to Cox, presumably he wanted it more than the defender).

All too often we've struggled to concentrate having taken the lead and yet again we went to sleep at a crucial part of the game. Solihull suddenly managed to press us and found our defence opened up when a diagonal ball from the left of midfield wasn't cleared after a soft header by Lee Smith. That allowed another dangerous cross from the right and before we knew it the ball was flying around in a hectic congested six-yard box. Thommo looked to have hacked the danger clear but it only went as far as Peter Barry who had crept on to the edge of the penalty area to drive home an equaliser. It was a good finish and he must have been relieved to cancel out his own goal so quickly, but you have to ask how the ball was able to fly around for so long in our box without someone getting the emphatic thumping clearance that was needed.

Bad then went to worse for City as we got bogged down in a series of central midfield scraps as neither side could could settle. In the middle of one of these battles young Michael Noakes tried to turn and was on the receiving end of a fairly innocuous looking tackle that caught him on the ankle. It was clear straight away he was in trouble as he lay prone on the pitch, and before long we had the sad sight of him leaving the pitch on a stretcher. Not exactly a dream full debut for the 16 year-old and a sight which certainly upset our players and left us with some hasty re-organisation as Marvin Thompson came on to the left-flank to replace the youngster.




Left: Addis line dances past Solihull
Middle: Cox reminds Andy Smith why he should have come to City.
Right: Webb gets his head to yet another midfield aerial bombardment.

We tried to settle but visibly lost our way for a short while although Cox enjoyed another good run, but this time his in field ball found Wilkinson who was smartly closed down. We escaped one near miss as fairly weak cross down the left was missed by Chris Thompson and then found Marvin who initially did well to recover and bring the ball out only to sloppily give the ball away and allow Solihull to attack again down the left. The cross was eventually dealt with by Burns and Griff and Matt Bath was able to clear the lines, but we had been warned. A few minutes later Solihull attacked again down the left but the danger was partially cleared by Burns and then Marvin did well to close down space for the cross and conceded a corner. We had plenty of people back but some how the deep corner found Matt Hawker unmarked on the edge of the box and he powered a strong header into the top corner from around 14 yards. It was a spectacular header from that distance but how was a player left with a clear run to attack the ball from a set piece?

City needed to get back some shape and discipline after a second half-break that involved the sad sight of Noakes leaving in an ambulance. Fortunately we did seem to rally and started the second half brightly, even recovering from a kick-off that seemed to involve kicking the ball as hard as possible out of play. A few minutes later a superb long ball from Burns found Smith in space and his clever ball inside enabled Webb to make the by-line where his cross was cut out for a corner. From the deep out swinging cross Burns managed a strong header that narrowly cleared the bar. City looked hungry and it seemed we were back in business.

It was far from being one way traffic though and Solihull looked lively without really creating much in the way of clear opportunities as Griff and Thommo kept close to their main strikers. Marvin Thompson also had a good spell, with much to prove having found himself back on the bench and doubtless eager to recapture the form and confidence he showed at the start of the season. He certainly made a couple of vital interceptions and a few clever body swerves helped him bring the ball out of defence on several occasions.

One of these blocks helped see off another Brummie attack and with Marvin and Mustoe helping to tidy things up Burns had time to heave forward a far from delicate up and under towards the Solihull back line. Addis raced on to it and having knocked it clear of the defender the young Forester showed great bravery to go in for a header with keeper Mark Gayle rushing out. Addis got his head to the ball but inevitably collected a heavy knock in the process. He'd done his job though as the header left the keeper beaten and Wilko was on hand to drill the ball into the net and past the covering defender. City were level, and Addis must have been pleased with his effort as he groggily got to his feet with the help of Ade's magic smelling salts.

Webb shows Marvin how to get the ball back.

For all our vulnerabilities we still look an exciting and dangerous attacking side when we get the bit between our teeth. With Addis' bravery having given us a much needed lift the match looked as if it could only go one way now. The yellow hoards pillaged down both flanks and even at the back our tackles suddenly looked crisper. Smith has struggled for his best form recently and particularly seems to have been reluctant to get over those fierce right wing crosses that created so much damage last season. This time he got his head down and resisted the temptation to cut inside, hitting the by-line and seeing his short cross cause chaos in the Borough defence. The ball fell to Wilko but this time he seemed to get the ball caught under his feet, but still had the presence of mind to find Addis but his shot was blocked.

At the other end City survived a bizarre scare as Griff and Mustoe confused themselves and lost possession, allowing Solihull to try a shot from distance. The speculative effort cannoned off the bar and everyone seemed to freeze, as if expecting a whistle. Eventually Solihull responded first and tried a follow up effort but it was tame and the ball ballooned upwards for Matt Bath to clutch gratefully to his chest. City responded quickly with perhaps our best move of the match. Cox got free of his marker and pushed past one defender before sliding the ball to Addis on the corner of the box. He delivered one of those instant turns that make him so dangerous and his instant snap shot was destined for the far corner. Former Walsall and Worcester keeper Mark Gayle has been around a while and he produced a typically sharp save to push the ball past the post. So good was the stop that the ref awarded a goal kick, but the keeper actually did do that well!

City were looking dangerous and the Borough defence had the look of a rabbit in the headlights now. They're morale can't have been helped as Mustoe jinked his way out of the midfield and sent Cox racing clear of the defence down the left. He cut inside and went past two, then three, before sending in a shot from a narrow angle that was gratefully kicked out of play at the near post. The corner was wasted though, and Mustoe still needs to find more consistency with his dead ball delivery.

It was only moments before he had chance to redeem himself. Wilkinson stepped clear of a few challenges in the middle of the park and then exchanged passes with Addis as the pair of them picked their way through a seemingly impossibly congested penalty area. When the move broke up Marvin picked up the ball and charged for the by-line with sudden pace that forced a corner. This time Mustoe delivered a much better ball that hung in the area and caused chaos as Burns and Wilko threw themselves towards the high ball. Wilko seemed to get a touch and then Addis supplied a final scuffed touch as the ball seemed to roll down the back of the defender and into the goal. It wasn't the cleanest finish in the world and Addis' claim to the strike may be a little dubious, but whatever, City lead!

Any optimism amongst the traveling City faithful was diluted by the terrors of our previous experience and no-one was counting the points before the whistle. Despite all of our previous troubles we seem entirely incapable of keeping ten men behind the ball and grinding out the result. If anything we tense up and our distribution and marking become careless and sloppy. Webb was a prime culprit this time as his wasteful pass almost created an opening up and he was rescued by a great tackle by Griff on the edge of the area. That was just a warning though and after an attempt to move the ball across midfield fell apart we suddenly found we had surrendered the ball cheaply again and Hawker ran in to tuck the ball past Matt Bath who seemed to move desperately slowly to what had not been the fiercest hit shot.

We tried to come back and find a last late killer goal, but those have been in short supply this season. We managed a good counter attack on the break but Cox delivered a poor pass to Lee Smith that meant he had to check his run to collect the ball and some of the impetus was gone. When the shot came from Smith it lacked power or conviction and seemed the effort of a side that believed it would not get the win. A further effort almost yielded a scrappy winner, with Addis and Cox combining down the left to get a throw in which Griff hurled towards the penalty spot. The defender was all over Coxy as the high ball came in but the ref wasn't going to risk a late penalty decision and Thommo's shot was on target but lacked any punch.

The final whistle was a relief. In some ways an away point is never a bad result, but we needed to pick up more here to lift the concerns and to avoid a few weeks of worry as we now go a fortnight before our next game, the tricky trip to Aylesbury. Hopefully the time will allow us to get the much missed Lyndon Tomkins fit enough to get back in the side for that trip. There are plenty of things to be worked on in training in that time too, in fact you can't see this side working enough on dealing with defensive situations. If you get three goals you should not be left with just a point, as we now have been three times this month.

* This point actually lifted us one place to 16th, but no-one should be under any illusions that we are now firmly in the relegation mire. We are a mere three points from the dreaded 19th spot, and of the teams below us three have a match in hand, one has two in hand and Hemel Hempstead have three more matches to play. Our blank weekend next week should help settle the position but we're now in a position of anxiously watching the form of others, not a position we should have found ourselves. Rugby United's terrible run came to an end with a 2-1 win at Aylesbury, and we all know how impressive we thought they were last week having beat us 3-0, and of course we thumped Rugby 6-1 a few weeks ago. The results just illustrate how topsy-turvy the division is and how difficult it is to predict the final positions. Stamford held Halesowen after an equaliser from Rushden loan striker Rob Duffy at The Grove, while Team Bath moved out of the relegation places with a crucial 3-2 win over Dunstable who remain bottom. At the top Chippenham confirmed their pole position with a 2-0 win over Merthyr with former Ciren striker James Constable grabbing both goals.
| | | | | | |
| --- | --- | --- | --- | --- | --- |
| Referee: | M.Weaver (Warley) | League Position: | 16th (+1) | Attendance: | 249 |
| Conditions: | dry and overcast | City Form: | DLLDWD | Match Report: | by t-towel |
Work commitments mean that we are keen to obtain other match reporters willing to provide details on some City matches. All text can be supplied by email, with no need to worry about web design or formatting. If you are interested please contact the T-Ender.