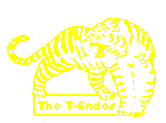 We welcome all contributions to the T-Ender. Please send any material for the site by
email to the address above.

Disclaimer
The views expressed on these pages are not those of Gloucester City A.F.C., its directors or officials, or of any other company mentioned. Neither do they represent the official views of the Gloucester City Supporters' Club or its committee.
While we make every effort to ensure information placed here is accurate we do not accept responsibility for errors that may occour. If you do find a mistake please let us know.

All pictures and material unless otherwise stated are the site's own and is
© www.t-ender.co.uk
All material may be reproduced with permission and appropriately attributed.
Saturday 8th January 2005

Gloucester City

at Meadow Park

Southern League Premier Division
(match 25)

vs

Rugby United

Gloucester City

6

Scorers: Wilkinson (3), Payne (15 o.g.), Addis (54, 61), Knight (70), Rimmer (89)

Rugby United

1

Scorers: Beard (46 pen)
City Side:
Bath, L.Smith (Reid 85), M.Thompson (Knight 59), Griffiths, Burns, C.Thompson, Mustoe, Cox (Rimmer 85), Addis, Webb, Wilkinson.
Subs not used: Bennett.
City Bookings: none
T-Ender Man of the Match: Dave Wilkinson; many people improved their performance but Wilko's extra cover in midfield was crucial.
After weeks when it looked like grinding out a win was next to impossible some how City found the 'on' switch yesterday and smacked poor unsuspecting Rugby United for six. The result was as welcome as it was unexpected, but while the relief was palpable all around Meadow Park this was as close as you could get to a nervy 6-1 win.

City started out of the blocks at a magnificent charge, you can only imagine what had been said in the dressing room about our twice surrendered home leads against Halesowen and Merthyr. Burns is not one for criticising his players in public but even he had described our defending as 'schoolboy'. This must have upset the schoolboys who had watched it and seemed to have a fair grasp of where our heroes had been going wrong. Whatever had happened behind closed doors Burns kept faith with the same players, only returning to his favoured 5-3-2 formation while keeping himself in midfield after his impactive performance against Merthyr earlier in the week.

The visitors must have wondered what hit them as in the first few minutes City attacked at great speed through first Cox and then Smith. Neither attack did more than unsettle the Rugby defence, but even so they had their warning and they did not look like a side that had not let in a goal for three games when we took an early lead. Mustoe broke up an embryonic Rugby attack and his ball sent Tom Webb scuttling down the left wing. In previous games Webb has never looked comfortable on this flank but he looked pretty much at home when he skipped towards the by-line and sent over a sweeping cross towards the penalty spot. It was inch perfect for Wilko who stretched out a leg past the defender to steer the ball past a stranded keeper and into the net. A neat finish that took our unlikely leading goalscorer into double figures for the season.

Hey keeper, Why so nervous ?

The only fear was that we may have scored too early and given our previous vulnerability when ahead the prospect of holding on to a one goal lead for 87 minutes did not appeal to what is left of my fingernails. We need not have fretted though as the Rugby keeper Mike Payne had in store one of the greatest comedy moments to be witnessed by the T-End for many years. Mustoe has been criticised this season for not delivering from corners and when Cox ran in and was tackled to concede the dead ball it did not really stir too much hope. Even when Mustoe's well flighted ball came over it looked to have cleared the near post but fallen short of Burns and Griff running in from the far post. It looked easy for the keeper. However, he had other ideas and for no apparent reason decided to try to punch the ball rather than claim an easy catch. The ball duly spannered off his fist and screwed gently backwards into the open net. The T-End promptly went into convulsions while Mustoe attempted to lay dubious claim to the goal.

The rest of the half saw the fans waste few opportunities to remind the keeper of his gaff. It seemed the previous custodian had walked out of the club after falling out with the fans. The inrepid bunch of Rugby supporters must have been wishing they'd kept their gobs shut having seen the replacement. Rugby were losing their tempers a little and you knew they were in trouble when Wilko twinkled his way past Adam Hart who promptly booted him up in the air. While Wilko went looking for the rest of his shin in the Meadow Park grass the ref put Hart in the book, leaving him even less able to deal with the pace of Smith and Webb.





Smith then went close with a drive at the far post, but this time Payne remembered what he was there to do and made a good stop. Cox was also cutting lose at long last and he enjoyed a strong run that carried him past the defence and his goalbound drive needed another good save from Payne. You can only imagine his fear as he realised he'd conceded another corner. This one was defended a little better, in as much as the entire Rugby defence threw themselves at the ball to avoid their keeper getting to it. Unfortunately for them Wilko won a near post header and in the resulting scramble Griff almost scored with a cheeky back heel in the six yard box. And him a centre-back!

Rugby tried to close the door a bit and City were content to sit back and reflect on the glory of a first half two goal lead. Things got a little dull as Rugby managed only a couple of wide efforts from distance that threatened the car park far more than Matt Bath's goal. The only distraction was Griff's running battle with Rugby striker Robbie Beard which saw both of them trading sly digs, all missed by the ref. We did manage one last chance before the half-time break, a spectacular flying attempt by Mustoe that was inches away from being a great diving header. Unfortunately as it was he was left looking a little silly, but Smith was on hand further across the goal mouth to tap the ball into the side netting.

If it all seemed to be too good to true at half-time the City nerves were really in evidence early in the second half when a Burns slip led to Rugby being given a penalty which was promptly slotted past Matt Bath by Robbie Beard. With just one goal in it the players could have perhaps been forgiven for hitting the panic button. Certainly many City fans had decided this had a horribly familiar look about it and were simply waiting for us to cave in. This side may sometimes look like they lack much in the way of tactical acumen but you can't doubt their spirit and we managed to ride out a rough ten minutes through little more than determination. Certainly Wilko seemed to have found a bit more energy and his presence alongside Mustoe in working the area in front of our defence added a layer of protection sorely missing in some recent games. Wilko made a vital contribution when he collected a fierce drive on his head, but it was a necessary intervention as he was stood on the goal line at the time. Griff too looked more on his mettle as he put in another crunching tackle on the edge of the area to break up one particularly menancing looking Rugby attack.


Left: Mustoe assesses his options.
Right: Griff goes close with a cheeky back heel.

The game eventually turned on us grabbing a break away goal at a crucial time, something we had not managed in the other recent home matches. We attacked swiftly right from Matt Bath's throw to Webb and Burns sending Cox on a run down the left channel. Too often this season Coxy has seemed disinterested but he is improving visibly with every game at present. This time he got his head up and flicked a clever pass inside his marker to Addis. It looked like the young Forester had pushed the ball too far ahead of him as he brought it down, but despite the attention of a defender and the onrushing keeper he kept his head. He steered a low angled shot below the keeper and into the net and if anyone deserved to get on the score sheet for their recent efforts it was him. With a finish of such startling accuracy under that kind of pressure you can only wonder how there have not been plenty more.

Rugby had believed for a short while but this was not a side with the same self confidence that had helped Merthyr and Rugby fight back against us in recent games. They were drained and could offer little resistance as City attacked with vigour on every available front. You could see the defenders quake as Mustoe sent Lee Smith away to torment them at pace and he was unlucky to see his eventual drive hit the side netting. Mustoe himself was having fun, exchanging passes with Addis before nutmegging a defender who was left a defeated heap on the floor. The cross saw Cox go close with another effort. City did not have to wait long for a fourth which came as a corner wasn't cleared properly. Knight dinked the ball back into the box and Wilkinson headed goalward only for his effort to be parried by the keeper. Wilko then had another go, again blocked by the keeper, but Rugby could not scramble the ball away and eventually it fell to Addis who crashed the ball into the back of the net for his second of the game. It was the ugly sister of his previous strike but all the more welcome for looking like the goal poacher's finish that we've missed all season. With goals come confidence and hopefully Addis can start to add the finish to his all round game which has promised so much.





Top: Ref spot one. You can't do that to Wilko.
Bottom: Ref spot two. I'm still wearing that shirt (and yes that's the 18 yard line).

City were now flying and Rugby were just looking for the quickest way to get out. Had this been boxing some kind soul would have ended their misery, but football can be a crueller sport and City could torment the opposition for a while yet. The normally impressive Andy Commander was the next United player into the ref's note book as he resorted to wrestling Jimmy Cox to the ground as the striker zipped past him. When he did the same thing a few minutes later the Rugby player should really have been dismissed, but like the ref, it was hard not to feel some sympathy for him.

With City now having the rare luxury of a cushion we began throwing on substitutes, but for once this did nothing to destroy our attacking impetus and we looked quite irresistable while Rugby were now in full blown retreat. It looked as if the danger had passed when another Smith run came to a grinding halt against the defence, but Knight was fresh to the fight and he picked up the ball and shifted it easily on to his favoured right foot. He may no longer still have the pace but Knighter still has a great touch, and he whipped in a fast curling ball into the top corner. It was a goal fit to win any game, but as it was we were just happy to edge even further ahead.

City's defence was now organising their Saturday nights out before being rudely interupted by a brief attack from the Rugby forwards. Fortunately Matt Bath had only been choosing from a takeway menu and was able to break-off just long enough to swoop on a dangerous loose ball. That did wake us up a little and Rugby did hit the bar from a corner a few minutes later. It looked like the rebound would also fall to a blue shirt, but the follow up was headed high into the T-End. Time to go home for you....

City skipper Neil Mustoe knows he should be getting more goals and saw a great chance to improve his stats when Addis tricked his way past a few players before sliding the ball back across the face of the remaining defence. Mustoe's drive from the edge of the box was well hit but took a vital deflection to carry it over the bar. By now the ref's sympathy extended to the award of a goal kick. He probably couldn't face the thought of poor Mike Payne having to handle another corner either.



The goals weren't over as we threw on a couple of youth team players, at last feeling safe to blood a few of our youngsters in a match where everything wasn't still up for grabs. Reid again impressed with a few crisp tackles, but this time it was left to 16 year-old starlet Eddie Rimmer to catch the eye. He picked up a clever pass by Mustoe but went on to surge past two defenders to carry him into the six yard box. It looked like the youngster had been pushed too wide but he kept his balance and poise to slide a low shot underneath Payne to seal our buggest home win for several seasons. That is a lot more like it!

There was no great secret to our suddent win, we've looked like smashing someone for a few weeks and it was a shame it happened to poor Rugby. We got the goals against stronger sides like Merthyr and Halesowen as well, but this time we managed to defend a bit better and show some strength when it mattered most. We just need to bottle whatever that extra ingeredient was and try and find it with more consistency, starting with a much needed second away win at Hemel Hempstead next Saturday.

* Our very welcome win has only lifted us one spot in the league table to 16th, but it has closed the gap between us and some of the clubs immediately ahead of us. We managed the biggest score of the day in the Southern League Premier, but the shock result has to be at Dunstable. The struggling Bedfordshire outfit managed a 3-1 win over high-flying local rivals Bedford Town, despite going behind. Chippenham closed the gap at the top as they emphatically beat fellow promotion chasers Chesham with a 5-2 win at Hardenhuish, taking advantage of a slip by Merthyr who were held to a 1-1 draw at home to Tiverton. The two form teams in the chasing pack continued to gain ground, with both Histon and Cirencester recording comfortable victories over Stamford and Solihull Borough.
| | | | | | |
| --- | --- | --- | --- | --- | --- |
| Referee: | J Cox (Evesham) | League Position: | 16th (+1) | Attendance: | 357 |
| Conditions: | dry, bright and windy | City Form: | WDLDDD | Match Report: | by t-towel |
Work commitments mean that we are keen to obtain other match reporters willing to provide details on some City matches. All text can be supplied by email, with no need to worry about web design or formatting. If you are interested please contact the T-Ender.