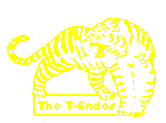 We welcome all contributions to the T-Ender. Please send any material for the site by
email to the address above.

Disclaimer
The views expressed on these pages are not those of Gloucester City A.F.C., its directors or officials, or of any other company mentioned. Neither do they represent the official views of the Gloucester City Supporters' Club or its committee.
While we make every effort to ensure information placed here is accurate we do not accept responsibility for errors that may occour. If you do find a mistake please let us know.

All pictures and material unless otherwise stated are the site's own and is
© www.t-ender.co.uk
All material may be reproduced with permission and appropriately attributed.
Saturday 13th November 2004

Merthyr Tydfil

at Penydarren Park

Southern League Premier Division
(match 16)

vs

Gloucester City

Merthyr Tydfil

2

Scorers: Bale (53, 68)

Gloucester City

2

Scorers: Griffiths (14), Wilkinson (65)
City Side:
Bath, L.Smith, C.Thompson, Griffiths, Tomkins, Burns, Mustoe, Cox, Addis, Webb, Wilkinson.
Subs not used: M.Thompson, Davis, Knight, Harris.
City Bookings: Wilkinson (foul), Burns (dissent), Griffiths (foul)
T-Ender Man of the Match: Tom Webb; worked as hard as anyone for the point and made some vital challenges in defence.
City will be mightily pleased to have grabbed a point from a match that the players must have entered with little expectation of enjoying much success. It was a hard fought match with little quarter given by either side, and despite some fussy refereeing there were bursts of attractive football and real entertainment in a feisty contest.

Burns is rarely able to resist the temptation to put himself into the side when given the opportunity and after an injury to Marvin Thompson the boss duly restored himself to the centre of the Tigers defence, while Jimmy Cox got a chance to redeem his disappointing start to the season by returning to the starting line-up for his 200th City appearance. It looked as if the travelling side could have been forced into an unwanted late change as keeper Matt Bath managed to collect a shot in the face during the pre-match warm up, but after a little sit down he was able to take his place between the sticks for what proved to be a vital contribution to a stirring contest.





Top: Burns feels the full wieght of Craig Steins
Bottom: Addis has the Martyrs on the run

The early exchanges didn't promise a great deal as both teams struggled to find any accuracy to their passing. The ball found the stands as often as a team mate's feet and neither side had much to show from their efforts. Addis had the first real chance but his shot from Smith's cross was rushed and flew well wide. Merthyr were equally over anxious and wasted a good opportunity as Chris Thompson was beaten and a low cross whistled across the City goal mouth only for the Martyrs' forwards to appeal hopefully for handball rather than attack the chance layed on for them.

After ten minutes or so the game started to find a bit of a rhythm and it was City who looked the more composed outfit. The exception was the player-boss, perhaps relieved to find himself still on the pitch after his previous brief outing at Grantham he was keen to make small talk with the ref and they exchanged pleasentries across the pitch for quite a few minutes. Back at the sharp end Jimmy Cox got a chance to stretch his legs as a clever ball from Tom Webb sent him rushing in on goal only to see the keeper quick to smother the danger. Smith went on a strong run but collected a heavy tackle which seemed to trouble him for a long while after.

Despite the previous chance City's players seemed as shocked as anyone in the ground when they took the lead. Addis won a corner and the curling cross was met by the looming presence of Lyndon Tomkins whose header was hacked clear. However it was only cleared to the edge of the area where Neil Griffiths swivelled and hit a crisp half volley that clipped the under side of the bar and then the back of the net. Not a bad finish for a centre-back.

City scented an upset could be on the cards and suddenly the home fans were audibly restless as our midfield snapped into the tackles and Addis and Cox twinkled down the channels. That sense of impetus ended with a crunch as Wilko went in on for the loose ball after Merthyr keeper Ashley Morris fumbled the ball while trying to prevent Cox's ball into the box reaching a yellow shirt. Wilkinson had every right to go for the ball but he connected with the home keeper, causing a predictable over excited reaction from the Merthyr players and fans. The ref kept his nerve and at least only reached for a yellow card, after which the keeper oddly enough seemed to make a Lazarus style recovery to take the free kick.

The outraged Merthyr players found renewed passion and wrestled control of the game from us. the next ten minutes involved a series of Welsh attacks, each failing to create any real danger to the City goal. Tomkins and Burns mopped up any high balls with ease and Griff, Mustoe and Wilkinson all combined to provide an effective shield against what looked a pacey forward line. At this point the Merthyr side were failing to find any real width and we looked capable of soaking up the pressure. In fact it was City who again came closest during this period when a long clearance found Addis and his clever turn beat his marker and allowed him room to cross. Smith was free on the edge of the box but his first touch betrayed him and by the time he could get a shot in he was under pressure and forced wide.

In the dying moments of the half Merthyr finally managed for the first time to really break through the Tigers back line. With Chris Thompson sucked inside the Martyrs had space to cross from our left and pick out a striker on the far post. Some how Matty Bath threw himself across goal to block well at the far post and then Mustoe got behind him to scrape the follow-up shot off the line. Wilkinson threw himself bodily in front of a forward to scramble the ball away before Neil Griffiths blocked a further effort at the far post before Webb was able to finally clear the lines. Having eased the pressure City won a free kick 30 yards out after Wilko was hacked down, but the ref blew the half-time whistle before Burns could take the kick and fortunately the official missed a classic Burns explosion as he hurled the ball into the ground before stomping off towards the dressing room. You can only imagine what the team talk was like after that.

The half time break seemed to do more for the Martyrs than for us and it was the home team who came out of the blocks quickest in the second half. Almost straight from the re-start a good passing move saw Merthyr move the ball well across the pitch and a deep cross found Shephard in space in the centre of the penalty area. With the goal gaping the equaliser seemed inevitable but Matt Bath crowned his 150th City match with a save as good as any in his career, clawing the ball over the bar from close range.

Merthyr were playing with a great deal more fluency now and they seemed to have made a tactical decision to push their full-backs up more often and the extra width caused us no end of problems as the half unfolded. However it also created gaps behind the home defence and with less support their central defenders looked a little vulenrable to quick attacks. Chris Thompson broke well down the left and picked up a Mustoe pass before crossing well. The deep ball evaded Addis but found Wilkinson whose header forced a good save from the Merthyr keeper. Merthyr's form has been a little better on the road than at home and they certainly showed good counter-attacking acumen any time City over extended themselves going forward. One such break saw City suddenly vulnerable with five on four defenders. Tomkins saw off the first attack but Wilkinson was penalised for a trip as he stretched to clear a ball on the edge of the box. The resulting free kick was hit with venom by former Cinderford midfielder Chris Bale and it flew into the net, the City wall evaporating and leaving an unsighted Matt Bath helpless as the ball rocketed past him.





Top: Wilko explains just how the keeper came to hold his knee... and then his ankle, and then his face.
Left: Tomkins chases a loose ball in the Merthyr box.
Right: Webb gets ready to remind Lee Howells just how much City love him.

City tried to pick themselves straight back up but there was no disguising the wobble in the knees as they waited for a further onsalught. Most City fans suddenly went from hope to the expectation of defeat. A City attack was halted by an inelegant trip on Mustoe and Burns took the resulting free kick, only to place it aimlessly into a bank of defenders. Within moments City looked to be in serious trouble as Merthyr attacked with pace and in numbers and City had much to be grateful to Griffiths for as he managed to hold up their progress sufficiently for Burns to get back and finally repair the damage with an emphatic clearance.

This set a pattern, as while Merthyr did manage to win the ball and enjoy some periods of control they looked more dangerous when we lost possession and they were able to hit us quickly. One attack came when Lee Smith tried to be a little too clever and having lost possession to the impressive Paul Keddle he had Tom Webb to thank as only his superb covering tackle denied a clear shooting opportunity inside the box.

The game was now opening up and despite some rather eccentric and fussy refereeing it was becoming an entertaining match with chances coming at both ends with increasing regularity. City now had a chance to edge ahead when some good passing from Webb and Addis set Cox free down the right and his run was only halted at the expense of a corner. City fans have seen what Tomkins can do from these set pieces and his thumping header went agonsingly close with the Martyrs' keeper clawing the air.

City's players hide from the nasty mean Merthyr fans

City were starting to play some attractive football and looked a much better side when able to keep the ball on the turf. Chris Thompson again found space and this time we moved the ball through midfield through Webb and Mustoe until Cox was able to find some space in the area to fire in a fierce shot which Lee Howells painfully collected in what is politely described as his lap. Smith's follow up shot was also kept out by a crunching block and suddenly we were again defending. It was end to end stuff but when Burns punted the ball out of defence a moment later it didn't look as if much was on, especially as Wilko shinned the ball clumsily forward. However, he chased the ball and picked it up with two defenders in front of him and little on. When he reached 25 yards out Wilko suddenly unleashed a sharp drive which seemed to move slowly through the air, but with terrible inevitable accuracy. The keeper was too slow and the City fans had time to celebrate even before the ball settled neatly inside the post to restore our lead. Hardly a typical Wilko goal, but easily the best of his six so far this season.

The one thing City really did need to do was concentrate and see out the inevitable response from Merthyr, but our defending lapsed and within a few minutes the home team were level again. With the marking suddenly missing and our additional midfield cover absent without leave Chris Bale had ample time at the far post to pick his spot and drill in a cross shot to give the home fans something to cheer.



The match was now frantic and any pretence of a defensive plan had been abandoned by both teams. City almost managed to retaliate when a low angled drive by Webb found Chris Thompson at the far post but his shot was crowded out by the keeper who did well to get back across his line so quickly. The ref decided he needed to get a bit more attention and City had a hugely lucky escape when he disallowed a Merthyr goal after Bath came for a high ball which he seemed to lose, the officials giving a dubious free kick for a foul on the keeper. The extent of the home fans' anger seemed to rattle the ref and he spent the next few minutes trying to get back in their good books with a string of equally doubtful awards in their favour. At one point a free kick was awarded for a hugely dubious fall and then taken yards closer to the City area than where the supposed offence has taken place. It was fortunate the shot on goal was wayward as it prevented an even more angry response. As it was Burns was booked for dissent as he pointed out to the referee that he may not have called the decisions exactly right.

The result could have gone either way right into the final minutes. City were starting to tire under more and more Merthyr pressure and it was perhaps surprising no City subs came on to bolster the creaking defences. Merthyr spurned a few good chances and another firm challenge by Webb broke up another dangerous attack while Burns headed away from under our crossbar as the wingers cut past Smith and Thompson with alarming regularity. All our defenders were playing well, but also surrendering possession with distressing frequency. Lee Smith hadn't enjoyed one of his best games but City hopes were raised as he emerged from defence with Merthyr's defence a rapidly retreating in front of him. He carried the ball down the middle of the park before sliding a great ball into the path of Jimmy Cox. The City striker has looked out of sorts all season but at least today he was plainly putting in the effort, however he still needs to work on his fitness and he was muscled out this afternoon when last year he'd have got away from the last defender.

In the final moments Smith was robbed of possession and Merthyr has one final chance to steal all three points but the ball was spooned high over the bar. The final whistle was a welcome sound and City will be delighted with a point from this difficult trip, although either side could easily dwell on missed chances that could have won the game. The point took Merthyr top of the table but this wasn't enough for the home fans who booed our players off the pitch, not that it will have bothered our lot in the slightest. One can only presume the Martyrs fans felt we had bullied their players, which rather suggests the poor sensitive souls are in for a very upsetting experience indeed when they face the strong arm tactics of really physical SLP sides like Tiverton and Chippenham.

* City's point kept us in 14th spot, but the table is so tight we are just 10 points behind Merthyr at the top and a mere six points from the bottom. Chippenham's wobble at the top continued with a 2-1 home defeat to form team Hitchin, with former Tiger Wayne Thorne taken off with a mouth injury. Merthyr and Chippenham meet at Penydarren Park on Tuesday night in what promises to be an interesting game. Chesham continue to stay in the promotion hunt with a 2-1 win at Cirencester, while Hednesford crushed any hopes of a King's Lynn revival with a 5-1 demolition job that saw Andy Bell score the first four for the Pitmen. In the Western Divsion former City goal legend Andy Hoskins finally broke his season's goal duck with a brace to earn his new club a 3-1 win at Oxford City.

The Southern League Premier sides flying the flag in the 1st Round of the FA Cup did us all proud. Pick of the bunch were Histon who knocked out Division 2 side Shrewsbury 2-0 in Cambridgeshire, but equally impressive were Bath City who travelled to Conference title chasers Barnet and beat them 2-1 thanks to two Scott Partridge goals. Halesowen lost at Yeading whilst Tiverton were unable to overcome Division 1 Doncaster who won 3-1 in front of 1600 fans.


| | | | | | |
| --- | --- | --- | --- | --- | --- |
| Referee: | D.Hine (Worcester) | League Position: | 14th (=) | Attendance: | 346 |
| Conditions: | clear and still | City Form: | DWWDLD | Match Report: | by t-towel |
Work commitments mean that we are keen to obtain other match reporters willing to provide details on some City matches. All text can be supplied by email, with no need to worry about web design or formatting. If you are interested please contact the T-Ender.