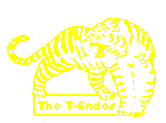 We welcome all contributions to the T-Ender. Please send any material for the site by
email to the address above.

Disclaimer
The views expressed on these pages are not those of Gloucester City A.F.C., its directors or officials, or of any other company mentioned. Neither do they represent the official views of the Gloucester City Supporters' Club or its committee.
While we make every effort to ensure information placed here is accurate we do not accept responsibility for errors that may occour. If you do find a mistake please let us know.

All pictures and material unless otherwise stated are the site's own and is
© www.t-ender.co.uk
All material may be reproduced with permission and appropriately attributed.
Saturday 26th February '05

King's Lynn

at The Walks

Southern League Premier Division
(match 32)

vs

Gloucester City

King's Lynn

1

Scorers: Hay (32)

Gloucester City

0

Scorers: -
City Side:
Bath, L.Smith, Knight (Harris, 76), M.Thompson, Tomkins, C.Thompson, Mustoe, Cox, D.Addis, Webb, Wilkinson (Reid, 76).
Subs not used: Burns.
City Bookings: Tomkins (handball), Mustoe (foul), Webb (persistent fouling)
T-Ender Man of the Match: Tom Webb: all action performance and kept working hard on and off the ball.
A single goal from veteran forward Darren Hay was enough to take all the points in this match but City will not feel the same waves of despair after this game that have threatened to engulf us after some of our away performances this season. The well contested game was pretty evenly fought but with better finishing the home side could have thumped us by several clear goals, yet had we converted one of our first half opportunities you sense the whole match could have changed entirely.

It seemed few City fans fancied the 200 mile cross country trek to north-west Norfolk for a few hours in the cold, which was a bit of a shame as this is one of few chances we get to go somewhere that looks and feels like a football club. What a great feeling to walk into a low vaulted claustrophobic bar and not recognise a single face! After one of the quicker pints I've had it was out into the perishing cold for another 90 minutes of grim disappointment and frustration. One of the people who hadn't made it to King's Lynn seemed to be centre-back Neil Griffiths, believed to be one of either suspended or struck down by the dreaded lurgy. That left Burns to reshuffle his rather depleted pack, and with the boss himself still suffering from his sciatic nerve Marvin Thompson moved into a central position with Knighter taking left-back role. Lynn quickly thought they had sensed our weakness as the veteran right-footer looked a little lost as their winger tore past him, but Lyndon Tomkins was quickly across to firmly block out the weak winter sunshine and the route to goal.

King's Lynn were my pre-season title favourites (although I wisely put my money on City!) and they have plenty of good players in their ranks. A sharp attack seemed to pivot around the height and strength of Jack Defty and early on we failed to pick him up and the player should really have done better with a free header. Most of the early Lynn attacks seemed to involve lumping the ball forward, but most of those were easy for Lyndon who was providing a strong physical deterrent for anyone stupid enough to venture near the ball. We managed to see off the first ten minutes without too much incident and the early fire soon went from the home side.




Top: Norfolk - flat.
Bottom: Addis finds himself out numbered.


With the sizeable but largely mute home crowd already grumbling the City side began to emerge more into the match. This was a bit of a mixed blessing as Smith's early touches let him down and twice he lost possession going forward and we almost got hit on the counter attack, but a mixture of his own pace and that of Marvin managed to close down the space. City were starting to stretch the Lynn defence a little themselves and Jimmy Cox enjoyed a good run through the centre of the park but was unable to lay the ball wide where he had options on either side.

Whilst the match was becoming more even we were still giving Lynn a lot of space in midfield and the home team were passing the ball with some authority. Fortunately we were defending well despite the pressure, and the next chance that came saw a reversal of the normal pattern when Hay flicked on a cross to Defty. Under pressure from Chris Thompson the Lynn player snatched at his shot and it trickled harmlessly wide of the post.

With that City really began to perform and enjoyed a good spell on the attack. The Lynn defence sat deep and both Addis and Cox were closely marked, meaning both came into midfield searching for the ball and leaving us a little short of forward runs to look for. However a good move with Mustoe, Knight and Webb created some space for Cox down the left but having made the room his cross lacked any real conviction. A few minutes later a fantastic swinging cross from Knight caused some panic in the home defence and keeper Steve Wilson did well to punch the ball off Wilko's head.

Lynn responded with their own attack and Bloomfield sent over a good cross that looked to have caused us all sorts of problems but Thommo did well to back pedal and clear from under the bar at the near post. The sheer energy of our performance seemed to be causing the home side problems and we were succeeding in unsettling their passing game. A defensive slip almost let in Webb when an under hit back pass forced their keeper to rush out. That came to nothing but a few minutes later we should have gone ahead. A good move down the right saw Addis get to the ball near the corner flag and his cross cut back in was met on the edge of the six yard box by Cox. His clever flick back across the penalty area found Webb but he was losing his footing and the shot was well saved by Wilson who pushed the ball just wide of the post. He should have really been given no chance.

We then survived a bit of a scare in front of our own goal as Chris Thompson brought the ball out of defence but then got caught in possession. Mark Angel shimmied his way past Marvin but his low shot was comfortable for Matt Bath. Another good Lynn move saw Bloomfield come close to finding Defty in the air, but the cross was snuffed out by Tomkins. When Webb was kicked up in the air by Lynn's Setchell in a late tackle it looked as if we just starting to ease our way into the game and that the home side were running out of ideas. However, the match turned with one unfortunate slip when Lyndon came out of defence to cut out a through ball and slipped, reaching out with his hand to block the ball. We failed to deal with the cross field ball to the far post and despite the presence of Wilko and Tomkins we lost out in the air to the towering pale Hammond and veteran forward Darren Hay turned sharply to rifle the ball into the roof of the net from close range. Suddenly you realised there were quite a lot of home fans as the crowd briefly woke up.

We didn't react at all well to going behind and it took us a good ten minutes to settle backdown. With Tomkins now wary of picking up another booking he was keeping half a yard off the attackers and was a good bit less effective. We needed a sharp bit of defending by Marvin to take the ball off the toe of Jack Defty as he was poised to shoot, while before we looked to be defending with some purpose this was now more desperate stuff. Our flustered defending was typified when skipper Neil Mustoe miscued a front post clearance and sliced the ball off for another corner.





Left: Lynn's Jack Defty sends another header goalward. Right: City go close as Thommo is crowded out at the far post.
Bottom: City's lines prepare to repel another attack as Wilko loses out.


With bigger gaps at the back Marvin's pace was more important and he certainly looks much closer to his best than the rather hapless performances over the Christmas period. His cover tackling kept Lynn just at bay, but we were missing the extra presence of Griff. Defty could have again got on the score sheet as he headed wide from close range and Bloomfield had won another far post header. We then survived a near disaster as Lyndon and Matt Bath had a misunderstanding and collided whilst trying to deal with a through ball, fortunately as the ball ran behind them Darren Hay was running out of room and could not cut the ball back across the unguarded goal. Why any of our players could be in a position to defend with too much confidence is beyond most, but our next scare came when Lee Smith tried a cheeky back hell in our own area, and when it went astray Mustoe needed to be at his sharpest to nick the ball back and clear our lines.

Those near disasters managed to galvanise us into a few more attacks with Lee Smith finding some space down the right. When Webb managed to pick up a lose ball and bring it forward his neat pass found Smith who surged past the full-back and cut inside before poking the ball towards Addis in the six yard box. The striker had little room to work in but with the keeper trying to smother the chance Addis almost lifted the ball over him into the net. With Mustoe booked for a nothing foul by a fussy referee the officials were not popular with the City players, and Burns' sciatica seemed to ease just enough to allow him to run onto the pitch to have a quick word with nice man with the whistle.

The second half was a lot more open with the ball flying around merrily without really producing so many opportunities for City. Smith was an ever present attacking threat for us down the right wing, but he continually cut inside towards goal and without any real crosses to feed on neither Addis or Cox had much to feed on. One of his early runs seemed o leave the Lynn defence petrified as he sliced through four or five defenders to make the by-line, but his final ball was steepled high into the air and ended up as an easy catch at the near post for the keeper.


Webb gets the ball wide as City press.

That served as a bit of a warning for the home side and whilst they continued to enjoy much more of the ball they never looked at all comfortable or able to settle. At the other end we were now looking increasingly ragged, but in fairness this was a predictable side effect as we tried to push ourselves forward in greater numbers to look for an equaliser. There were certainly now gaps at the back and only a mix of some great tackling and some wild finishing by Lynn prevented them extending their lead. Despite all the excitement though there was a marked lack of noise from the fans at The Walks, and nothing in the way of singing or chanting.

One particular wild moment saw Angel slash a shot high and wide from barely six yards out. The chance had shown the best and worst of our defending. Marvin broke up and attack and pushed forward, turning well to pass into space where Chris Thompson promptly misplaced his pass straight to Bloomfield. Fortunately the final chance went begging, as did another header a few minutes later.

Whilst Lynn had good opportunities their string of missed chances always meant that City could get back into the game with just one moment of fortune and there were certainly times we went close to nicking a point. Yet another Smith run saw a few more defenders left trailing on the floor, but again he was as exasperating as he is brilliant. Having cut past two the final shot screwed well wide. A few minutes later an exchange of passes with Webb sent him away again, but this time Smith couldn't find Wilkinson in the centre of the area with a cross that fell much deeper.

Whilst we counter attacked there were several more chances for a Lynn side that knew they really needed another goal to be able to rest comfortably. Suddenly we were left with a big gap where Smith was caught high up the pitch and with plenty of space Angel had another effort but this time found Bath on good form to push the ball wide of the post.

Our best chance of the second half came after a much stronger run from an otherwise subdued Jimmy Cox. His run down the left started a good move that saw him find Addis and he in turn moved the ball into the centre of the area where he found Wilkinson. The ball was then moved further wide into the storming run of Lee Smith but his angled effort flew low into the side netting. We weren't in a position to spurn chances and that was as close as we got.

With our options running out a double substitution brought on Adie Harris and Jamie Reid. Knighter dragged himself off and looked knackered, but Wilko was not over impressed by getting an early chance to warm himself in his tracksuit. The City youngster may be given a chance to start next Saturday in place of Mustoe who is suspended for the Grantham game. However, he does seem to attract a great deal of physical stick from the opposition. Within a few minutes he'd been cracked across the face by a trailing arm, and before the final whistle had also been floored by a late challenge in the ribs.

If we had spurned as many chances as the home side you could guarantee our opposition would have grabbed a late equaliser. Those fairy tale endings are few and far between for City though, and it wasn't to be here either. A point would have been a very good result for us, and whilst it would have been harsh on Lynn we could point to our own good chances to justify a draw. This really was a game that hinged on the key goal coming at a key time of the match. There were things for City to be pleased with, not least the continuing improvement of Marvin Thompson and the general effort from all the players who never gave up hope of taking something from the game.

* Despite the defeat we are still in 15th spot and those vital eight points clear of the drop, but level on points with both Rugby United and Team Bath. However there is now a four point gap between us and Hitchin and Grantham above us. With City playing Grantham at Meadow Park next Saturday we have a chance to narrow that gap. It looked as if Hemel Hempstead had secured a crucial home win over Team Bath having held on to an early lead but the 'students' equalised in injury time through Matt Lewis. The other crucial result saw Banbury United arrest their slump thanks to a Howard Forinton winner at Tiverton. Dunstable are back in trouble as their run ended with defeat to Bath City at Twerton Park while Solihull's worries deepened with a 3-1 defeat to Histon who remain strongly placed in the play-offs with games in hand. Chippenham tightened their grip on the title with a thumping 5-0 win over promotion pretenders Cirencester, new signing Dave Gilroy claiming a hatrick.
| | | | | | |
| --- | --- | --- | --- | --- | --- |
| Referee: | J. Hopkins (Wickford) | League Position: | 15th (=) | Attendance: | 776 |
| Conditions: | heavy showers & sunshine | City Form: | LWWLDL | Match Report: | by t-towel |
Work commitments mean that we are keen to obtain other match reporters willing to provide details on some City matches. All text can be supplied by email, with no need to worry about web design or formatting. If you are interested please contact the T-Ender.