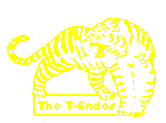 We welcome all contributions to the T-Ender. Please send any material for the site by
email to the address above.

Disclaimer
The views expressed on these pages are not those of Gloucester City A.F.C., its directors or officials, or of any other company mentioned. Neither do they represent the official views of the Gloucester City Supporters' Club or its committee.
While we make every effort to ensure information placed here is accurate we do not accept responsibility for errors that may occour. If you do find a mistake please let us know.

All pictures and material unless otherwise stated are the site's own and is
© www.t-ender.co.uk
All material may be reproduced with permission and appropriately attributed.
Saturday 23rd April '05

Gloucester City

at Meadow Park

Southern League Premier Division
(match 41)

vs

King's Lynn

Gloucester City

2

Scorers: Griffiths (5, 23)

King's Lynn

0

Scorers:
City Side:
Bath, Smith, Avery (Knight 73), Griffiths (Harris 79), M.Thompson, Burns, C.Thompson, Cox, D.Addis (Varnam 67), Webb, Wilkinson.
Subs not used: Reid.
City Bookings: Burns (foul)
T-Ender Man of the Match: Neil Griffiths; solid at the back and got the vital goals.
Midweek results had left City knowing that they were all but safe from relegation, but the players will be delighted to have hauled themselves comfortably beyond the safety line through their own efforts. This was a fantastic result and a more solid, professional performance from City and will leave City boss Chris Burns feeling he still has much to look forward to next season.

City could well have entered this match in despondent mood. The FA had dealt the side a savage and unwarranted blow with the double suspension of skipper Neil Mustoe and man mountain centre-back Lyndon Tomkins, and without them a young Tigers side were brushed aside the previous weekend in a 4-1 thumping at promotion chasing Hednesford. Coming off the back of that a visit from King's Lynn was not exactly what a rather makeshift side needed. The Norfolk side started the season as one of the title favourites, but a dreadful start left them with a lot of catching up to do. This match was crucial for them as a win would keep slim play-off hopes alive, but anything less would see them leave Meadow Park knowing they face another tough Southern League campaign next year. Their form has been fitful but goals have come easily and perhaps most pertinently they had already comfortably beaten City twice - once at Meadow Park in the Trophy and once at The Walks in the league fixture. Neither match had suggested the home fans had any particular reason for optimism.

The City players came out as if freed from a terrible imprisonment, the fear of relegation had lifted from their shoulders had even in the first few minutes you could see more spirit and life around our movement. At least the City players didn't believe Hemel could manage to close a 25 goal gap to nick survival from us. We fired into Lynn right from the start, and this had dire consequences for the unlucky Dave Staff who was deposited on the floor having lost out to Wilko in an early challenge. The Linnets player had been stretching for the ball and seemed to have pulled a muscle somewhere, limping off doubtless wondering why he'd bothered getting on the bus.



Griff goes for goal again - what goalscoring problem?

Almost as soon as the game had re-started we were on the attack and edged into the lead. Burns' legs are starting to respond with less and less agility, but he's still got a sharp football brain and it was his quick thinking that opened up the Lynn defence. His quick free kick from the back found Dan Avery in plenty of space down the left flank. The City youth team defender only seems to get matches in the spring and summer, at either end of the season, but each time he appears he impresses with his poise and quick control. On this occasion he certainly made the most of the space he found, attacking the gap behind the trailing full back before sending over a good low cross between the defenders and their keeper. The surprise attack wasn't finished being a surprise - up popped a vaguely familar figure to sweep the ball home at the near post with a nonchalant side foot finish that would have made any striker proud of himself. It was good enough to have taken the lead so early and with such an impressive sweeping move - but for the finish to be from skipper Neil Griffiths whilst on leave from defensive duties made it all the sweeter.

Lynn could have got themsleves back into the game very quickly, with one good chance seeing the Linnets cutting in from the left and forcing Bath into a flying save, and a few moments later Sam McMahon should have done better with a weak effort easily saved by Bath. City were also playing some quick attacking football and Lynn's defence seemed to slightly lose their way after the shock of the early goal. The delighted home fans were enjoying the show, and were even happier when the lead was doubled with another goal courtesy of Neil Grffiths. Smith was hauled down on the wing for a free kick in a good position. The goal didn't quite have the panache of the opener, owing much to a mistake by John Higgs, Lynn's stand in keeper. He tried to reach Burns' free kick but fumbled at the cross, leaving Griff in the right place to crash in the loose ball from close range.

At last that seemed to rally Lynn a little as they seemed to realise that they could actually be in real trouble. For all their improved work rate the City defence was in one of it's more impressive moods, with players quick to the ball and equally quick to close down players. Neil Griffiths contribution at the back matched his efforts in the opposing six-yard box and twice he did well to thwart Lynn attacks with important challenges. When the visitors did get sight of goal they found Matt Bath in inspirational form. Sam McMahon tried to thwart him with a dambusters style bouncing drive as he turned on a low cross. The ball flicked up awkwardly off our pitch's rutted goalmouth but Bath got himself right behind it to push the shot away.




Griff was not the only defender now getting the opportunity to impress the home fans and show we can perhaps look forward to next season with a little more optimism. Marvin Thompson joined us as an accomplished looking player but his confidence seemed to disappear with a few injuries and a drop in form. Today he chased back to push himself back on to the winger and to emerge imperiously with the ball after an immaculate tackle. More of that, and our search for new defenders may bacome slightly less urgent. Avery's temperament also seems ideal for a defender, even with two Lynn players on his back he held onto the ball patiently waiting for support to arrive and ensuring we held on to possession. Even with good defending you can't expect to go for too long and entirely close down an attack as talented as that boasted by Lynn. When Mark Angel found some room just inside the area it looked as if the Linnets would pull one back before the break, but his rasping drive was flciked on to the post by Matt Bath. Again the City keeper showed impressive reflexes and agility to get just enough of his fingertips to the ball.

You would have expected the visiting team to have come out of the half-time team talk fired up and desperate to try and salvage their promotion hopes. However the second period started slowly and fell away, too often it was played at something below strolling pace and neither side seemed too bothered with pressing forward. For a City side in need of a win and hoping to end the season victorious in front of their fans you could understand the lack of anything more ambitious than the odd twinkle and turn. For Lynn their were no excuses and their supporters who had travelled so far must have been furious at the lack of passion.

The visitors were desperately fortunate not to be reduced to ten men when left-back Gary Setchell completely lost the plot and went right through the back of Addis as he headed towards the penalty area. It was achallenge that merited red, but the ref opted for a booking. The player was still lucky to be on the pitch even then, as he should really have been booked for the first half challenge on Smith from which we scored our second. We didn't really manage to muster anything from this free kick which was comfortably cleared.


Left: Addis has a go down the wing
Right: It's the penultimate game of the season so Dan Avery gets another all too rare chance to shine.

Lynn seem to have a real problem with their finishing. When we lost one nil away to them we should really have been stuffed, and here again the Lynn attack couldn't have scored from anything. A good charge down the left wing ended up with the shot being skied over the bar and another forward deciding the best thing to do from ten yards out was give it to the goalkeeper. How sporting! After a few of these chances you stop believing they were ever going to score, and I'm not sure our defenders were really bothering any more, and you could see their point. Burns slipped and suddenly Lynn's Darren Way found himself in a bit of space and the goal gaping in front of him. It was all too much, and City breathed a sigh of relief as he blazed wastefully into the T-End. A goal would probably have been more than Lynn's unambitious plodding really deserved.

City last won a penalty in 1956 and there was little chance this was going to change today given that the referee seemed to have only read the first half of the rulebook and not got to the bit about fouls. Jimmy Cox at least looked interested today, and although his fitness will need a lot of work over the summer he is still a problem for defenders whn he picks up speed. He weaved his way past two defenders and put the ball back across goal in the direction of Wilko and Addis. The ball pinged around the defenders who responded in a whirl of random limbs and panic, with at least two clear handballs helping the ball to safety. The ref looked vaguely in the direction of the action while the linesmen seemed to be picking his nails. So, that's not a penalty either then?

Knighter rolls back the years, if not the defence.

The match rolled to a gentle end but the City fans were pleased enough with another welcome win and to have seen off a team that will again start next season with a realistic hope of promotion. For our players much needs to happen off the pitch for our own hopes to be much more than dreams, but they earn their own plaudits through determination, loyalty and effort. The applause and mutual appreciation between the players and fans could not have been warmer if City had lifted the title. Everyone at the club knows what an achievement our final league position will represent, and exactly what has been managed to achieve it. Hopefully most of the players will retain the stomach for the fight, although sadly it seems all but inevitable now that player of the year Lee Smith will move on in the summer. Burns will need to work hard to make sure his pace and attacking ability are replaced, but the current crop of youth players coming through tend to suggest that even the departure of one is not a total disaster.




* The points are enough to ensure City's place in next season's Southern League Premier beyond even the most far-fetched mathematical doubts. We can now not finish in any position other than 14th or 15th, regardless of the result of our last fixture of the season when we travel to Banbury United.

All the final relegation places were decided by the end of this afternoon's action. Of the bottom four clubs Hemel Hemsptead had the best chance of surviving but they always faced a tricky task against Merthyr Tydfil who went ahead through Steins and Frnech, and while Ashley Morris' penalty set up a desperate finish it was too late for Hemel. The other side who could have escaped were Dunstable, but they never got out of the blocks and desperate defending saw them thumped 4-0 at home to Cirencester, they were trailing to goals from Gareth Hopkins and Paul Hunt before their keeper was dismissed for handling outside the area. Those results meant joy for Hitchin who had grabbed a vital point at Halesowen thanks to Mark Bridge's equaliser while Rugby and Banbury can also breath easily now, despite defeats today.

At the top the title race looks like it will go to the wire as Histon stumbled and Chippenham again closed the gap with a victory. Histon were well beaten at Tiverton, who took an early lead through former City favourite Paul Milsom and went on to lead 3-0 before the visitors stormed back with two goals in the last five minutes. The Histon recovery had been left too late and they may have reason to regret it as Chippenham came out the right side of another five goal game, winning 3-2 against Banbury in a tense encounter at the Hardenhuish. Early saves by keeper Mark Hervin kept Banbury's lead down to one despite an early onslaught and Chippenham then scored three, including one for former City player Gary Thorne, before Banbury frayed the Wiltshire fans' nerves a little further by pulling one back to set up a frantic finish where the Puritans had a late goal disallowed for offside. If Histon now beat relegated Dunstable midweek they will be level with Chippenham at the top of the table, setting up a winner takes all meeting of the two teams at Histon's Bridge Road next Saturday. Behind them the race for the play-offs stays close fought, but Hednesford look to be hitting form at the right time with a 4-1 demolition of Aylesbury, while Bedford face a tricky final day as their home form finally faltered with a 3-2 defeat to Chesham.

| | | | | | |
| --- | --- | --- | --- | --- | --- |
| Referee: | A.Watts (Kidderminster) | League Position: | 14th (=) | Attendance: | 424 |
| Conditions: | overcast with light rain | City Form: | WLLWDW | Match Report: | by t-towel |
Work commitments mean that we are keen to obtain other match reporters willing to provide details on some City matches. All text can be supplied by email, with no need to worry about web design or formatting. If you are interested please contact the T-Ender.