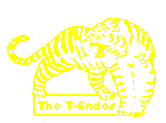 We welcome all contributions to the T-Ender. Please send any material for the site by
email to the address above.

Disclaimer
The views expressed on these pages are not those of Gloucester City A.F.C., its directors or officials, or of any other company mentioned. Neither do they represent the official views of the Gloucester City Supporters' Club or its committee.
While we make every effort to ensure information placed here is accurate we do not accept responsibility for errors that may occour. If you do find a mistake please let us know.

All pictures and material unless otherwise stated are the site's own and is
© www.t-ender.co.uk
All material may be reproduced with permission and appropriately attributed.
Saturday 2nd April '05

Gloucester City

at Meadow Park

Southern League Premier Division
(match 38)

vs

Hitchin Town

Gloucester City

3

Scorers: Burns (23), Smith (26), Knight (75)

Hitchin Town

1

Scorers: Sozzo (54)
City Side:
Bath, Webb, Harris (Varnam 61), C.Thompson, M.Thompson, Burns (Reid 49), Mustoe, Smith, D.Addis, Knight, Wilkinson.
Subs not used: Griffiths.
City Bookings: none,
T-Ender Man of the Match: Lee Smith; Hitchin simply had no answer to his pace and he is still improving.
On paper this was a game City should have expected to win easily given that Hitchin have been a side in free fall down the league table and on this showing in need of a miracle to avoid the drop. That doesn't tell the whole story though, and for a good period of this game a makeshift City defence were made to work hard against a Hitchin side that refused to accept that all was lost. Ultimately this was a win that owed much to the experience of some of our elder players and the continuing developemnt of Lee Smith into a player of some quality.

City had entered the match with a much depleted squad, several key players certainly missing out through injury and much of the side actually taking the pitch owed much to a healthy dose of ralgex and the healing hands of Ade Tandy. Without Lyndon Tomkins or Neil Griffiths our defence looked particularly light weight, and with Knight in midfield we could have lacked some of our characteristic midfield energy. These shortcomings were certainly noticeable in the first ten minutes as City were pushed back towards our own penalty area and managed to survive some self inflicted scares. Hitchin were hardly attacking with any great patience or skill, but they were certainly playing with the desperate determination of men kicking their feet against the hangman's trapdoor.

We reciprocated with some comedy defending. Webb slipped and presented a good crossing opportunity that was then headed clear by Marvin Thompson who then saw his final cleartance rebound against the back of a striker and almost fall to a striker before Burns recovered to clear the lines. City were full of mistakes as the makeshift back three tried to get used to playing without a natural defensive player. The normally reliable Chris Thompson was robbed of the ball as he tried to dribble out of defence and only some wayward passing by Hitchin saw us escape without going behind. In fact, both sides seemed determined to entertain the disappointingly small crowd, all be it more in a comic relief kind of way than in a great football kind of way. The Hitchin skipper watched helplessly as his free kick was crefully headed into the path of the right-back who turned and, without being under any pressure, effortlessly tapped it out of play. Adie Harris looked understandably perplexed. This was not the sort of team that should have been causing us problems.



Lee Smith prepares to give Hitchin another torrid chase

As it was it didn't take much of a recovery in form for City to start to cause Hitchin problems. We slowly exerted some control on the game as Mustoe and Knight managed to get hold of the ball and pass it around a little until we got some sort of shape back into the side. From a better midfield platform we began getting forward, and almost straight away we looked like scoring. Hitchin looked sluggish at the back, and when Smith dropped deep to pick up a short pass from Mustoe none of the defenders bothered to follow him. Game on!

All of the players were wearing these stupid green wristbands which are apparently supposed to show our condemnation of bad language, abuse of officials and cheating. You have to ask what the point is, especially when the commitment of the players is so blatantly to be questioned. Chris Thompson charged down the right flank and was fouled, and having been pushed off the pitch he then suffered the further indignity of being cuffed around the head by the Hitchin manager. To his credit Thommo didn't retaliate, or fall to the floor as if taken out by a sniper from the back row of the stand, but perhaps that's what you need to do to get any reaction from the officials. Incredibly the ref saw enough to give the silly little man a talking to, but not enough to send him to the dressing room. And that's why you can stick your green wristbands up your @*$e. Even before we get into the rank hypocrisy of Burns and Mustoe making a stand against bad mouthing the officials!


From here on in the City attack began to accelerate away from Hitchin who must have felt the match slipping through their fingers like grains of fine sand. Addis kept dropping deep to pick up the ball and twisting away from any of the defenders who tried to find him. But the main problem for Hitchin was Lee Smith. His decision to turn down a third transfer offer from Chippenham is largely based on his belief that better offers from clubs at a higher level will soon be coming his way, and based on this performance he is surely right. His work rate and pace have never been questioned, and he is working hard on improving his game. The remaining questions are about the consistency of his decision making, but against a side of this fragility his tactical choices were spot on. He dropped deep and shifted from wing to wing, dragging defenders all over the place. He chased back to pick up the ball, and with the ball at his feet he simply terrified the Hitchin players. Whilst they watched entraced like a snake fixed by a mongoose, we had players providing Smith with options all round him.

Despite some fantastic interplay that could have seen City race ahead the opening goal finally came from a dead ball. Addis turned on a Knight pass and as he approached the penalty area he was upended by a defence that wasn't especially keen on seeing where this next City move was going. The defence had done little to suggest it knew what it was doing and the moment the ref (credit to him) walked the wall back ten yards you kind of fancied our chances. Knight and Burns were both eying up the ball and it was the gaffer who strode up to hit it. He'd chosen accuracy over pure power and his firm side foot simply drove through the edge of the wall and slotted neatly inside the post. It may not have had the wow factor of his strike against Halesowen at Christmas but it would more than do.

Hitchin had shown plenty of spirit up to that point, but you had the impression that their confidence was paper thin and it looked like a cricket score could be on the cards when City doubled their lead a few minutes later. It was pretty cataclysmic defending that created the opening as City made full use of the route one option. Matt Bath's long goal kick was headed backward by the Hitchin skipper, but he'd got his positioning all rang and he left his keeper with a lot to do to get to the ball. As it was he got their at the same time as Lee Smith' but the keeper didn't show much in the way of conviction and Smith knocked it out of his hand without much problem. With the defence long since left behind Smith had time to settle himself and take a further touch before clamly knocking the ball into the net. From here you could only see the match going one way.



Top: Goal! Burns punches the air as his free kick finds the net. The Hitchin wall wonders how that happened.
Bottom Left: Addis makes sure the hapless Hitchin right-back gets to look silly - again.
Bottom Right: Up and round it goes, where it lands no-one knows.

City threatened to run away with the match from here but we didn't quite produce that killer instinct despite some wonderful moves that almost unlocked the Hitchin defence. Smith was running the show and now three or four defenders were around him everytime he got the ball, and they still weren't stopping him. He was so impressive even the ref's assitant wanted to praise him. When Smith had to go off for treatment after being trodden on in a tackle the linesman told him "well waited son." When you get told the simple act of standing still is something you do well you are probably heading towards star status. The entertainment was further provided by a string of strange Hitchin moments, where ever you looked their players were slicing clearances, fluffing tackles and spooning the ball out of play. It was all good clean family fun, and being greatly enjoyed by Addis and Smith who were nutmegging and flicking the ball around them for fun. All of this wasn't wuite producing the final goals we needed though and we got a sombre reminder the match was far from over when a well hit drive flicked off Knight and needed a fine diving stop by Matt Bath to prevent our lead being halved.

The second half was much anticipated as there was a feeling that with the T-End sucking the ball into the net and the ragged Hitchin defence tiring from all the work they were having to put in we could be in for some real fun. However, that was soon punctured when Burns limped off with a groin strain. His warm ovation says everything about how much his feat of keeping this patched up and financially stricken ship of ours afloat is appreciated. However, with none of four first choice back three now on the pitch a two goal lead didn't look so comfortable. Griff was a sub in name only, so Reid went on and for a while we seemed unsure of who was going to go where. It didn't take much for Hitchin to get back into the game and we weathered a period of intense Hitchin pressure when we could easily have cracked. Marvin sometimes looks unconventional at the back, but he did a fantastic job of stepping up to the challenge as he blocked and tackled for all his worth to protect our lead. Thommo also got a header off the line and Mustoe made a scrambling tackle as another ball threatened to escape across the penalty area. It was ten minutes of sheer panic, and finally the ball fell to Hitchin's Josh Sozzo whose low drive through a crowd of players finally found the net.




Marvin prepares to get in the way again.

It was a goal the resurgent Hitchin well deserved and from looking at a large win the City fans suddenly had that all too familiar sinking feeling. This was a game we simply could not afford to throw away, and we needed something special. Andy Varnam came on up front and Lee Smith moved to the unfamiliar left wing to replace Adie Harris, struggling with a hamstring problem. Smith now really dug in and again proved the vital outlet for City as we battled our way back into the match. Reid was doing a fine midfield job and Smith chased on to plenty of hopeful punts forward.

The crucial goal came courtesy of Knight, much-maligned at times and often unfairly. His legs struggle to cope with a full match at this level now, but he's always been a sharp minded footballer and when it mattered he knew he had to keep going. A good move involving Addis and Smith had fed through to Varnam on the edge of the box. He lost the ball but the defender only nudged it back into midfield where Knight was willing himself forward. The defender closed him down, but at the crucial moment seemed to stand a yard off him to close down Addis who was making a diagonal run into the box. Knight saw his chance from 20 yards and hit a vicious swerving drive goalward. The keeper could have got to it, had he had a chance to see it! The ball was in the net and soon afterwards was Knight. He knew every bit how much we needed that third goal, that's the responsibility of coaching for you.




* Every time we win I feel a huge sense of relief as I think we're safe, but then you see the other results. Despite having now got 49 points in the bag and holding on to 14th spot we are still only eight points ahead of the relegation places and may still need another win to really make sure. At least this win means Hitchin are now in very deep trouble and at least we know there will be clubs even more worried than we are.

For Stamford the worrying is over. The Daniels' hung on for a good goalless draw at Bath City, but it was one draw too many and they're now down. Solihull Borough's survival is now only a mathematical possibility and their fine 2-0 win at Chesham is too late. The real worries are being caused by the revival of Hemel Hempstead whose 2-0 win at Hednesford will not cause any slowing of pulses across the Southern League Premier and many will anxiously watch for the result of their crucial Tuesday night fixture with Dunstable where a win could take them out of the bottom four. Rugby United arrested their slide towards relegation with a frightening 2-1 win at title chasing Histon, courtesy of a Jamie Beard brace. Team Bath's run of form has not yet quite made them safe, although they must have thought they'd won a fine point at in-form King's Lynn. However the ruthless Linnets smacked in three in the last five minutes to get a 4-1 win with Danny Bloomfield completing a hatrick. The top of the table is dull by comparison, but things look good for Chippenham again, with Histon's defeat and the Bluebirds grabbing a crucial late Dave Gilroy winner to beat Halesowen 2-1.

| | | | | | |
| --- | --- | --- | --- | --- | --- |
| Referee: | A.Newell (Yate) | League Position: | 14th (=) | Attendance: | 319 |
| Conditions: | bright and sunny | City Form: | WDWLWD | Match Report: | by t-towel |
Work commitments mean that we are keen to obtain other match reporters willing to provide details on some City matches. All text can be supplied by email, with no need to worry about web design or formatting. If you are interested please contact the T-Ender.