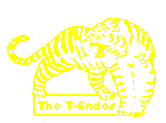 We welcome all contributions to the T-Ender. Please send any material for the site by
email to the address above.

Disclaimer
The views expressed on these pages are not those of Gloucester City A.F.C., its directors or officials, or of any other company mentioned. Neither do they represent the official views of the Gloucester City Supporters' Club or its committee.
While we make every effort to ensure information placed here is accurate we do not accept responsibility for errors that may occour. If you do find a mistake please let us know.

All pictures and material unless otherwise stated are the site's own and is
© www.t-ender.co.uk
All material may be reproduced with permission and appropriately attributed.
Saturday 12th March '05

Histon

at The Glassworld Stadium

Southern League Premier Division
(match 34)

vs

Gloucester City

Histon

0

Scorers: -

Gloucester City

1

Scorers: Smith (87)
City Side:
Bath, Webb, M.Thompson, Griffiths, C.Thompson, Burns, Mustoe, Harris (Reid, 88), D.Addis, Smith, Wilkinson.
Subs not used: Varnam, Knight.
City Bookings: Mustoe (dissent)
T-Ender Man of the Match: Chris Thompson: Hard to overstate the difference his return to midfield made. Always available, looking for space & getting forward.
Followers of the genuine big sides can't ever know the spectacular pleasure of the truly unexpected victory, that sudden ecstatic leap of realisation that your side is going to win against all odds. If you are Chelsea or Manchester United fans you only have that feeling of rewarded expectation, of a job well done - your team always fancies itself against anyone, anywhere. City fans going into this game knew we had won just once away all season, while Histon are still chasing the title and hadn't lost at home since before Christmas. We weren't entirely joking when we told Histon fans before the match we'd take a narrow defeat. Wildest dreams consisted of a draw. We hadn't reckoned on the magic of football and a side that just grew in belief and hope as the match went on.

This was a match that saw City doing some things that we happy band of traveling fans have been unused to seeing form our side on the road. For a start we defended doggedly and kept our shape, even when the Cambridge team attacked and put us under pressure. Better than that, as the match wore on we grew in confidence and by the end of the game were attacking with some real zest and intelligence. We picked holes in them without forgetting to leave enough players back to provide defensive cover against a quick break. However, it was clear there was something odd in the air as soon as you got to the stadium.

Histon were using comic relief as an excuse for all sorts of zany fun and jolly japes. How we all laughed as the squealing kids cavorted up and down the touchlines, we held our sides as the local radio mascot jigged around and fell over trying to dribble a football, we banged our heads on the walls hoping to end it all as the dancing in the centre circle extended to a second song. Even in the normal relative sanity of the bar there was no escape as the Glassworld sponsorship means the entire bar is coated in mirrors, which makes you feel like you're in the fun fair and can't find the real door to escape from it all.




Just say no to acid! Hundreds of kids, a furry hedgehog and a dancing radio.


It was with some relief that we finally saw the match kick-off, with Burns thankfully keeping faith with Chris Thompson in midfield. Initial fears that Adie Harris had been asked to play centre-back were eased when the game settled down to reveal Marvin as part of the back three and Adie out on the wide left. With Cox now ruled out for a month with knee ligament problems the forward line see's Smith partnered with Addis, and the two of them looked lively from the start. Even from the opening moments the expected Histon mauling failed to materialise, with City the first team to put together a real attack as Adie got forward well and Addis almost had chance to turn on the edge of the box.

City have at times allowed other sides too much time in midfield, but on this occasion we were simply everywhere. The silky touches of Chris Thompson carrying the ball out of midfield catch the eye, but the early success of this game was all about old fashioned graft from Mustoe and Wilko. For once the opposition found they had no time to settle on the ball, as they were instantly harassed and pressed into mistakes. It didn't make for a pretty game at times, but the lack of Histon attacks suggested we were doing well.


It may something about our squad that some of our rejuvenation is doubtless down to the added zip provided by a diminutive forty year-old, but Adie Harris has proved us wrong before and it would be foolish to write him off as he plans his comeback from injury. His dashing runs down the left were causing huge problems and had the whole of that side of Histon's midfield back peddling on several occasions. Before long the home side had a lop-sided look to them as they tried to deal with Harris, creating enticing gaps in behind the defence. Lee Smith has the pace to replace Cox in the forward role and exploit those gaps, and he almost put us into a shock lead as early as the 10th minute when a deft flick almost scored at the near post after Addis and Harris had created space for the cross.

City were not enjoying as much of the ball but we were creating the better openings and really the player-boss should have edged us ahead when a half-cleared Mustoe corner found him just inside the area. Burns hit it cleanly on the volley but snatched at it a little and the ball flew high over the bar. Histon then caused some rare palpitations when their winger got past Webb and managed to send over a cross that fell behind Griff and Burns. The ball fell to Jamie Barker but his driven effort was kept out by the feet of Matt Bath who had done fantastically well to get back across his goal and into position for the fiercely hit shot. The squeals of the children took a good few minutes to die down, and you did wonder if the subsonic screams were distressing the Histon players so much they were put off attacking. A Histon goal would surely have shredded ear drums and shattered all those lovely mirrors back in the club bar.

Histon looked thoroughly bemused by their own lack of success but our midfield trio were nipping at their ankles at every turn and their composed passing routine was quickly going astray, with most of the loose passes falling to Webb or Harris which helped us break quickly down the flanks. One good Thompson run ended when he was tackled, but Smith picked up the ball and found himself running into unfamiliar territory down the left. From that side of the pitch he found himself cutting back inside the full-back and produced a wonderful cross that begged to be smashed into the net but it whistled past Addis and Wilko and beyond Webb. Histon were lost and starting to point at each other, and they had more to argue about when Mustoe created some space for Smith and he wriggled free of one defender before laying the ball off to Adie Harris. He was running at full pelt and couldn't set himself before shooting, spannering his effort wide of diving screaming children.






Left: Gutzmore finds himself having to defend as City press again. Right: Wilko and Griff fly through the air as another City corner is cleared.
Bottom: Adie Harris shows his magic on the touchline as the scary under age mob threaten to attack.


The Stutes did manage some pressure before the half-time whistle but it got them little in the way of sight of goal, with Griff looking much more together again he was first to most things that came towards our goal. With the home team having created little in the way of excitement the pressure was really on the half-time entertainment. Not content with one novelty penalty shoot-out the club had lined up a whole string of kids to hammer the ball towards the hapless furry mascots. You have to say that a radio of that size did not make the best of its size in goal and you'd have been tempted to think it was trying to get out of the way of the ball. I blame the pitch entertainment for the size of the queue for the burgers, in fact it was so bad that some people chose to stay in the queue for the rest of the game. You can't have a go at the service, they dealt with a customer every ten minutes all the way through. Before long it was time for the screaming hoards to leave the pitch and for the slightly more subdued players to take their place.

The announced crowd of 718 caused some chortling amongst our fans as the crowd looked nowhere near that size, but that probably didn't take into account that most of the paying visitors couldn't be seen over the advertising hoardings. And of course some of them were evil pixies that stole some of the good pixies as they came in the gate.

Things didn't really improve for Histon as the second half opened so they threw on Leon Gutzmore to make his debut for the club. This is the same forward who caused us real problems in January when playing for Aylesbury, so the sight of him joining the fray must have caused some trepidation in the City back line. However he never really got into the game. Griff had not enjoyed his best game against him previously, but today he was straight into him and the dangerous striker never really got into the match. In fact City were able to get forward more and more, there was no doubt about it - we were definitely the side doing more of the attacking now. Smith probably should have put us ahead after a corner. Griff managed to get to the ball first and having nodded it forward it fell to Smith in the centre of the penalty area only for him to rather lose his head and fire high over the bar.

The City pressure was starting to tell now and someone with a less jaundiced view of our performances may have been rash enough to think only the team in white could win it. The only thing that was really keeping Histon afloat was a bit of good fortune and some good defending by Histon's number four who twice got back to clear off the line. One vital interception saw him poke the ball wide of the far post after a good Thompson run had put Smith into the box and he sent over a dangerous low ball in the direction of Addis lurking in the goalmouth.



Webb looks for a way past Histon skipper Neil Andrews

It wasn't quite all one way traffic though. Gutzmore finally wriggled free of both Griff and Marvin and arrowed in a low ball that looked to be a real threat until it finally drifted past all the other forwards to safety. The fact that was one of the more serious threats to our goal in the second half spoke volumes of how well we'd done, and Histon were looking tired.

Webb was now getting forward more down the right to balance Harris' presence on the other wing. A quick interchange with Smith sent Webb through but he didn't have the confidence to take the ball on and his shot went rather aimlessly wide. A few moments later and Webb was again clear before being hacked down to earn Histon's dodgily coiffured Okay a yellow card for crimes against hairdressing. A few minutes later Smith forced a good save from the Histon keeper after he span onto a Burns lob which seemed to catch the home defence standing.

Thommo then had a go from distance with a wonderful dipping drive from 25 yards that only just cleared the bar and had the Histon keeper looking concerned. A good burst of angry shouting didn't help, and Webb made another burst down the right. His decision making has been a bit dodgy of late and this time he chose to shoot fairly limply into the side netting when both Smith and Addis were well placed for a low cross.

And then suddenly the magic moment happened. It looked as if City's chance had gone as Webb picked up the ball wide on the right but seemed to have again taken a touch too many and the opportunity to put over a dangerous cross had gone. However Addis has impressed everyone with his tenacity and commitment this season and he moved first onto the loose ball and pushed his way to the by-line. Having burst past one man he then knocked in an evil cross that left the keeper stranded at the near post and the City fans were able to enjoy that wonderful moment when you realise there's only one player coming into the six yard box and it's your striker. A few years ago I remember Smith missing a chance like that, but he's a different proposition now and he drove the ball into the net and dived into the jubilant, slightly hysterical traveling fans. Sheer elation!

With just a few minutes left to go surely even we didn't have time to throw this one away? The last few moments were agonising as the second half started late because of all the half-time craziness so with watches edging towards 5 o'clock the tension was even worse as we all tried to guess how long was actually left. The City players have seen to many things fall from their grasp in the last minutes of games this season and we tried our best to keep the ball near the corner flag, it may not have been the most ambitious bit of football you'd ever seen but it worked for me. In fairness, we were still snapping in to our tackles while Histon looked like a side whose legs had gone. There was no way back for them, and eventually the ref's whistle went to the delight of the City fans and players. The magic of the truly unexpected victory and the slaying of away travel demons, a pretty satisfying day out.


Might you be taking pictures of young ladies getting changed Mr. Phelps!?

* This fantastic win will have lifted the club, but our second away win of the season makes no difference to our league position and we stay 15th. At the top Chippenham failed to take advantage of Histon's defeat with a 1-1 draw against Team Bath at Hardenhuish. Banbury United eased their relegation fears with a 2-1 win over Hitchin, while Dunstable continued their good recent form with a 1-1 draw at Ciren, but it may yet prove too little too late for them. Hemel Hempstead lost at Chesham and Solihull came away with nothing from a trip to Grantham, while Rugby and Stamford fought out a 1-1 draw, and another point is not enough for the Lincolnshire side anymore as they find themselves bottom of the division.
| | | | | | |
| --- | --- | --- | --- | --- | --- |
| Referee: | J. Pearce (Norwich) | League Position: | 15th (=) | Attendance: | 718 |
| Conditions: | overcast and dry | City Form: | WDLWWL | Match Report: | by t-towel |
Work commitments mean that we are keen to obtain other match reporters willing to provide details on some City matches. All text can be supplied by email, with no need to worry about web design or formatting. If you are interested please contact the T-Ender.