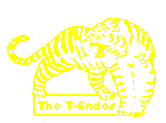 We welcome all contributions to the T-Ender. Please send any material for the site by
email to the address above.

Disclaimer
The views expressed on these pages are not those of Gloucester City A.F.C., its directors or officials, or of any other company mentioned. Neither do they represent the official views of the Gloucester City Supporters' Club or its committee.
While we make every effort to ensure information placed here is accurate we do not accept responsibility for errors that may occour. If you do find a mistake please let us know.

All pictures and material unless otherwise stated are the site's own and is
© www.t-ender.co.uk
All material may be reproduced with permission and appropriately attributed.
Saturday 15th January '05

Hemel Hempstead Town

at Vauxhall Road

Southern League Premier Division
(match 26)

vs

Gloucester City

Hemel Hempstead

2

Scorers: Carney (24 pen), Fowler (70)

Gloucester City

2

Scorers: Cox (68), Addis (81)
City Side:
Bath, L.Smith, M.Thompson (Knight 56), Griffiths, Burns, C.Thompson, Mustoe, Cox, Addis, Webb, Wilkinson (Reid 76).
Subs not used: Rimmer, Tomkins.
City Bookings: Burns (dissent), C.Thompson (foul), Mustoe (foul).
T-Ender Man of the Match: Neil Mustoe: it does get repetitive, but his work rate away from home is astonishing and vital to the side.
Before this match started there is no doubt City were confident of improving on their miserable away record but by the final whistle the Tigers were glad to take a point after a tough, physical contest which saw only glimpses of our best form. A better defensive team effort was let down as we conceeded two soft goals that almost gifted Hemel a lead which their strong defence looked more than capable of holding against a City side who again showed a little tactical naivety when confronted with a problem.

Hemel may be struggling in the bottom four but a new manager has given them a bit of a lift and their recent home form had been a little more encouraging. The club and ground all suggest better things ahead and in these circumstances you cannot blame a side for trying to play to their strengths and grind out the vital points they need. The home side had several large commanding players at the heart of their defence and further tall target men up front. It was never going to be an easy game for us and it proved to be exactly the kind of opposition we struggle to unpick. Our own starting line-up was unchanged, not a surprise given the size of the current squad and Burns' lack of options when it comes to team selection. However their was some encouragement as Lyndon Tomkins returned to the sub's bench and seems close to fitness again.

City started with the vigour of a side coming off the back of a 6-1 victory and attacked brightly in the first few minutes. Mustoe made his presence felt from the first with a crunching tackle and a few minutes later City could have taken an early lead with Tom Webb almost getting on the end of a low Jimmy Cox cross after a strong run by Smith down the right. It seemed as if City could get forward well down the wings, but that early chance was to be one of the rare moments in the first half when Hemel were opened up.

Addis chases another hopeful ball down the flanks

That acted as a sharp reminder for Hemel and after a great deal of mutual shouting and prompting they visibly tightened up on the City opponents. The next few minutes were pretty grim as both team failed to get any real possession and the poor ball looked like a neglected and marginal add-on to a series of tag wrestling matches across the park. Wilko was a bit fortunate to escape without a booking after a flying late challenge, but the ref had so much to do with all the holding, pulling and grappling that any meaningful play was rare.

This was of course exactly what Hemel were hoping for as every time we managed to get the ball moving they looked vulnerable to our pace. Instead we soon got sucked into arm to elbow combat and our smaller players were being bullied off the ball as the ref struggled to get to grip with the robust approach. We were looking sluggish and the home side were also not short of some good touches off their own in the last third, with George Fowler a skillful player down the left wing for Hemel. At one point the home side's big target man, Argyris Petrou, got the ball into the net but we were trying to defend as a unit and had actually managed to catch him offside. Griff was having a solid match and not allowing himself to be intimidated and Marvin was also doing well with some important interceptions.

Goal mouth action was pretty limited at either end but the rejuvenation of Jimmy Cox is continuing and he enjoyed a strong run where he went past a couple of players at pace before sending in a low shot that was well blocked by the defence. The rebound almost fell to Webb but he was caught off balance and the ball was hacked clear. Otherwise too many of our attacks were easily read and the hopeful punts into the air were far too simple for Hemel's huge centre-backs who did not find Addis and Cox much competition in the air. In fairness the hoem team was defending well and were also getting tight to our forwards and preventing them turning with any ease.

The home team's confidence was growing all the time and was lifted further when Fowler picked up possession after a stray Wilkinson ball was intercepted. He beat Smith and although our man was quick enough to get back into position it didn't help him as Fowler beat him a second time before sending over a good cross that Petrou thrashed wide. However the goal when it came was soft. A good run through the centre of our midfield appeared to be going nowhere when our defence held the 18 yard line and started to shepherd him out to the left. Then Chris Thompson trailed a foot in and needlessly tripped Hemel's Jack Midson and the ref didn't have a difficult decision to give the penalty. The kick was duly slotted past Matt Bath by Grant Carney and we were suddenly trailing.

Hemel were naturally liftyed by this rather surprising lead and the next fifteen minutes were thoroughly forgettable as we tried to rally but lacked any real ideas. The pattern involved more hopeless high balls forward and more thumping headers and clearances by a Hemel defence who gave every impression they could do this without looking troubled until the final whistle. Burns was getting increasingly exasperated, but while he won the odd header, and Wilko and Mustoe many of the challenges, we could not get our foot on the ball for long enough to create any chances. Burns was booked for dissent as his frustration with the ref brimmed over, the officials not seemingly very interested in the constant pulling and obstruction which was levering us out of the game. Our shape wasn't helped by Webb's difficulty in providing any width when asked to play on the left, his natural tendency being to drift in field to get the ball on his favoured right foot.

When we did create a chance it seemed to catch our players a bit by surprise. As the half began to draw towards a close we managed to find a little more space and even won a couple of free kicks from the ref that made the Hemel defence stand just a yard off us. A hard won Burns header found Mustoe and then Smith, who unleashed Jimmy Cox down the right wing. Coxy charged past the full back before drilling the ball across the face of the goal. His pace had got him ahead of the defence and Hemel were left scrabbling, but the ball eluded everyone as both Addis and Wilko threw themselves towards it. A few minutes later another strong Mustoe challenge broke up the midfield scrapping and the ball fell to Webb who played a clever ball behind the defence but it caught Coxy napping and the opportunity came to nothing.

The second half didn't look as if it was going to offer much of a change as the first ten minutes or so followed the pattern of the first half. More long balls were heaved forward more in hope than expectation and the City fans were getting as exasperated as the players seemed to be with themselves. It seemed obvious to all that our best chance lay be getting the ball down and unsettling the big Hemel defenders with some quick passes on the ground, but we just couldn't manage it or get the ball wide to try and get behind the opposition defence. However there were still occasional glimmers of hope, Smith managed to get away once and his cross was flicked on by Addis only to miss the stretching boot of Dave Wilkinson.




Left: Burns gets another bear hug from Hemel's huge no. 5, Matt Corbould.
Middle: Wilko feels the boot from behind - Hemel weren't shy of getting stuck in.
Right: Marvin is held off as City defend.


As we fretted more about getting forward we were also starting to leave more gaps at the back and we had a narrow escape as a deep looping high ball towards the far post was well won in the air and the header went just wide. Mustoe enjoyed a good run as he burst past two players in a succession of block challenges, but having reached open space he found his options limited. When he played the ball up to Addis the player was promptly spun to the ground and the ref again gave nothing. We threw on Keith Knight in an attempt to get a little more quality in our final ball, and this did seem to help, although his presence at left back did create a huge hole at the back when Hemel counter attacked and his legs often failed to respond.

We started to get somewhere slowly but surely as at last some of our passes began to find feet and with Webb now free to drift down the right Smith was also able to get forward more often. City even won a free kick for obstruction as Cox was hauled to the ground having turned the defender, although exactly what made that offence worse than the dozen similar incidents the ref let go unpunished remains something of a mystery. The free kick was in a good central position but it was wastefully fired straight into the wall. A few minutes later we had another near miss as a Burns lob sent Wilkinson rushing through the middle and while he couldn't quite reach the ball it almost fell to Cox.

The City pressure was starting to tell and there was a feeling that the equaliser was on the way. We even won a free kick when Smith threw himself to the floor, a far less deserving case for an offence than many which had been waved on. We came closest to scoring when another good run by Lee Smith saw the ball loop off the defender and tantalisingly away from Wilko and a stretching Burns before bouncing away from Cox as he rushed in at the far post. However this did spark a spell of pressure and from one of this string of crosses and corners we finally got our goal. Knight's near post corner was met by Griff and the Hemel keeper, but unable to get a clear punch on the ball it only delfected across the face of the goal where it was crashed in from close range by Cox.



Hemel's keeper collect a hopeful lob into the penalty area.

Having got back on level terms we looked more than capable of going to get the winner. Knight's extra presence down the left was causing Hemel problems and we almost went ahead when Burns flicked on one of Knighter's crosses and when that wasn't cleared properly Mustoe almost connected with Knight's second attempt.

However, any optimism was quickly defused as we still have an unerring ability to shoot ourselves in the foot. We had actually defended much better today and looked a more solid unit than we had even against Rugby. We always have the potential for the individual lapse of concentration though and of all people it was the boss who gave Hemel their route back in to the match. He simply fluffed an underhit ball back to Matt Bath and the lively George Fowler was in, and he made a simple job of completing his task by slipping the ball past Matt Bath. Suddenly we were chasing the game again when it had looked just a matter of time before we got the winner.

The match was becoming a lot more open now and thankfully we didn't have long to wait before we were back on level terms. A good ball by Mustoe set Addis away down the left channel and he did well to turn his defender and hold him off. It looked as if he was far too wide to shoot and both Cox and Wilkinson were steaming in to get on the end of a cross. With the Hemel defence and keeper keeping an anxious eye on the forwards rushing in Addis produced a fantastic shot that curled past the keeper and inside the post. It was a sublime finish from a narrow angle and for the first time since September both of our forwards had scored in the same match. There is some reason for hope.

After that goal packed few minutes both sides were determined not to leave the match with nothing to show for it, but both sides could have snatched it. Hemel looked as if they may have a dangerous break on as they cleared a City corner and Smith was robbed in possession by Fowler. However his ball from the back was thwarted by a cynical obstruction by Mustoe which took out the danger, earning him a booking in the process but also preventing a four on three counter attack. A few minutes later Hemel sent in a low shot across goal that the City defence were relieved to see crash wide. We could easily have made sure of all the points ourselves when a dipping Knight cross was met by Griffiths whose flick header seemed destined for the top corner. Hemel's keeper had little to do for most of the match but earnt his side a point with a fantastic save at full stretch that left Burns clawing his head in disbelief.

So what odds would you have got on City ending the match with a draw before kick-off? We desperately need to improve our record of one away win all season if we are to pull ourselves clear of the bottom few spots, but having twice gone behind to soft goals we can probably be satisfied with a point from this game. At least we showed some spirit and strength of character to find a way back into a game that a few weeks ago perhaps we would have given up on.

* The point lifted us another place to 15th in the table, but only the most blindly optimistic can ignore that a seven point cushion from the relegation spots is not much given the amount of games in hand some of those below us in the table still have to play. Our small and rather fragile looking squad is also a cause of concern. Solihull Borough grabbed a crucial 2-0 win over Hitchin this afternoon to lift them out of the bottom four for the first time since October while Grantham's revival continues with an impressive 5-1 demolition of King's Lynn at the Kesteven Stadium. The chase for the top places remains tight, but with several clubs in Trophy competition today Chippenham took advantage to go top of the table with a 4-1 home victory over Dunstable.


| | | | | | |
| --- | --- | --- | --- | --- | --- |
| Referee: | S.Fay (High Wycombe) | League Position: | 15th (+1) | Attendance: | 199 |
| Conditions: | bright and dryl | City Form: | DWDLDD | Match Report: | by t-towel |
Work commitments mean that we are keen to obtain other match reporters willing to provide details on some City matches. All text can be supplied by email, with no need to worry about web design or formatting. If you are interested please contact the T-Ender.