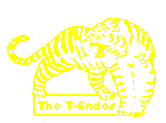 We welcome all contributions to the T-Ender. Please send any material for the site by
email to the address above.

Disclaimer
The views expressed on these pages are not those of Gloucester City A.F.C., its directors or officials, or of any other company mentioned. Neither do they represent the official views of the Gloucester City Supporters' Club or its committee.
While we make every effort to ensure information placed here is accurate we do not accept responsibility for errors that may occour. If you do find a mistake please let us know.

All pictures and material unless otherwise stated are the site's own and is
© www.t-ender.co.uk
All material may be reproduced with permission and appropriately attributed.
Saturday 16th April '05

Hednesford Town

at Keys Park

Southern League Premier Division
(match 40)

vs

Gloucester City

Hednesford Town

4

Scorers: Bell (4), McSweeney (5), Brindley (23), Teesdale (31)

Gloucester City

1

Scorers: Wilkinson (44)
City Side:
Bath, Smith, C.Thompson, Griffiths, M.Thompson, Burns, Reid (Knight 78), Varnam, D.Addis (Cox 63), Webb, Wilkinson.
Subs not used: Harris.
City Bookings: Knight (retaliation 81)
T-Ender Man of the Match: Chris Thompson: Never let his head drop and was a consistent attacking threat with his runs on the left.
This was never a fixture that filled us with a great deal of optimism, but none the less the first half whirlwind that ripped through our defence threatened to turn this into a total embarrassment. It is to the credit of those playing that they managed to recover themselves to ensure we fought back and avoided complete humiliation, but it would be hard to pretend the home side didn't deserve their convicing win. While our players struggled to adjust we were taken apart by a Hednesford side that was stronger, sharper and perhaps most importantly seemed to want to win far more than our slightly jaded, tired and depleted team.

With Mustoe and Tomkins now missing for the rest of the season Burns had no option but to reshuffle his pack. Neil Griffiths returned from injury in defence and regained the captain's armband, while youth team skipper Andy Varnam continued up front alongside Addis. Chris Thompson won the short straw at left-back while Jamie Reid came in to the centre of midfield to make his first league start for the senior side. With so much reshuffled you could expect us to look a little disjointed, but with the Pitmen still chasing a promotion play-off spot and anxious to set right a couple of poor recent results we looked entirely surprised by the initial few minutes of the game.

A horrible sinking sensation started from the kick-off as Burns hoofed the ball forward and out of play, leaving Addis and Varnam looking dispirited from the first moments. The early exchanges saw plenty of scampering about from our players, but all the time on the ball belonged to the home team. Hednesford had little reluctance in smacking the ball straight up to the forward players, but once it was in the final third they could play a bit and certainly got the ball wide well. The game had barely settled when the home side instantly got the break through. Few of our players had any chance to get comfortable, and perhaps the poor state of the pitch in the centre of the ground played a part, but we were giving the ball away cheaply. Reid's short pass fell short and was seized uponm by the white shirts who quickly pushed it forward. The middle of our defence fell away and Griff seemed to slip, leaving Andy Bell to slot the ball past Matt Bath.

Thommo tries to find some space on the left


If that goal suggested all might not be well at the back then what happened next was nothing less than a sucker punch. From the kick-off Hednesford mopped up at the back and pushed straight back at us, again running straight through our midfield with minimum resistance. The ball was pushed down the right and a few quick passes left Smith and Webb trailing and Leon McSweeney picked up possession. He cut inside and ran across the edge of the penalty area. Our defence were all there, but all stood off him and with little to distract him the player had time to pick his spot and drill a crisp shot into the corner of the net.

You had the sense that given the importance of the match to the home side a solid start from City could have had the nerves of Hednesford fans and players begin to jangle. It's not as if these players can't defend, we've withstood plenty of pressure from Histon and indeed this same Hednesford side when we beat them at Meadow Park. It's the inconsistency that frustrates. With only five minutes gone we already looked like we could now only opt for damage limitation.

In fairness we didn't simply cave in, and a few minutes later things were looking a little more even. Reid's confidence visibly lifted as he won a vital tackle in midfield and Burns' passing found its range with a good ball out to Chris Thompson on the left. It looked for a moment as if were going to reply with a carbon copy of the Pitmen's second goal. The one advantage of having a right footed player on the left is their natural instinct is to cut in, and Thommo slipped between two defenders to close in on the opposition box. He tracked across the penalty box, and like our won defence a little earlier they stayed off him, giving him plenty of opportunity to fire in a shot. However Thommo hasn't found the net all season and his lack of confidence in front of goal weas telling. Instead he looked for the pass and found Wilko inside the box and the midfielder found the net, but he was well offside and the goal was disallowed.


City were still showing some signs of stress but at least when we got forward we looked like we could still cause the home side problems. For every fluffed pass and missed tackle there was now a good run or a few good passes that shifted the home defence around. One particularly promising moment saw Smith get forward on the right and pick up a clever one-two from Addis on the touchline whose clever back heel split the defence. Smith made for the touch line and his cross was met at the near post by Vanrham who was unlucky to see his header crowded out. City then enjoyed a rare spell of pressure as Hednesford struggled to clear a string of corners, but we couldn't make them count. With Burns taking the kicks there were too few targets to aim for and it was too simple for the Pitmen to protect their goal.

Had we managed to get something back from that short spell of pressure things could have still been different. But our problems at the back hadn't been solved and Hednesford sealed the match after just 23 minutes. This was even wrose than the previous two goals as it owed little to any particular talent from the home side and far more to our own frailties. Hednesford again made good progress down the right, but this time Smith seemed to have caught back up and delayed the attack but we didn't clear our lines. The ball ricocheted around the box with forwards and defenders taking it in turns to prod it back and forth. Marvin could have cleared but his timid kick was charged back down, Burns and Griff both tried to hack it away with little effect. Eventually, Chris Brindley popped up to lash the ball into the net and put our back five out of their misery.

We were now starting to look a little desperate and spent a few minutes trying to smack the ball out wide to Lee Smith in the hope he'd create something. The ball was too easily spotted, and even when it wasn't cut out he was surrounded by several players and the old trick of simply kicking the ball ahead in the hope his sheer speed would take him clear wasn't working. We were falling into the trap of trying too hard to beat the entire defence with one pass and there was no patience to our play. We weren't keeping the ball and with little movement up front the ball out wide to the right was all to predictable. We weren't convincing at all and Hednesford still seemed to be the more likely side to score.

Things were to get worse before they got any better. Marvin has steadily improved during the latter half of the season but it's harder for a young defender to learn their trade than an attacking player. His positional sense is improving and he brings the ball well out of defence and can pass well when he doesn't try to over complicate things. At times though he looks like he needs to add some power and strength to his game, and this was shown when McSweeney pushed past him too easily and we were rescued by a good stop by Matt Bath. That brought only temporary relief though, and the pressure was back on when Thommo was a little harshly penalised for a challenge that looked fairly innocuous. The resulting ball int othe box lacked any real venom, but we managed to leave Hednesford's number 4 unmarked at the far post to send a dangerous header back into the goalmouth. Griff did well to get back and head the ball away for a corner. This time though we couldn't deal with the cross at all. Matt Bath missed it as it came across goal and Richard Teesdale was again unmarked as he crashed in his header from close range.






Top: Wilko's first shot smacks back off the post but we still go on and score
Left: Reid looks for help in midfield. Right: Hednesford enjoy the freedom of Key Park.


That was the final straw for Burns who was by now very red and very angry. He must have been bewildered by how things had suddenly gone so wrong and a few players got a swift on pitch dressing down. At first his words didn't seem to have had much effect, as we were a little lucky to survive without going further behind as Hednesford failed to capitalise on more slack defending with several high balls won again without being contested. The Hednesford fans behind the goal were by now chanting 'easy', and it was hard to argue. We were staring into an abyss and it was hard to see how we could prevent this turning into a cricket score. The defending was an embarassment and certainly not what you spend £40 and travelling 325 miles hoping to watch.

If the rollicking at the hands of our beloved leader did not have an immediate effect it certainly did after a few minutes, with several players getting gentle reminders as the game went on. We managed to grab our way back into the match, and enjoyed the better of the last ten minutes. Wilko helped enormously on a couple of occasions by dropping back to provide a bit of a shield for the defence, and his height got rid of one dangerous cross. We then managed to mount a few attacks of our own, one going close. Addis had a quiet game, but he latched on to a ball from Webb and span from his marker, pushing the ball on down the right flank towards Varnam. The youngster did well to hold off a challenge and cut the ball back low across the goal, narrowley and frustratingly elduing both Wilko and Chris Thompson.

That gave us a bit more hope, and Burns was now playing a lot further up the park and beginning to get the ball moving around a little more. His long ball out wide to Thommo on the left instantly stretched the Hednesford defence and he was unlucky to see his cross charged down. We put together a few good passing moves and one was only halted by a trip on Webb, and the pressure continued with a corner that was poorly cleared and fell invitingly to Smith whose shot flew just over the bar.




Wilko finds Ryan Young can jump too.

You had the sense that Hednesford were beginning to lose interest in the match as a competition and we grabbed a goal back just before the break. Addis flicked on a Burns pass and suddenly Wilko was through on goal. His shot beat the keeper but his the face of the post, bizarrely running along the goal line back towards him and this time he made no mistake and tapped in from close range. It wasn't much, but at least it gave us some consolation during the half-time break.

There was much less of note in the second half, but that was certainly a releief to the shellshocked City support. What there was of excitement largely came in front of the Hednesford goal, and while we were never going to claw the match back it was at least testament to the character of the players out there that we managed to dig in and defend our three goal defecit.

Some of our best moments came when Smith or Chris Thompson got the ball at their feet and began to run at the Hednesford defence. While often these runs led to us getting free kicks neither could quite find the space or encourage a team mate to make the defence splitting run they needed to get us back into the game. The Pitmen proved quite adept at shepherding us into harmless in field cul-de-sacs. For all of our struggling, there was comfort in the simple fact that at least we weren't struggling in our own penalty box so much. We could and should have pulled one more back when Thommo finally evaded a defender and found himself behind the defence down the left. His cut back found Wilkinson and his shot flew past the keeper, but found Hednesford's Lee Barrow in position to flick the ball from the line. The ball then bobbled its way to Andy Varnam, but with the keeper grounded and the goal gaping the 18 year-old delivered a nervey airshot and the chance was gone. The youngster could play for the next twenty seasons and won't have a better or clearer chance to find the net.

There was scant good news from this match so we should make the most of the return from injury of Jimmy Cox, coming on as a sub for Daryl Addis, himself struggling with thigh ans hamstring problems. Cox showed little sign of his recent ligament lay-off, although we were never really in a position to fully unleash him at full pace on the Hednesford defence. However, he could have scored with nearly his first touch. A good pass from Burns sent Smith away down the wing and this time he delivered an early cross that gave the Pitmen little time to sort out their defence. The cross was too far ahead of Webb but found Cox on the edge of the box and he had chance to take a touch before firing in a low shot that went under the keeper, only to find that pesky Barrow again in position to scrape the ball off the line. The home team then enjoyed more good fortune as the clearance hit the back of the keeper, but he recovered quick enough to grab the ball before it ran loose towards the goal line. If the scores had been closer it would have been agony.

The rest of the game was a lot more even than the first half, with Reid equipping himself a lot better as the match wore on and Webb playing a more important role having been almost entirely anonymous in the first half. Griff also improved as the match went on, perhaps being most vulnerable to the early pace of the game as he returned from injury. Hednesford still pressed when they had the opportunity, but their earlier hunger had been satiated and at least they could now rely on a City defender trying to cause them problems. The closest they went to a fifth was when a soft back pass looked to have let them in, but Bath was quick off his line to put the ball into the stand. The only other threat to our goal was in the closing minutes when Branch got forward well to exploit a gap left by Smith, but his shot flew across the face of the goal.

There were few moments of rela controversy in the match, but Knight almost made a sensational impact on the game soon after coming on as a late sub. The City assistant manager reacted angrily to a late challenge, and having lashed out at the offender almost caused himself real problems when he had a second careless swing that almost connected with the ref. At least the man with the whistle seemed to have the good sense to realise he hadn't been the intended target and Knighter escaped with a yellow. Even more fortunate was the Hednesford number 10 who suddenly made a Lazarus like recovery from lying prone in the centre circle to spring to his feet and dive in late and from behind on Wilko. Some how that only merited a booking as well, although a sending off wouldn't have been a fair reflection on what was never a close enough contest to generate any real heat.

For Chris Burns this must have been a sobering display, rarely has the lack of depth in our squad been so clearly demonstrated. Addis and Varnam again looked like a striking partnership unlikely to yeald goals, while those who question what Mustoe brings to the side can look at that first half hour at Keys Park for their answer. Without him providing the shield across the middle of the park our defence was horribly exposed, we've not won a game this season without him in the side and we need to put that right. His absence means other players must work harder and think smarter, which didn't happen today. It's difficult for players like Reid and Varnam to make the step into the first team straight away and we must be careful not to judge to quickly, as Smith has shown that with confidence and time players can flourish. However some of our other players are no longer making their first steps at this level and must show more poise and willingness to show some leadership.

* Whilst the result was pretty dispiriting other results in the division actually mean we had a good day, somehow holding on to 14th spot for a further week. The crucial team to watch is still Hemel Hempstead, still in the last relegation spot and seven points behind us with three games left to play after a 2-0 defeat at Bath City. Defeat for Hemel at home to title chasers Chippenham this Tuesday night would leave City safe from the drop.

Dunstable can no longer catch City, but kept their mathematic hopes of survival alive with a point at Banbury United who still have their own relegation concerns. Hitchin will have been pleased to have taken a point at Merthyr but it's not enough to make them safe, while Rugby United's win against us last Saturday looks even more important for them in the light of their 5-0 thumping at the hands of Tiverton. At the other end of the table Histon finally overtook Chippenham for pole position, Histon coasting past alreay relegated Solihull with a 3-0 win, while the Wiltshire side stumbled with a 1-1 draw against play-off hopefuls Bedford.

If City can survive in the Southern League Premier we can look forward to renewing our friendship with Mangotsfield United, whose 1-1 draw with Ashford yesterday was enough to secure the Western Division championship.
| | | | | | |
| --- | --- | --- | --- | --- | --- |
| Referee: | W.Barratt (Coventry) | League Position: | 14th (=) | Attendance: | 704 |
| Conditions: | overcast but dry | City Form: | LLWDWL | Match Report: | by t-towel |
Work commitments mean that we are keen to obtain other match reporters willing to provide details on some City matches. All text can be supplied by email, with no need to worry about web design or formatting. If you are interested please contact the T-Ender.